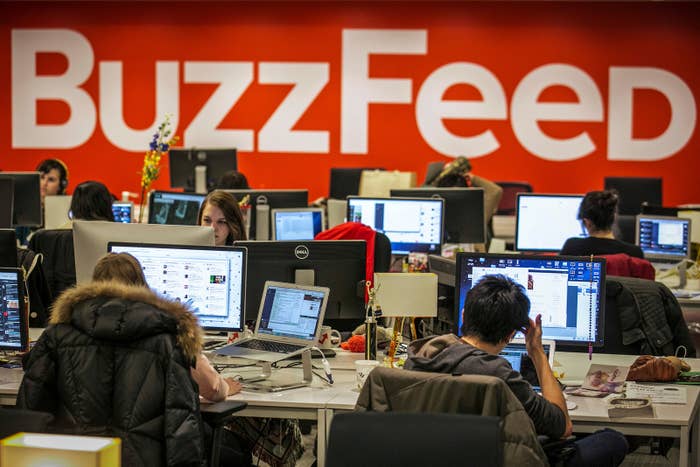 Editorial staff from BuzzFeed UK have requested union recognition for the workplace under the National Union of Journalists (NUJ).

A staff of roughly 80 employees work in the London office, including senior management, defined as those who manage managers. A majority of editorial staff across all desks have signed union cards, according to a spokesperson for the union chapel.

Under British law, employees have the legal right to form a union regardless of management's position towards unionisation.

On 25 November, the NUJ sent a letter to BuzzFeed UK editor-in-chief Janine Gibson requesting union recognition for collective-bargaining purposes for London-based editorial employees.
"We are hopeful you will see this as a positive and productive step in the long-term development of BuzzFeed UK," wrote the NUJ organiser. "Your staff are very keen to emphasise they all enjoy working for BuzzFeed UK, and believe in building a sustainable business with you."
BuzzFeed CEO Jonah Peretti responded in an email to London staff on Wednesday, stating: "Before any decision is made, it is incredibly important to me that I have a direct line of communication with all of you, that I know about any concerns, complaints, or suggestions for improvement you have, and that we can speak openly and directly with each other."
Peretti will be visiting the UK office in mid-December to discuss the issue with editorial employees, saying in the email: "We'd like an opportunity to talk directly with you before you make any irreversible decisions."
The chapel spokesperson provided the following statement to BuzzFeed News in response:
We are happy to say that the staff of BuzzFeed UK have come together to form a union, with a strong majority of our editorial staff in membership with the National Union of Journalists already. We are confident that our management will see this as a positive and productive step in the long-term development of BuzzFeed UK, and swiftly recognise our chapel.

We love working for BuzzFeed UK – it's undoubtedly one of the best places to work in the British media – and we believe that together we're building a sustainable and important new voice in the media landscape, as well as a force for innovative and groundbreaking work in both news and entertainment. Setting up a union shows how committed the staff are to being part of that long-term vision. The digital media industry is fast-moving and notoriously unpredictable, and this is just one way that we can safeguard our rights as employees and our future as a company.

We're looking forward to working in close collaboration with management to secure all the things that have made BuzzFeed UK great, now and into the future.
Read Peretti's full email to BuzzFeed UK staff below:
Dear UK BuzzFeeders,

I'm writing because we recently received a letter from the National Union of Journalists saying that some of you favor union recognition. Before any decision is made, it is incredibly important to me that I have a direct line of communication with all of you, that I know about any concerns, complaints, or suggestions for improvement you have, and that we can speak openly and directly with each other.

Lenke Taylor, our Chief People Officer, feels the same way and has worked with the US editorial team to improve clarity of job titles, career paths, compensation benchmarking, benefits, diversity initiatives, and securing additional budget to fund these programs. We were in the process of extending this to the UK when we received the union letter and we'd like an opportunity to talk directly with you before you make any irreversible decisions.

In the past, I've said I don't think a union is in the best interests of BuzzFeed or our employees. Unions represent employees around a rigid skillset that doesn't reflect the fluid and flexible way we work, they introduce an extra layer of bureaucracy and process, and they unnecessarily divide our teams, limiting the many benefits of everyone being part of a venture backed tech company. Some outside activists have criticized my motives or my character but I want all of you to know that my top two priorities are serving 1) the public, and 2) the people who work at BuzzFeed. We are focused on building a strong business because it allows us to serve the public and employees, not the other way around. I can only prove that to you with my actions and I hope you give me the chance. The first step is talking directly, we want to hear your concerns and have a chance to address them.


Lenke is flying to London today to get the conversation started with the Edit team this week, but will be available this week and next to meet with anyone interested in connecting. She will explain some of the changes we made in the US, but more importantly she'll solicit feedback and suggestions for things you want improved at BuzzFeed. Then I'll be in London the following week, mostly likely Friday 12/9, so we can talk more. I'll also be there through the weekend and without my family so I'd love to host a (totally optional!) brunch and/or afternoon at the pub to talk in a less formal setting.

We are all part of a global company of people working together to make news and entertainment that millions of people love. The UK is critically important to our success and future and your happiness at BuzzFeed is critically important to me. I'm looking forward to seeing you all soon and hearing how we can serve you better.

Thanks,

Jonah