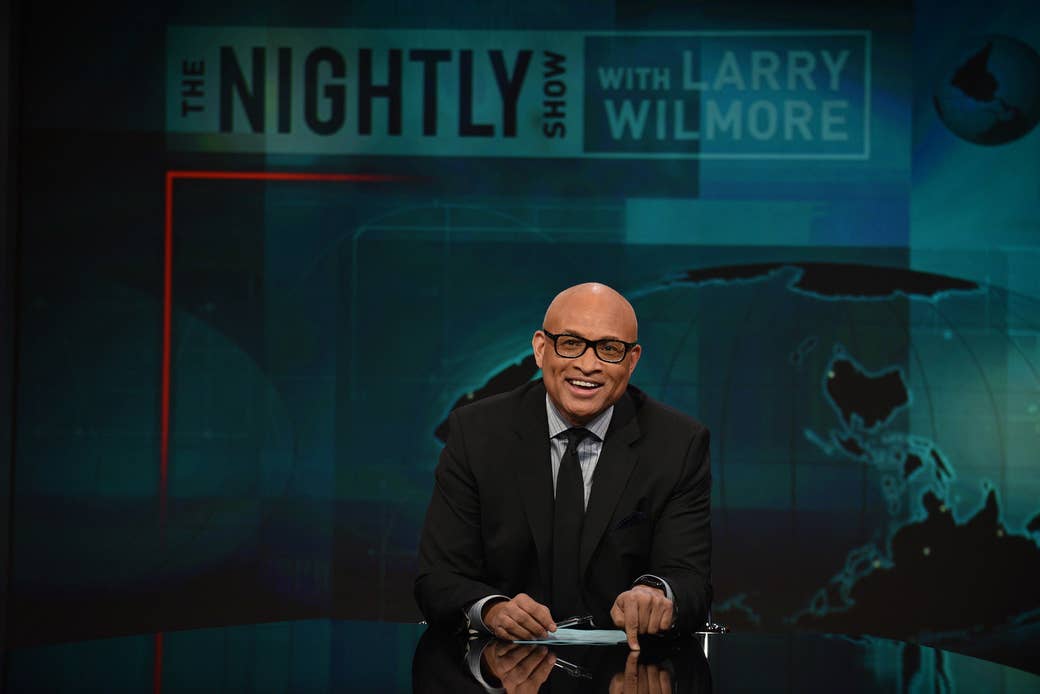 Considering everything that's transpired in this current election cycle, it feels like Larry Wilmore has been off our television sets for a while now. But The Nightly Show With Larry Wilmore, his Comedy Central late night show that launched in Jan. 2015, was canceled in August, only a couple of months ago. It makes the phrase Wilmore coined, "Electus Interruptus," an apt title for his exit.
A lot of news has happened since the end of his talk show, some of which Wilmore wishes he had the opportunity to cover nightly, and some of which he is fine not having to. For example, the devastating frequency of police shootings can make it difficult to match names like Terence Crutcher to the correct location and video evidence of their killing. Was this the one with the helicopter video? Was this the guy walking toward the car? "Those are always a challenge, so… I don't miss talking about [them]," Wilmore said at a small coffee shop in Manhattan, a week before Election Day. "But I definitely miss having that platform… a place where those issues can be discussed."
Wilmore's motivation to move in front of the camera in the mid-'00s — as the senior black correspondent on The Daily Show With Jon Stewart — was to "get voices out there that don't normally get seen." And he hoped to do the same thing with The Nightly Show, a spinoff of the series that helped get his name out there. "It wasn't just about me, you know," he said. "It was really about promoting a lot of voices."
The issue of black men dying at the hands of police officers was an issue that had long been important to Wilmore. It was, he said, "happening before our show was on, years and years, and it was one of the points that I was making is the relationship that black communities have with the police: They will continue to happen until it stops." Wilmore paused and said, "I didn't ever imagine our show outlasting it."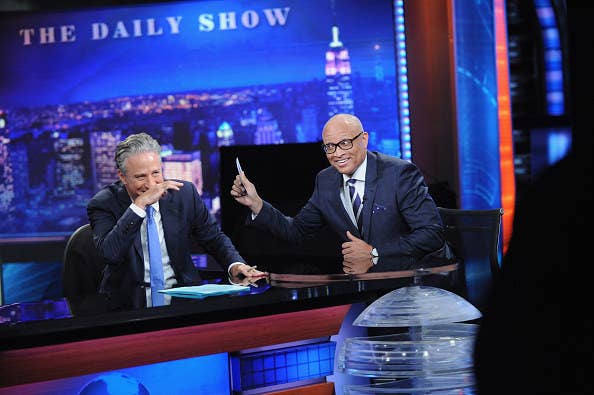 Without the late-night platform, Wilmore missed the opportunity to respond to key election moments. There was Hillary Clinton's basket of deplorables comment ("'Well, half may have been too much.' I'm like too much?"); Donald Trump involving women who've accused Bill Clinton of sexual assault ("It was one of the worst displays of a candidacy, just feeling the last gasp of relevancy"); and Clinton doing the same with Alicia Machado, the Miss Universe winner who Trump fat-shamed in the mid-'90s ("No one was interested in these people until they're able to be used for political purposes, and after the election they'll be forgotten").
But there is someone who's impressed Wilmore this election cycle. "Megyn Kelly has been very eloquent about a lot of her statements and she's been keeping it 100 almost more than anybody in the news, and I'm like, You've gotta be fucking kidding me. Good for you," Wilmore said, citing Emily Nussbaum's recent New Yorker column on Fox News in agreement. "She's still on that 'Jesus and Santa are white' thing, you know," he said with a laugh. "Which is fine. That was a such a ridiculous thing, but I ain't mad at Megyn Kelly. For her to insult Sean Hannity to his face, it's fantastic. I mean, she told the truth. ... I was like, Oh my god, you said that on the air to his face. That's pretty good."
"It either points to how weak a candidate Hillary really is or how strong the movement to, as I always say, un-blacken the White House really is."
Unsurprisingly, Wilmore's passion only increased when it came to the subject of Trump. "The people who're supporting him aren't going anywhere, they just got lucky that they found a leader," he said. Though the now infamous "grab them by the pussy" Access Hollywood tape almost sunk Trump's campaign, Wilmore noted the bleak tide shift happening now. "It's funny how time moves so fast in the election cycle because interestingly now, Trump has a lot of momentum in this race. The debates are now a distant memory," he said. "Also, I think that Trump's persona has been so clearly defined, none of these things can dent it at this point. … That's why he really is like the Terminator: Every time you like think he's gone, something starts moving again and it's like, He's still alive?! You've gotta be fucking kidding me, and it either points to how weak a candidate Hillary really is or how strong the movement to, as I always say, un-blacken the White House really is."

When asked what he thinks will happen if Trump wins, Wilmore seemed to share most Democrats' fears. "I don't think there's anyone else over there that I've had this feeling, except for Donald Trump," he said. "I feel like if anyone could launch an unprecedented type of situation that would be horrific, it could be Donald Trump."
He continued, "When most people become president, even if you disagree with their ideology, you can still agree that they would have the competence to run something… With Trump, I do not have the confidence of that at all."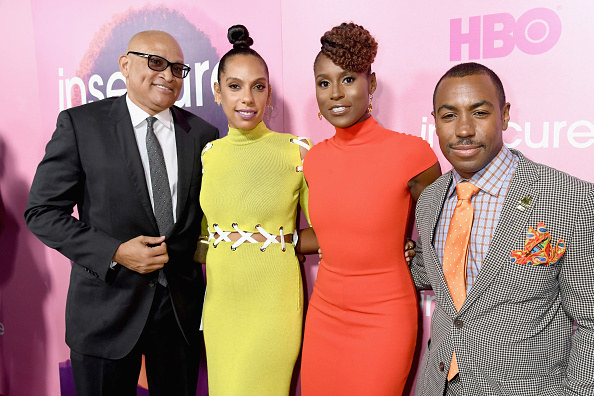 Though it's difficult for someone who spent 10 years as a political TV commentator to focus on anything else but this dumpster fire of an election, Wilmore is trying to do just that by returning to his career behind the camera. He got his start as a writer on In Living Color in 1991 and worked on many successful sitcoms in the '90s and early '00s — including Sister, Sister, The Fresh Prince of Bel-Air, The Jamie Foxx Show, and The Bernie Mac Show, which he created, wrote, produced, and won an Emmy for. But these days, he's enjoying the success of Insecure, the HBO comedy he co-created with its star Issa Rae that launched in September, just over a month after The Nightly Show ended.
"I've been kind of like the consigliere in some ways," Wilmore said of the series, which is partially based on Rae's web series Awkward Black Girl. "When I was doing The Nightly Show last year and they were writing the scripts, I talked to them a couple times about the direction of it and that kind of stuff… but for the most part, she and Prentice [Penny] and Melina [Matsoukas], who's the director and producer, they really guided what you're seeing on TV now."
"We have to find a new conversation, a new way to have those conversations, and I'm always looking for those ways."
Wilmore said Rae "could easily be the next Shonda [Rhimes] in a lot of ways because she actually is an entrepreneur, writes and produces a lot of things. But, he added, "she's also like me, kind of a reluctant performer. ... She's not out auditioning for everything and all that kind of stuff, but she's brilliant. She really is. She has a lot to say."
He has noticed another unique voice in Donald Glover and his hit FX series, Atlanta. "I think it's fantastic. It's really exciting," he said. "It's so interesting to see how he's mining all the little stories out that have never been [told]."
In Wilmore's opinion, Rae and Glover are both successful because "they have voice" first and foremost. "Insecure says, 'I don't give a fuck what's ever been on HBO ever because this is on it now,'" he explained.
As far as diversity on television in general, Wilmore said, "We have to find a new conversation, a new way to have those conversations, and I'm always looking for those ways," including with Black-ish, another successful comedy Wilmore executive produces, which is now in its third season on ABC. "I'm really proud of the work everybody's done over there. Some of the issues, to put it in a family show and that type of thing, has been a lot, has been cool."

It's work Wilmore has been doing since he started his career on In Living Color three decades ago. "We were writing subversive sketches back then about race and culture and all that stuff," he said. "I've been doing it for 30 years, so no way I'm going to stop."
Wilmore plans to do more TV development and create more shows. "So I'll be behind the camera again doing that kind of thing," he said. "As far as doing my own thing in front of the camera, I'll figure that out if I want to do that type of thing again," he said. "In terms of having an every day show in front of the camera, you probably won't see me doing that. I'm probably done with that."
Because for Wilmore to do what he wants to do, which is bring unique perspectives to living rooms across the country, he thinks he'll have better luck off-camera. "I'm not really a self-promoter-type person. I really don't have a need to be on TV all that much, to be honest with you," he said. "I can do more by not being on TV all the time, so there's the irony of it."