1.

Which president was so tiny, he probably could have shopped at a sample sale?

Getty Images

Getty Images

James Madison (1751–1836) was a munchkin of a president at 5'4", and only 100 lbs.

Via images.fineartamerica.com

2.

Which president was a phone-rejecting Luddite?

Reuters

President Coolidge (1872–1933) famously refused to use the telephone for presidential business. The first telephone was installed by Rutherford B. Hayes in 1877 — 46 years before President Coolidge took office. Talk about a slow adopter!

3.

Which president served the shortest term in office?

Getty Images

Getty Images

William Henry Harrison (1773–1841) was America's ninth president for a measly 31 days before succumbing to pneumonia. James A. Garfield comes in at a close second for shortest term served in the White House. President Garfield was assassinated just 199 days into his presidency by Charles Guiteau, who felt cheated out of an appointment as American consul general to Paris.

Via Flickr: cornelluniversitylibrary

4.

Which president was ousted from his own bedroom by the entourage of a visiting prince?

Getty Images

Getty Images

According to White House lore, the Prince of Wales brought such an enormous entourage with him from Great Britain when visiting the White House in 1860 that President Buchanan (1791–1868) slept in the hallway to accommodate them. How gracious!

Via americangallery.wordpress.com

5.

Which president was a Yellowstone park ranger and a fashion model prior to his stint as president?

Via wordpress.com

Via rschaefer710.wordpress.com

Not only did 38th President Gerald Ford (1913–2006) work as a Yellowstone park ranger during the summer of 1936, but he also struck some sassy poses for Cosmo and Look in the 1940s. Who knew he was such a rustic charmer?

Via tommcmahon.net

6.

Which president's father gave his own son a lackluster recommendation to accompany his college application?

Via Facebook: JFKLibrary

When JFK applied to his father's alma mater, Harvard University, his dad Joseph wrote to the dean that "Jack has a very brilliant mind for the things in which he is interested, but is careless and lacks application in those in which he is not interested. This is, of course, a bad fault." Even with mediocre test scores, JFK matriculated and graduated cum laude.

Via jfklibrary.org

7.

Which president owned two pet dogs unimaginatively named Him and Her?

Via terrierman.com

Via reagan.utexas.edu

Lyndon B. Johnson owned five pet dogs over the course of his presidency, but beagles Him and Her were by far the most famous. He often took them for a stroll while chatting with the press corps on the White House lawn.

Via 2neatmagazines.com

8.

Which president enjoyed the bizarre ritual of having his head rubbed with Vaseline while eating breakfast in bed?

Getty Images

President Coolidge (1872–1933) was a peculiar man. In addition to this odd affinity for oily head-rubbing, Pres. Coolidge also had a mechanical horse installed in the White House to keep his horseback-riding skills sharp.

Via immigratingtousa.wordpress.com

Poor President Pierce (1804–1869), of New Hampshire, grew wildly unpopular after lending support to the Kansas-Nebraska Act, arguing that the Constitution protected the institution of slavery. Despite serving a disappointing single term and dying young due to alcoholism, Franklin was at least a pretty foxy failure of a president, no?

10.

Which president could speed-read at a rate of 2,000 words per minute?

PAM PRICE/AFP / Getty Images

AP

Jimmy and Rosalynn Carter, along with about 30 White House staff members, enrolled in an evening speed-reading course offered to them by the Evelyn Wood Reading Dynamics company. His impressive rate of 2,000 words per minute presumably helped him keep pace with the 300 pages of material that crossed his desk every day.

Getty Images

11.

Which president was fined $20 for a speeding ticket while in office?

Getty Images

Getty Images

Ulysses S. Grant (1822–1885), 18th president and famous Civil War general, was fined $20 (the equivalent of about $380 in today's currency) for speeding on his horse and buggy in Washington. He then allegedly was forced to walk home. No special treatment, even for a war hero!

12.

Which of these scoundrels was arrested while in office?

Via hdl.loc.gov

Via hdl.loc.gov

Franklin Pierce (1804–1869) was arrested during his first year in office for running over an old woman on horseback. He was let off the hook due to insufficient evidence, but met with both political controversy and personal tragedy throughout adulthood.

13.

Which president was the first to attend a major league baseball game?

Via hdl.loc.gov

Via hdl.loc.gov

On June 6, 1892, President Harrison (1833–1901) became the first presidential spectator at a major league baseball game. It wasn't until 1910, however, that President Howard Taft began the tradition of having the sitting president throw the first pitch of each season.

Via www1.coe.neu.edu

14.

Who was the only president to be elected to two nonconsecutive terms?

Via hdl.loc.gov

Via hdl.loc.gov

President Cleveland (1837–1908) was both the 22nd and 24th president of the United States. After winning the popular vote in 1888 but losing to Benjamin Harrison in the electoral college, he was renominated in 1892 and won fair and square.

Via commons.wikimedia.org

15.

Which president was the first to own an automobile while in office?

Via commons.wikimedia.org

Underwood And Underwood/Underwood And Underwood/Time & Life Pictures/Getty Images / Getty Images

While William McKinley (1843–1901) was the first president to ride in an automobile while in office, Teddy Roosevelt (1858–1919) was the first acting president in possession of a White House vehicle (a Stanley Steamer). Teddy Roosevelt supposedly still preferred to ride horses, and the White House stables were only replaced with an automobile fleet during William Howard Taft's presidency.

16.

Which president frequently went skinny-dipping in the Potomac before work?

Via hdl.loc.gov

Via hdl.loc.gov

Sixth U.S. president John Quincy Adams (1767–1848) wasn't the only president who enjoyed the occasional birthday-suit swim. The White House has a salacious history of presidential nude swimming, which includes LBJ, Jimmy Carter, FDR, Theodore Roosevelt, and JFK. Legend holds that female journalist Anne Royall squatted on John Quincy Adams' clothing on the shore until he answered all her questions. What a way to get caught with your pants down...or off altogether.

Via moocowfanclub.com
QUIZ: How Well Do You Know Your U.S. Presidents?
Are you a presidential trivia wiz? Happy President's Day!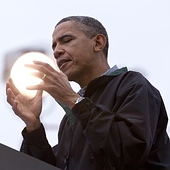 This post was created by a member of BuzzFeed Community, where anyone can post awesome lists and creations.
Learn more
or
post your buzz!