This year, as part of its Maternal Mental Health campaign with Comic Relief, MALTESERS® is supporting mums with a new campaign: "The Maternity Return".
Maltesers and BuzzFeed hosted a roundtable discussion made up of mums and Pregnant Then Screwed founder Joeli Brearley to talk about their experiences of returning to work after maternity leave. We tasked this group to come up with a series of tips for how you can help to support others in the same position, emotionally and practically.
These are some tips and ideas which cover a range of ways that friends, family, and colleagues can help ease that transition back to work.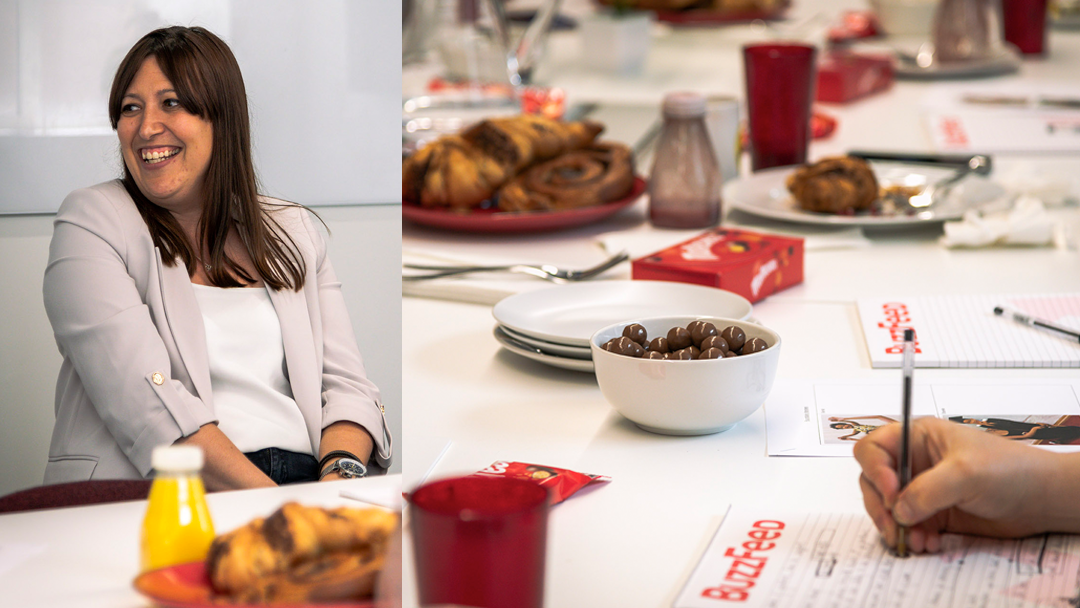 1.
Rather than assume, *ask* mums what they need (and be mindful of what you say and how you say it).
"I found that my supervisor, when I first went back to work, assumed a lot without actually asking me, 'How do you feel?' The question should be about what you need and what we can do to support you, rather than, 'This is what we think we should be doing with you.'
"I work Wednesday, Thursday, and Friday, and was the only part-timer on my team of seven. One day, they even said to me, 'I know you don't want to be here, but…' There was the assumption that I'd rather be at home."
—Becky, mum of two
"One of the things that's kept me in my job through everything is that when my son used to get sick a lot, there was no question that I could just go. I didn't have to think about whether I had leave or not or what the work was. There was this assumption that he was more important than anything that was going on at work. For me, the understanding that I was a person was really important."
—Anya, mum of one
2.
Check in and be a listening ear.
"After my second, I had postnatal depression and it wasn't until I went back to work that one of my teammates said, 'You know, you're not the same person as when you went off. Are you alright?' She sat down and had a cup of tea and a chat, and she was the person who actually got me to face it and get some treatment.
"I'd never thought of that side of going back to work before, having teammates who really did care and would ask some of those difficult questions."

—Tamsin, mum of two
3.
Offer flexible, hybrid, or part-time working options where possible…
"When I went back to work, instead of starting at 9am, I could start anytime between 8:30am and 10am, and then clock the hours at the end of the day, which really helped. My kids aren't in school yet but my thinking was that when they do start school, I'll be able to drop them off and pick them up."
—Xainab, mum of two
"When I went back the first time after nine months, it was full time and I was in the office five days a week. It felt like I'd been hit by a train because I'd just been taken away from my baby. There was no ease into going back. They'd given us Keeping in Touch days, but it's not the same.
"When I went back the second time and I worked from home for two days, I was able to spend more time with my baby in the morning and even go for a walk with her at lunchtime. At the end of the day, I didn't have to worry about a commute. I think that extra touch of time makes such a big difference in the week. You feel like you're still a part of your baby's life as they're growing up so that was a big win."
—Claudia, mum of two
4.
…or think about offering a phased return.
"A phased return can really help to ease yourself back into the workplace. When I returned after my first baby, I cried in the toilets every day for three months because it felt like everybody was speaking Klingon.
"I didn't know what was going on and it took three months before I went, 'Oh, OK. Right, I'm back.' Think about a phased return so that you can get used to being back in the workplace and to your child being in childcare. So you can ease the baby in as well as yourself."
—Joeli Brearley, mum of two and founder of Pregnant Then Screwed
5.
Keep an open dialogue about what's working (and what isn't).
"I'm part time at the moment and my boss wants me to go full time, but he doesn't want to pressure me. So he suggested we start increasing by an hour a day to see how I get on. I think employers feel like they can't do certain things but they can. There's no reason why I can't do an extra hour per day and then slowly increase it. There are all of these different options."
—Shanelle, mum of one
6.
Friends, family, colleagues: Be a mum's "support system" and remember that you don't need to wait to be asked.
"One of my friends often drops off food. She's a really good cook and she's a vegetarian, like me. She'll knock on the door and say, 'By the way, I was just passing and I've made a bulk of this,' and it's very sweet the way she does so.
"It's very casual. She doesn't make me feel like I'm not stepping up, not feeding myself and my son, so it's really appreciated."
—Natalie, mum of one
"Anything I can hand over, I always try to. It takes a load off my shoulders because it's the small things that add up and make me feel overwhelmed — the little errands that take time.
"My mum buys a lot of my son's clothes. That's something she likes to do and it takes my mind off having to do that because I hate going shopping for clothes, even for myself. Those little things. They make a big difference."
—Shanelle, mum of one
7.
Think about what physical spaces mums may need.
"Some women are still breastfeeding when they return to work so it's important to ensure you've got decent facilities for them to express milk. The toilet is no good. Nobody wants to express milk where somebody's just done their 11am poo because this is milk to feed a baby. You should have that conversation with your employer when you're returning."
—Joeli Brearley, mum of two and founder of Pregnant Then Screwed
8.
A "buddy system" can help mums to connect with others and navigate the return to work.
"Pair up women who've had children and have them come back to work with a woman who's returning so that they can buddy up. They shouldn't be their manager but somebody in a separate department.
This way, they can have conversations about things like postnatal depression, specific challenges they're experiencing when they return, and offer support and help. That makes a real difference to women when they're returning."
—Joeli Brearley, mum of two and founder of Pregnant Then Screwed
9.
Employers need to ensure that returning mums understand the company's childcare policies, benefits, and any other help that is available.
"They should provide a pack and say, 'This is what we can offer to make this easier for you. This is what we have as a company.'
When you have a baby and you go back to work, you shouldn't have the stress of having to dig out all of this information on top of that."
—Shanelle, mum of one
10.
Be sensitive and supportive of the need for work-life balance and help others to understand the challenges mums face.
"Before I had a child, I had no clue about what my friends who had kids went through. You're just not aware of these things and it's kind of HR's responsibility.

"Whenever someone is pregnant, a nice, little, and friendly one-pager could be sent out to colleagues so they can understand and have some frame of reference."
—Natalie, mum of one
"We have a real issue in the UK with presenteeism. We work the longest hours in Europe. Women are returning to work and because they have to pick their kids up from childcare, it can be frowned upon that they're leaving work on time. It can be expected that you will stay late and you will do this unpaid work and you're promoted based on that."
—Joeli Brearley, mum of two and founder of Pregnant Then Screwed
If you have a friend or colleague returning to work after having a baby, see how you can help ease them back to work using the tips above.
We want to say a huge thanks to all of the mothers who participated in this roundtable and candidly shared their tips and personal experiences.
Returning to work after maternity leave is filled with all sorts of challenges and emotions. Maltesers in partnership with Comic Relief is working towards a future where women no longer face injustice. Together, they have been working on breaking the taboo around maternal mental health and are now working to help empower women in the workplace. Find out more about this here.
Mars Wrigley is donating £500,000 in 2022 to Comic Relief, operating name of Charity Projects, registered charity in England & Wales (326568) and Scotland (SC039730).
Some quotes have been edited for length and/or clarity.