1.
An extra-large blanket so big, you may actually get lost in it. This cozy, plush number is a whopping 10 feet by 10 feet in size!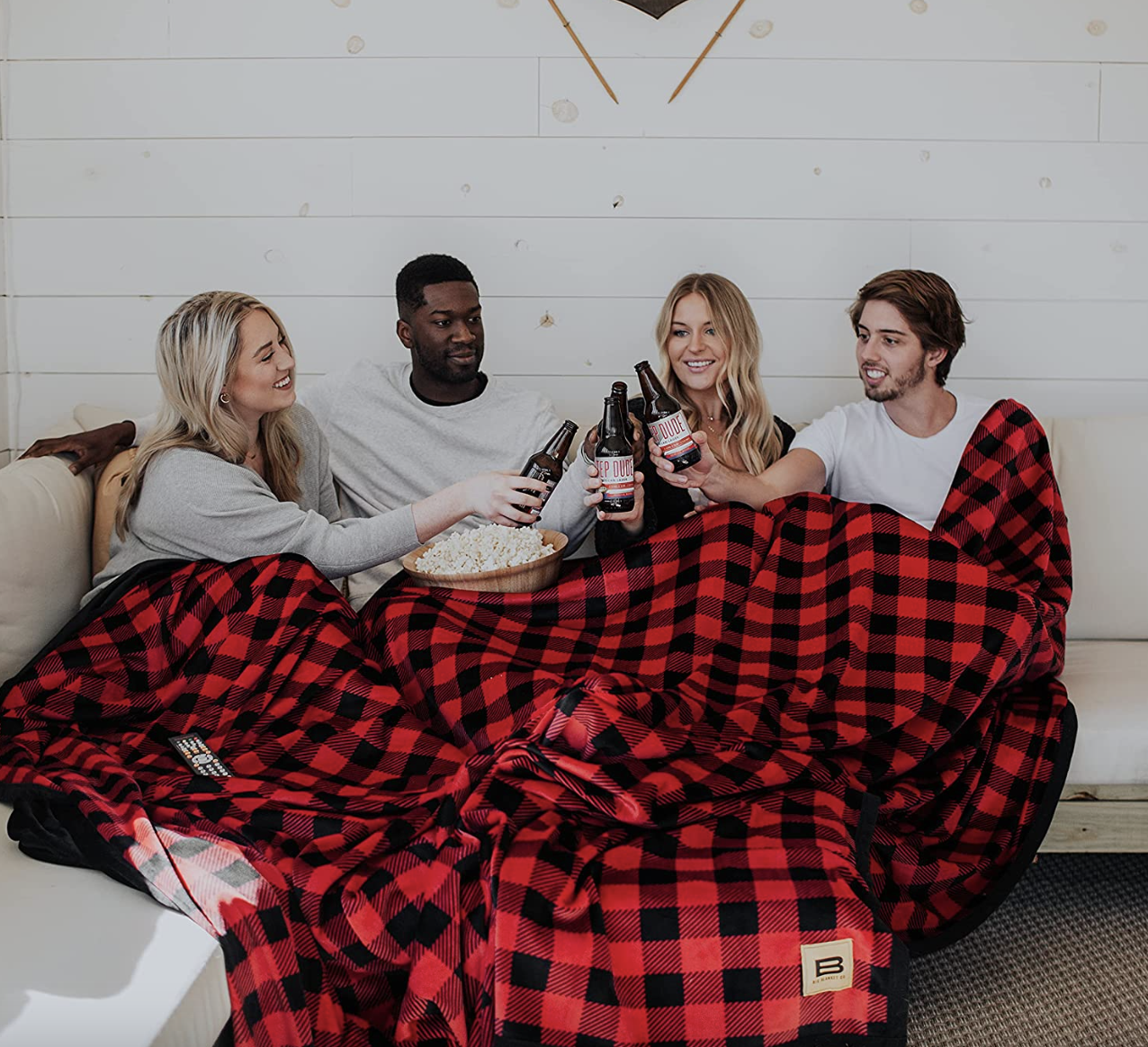 It's made from a temperature-regulating blend of polyester and spandex, making it softer than sherpa and fleece blankets while keeping you cozy yet cool!
Big Blanket Co. is a small business specializing in selling the world's largest blankets for the ultimate cozy setup in your home. 
Promising review: "I instantly fell in love with this blanket. I was hesitant to purchase at first with the price but I'm so glad I did. It's super soft, has just enough weight to it that it makes it soothing, and is surprisingly cool to sleep with. It doesn't get really hot like some of my other blankets do. The huge size is also a bonus, as I love hogging blankets all to myself." —Lindsey B.
Get it from Amazon for $159+ (available in six colors).
2.
A pair of memory foam slippers that'll totally upgrade your comfort-chic wardrobe.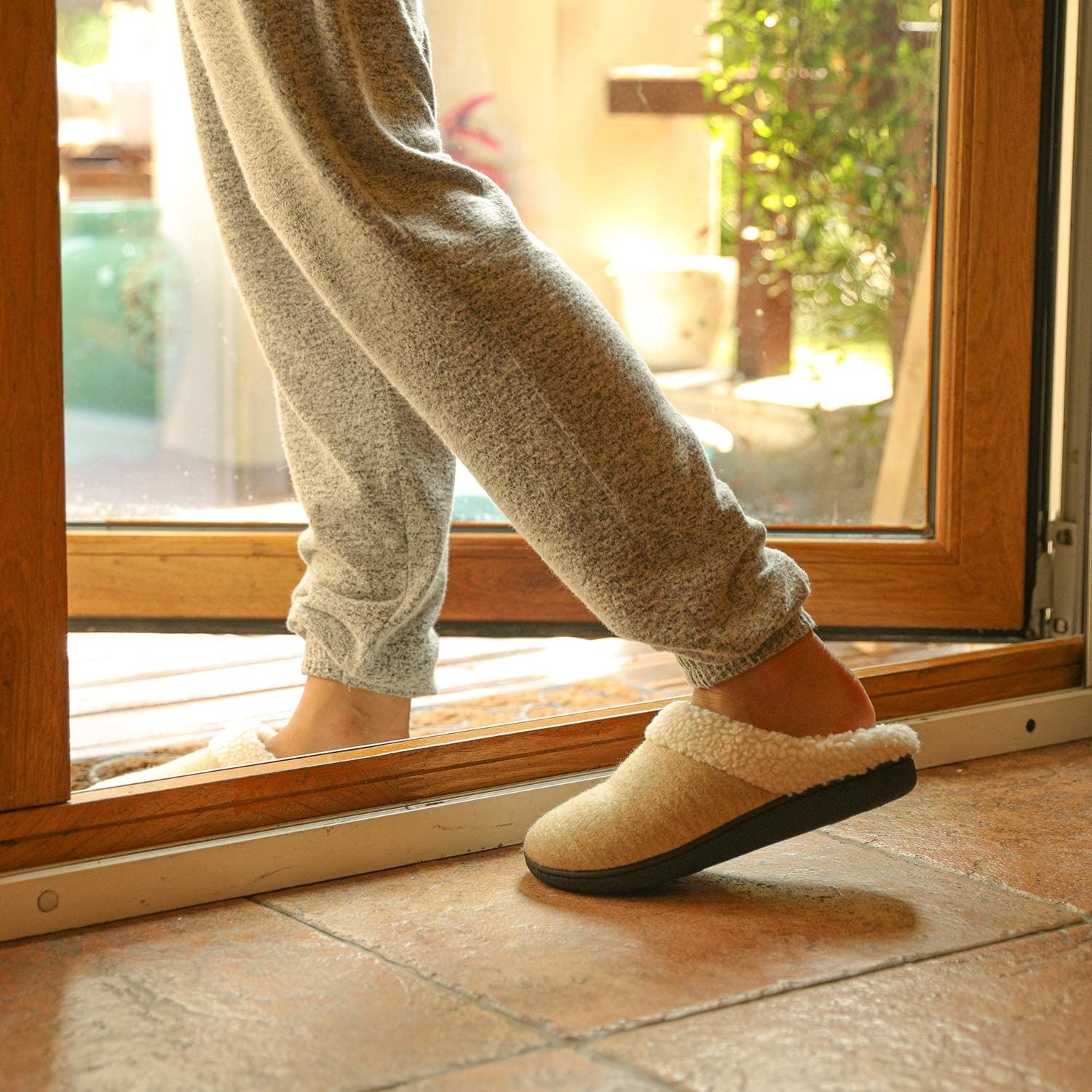 Promising review: "These are fabulous slippers! They're everything a slipper should be: super soft and warm, easy to slip on and off, and the sole comes up just high enough on the sides to keep the slipper from 'rolling' and it's got the right amount of grip to keep you from slipping on hardwood or tile." —Humans of Kork & Kopper
Get them from Amazon for $23.99+ (available in four colors and sizes 5–12).
3.
A cotton knit duvet cover in pumpkin, so you can cover up your old duvet and make your bedroom look like a winter wonderland even if you only sloppily make the bed. Bless.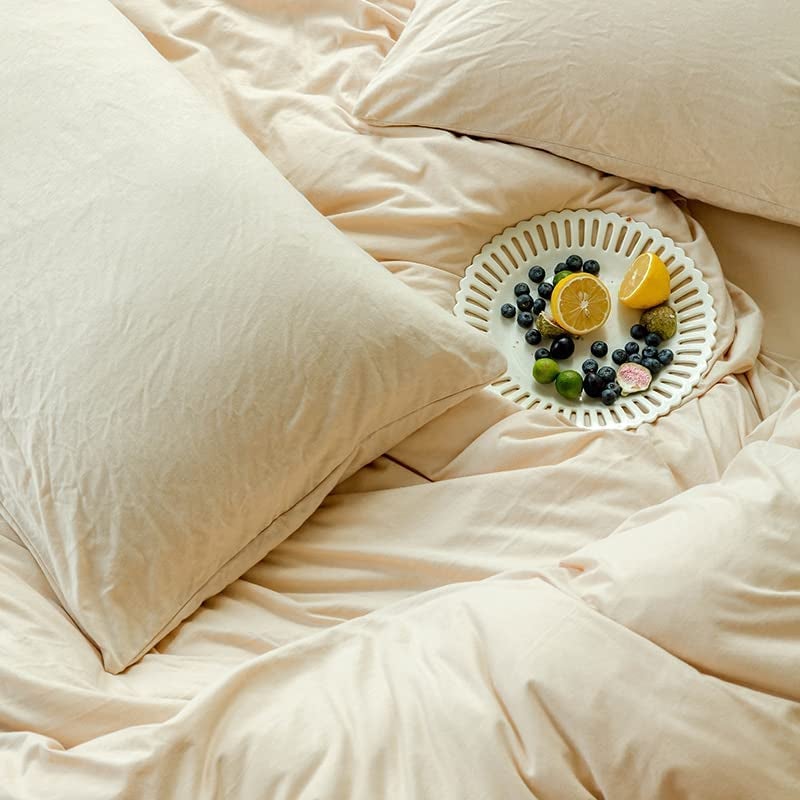 And if you're looking for a great duvet to fill this cover, here's a hypoallergenic option that reviewers love! 
Promising review: "I have been looking for a terracotta jersey knit duvet cover forever and took a chance with this one. The color is great, a dark terra-cotta/rust color. It's soft, but if I had to be nit-picky it isn't as soft as other jersey knit fabrics I have felt. Shipping was surprisingly fast and the size was perfect for my queen bed. Overall I am happy with my purchase." —Amazon Customer
Get it from Amazon for $40.87+ (available in three sizes and 22 colors).
4.
A sunset projection lamp for some soothing light therapy every night — letting you enjoy a sunset even if the view from your window is the brick wall from the building next door.
5.
A pine forest Bundt pan that'll delight anyone who lives to make cozy, cute comfort food all winter long.
Promising review: "I had this Bundt pan on my wish list for years and finally got it. I'm so thankful I did!!!! What an absolutely beautiful cake it makes with so little effort!!!! This is going to be our Christmas dessert tradition from now on!" —RachelKS
Get it from Amazon for $34.20+ (available in four styles).
6.
A fresh and fuzzy loungewear set — put this on and you're gonna wonder why all clothes aren't as soft as a stuffed animal. It's luxury, I tell ya! 
Promising review: "No joke, these are pretty much exactly the same as my Skims lounge set for half the price. The pants graze the tops of my feet even when I wear them high-waisted at my belly button, so I think they're plenty long. The robe is like wearing a blanket, but still looks put together. Anyway, I'm back here to buy a second color because I loved them so much!" —Jenna
Get the three-piece set from Amazon for $49.99+ (available in sizes S–XL and in 29 colors).
7.
A string of 200 warm twinkle lights for creating an ultra cozy seating area or making your bed look, like, extremely dreamy.
This comes with a remote which allows you to choose between eight lighting modes (with a set timer). A USB power adapter is also included.
Promising review: "I ordered these lights for a bedroom and they were beautiful! One pack of lights was way more than I needed for one room. I had excess lights after fully hanging them around the entire room, so the length was fantastic. Perfect for bringing a nice illumination to a room. Sometimes I only have these lights on as opposed to the room's lights and it makes the room very cozy. I just ordered another set for another room!" —DHB
Get it from Amazon for $11.19+ (available in two colors).
9.
An ultra soft faux fur rug sure to feel luxurious every time you get out of bed and have this fancy fuzz between your toes, instead of the cold wood floors beneath your feet.
Promising review: "My parents went to Europe and sat outside on furs like these and now they do the same at home. They live in the mountains in Utah. They put these on their metal patio chairs and then cover themselves with a blanket outside in the winter. The furs keep your backside insulated and then topped with the blanket they are able to have cocktail hour(s) on the deck all year long! It's honestly pretty sweet and the dog gets her own to lie on when she's outside too." —Amazon Customer
Get it from Amazon for $18.99+ (available in five sizes and eight colors). 
10.
A teak bath caddy that'll help you keep everything you might need nearby during a (1, 2, 3 hour?) bath.
Promising review: "Well made, pretty tray that fits all the way across my tub. Has a support for book or IPad which is great." —Jolene Saiz

Get it from Amazon for $59.99.
11.
And a mod bath pillow, to help you finish an entire book in the bath without your back getting sore. And all while using a bath pillow that isn't an eyesore (go ahead, browse, not all bath pillows are such beauties).
Promising review: "This has a lot of cushion for your back and neck. I had no issues with sticking it to the tub. The best part is the hook which allows it to dry out well. In this time of working at home, I need a nice tub to help relax." —Danielle Piacentini
Get it from Amazon for $37.99.
12.
A towel warmer is gonna provide you with that fresh-outta-the-dryer feel every time you pull a towel out and wrap it around your body!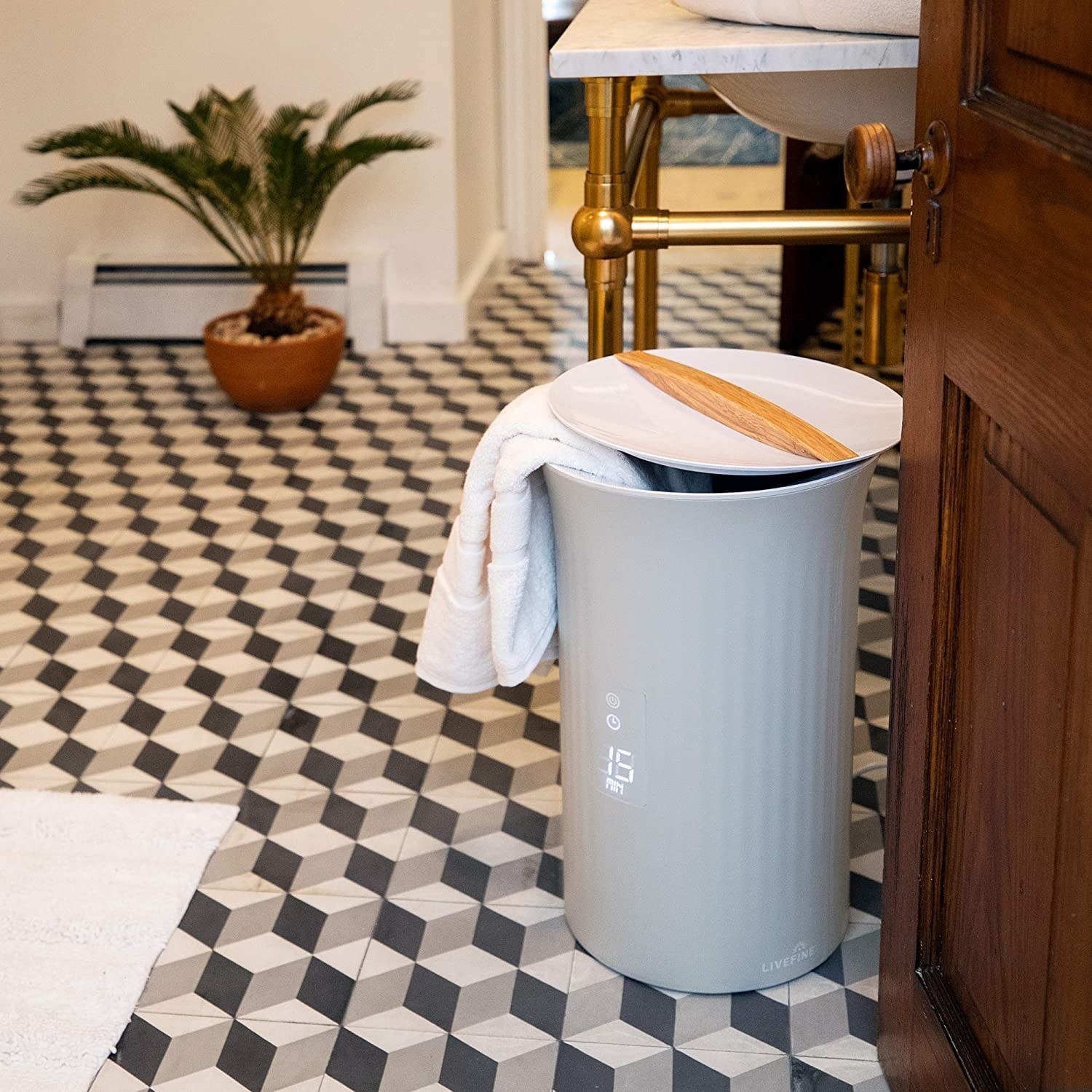 It can fit up to two towels and has a 15-minute adjustable timer.
Promising review: "After reading lots of reviews on several different towel warmers, I bought this product for my mom for Christmas. I tested it out before giving it to her. It was works great! The timer looks so sleek and fancy. Even at only 15 minutes, you get a nice warm towel! 10/10 would recommend! Already thinking of buying one for myself!" —Kaylee Sierra
Get it from Amazon for $159.99.
13.
A sherpa-lined foot heater for cold toes that wanna get in on the cuddling fun.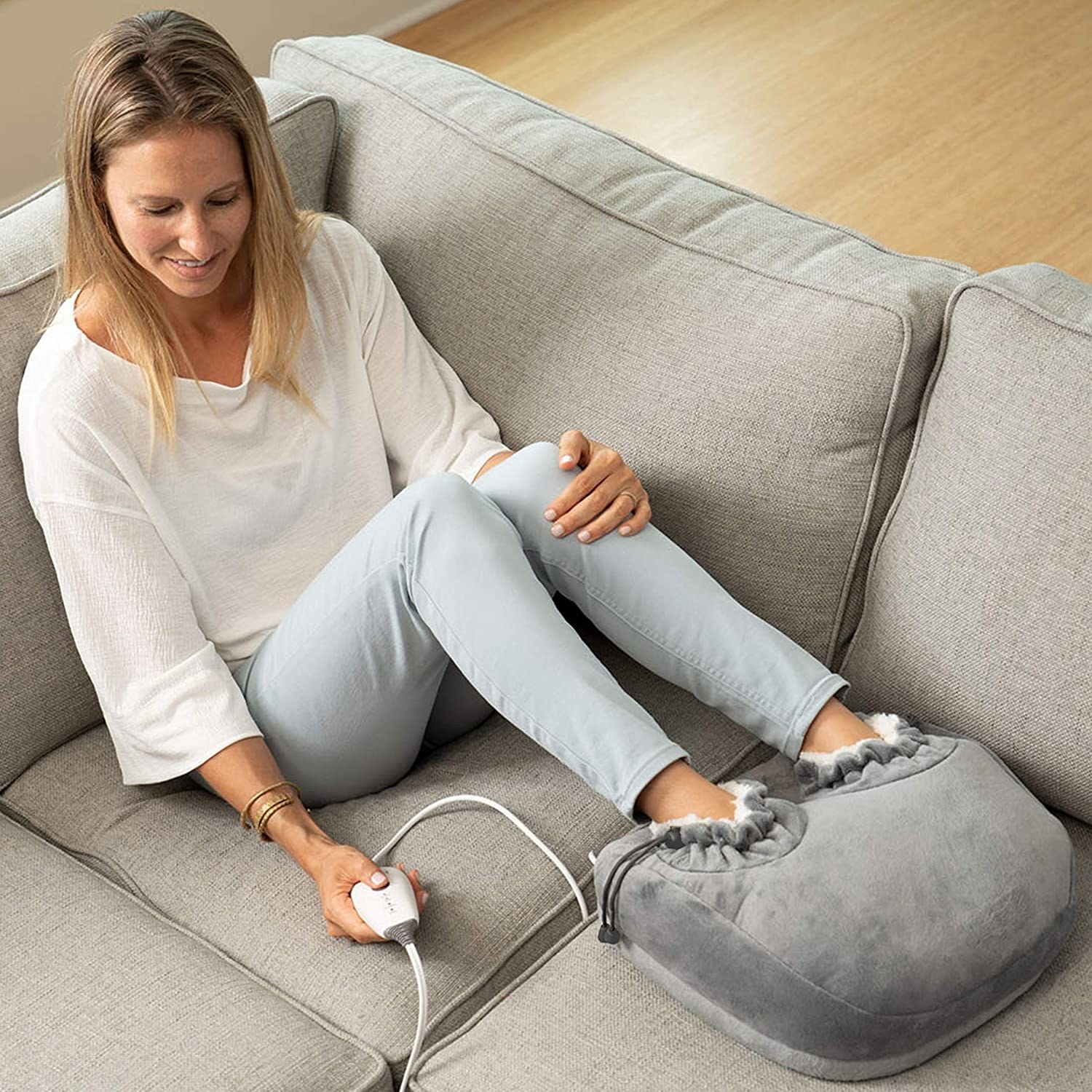 Promising review: "This is the first product I've bought that actually works! I've suffered from cold feet all my life, but no more. This foot warmer is so cozy and plush, but most important of all, it actually heats my feet on even the coldest nights! Love it!" —Killaree
Get it from Amazon for $49.99.
14.
A faux fur marshmallow blanket that'll have you feeling every flavor of fluffy whenever you get the desire to curl up into something soft when life feels rough.