1.
A cotton knit duvet cover so you can cover up your old duvet and make your bedroom look like a winter wonderland even if you only sloppily make the bed. Bless.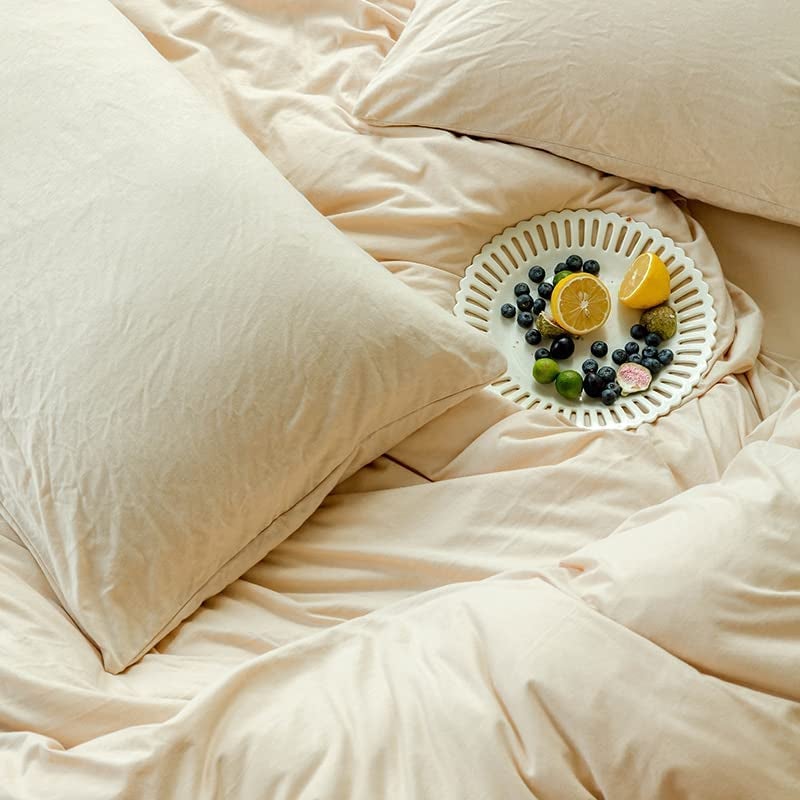 And if you're looking for a great duvet to fill this cover, here's a hypoallergenic option that reviewers love! 
Promising review: "I have been looking for a terracotta jersey knit duvet cover forever and took a chance with this one. The color is great, a dark terra-cotta/rust color. It's soft, but if I had to be nit-picky it isn't as soft as other jersey knit fabrics I have felt. Shipping was surprisingly fast and the size was perfect for my queen bed. Overall I am happy with my purchase." —Amazon Customer
Get it from Amazon for $58.01+ (available in three sizes and 23 colors).
2.
A luxurious rainfall showerhead combo set complete with a faucet hose, plate, and trim — this'll turn your daily shower into a luxurious spa experience every time you turn the water on.
This set includes: a 10-inch rain showerhead, a shower mixer valve control, a brass handheld showerhead, a stainless-steel shower hose, showerhead arm, and a brass shower bracket holder.

Promising review: "This rainfall shower and handheld provide a luxury spa experience in the privacy of your own bathroom. They are made of substantial, high-quality materials, and look and feel high-end. The rainfall shower is amazing with perfect pressure combined with beauty. It encourages standing for long, relaxing showers just enjoying the water as it falls over you. The handheld is magic for sore muscles or just to enjoy the massage like water. The diverter is easy to use. The price for such high-quality products is more than reasonable." —linda33
Get it from Amazon for $138.47+ (available in five colors and three styles). 
3.
A bagless, touchless stationary vacuum so you can throw that dust pan in the GARBAGE where it belongs. You will no longer bend and snap every time you sweep. 

Promising review: "Saw it on TikTok and knew I had to have one. I hate cleaning but get annoyed with the clumps of dog hair and bits of things on my kitchen floor. I usually just vacuum my tile with the vacuum, which is a pain. This thing is so easy to just sweep things into and it sucks them right up. Sure, it's more expensive than my actual vacuum, but I've only had it three days and have used it two times." —Amazon Customer

Get it from Amazon for $128 (available in six colors).
4.
A Renpho percussion massager sure to be the best gift to give your aching muscles in the new year. 
Promising review: "My husband bought me a massage gun for Christmas. I opened it, and it had been used (yuck) so I said, let's return it. My daughter in law got one for Christmas as well. We put an end on each one, and we compared them. Mine was from Sharper Image/Costco, hers was this model Renpho. Mine in comparison was not powerful, did not go as fast, and just didn't do much for me. They look similar but they were NOT. So I returned mine, and I ordered this Renpho. Due to the holidays, there were delays with the shipment. I was soooo disappointed because I was looking forward to trying it on my aching feet with plantar fasciitis. I have tried EVERYTHING for my feet, nothing works and I am always in pain. It came, and I opened the box to find an UNUSED, BRAND NEW massage gun with all the attachments. I tried it out and I thought wow, that feels AWESOME. But the true test is how do you feel the next day right? You cannot always walk around with a massage gun in your hand. The next day, I felt AMAZING. AMAZING. I used it on my hubby's back too, and he said he felt so much better today as well! In addition, this one is way QUIETER than my original massage gun. It's just really a quality piece. You won't be disappointed in this one. It really is what it says. I know it is hard to choose from all the models on the internet, but this one is the real deal. It's worth the money if you have pain." —L Johnson

Get it from Amazon for $69.99+ (available in four colors). 
5.
A set of rainbow wineglasses that'll add a little color to your wine collection, even if you're exclusively a Pinot Grigio person. 

Check out a TikTok of the rainbow wineglasses in action. 

Promising review: "Love these! Wasn't ready to splurge on Estelle-stemmed glasses, so I got these instead. I've run them through the dishwasher once so far, and they held up fine. Glass is thin near the top, which I love in a wineglass. I would recommend!" —Tricia
Get a set of six from Amazon for $69.95 (available in five styles). 

6.
Beats Solo3 wireless headphones with up to *40 hours* of listening time on a single charge. Gift yourself these to help you power through a study sesh by blasting Mario Kart on a loop.
Promising review: "I had to write a review on these Beats. I use these for work. I am always in meetings I normally use my air pod pros or my old air pods love them both. but I feel like I am always charging one or the other. Since I bought these beats I cant even find my air pods. Not even using them anymore. I can make it all week thru meeting after meeting and phone calls with these Beats. Best thing ever. I only bought these because I bought a red one for my son. He wears his at the gym and he said they were comfortable for him when on the treadmill. They are also comfortable on me and I wear them for several hours a day. I dont feel like it is compressing my head. no headaches. It is all positives from me and I bought the cute pink one for me." —Nana & Papa T

Get them from Amazon for $99+ (available in four colors).
9.
An Echo Show 15 smart display for easily displaying and organizing ~all the things~ you need to know on a daily basis. Keep the household on track with shared calendars, personal sticky notes, to-do lists, shopping lists, and assigned reminders. It also syncs with entertainment apps, so you can stream favorite shows, podcasts, music, and more.
Promising review: "I was hesitant to get this one originally, I was not sure if it would be over-kill or too big. I am soooo glad I took the plunge and bought it. I work from home and sometimes I just need a little background noise. It was super easy to set up and re-linked everything from my original Echo. It was easy to link Hulu, Netflix, and YouTube Premium. Your Amazon Prime account is automatically linked. In the mornings I ask Alexa to start my day and she tells me the current weather, some history tidbit, the news, current traffic and weather forecast for the day. When playing Amazon Music you get an option to see the lyrics, which is great when your other half sings the words wrong, lol. I chose to purchase the wall bracket from a small business owner due to the flexibility it provided. I can move the Echo out away from the wall, turn it while cooking to see recipes, view it while working at my desk or just tuck it back tight to the wall when I want it out of the way. This bracket also allows full tilt options as well as changing from horizontal to vertical. I have full use of my Echo Show 15 and again so pleased that I purchased it. So far no glitches, fingers crossed." —S. M. Paulson
Get it from Amazon for $249.99.
10.
A Vitamix 5200 Blender — this self-cleaning blender is gonna whip up a whole 64 ounces of smoothies to help your morning meal prep. And that's not all! This professional-grade gadget also works when making soups, dough, sauces, non-dairy milks, and more.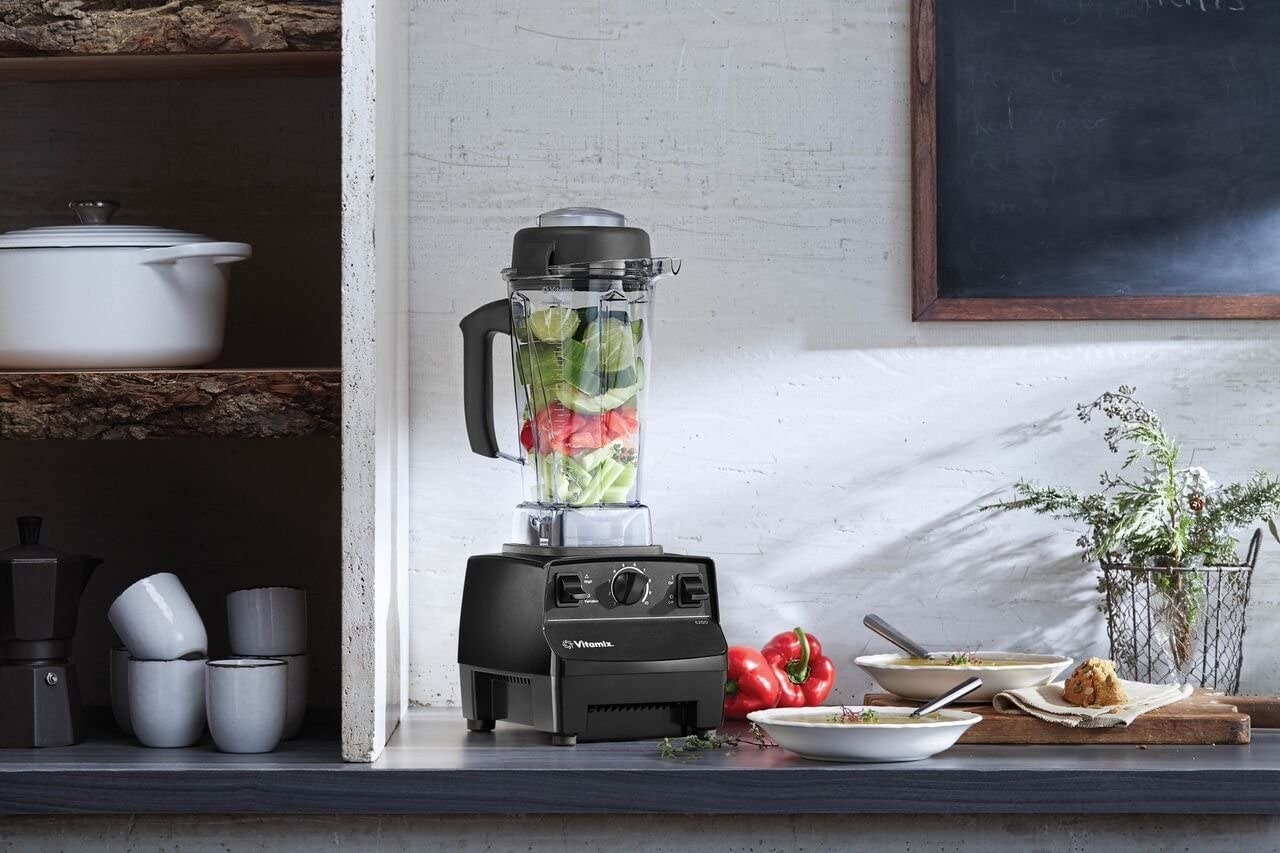 Promising review: "I need more than a 5-star option here!!! Just made my first smoothie and realized the ones I made before now were a joke compared to this; everything (including spinach) blended so perfectly, it is like sipping on tasty liquid velvet. I also have an Omega juicer which is great but also extremely time-consuming; nutrient absorption and overall used produce/ other ingredient content between the two methods is very different, and both are beneficial in their own ways, but this blender is a super-fast prep/combine/cleanup deal making it a way better option for getting fresh nutrients on the go. I thought it was surprisingly quiet and is only loud in the higher speeds, and smoothies will only be used very briefly (less than a minute) judging by what I made today which included frozen fruit. Daily life and habits will never be the same, and I'm sooooo happy I finally dropped the cash for this!!!" —Sarah W 
Get it from Amazon for $397 (available in three colors).
11.
A Courant cell-charging catchall — this unique find is the sort of practical-meets-pretty decor only *true* shoppers know how to find. You'll be able to use this as both a trinket dish *and* a charger for your phone. Glorious.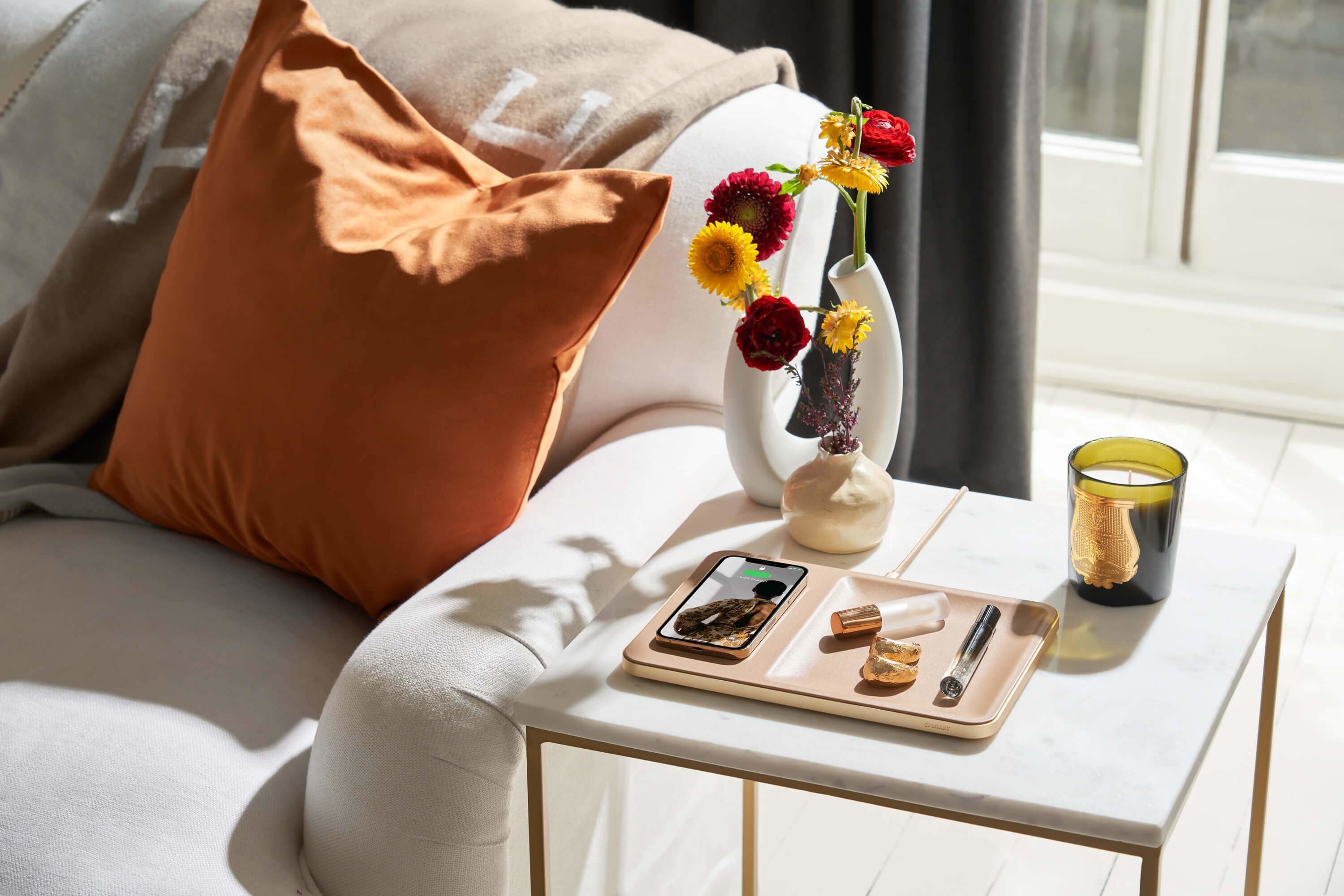 Promising review: "I ordered this for my husband and was a little hesitant at the price, but once we received it, I was impressed with the quality and the sleek design. He absolutely loves it and has already bought a second one for his office." —Marissa S.
Get it from Courant for $175 (available in five colors).