1.
A smokeless portable fire pit for inside folks who think a campfire fire sounds nice, in theory. The 360-degree Airflow design guarantees a perfect flame, even if your fire-making skills aren't exactly going on your resume anytime soon.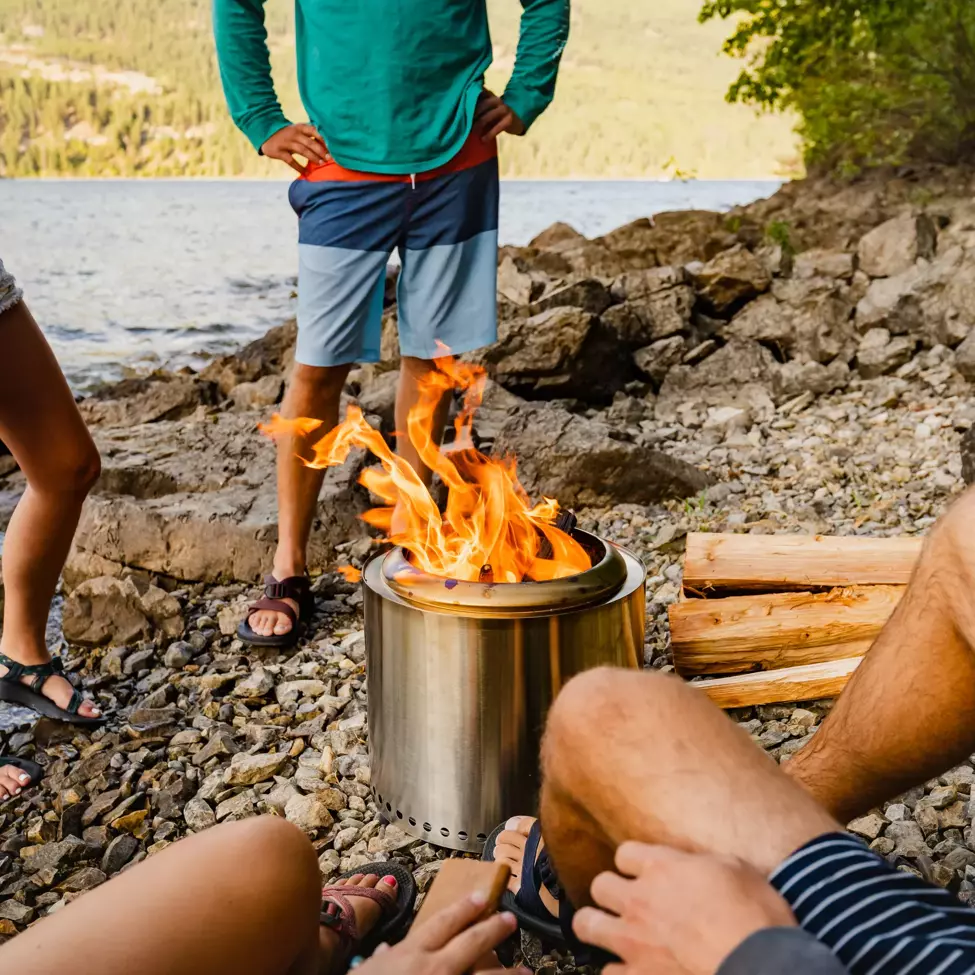 I have a Solo Stove! It was one of the first things we got for our place after my husband and I bought our first house. We wanted to see if we'd enjoy having a fire pit in our backyard but our budget was exactly $0 for installation. We got this to see how often we'd go out by the fire and it is SUCH a hit! We also love that we can take it with us when we go camping. Don't hesitate...you want this. 
Promising review: "As someone who has built hundreds, if not thousands, of fires – this fire pit is by far the least smoky and easiest to start!! I'm quite impressed." —Jason G.

Get it on sale from Solo Stove for $199.99 (originally $299.99; available in three styles).
2.
A lightweight fast-drying towel – this repels sand instead of attracting it like most beach towels do! This towel is gonna make a day at the beach finally feel like, well, a day at the beach! 
It's made of a polyester microsuede material that absorbs quickly and dries fast. It also has an anti-microbial finish to keep the towel clean longer.
This small business started SMALL (we're talking in the back of a van!) and thanks to founder and CEO Wylie Robinson, the Kickstarter success has become a go-to shop for nature lovers looking to stay cozy in the great outdoors. The company is now based in Portland, Oregon.

Promising review: "This towel dries better than a conventional towel! Not only that but it was completely dry and ready to reuse in about 10 minutes. Normally we'd go through a stack of beach towels in one day. The towel itself is big but it packs up compact leaving more room in your bag for other things. It's soooo soft, made very well, and the pattern is gorgeous. I will be replacing all of my towels with these!!" —Danielle W.
Get it from Rumpl for $50 (available in several styles).
3.
A gas-powered pizza oven that'll reach over 900 degrees F and cook a 12" pizza in 60 seconds. Trick yourself into spending time outside by working on the perfect pizza. It's all about that leopard-spotted crust!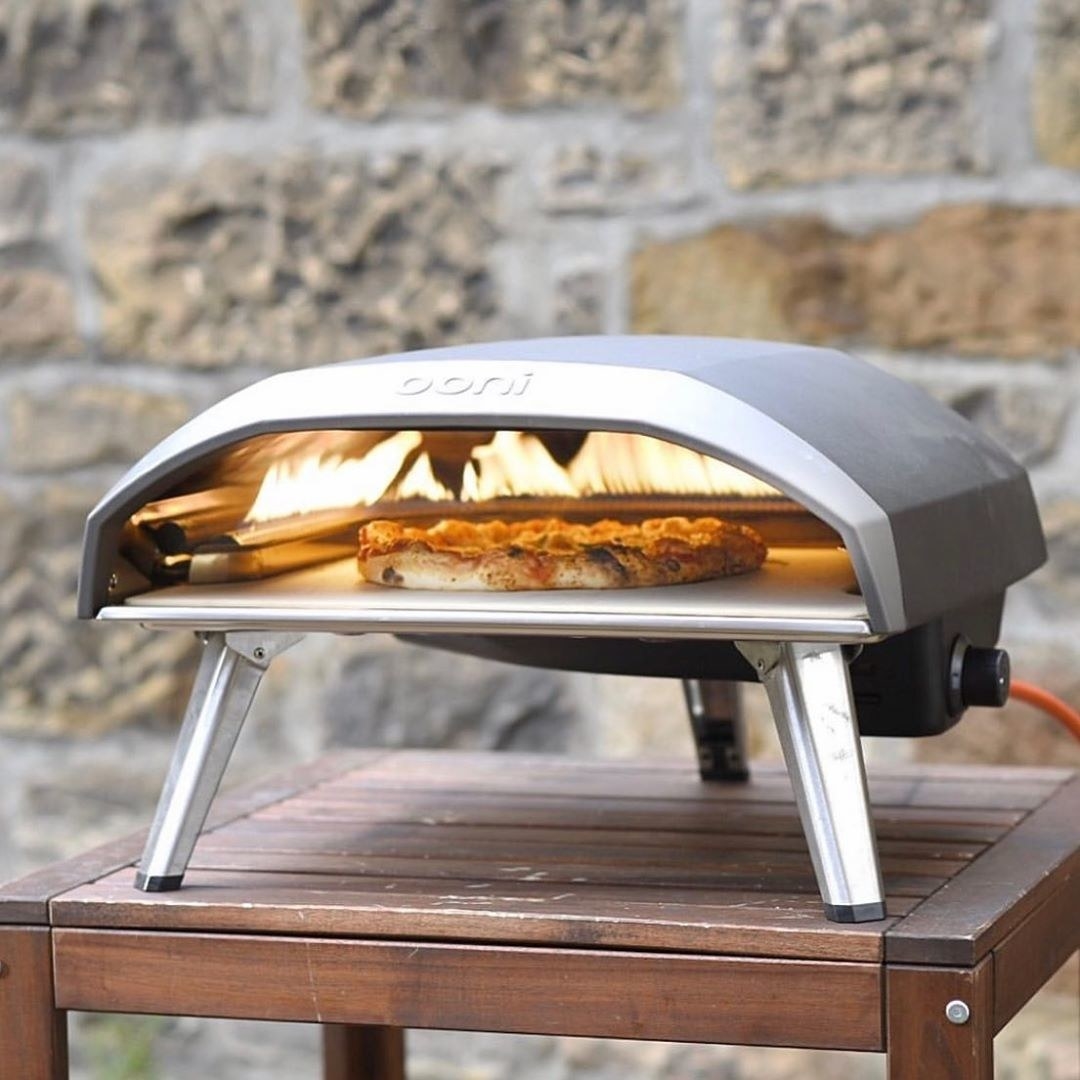 4.
A lightweight parachute hammock for people who would spend time huffing and puffing on a hike *only* if it means snagging a nature nap in the most peaceful spot possible.

Promising review: "This is super comfy and light. It's very easy to put up and wide enough that I was able to have a sleeping bag, two blankets, and my pillow in it. I had room to actually roll around a little; I laid on my back and side very comfortably. I would purchase this item again and from this seller. The hammock arrived on time and in great condition!" —Kindle Customer
Get it from Amazon for $29.97 (available in nine colors).
5.
A portable 120-inch screen that'll turn your family's regular movie night into a fun night out (at least, out to the backyard). This is lightweight, sturdy, and reviewers say it's a cinch to set up.
Promising review: "This projector screen is easy to set up and for the money, it is a great value. It is a stretchy material. The stakes are definitely needed if you set up outside as it is basically a big sail. When you have it strapped down, it does make it feel sturdy. So far we have used several times outside with no issues. It comes in a simple bag, which is nice to pack in the closet as well. This projector is worth the investment." —Kelly Wooten
Get it from Amazon for $105.99.
6.
A Spikeball set you can play at home or take with you on vacation. Don't waste away your time on the lake, get in some outdoor family fun with this entertaining game! 
7.
A sailing ship kite — this is likely gonna make a windy day worth being excited about. Why? Because this thing is the ship!
Promising review: "This may seem like a goofy item for an adult to be excited about, but I have been eyeing this kite for a while and finally decided to go for it! I'm really excited to take this kite to the beach and see how it flies! It will definitely require strong winds to get it in the air, but until then, it also makes a nice decoration piece in our guest bedroom. BONUS, it was also fun and easy to assemble." —Sam
Get it from Uncommon Goods for $50.
8.
A giant bubble kit with a two-handle wand for making eye-bogglingly big bubbles in your backyard. 

The kit comes with the giant bubble wand, two pouches of bubble concentrate, and a booklet to help you become a skilled bubble creator!
Promising review: "Love this!! Easy for kids to use — my six-year-old son figured it out pretty quick — and fun for adults as well (my husband and I might have played with it as much as our son did...) Makes amazing bubbles. The bubble mix it comes with is fantastic."—Thomas Durant
Get it from Amazon for $15.95+ (available in six styles).
9.
A portable instant photo printer — this is gonna be the *picture* perfect gadget if you want proof you actually spent time outside while on vacation.
Promising review: "I originally purchased this product for my 11-year-old granddaughter who's always taking pictures. This is the absolute best gift I could have ever given her. It is compact, easy to use, and takes great quality reproductions of pictures in sticker form — how fun. I would recommend this product to anyone who wishes to give an out-of-the-ordinary gift." —Bianca Trevino
Get it from Amazon for $77.98.
10.
A SunPrint paper kit sure to spark the interest of artistic souls and clever kiddos. Gather leaves, flowers, and the like on your next nature walk and set them up on this kit while it sits in the sun. Then watch your natural craft come to life!
11.
A remote crocodile boat that'll scare the dickens out of your cousins during your family reunion. This is the year YOU finally win the prank wars. Celebrate with the wide crocodile smile you deserve!

Promising review: "This was so much fun to play with. I tricked my kids when we went kayaking and they were so surprised to see an alligator in the water. The remote is easy to use and it comes with two battery packs and a screwdriver to get into the battery compartment. It lasted about 20 minutes per battery, which is about average for the remote control things I've bought in the past." —Tea
Get it from Amazon for $35.99.
12.
A campfire fishing pole so you can ~fish~ for a laugh while cooking up dinner and dessert during a camping trip or bonfire night.
Promising review: "This has been a hit for years, so I bought another one for my son. It is actually more functional than any of the other styles that are way boring! I take it camping and even strangers are entertained. It takes a little practice to get the fish to flip the hot dogs over but it is so worth it and fun once you get the knack of it. My 6-year-old granddaughter loves it because the hot dogs don't fall off." —Pony Expressed
Get it from Amazon for $26.99 (available in four styles). 
13.
A retro number to help you spend a beach vacation looking your best even if your perfect day is usually inside, in sweats, hiding from the sun.
Promising review: "This suit is great. I was worried about the sizing, but took measurements and read a bunch of reviews, and it ended up being just right. This is the first swimsuit I have actually liked in a long time." —Rachel S.

Get it from Amazon for $29.99 (available in women's sizes S–4XL and 27 colors). 
14.
A gardening kit so you can plant vegetables as fun and funky as you are if you've decided gardening might be a good thing.
The kit comes with five biodegradable pots, five peat discs, five plant markers, and five foil sealed seed sachets. Now they can grow purple carrots, striped tomatoes, red Brussels sprouts, rainbow chard, and more.
Promising review: "I love this little kit so much. It has everything you need. It would make a super cute gift! My Brussels sprouted first then the chard, squash, carrot and then finally a tomato sprout! Super cute and very healthy activity. Highly recommend! Love my funky veggie sprouts!" —S. Stevens
Get it from Amazon for $19.99 (available in two styles).