1.
A "Shower Cat" for folks who, like me, spend half their time in the shower making hair art on the walls, which inevitably ends up clogging the drain (ahem, sorry for the over-share). This makes catching your hair *much* easier and gives it a proper place while you finish sudsing up. 
Shower Cat is a small business established in 2021 specializing in products to prevent shower clogs. 
Promising review: "I first saw this product on TikTok and I knew immediately that I needed it. I just moved into a new apartment and I didn't want to be how I used to be, where I'd just let hair go down the drain and plug it eventually, or peel it off of the drain after each shower. It works great but I probably need some practice with it. I currently just floss my hair through it so it will hold them and there are a few stray hairs that don't stick. I would recommend to anyone who is tired of putting your loose strands of hair on the shower wall." —Cari Schwartzkopf
Get it from Amazon for $14.95. 
2.
A much-needed peanut butter knife with a brilliantly shaped blade that'll guarantee not a *drop* of your perfect peanut putty goes to waste. Hate getting peanut butter all over your knuckles when scraping out the container with a standard knife? Get this in your life. 

Promising reviews: "I love this knife. You couldn't design a better knife for peanut butter if you tried. I bought a less expensive one, but returned it because the design was poor. There's no substitution for this quality product. Spend a couple dollars more, and get the best." —Beck
"You can use it for many things. It is strong, and can get things out of deep blenders, like a Vitamix. You could even use it to spread icing on a cake! Best of all, it is perfect for stirring those large nut butter containers you get from the warehouse stores." —Amazon Customer
Get it from Amazon for $12.99 (available in two colors and multipacks).
3.
A roll-up drying rack made with metal grates covered in soft silicone to prevent scratches and take up basically no storage space. Roll this on top of the sink when in use and tuck it away in a drawer when the dishes are done! It dries fast, so no worries about drippings in your drawers.
Promising review: "This is very sturdy and it allows air into cups, pans, etc. to dry easily – unlike a drying pad. It holds heavy pans with no problem. The color is soft and goes great with my white and gray countertops and it's extremely functional. It's easy to clean, just roll it up and store it under the sink. Highly recommend. 👍🏻" —Denise
Get it from Amazon for $22.98+ (available in three sizes). 
4.
A Baseboard Buddy that'll basically work like an eraser. This has an extendable handle that'll make cleaning tiny corners and often-ignored areas not just simple, but suuuper satisfying. 
Promising review: "Buy it NOW. Honestly, I had huge reservations for this thing. Yet another miracle cleaning tool that will break or bend or something. I was so wrong. It was easy to put together and I sprayed it with Mean Green and went to the baseboards. No more kneeling and no broken back. This thing is amazing. It is durable and the pad is super absorbent. I am so happy. I can't wait to do the rest of the house!" —artgirl

Get it from Amazon for $24.99.
5.
A pack of spin hair pins are easily gonna hold your hair tight no matter how much you move, saving you from constantly readjusting your 'do throughout the day. 
One of these coils is as strong as TWENTY standard hair pins. Bad hair days are officially extinct.
Promising review: "I'm a nursing student and have to wear my hair in a bun every day. I've tried all the bun makers, watched YouTube videos, and spend way too much time on getting my hair into a bun. I was able to make a pretty bun that was secure in under 30 seconds. I thought it was a fluke so I did it again, and then again. I have hair to my mid back, and three of these worked perfectly for me. If I can get my hair in bun in under 30 seconds, trust me...anyone can." —Tina
Get a pack of three from Amazon for $6.89.
6.
A garlic rocker that'll, ahem, rock your world. This tool is so much easier than a traditional garlic press. 
I cook with a shocking amount of garlic and I always hated dealing with my old garlic press. This one-piece solution is SO much better than the old school tool! You simply place your peeled garlic under and rock at an angle, it minces just the same. This also comes with a (TBH very cute) scraper *and* a silicone sleeve that'll help you peel your cloves in an instant.
Promising review: "I like garlic very much, so I use this garlic press every day. It works very well, is easy to use, and easy to clean. Compared with the garlic press I used before, this is more labor-saving and comfortable." —Jessica
Get it from Amazon for $8.99+ (available in two colors).
7.
A six-port outlet, which SWIVELS, meaning you can finally use the outlet behind your sofa! Which is great news when basically everything you own needs an outlet these days.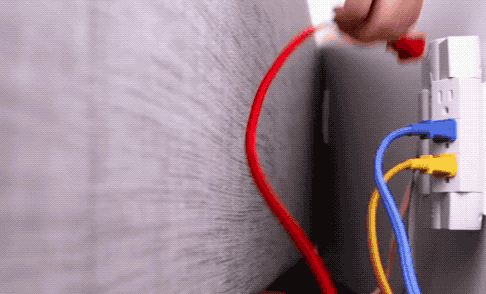 This even has two USB ports. Bless.
Promising review: "Where has this thing has been my whole life?! I've struggled with plugging and unplugging my phone charger and lamp behind my bed for the longest time. My poor husband didn't even get an outlet – he had to charge his phone across the bedroom. This device has been super convenient because now he and I can simply plug our charging cables into the USB outlets along the top of the plug. This completely eliminates having to bother plugging the block up at all. Then, the outlets themselves twist to the sides instead of straight out like a normal outlet. I've got a whole side dedicated for what I need plugged in; a lamp and now a white noise machine. The other side twists to the right, so my husband can plug in whatever he needs. No more cables getting smooshed and bent...no more struggling to plug something in behind the bed... Well done and thanks for making such a smart product! Very convenient." —Amazonaholic
Get it from Amazon for $25.51.
8.
A silverware cubby for upgrading your currently cluttered utensil drawer. This space-saving solution practically flat packs your flatware.
I use this in my kitchen! I have to admit...it hasn't exaaactly helped with organization. What it *has* done is created a neat and orderly spot for my utensils...opening up a ton of extra drawer space for my unruly stash of pens, bouillon cubes, drink flavor packets, and the like. Long story short — I recommend this for tidy and messy folks alike!
Promising review: "We were short on storage and drawer space and this worked perfectly for our tiny drawer!" —Angela McMichael
Get it from Amazon for $11.24+ (available in two sized and four colors).
9.
A Scrubbing Bubbles toilet cleaning stamp that's easy peasy to put on *and* makes cleaning your toilet simpler than it's ever been! Mostly because, with this, you won't be the one cleaning your toilet.
Promising review: "I was sooo skeptical and was confused about how they'd work but the gel solidifies and with every flush, suds wash through with the water and it really makes a fresh difference. Also the scent is light but really nice and fresh! I recommend these 100%! They're super interesting but they do the job." —Janet
Get six stamps from Amazon for $4.99.
10.
A U-shaped shelving system may give you so much usable storage space you just might finally find the spices you actually need to cook with. 

Promising review: "Product is perfect for what I need it to do. Fits just right, is more than sturdy enough, and has made my absolutely nightmarish spice cabinet look awesome. No more duplicate spices going bad in the back of the cabinet! It's not at all difficult to assemble. Watch the assembly videos (they're short) before you start opening the parts bags. Otherwise it's easy to get intimidated by all of the extra pieces." —Congaree
Get two shelves from Amazon for $24.97.
11.
A window fly trap that'll get rid of pesky house flies in an efficient and sanitary way now that bug season is in full swing.
Promising review: "Gross yet effective. We live in the country with animals so we have lots of flies. I did not want to hang a fly trap but caved when I saw this. I feel it's not as noticeable as others and is easy to hide and works very well. Easy to hang and does not leave a sticky residue when removed." —Tina
Get a pack of 12 pieces from Amazon for $6.99.
12.
A butter bell — this makes butter so soft, rich, and spreadable you're gonna think it's the best thing since sliced bread. Avoid those dreaded bread holes when trying to put impossible-to-spread refrigerated butter on toast. You *know* your toddler won't eat it if there are any imperfections. 
Promising review: "This looks great on the counter and works well! It makes butter easy to spread and stays fresh with natural water seal. I should have bought one of these years ago!" —Amazon Customer
Get it from Amazon for $27.95+ (available in 14 colors).
13.
A Kochblume spill stopper to keep meals from boiling over onto the stove by trapping excess foam and liquid. No more tossing a wooden spoon over your pasta hoping it keeps the bubbles at bay!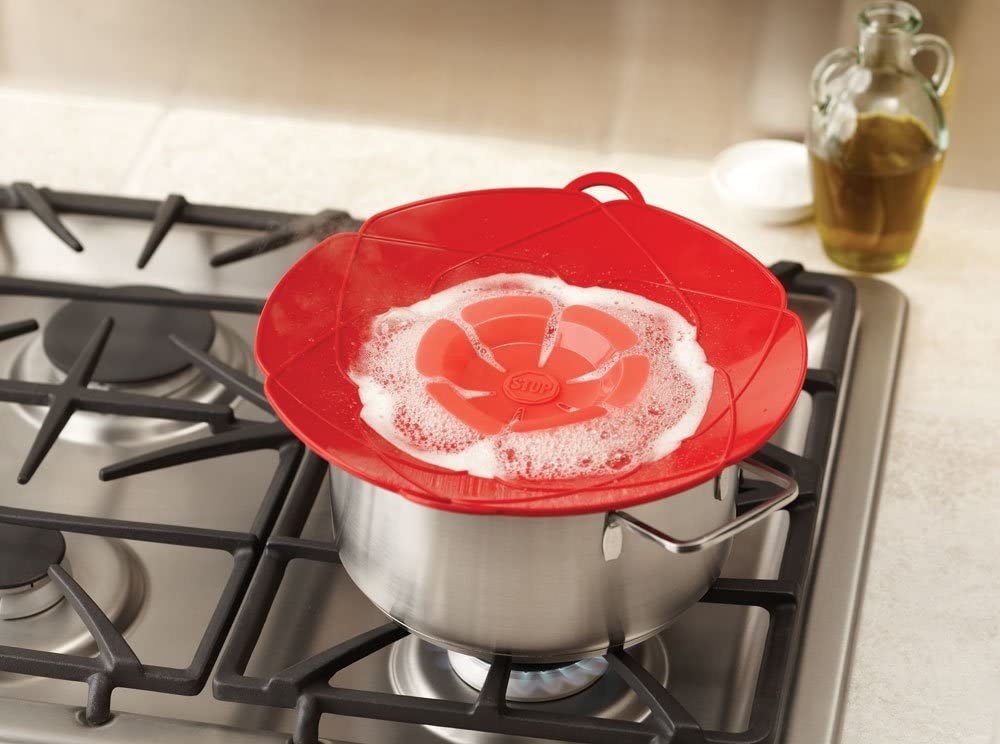 Promising review: "Wow wow wow, I have no words to describe how great this product is. I'm a mom with a large family who cooks and bakes all the time, and there is never a time that something doesn't spill over even when standing and watching the pot. With this, life has just gotten easy. I think I'm throwing out all my pot covers after using this." —Rackel
Get it from Amazon for $20+ (available in three colors).
14.
A front seat organizer designed with two extra drink holders and a catchall spot for keys, lip balm, and the like. Reviewers say this easily fits in their car, even if they didn't have any cupholders before. If you, like the rest of TikTok, need a caffeinated drink, a hydrating drink, and a *fun* drink all at the same time....you need this. 
Promising review: "Most awesome thing I bought I think all year! I have a small sports car, no cup-holders. This thing looks awesome, is well-made, and is sturdy! It's everything I needed and it looks fantastic in my car, even though I have dark blue leather interior. Fabulous find!" —2019

Get it from Amazon for $21.99+ (available in six colors).