1.
A drip dry cleaner so you can get your chandelier shining with just a spritz of spray. There's no need to take the dang thing down and clean each individual crystal any longer! The future is now.
Promising review: "This stuff is incredible. There's no smell, it's a super easy application, and it gives instant results. You could see the dirt dripping down the chandelier...gross. I will definitely be buying this again. I recommend putting plastic underneath with a sheet or paper towels on top to absorb the drip. I've attached before and after one application photos (seen above)." —kmw
Get it from Amazon for $22.89.
2.
A wheel cleaner made with an acid-free and pH-balanced formula that'll remove grease, dirt, and grime and leave your tires looking spick-and-span.
Promising review: "It will take one look from your friends to say. 'Did you buy some new wheels?' This stuff is absolutely amazing. For the full effect, dismount your wheel, spray the back. Go do something for 10 minutes. Wash with water, no scrubbing needed. Turn the rim face up, do it again. Do the rest of your rims, and don't forget the tire protectant when you reinstall them. This stuff will handle salt, road tar, off-road dirt, and mud; you get it dirty, it comes clean. Where was this stuff when I was racing off-road?" —johnfcon
Get it from Amazon for $15.95.
3.
A cooktop-cleaning kit for times when your stovetop is so covered in gunk you're worried it'd be a fire hazard to make anything fancier than a sandwich. 
This set comes with a 10-ounce bottle of cooktop cleaner, one cleaning pad, and one scraper.
Promising review: "As soon as I used this stuff, I couldn't believe it! We had a new stove that I didn't clean for months and assumed the burnt pea juice (my enemy) would just be a new stain forever. However, after one application, it was basically gone. I used the scraper that came with it and did one more small application on just that spot, and it was gone! Every time I use this it looks like my stove could be brand new." —Christi Lambertson
Get it from Amazon for $14.28+ (available in two styles). 
5.
A bleach-free weekly shower spray — this both cleans your shower *and* prevents soap scum buildup in the future. Once a week you'll spray this in the shower before bed, go snooze, wash it off in the A.M. and then your shower will basically be a full-length mirror.  
6.
An Oxo brush set with two brushes (one big and one small) so your grout and appliances can look pristine even under a magnifying glass. 
Promising review: "These are magical! I've tried toothbrushes, sponges, rags, scrubbies, and everything to clean my nasty bathtub grout and these brushes worked better than all of them combined. I have arthritis and these are easy to grip and use for the duration of cleaning. They're very effective at lifting up the mold and mildew, as well as cleaning the soap scum and hard water lines. I used the littlest brush to clean around the fixtures on my bathroom sink and now it's sparkling. I'm so happy with these!" —BrooklynBeaches
Get it from Amazon for $8.99 (available in three styles).
7.
A jar of The Pink Stuff (the internet's favorite cleaning product) that'll clean everything from pots and pans to blotches in your bathtub. Move over firefighters, I want a calendar of THIS sexy stuff and its shiny results. 
Promising review: "I used this product for my stove because it's one thing I dislike cleaning. I have used multiple degreaser sprays and they all are so toxic and don't work for me. The Magic Eraser was okay but I used several at a time and I had to scrub so hard. But this product oh my goodness, legit a miracle. It doesn't have any type of smell. I put the paste on a cloth, clean the area then wipe it off with a damp cloth and voilà, magic!" —May

Get a two-pack from Amazon for $5.97.
8.
A headlight restoration kit so you can hit the road...with your high beams. There's no need to spend money on expensive replacements when you can just give them a good scrub!
Promising review: "This worked great! Instructions say one kit will do one car, and that you might need two if you have very large lenses. I did mine and my wife's vehicles (Dodge Dakota and a Saturn Vue) from one kit. I periodically stopped to blow and wipe off the disc and lenses to promote disc life. I fully sanded both vehicles, then used one wipe on all four lenses, let it dry, then used the second wipe on all four lenses. Awesome product!" –B. Boyd
Get it from Amazon for $16.20+ (available in two styles).
9.
A set of microfiber cloths that'll provide a lint- and streak-free finish, because what's the point of cleaning clear surfaces if you're stuck with streaks after all your hard work? Thanks to these, that'll never be the case again. 
They're great for windows or any glassware, too!
Promising review: "I couldn't get my windows clean using cleaning solution, newsprint, and a lot of elbow grease. There were always streaks and dirt left behind. Enter these things. One quick cleaning, and I do mean quick, and my windows are now cleaner than any windows I've ever cleaned. It's simply amazing. We were all standing around in utter shock and delight before running around trying the cloths on other stuff: the TV, the picture glass, etc. I know it sounds corny, but I couldn't wait to get up this morning, because I woke up in the middle of the night excitedly thinking about trying it on the car today. They are truly, truly amazing." —Xena the Warrior Mama
Get a pack of eight from Amazon for $16.98.
10.
A powder polish for giving your kitchenware a well deserved scrub after you watch Beauty and the Beast with your kid and start feeling guilty about the condition of your own flatware friends.
Promising review: "Wow!! Most of the time when I hear people rave about a product it never works as well at home. This stuff was different. I made a small paste and covered the bottom of a stainless steel pan (pictured above). Using an abrasive pad, this stuff cleaned the bottom in a few minutes." —Dr.MikeRobe
Get a pack of two from Amazon for $10.28.
11.
A fume-free oven cleaner that'll eliminate all evidence of the lasagna you attempted to make...turns out splattered tomato sauce looks an awful lot like a crime scene. Now you know.
12.
A multi-surface polish you can practically use on every surface (even fabrics!) in your space.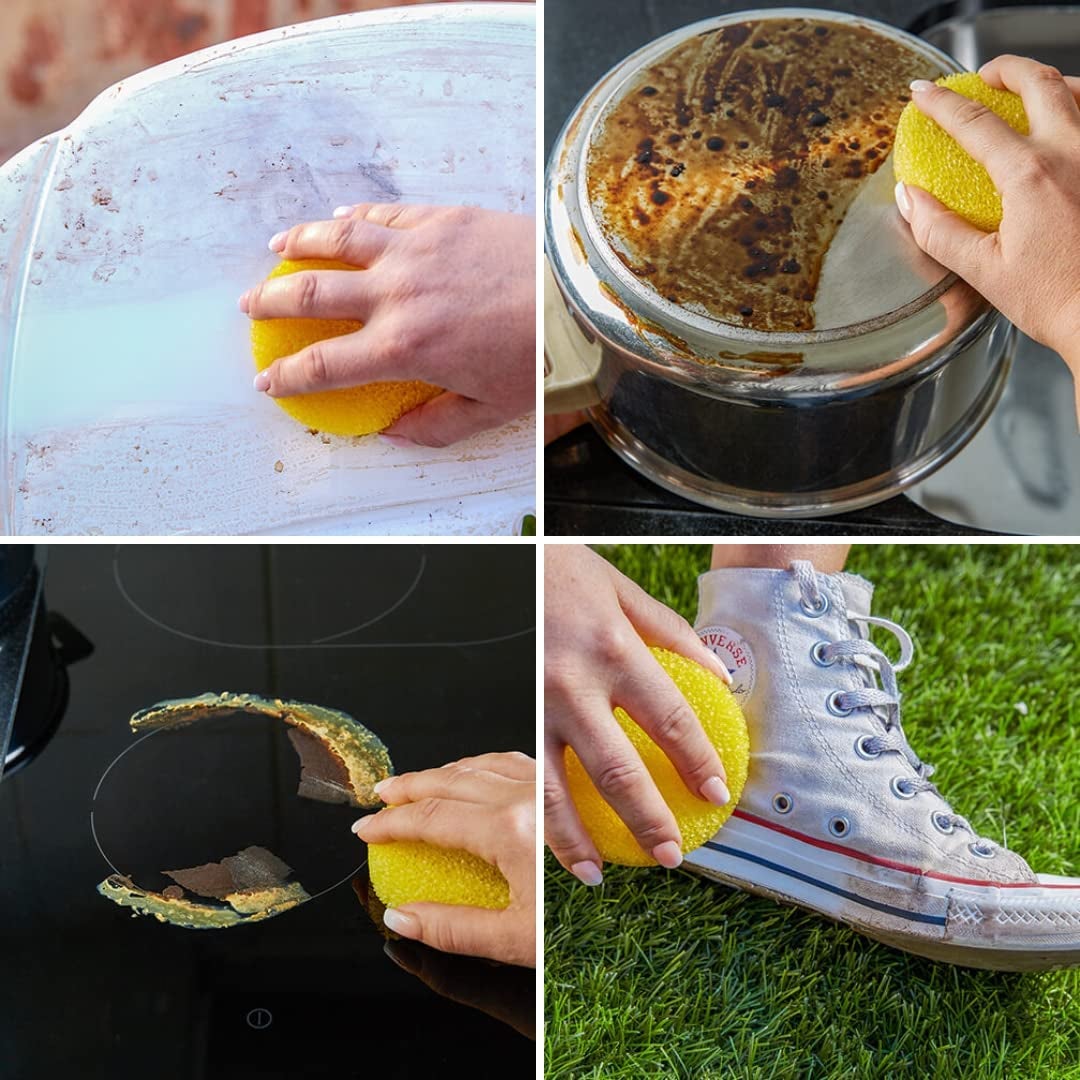 Promising review: "This is one of the best cleaning products I have ever used. It's environmentally safe and cleans multiple surfaces. I have used this on stainless steel, aluminum, and other metal products with fantastic results!! Highly recommend!" —David Marks
Get it from Amazon for $12.59 (available in six scents).
13.
A Scrubbing Bubbles toilet cleaning stamp that's easy peasy to put on *and* makes cleaning your toilet simpler than it's ever been! Mostly because, with this, you won't be the one cleaning your toilet.
Promising review: "I was sooo skeptical and was confused about how they'd work but the gel solidifies and with every flush, suds wash through with the water and it really makes a fresh difference. Also the scent is light but really nice and fresh! I recommend these 100%! They're super interesting but they do the job." —Janet
Get six stamps from Amazon for $4.99.