1.
A journey to 30 poster — the perfect choice if you tend to buy things last minute, because it's a digital download. Print this out, snag a frame, and your gift is gonna look like the most thoughtful present under the, um, birthday tree.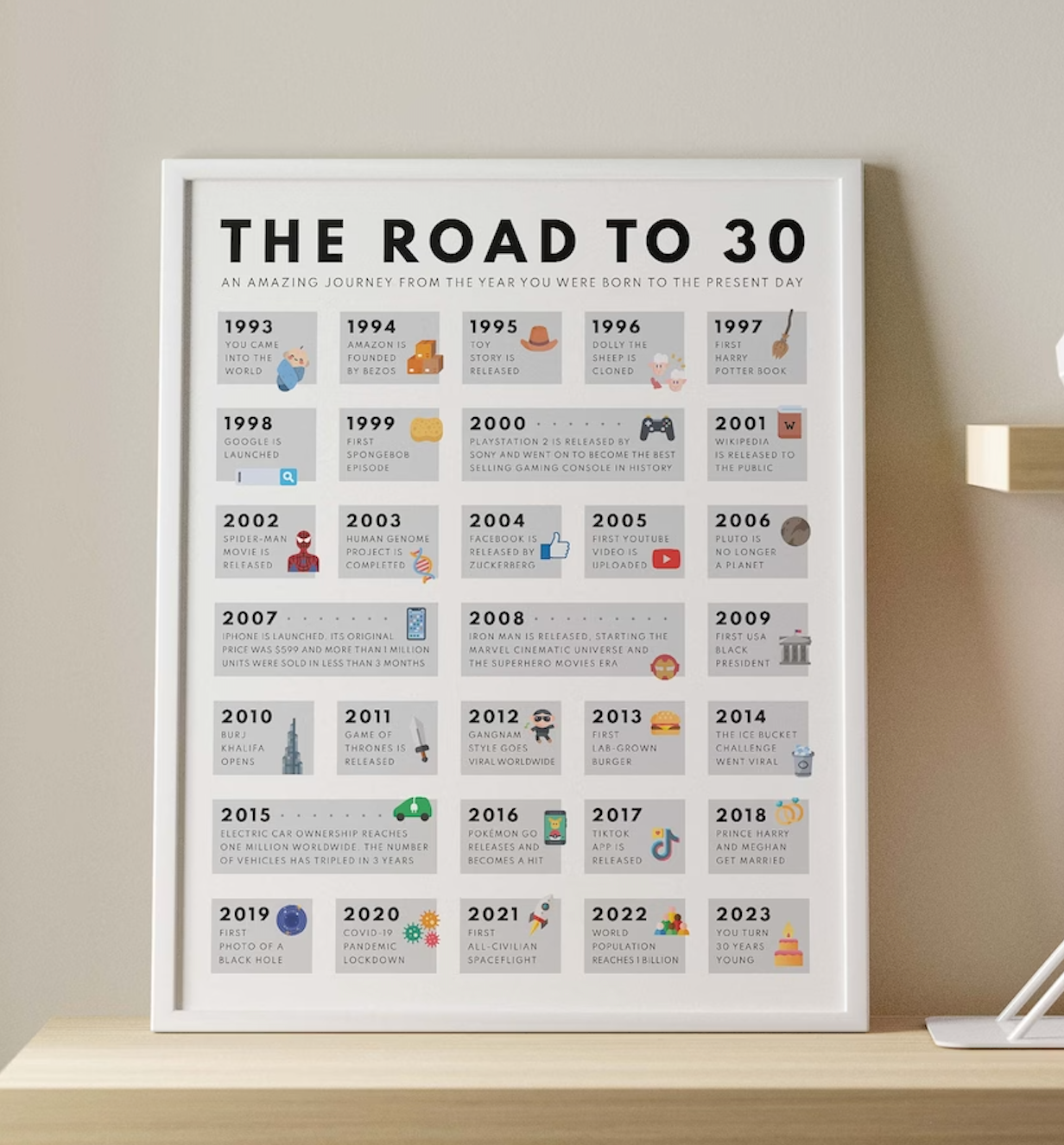 Meaningful Posters Co. / Etsy
Meaningful Posters Co. is owned by five-star seller, Fabio. The digital downloads are sent quickly, responses are fast, and reviewers love the variety of posters available. 

Promising review: "So amazing. People loved this, I framed it and set it out at a 30th birthday party. People were intrigued and commented that it was so cool!" —Staci Dunneback
Get it from Meaningful Posters Co. on Etsy for $5.90.
2.
A giant bubble kit with a two-handle wand so you and your friends can do something silly and satisfying when your birthday bestie has been so stressed out lately it seems like they might ~burst~. 
The kit comes with the giant bubble wand, two pouches of bubble concentrate, and a booklet to help you become a skilled bubble creator!
Promising review: "Great gift and great for backyard fun, picnics and BBQs. The children and adults loved making bubbles." —Amazon Customer
Get it from Amazon for $15.19+ (available in seven styles).
3.
A personalized album cover for the friend who always makes you feel like dancing. 

To create, send in a high resolution photo (reviewers recommend brightening the photo before) and the song you'd like to have "playing" on the screen.
Pix Arts Co. is a small business in Los Angeles. Owner Jessica creates custom decor and puzzles from your own photos and also has a selection of home decor pieces available. 
Promising review: "This came out beautifully! It was a gift for my best friend and she absolutely loved it. 100% would order again!" —Rachael Hamerin
Get it from Pix Arts Co. on Etsy for $10.50+ (originally $11.50+; available in eight styles). 

The snack pack includes eight Liège-style Belgian Waffles, a jar of Dark Chocolate Fudge Sauce, a jar of Peanut Butter Caramel Sauce, a pack of Strawberries and Cream Topper, and a pack of French Toast Sugar.
Get it from Amazon for $57.99.
5.
A minimalist fidget ring to give your BFF something to play with instead of tapping their toes when you start waxing poetic about how much you love them. They should sit and listen!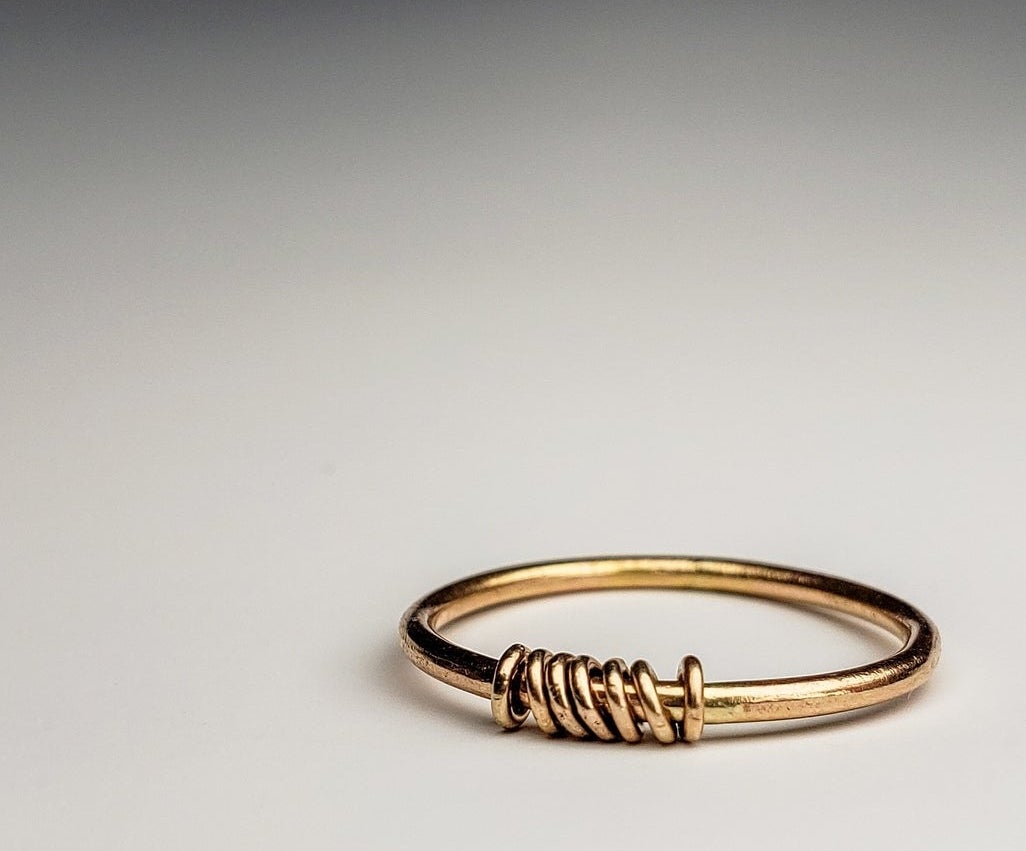 Little Gem And Company / Etsy
This super sweet small business is owned by Becca Seim and located in Bellingham, Washington. If you read through the reviews, you'll see dozens of customers specifically calling out how great Becca is to work with — you love to see it! The handcrafted, minimalist jewelry Becca designs is truly one of a kind. 
Promising review: "I absolutely love this ring!! It has really helped me with my picking habit. I ordered another ring almost immediately. Becca has also been so accommodating and a pleasure to work with. Her store will be my go-to shop for fidget jewelry. Thank you again, Becca!!!" —amyemorse
Get it from Little Gem And Company on Etsy for $40+ (available in sizes 2–14 and in sterling silver or gold filled). 
6.
A carbonated face mask for helping them feel bubbly inside and out.
This mask helps remove blackheads and exfoliate pores.
Promising review: "Literally made my boyfriend's blackheads disappear! Made our faces feel so clean. I'm a mask junkie and have gotten masks from all the top brands from drugstores, Lush, Sephora, and Ulta. This is one of my new favorites! Also so much fun to watch it bubble up – feels like a spa treatment." —Katie Mitchell
Get it from Amazon for $8.90.
7.
A birth flower scarf (my personal favorite go-to gift) to get your best ~bud~ on their birthday. These one-of-a-kind accessories are thoughtful and oh-so lovely.
This small biz is based in Brockley, United Kingdom and owned by Sam Johnson. If you love a layered look, you can find both winter *and* summer scarves here. The products are categorized by what type of gift you'd like to give and to whom, which is rad. 
Promising review: "A truly beautiful scarf. I was looking for something a little different for my friend's birthday and this ticked all the boxes. A beautiful print and the little card included with the scarf is a lovely keepsake. Very happy with my purchase, thank you." —Janice Storey
Get it from kikiyoscarves on Etsy for $26.06+ (available in 34 styles). 
8.
A Lego set of The Office (complete with Kevin spilling his chili!) sure to delight the person in your life who still quotes the show on the daily. 

Promising review: "This is a great set and represents The Office really well. It's very detailed and has a few pieces that you can change out to play different episodes. That was a nice surprise! I really hope we get a break room and the other half of the office soon with HR and Kelly's annex." —MrsShriveledNostril
Get it from Lego for $119.99.
9.
A tobacco and patchouli candle in an amber apothecary jar that's waaay too pretty to be this price — snag this steal of a deal and give their bookshelves something to brag about.
The tobacco and patchouli version of this candle is the staple scent in my home! I bought it for the jar, and because I don't like very sweet, flowery scents. Dang! Did this thing deliver! It has a great burn time and the smell is exactly what I wanted. This is 100% worth gifting, but I'd end up just keeping it for myself.
Promising review: "Goldilocks would love this candle because everything is just right. Some candle scents are too strong or fake smelling and some are too weak – this candle is perfect. The subtle, yet alluring scent provides nice background fragrance for any room and burns very clean. I'm sensitive to candles with fake chemical smells or wax that burns dirty and these candles are my go-to because they never cause a problem. The glass jar gives a nice glow and the candle has a long life. A little more money than most on here but worth it for 'just right.'" —Sterling
Get it from Amazon for $20.86+ (clip the coupon on the product page to get 5% off this price; available in six scents).
11.
A towel warmer — this is gonna improve the look of their bathroom *and* provide them with that fresh-outta-the-dryer feel every time they pull a towel out and wrap it around their body!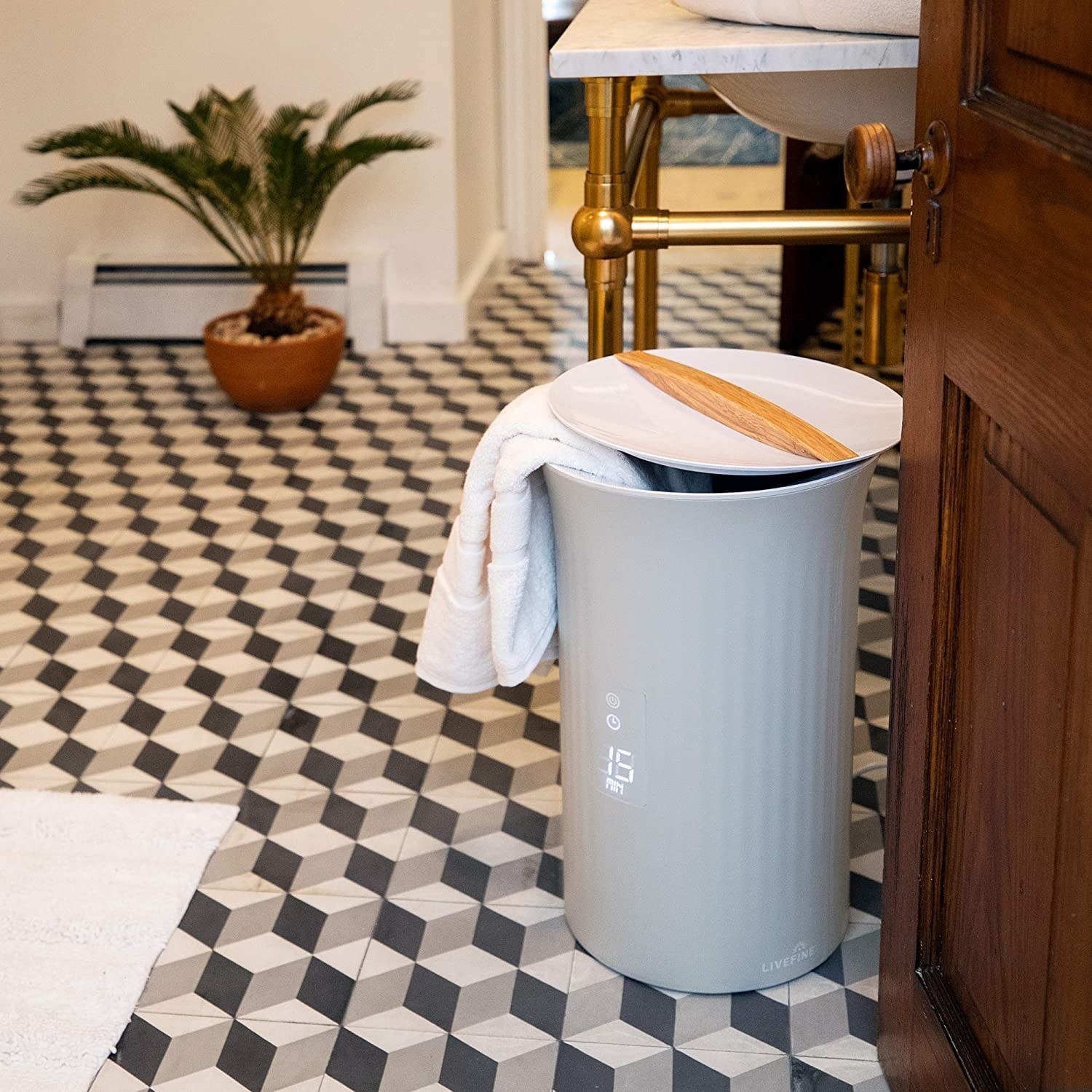 It can fit up to two towels and has a 15-minute adjustable timer.
Promising review: "After reading lots of reviews on several different towel warmers, I bought this product for my mom for Christmas. I tested it out before giving it to her. It was works great! The timer looks so sleek and fancy. Even at only 15 minutes, you get a nice warm towel! 10/10 would recommend! Already thinking of buying one for myself!" —Kaylee Sierra
Get it from Amazon for $97.99.
12.
Bespoke Post's Suite box with Grown Alchemist soap and lotion, two plush hand towels, a bathroom tray, and Palo Santos sticks. Get this hotel-worthy set in their home and watch the bathroom become their happy place. 
I have this set! If you grow fatigued with traditional "floral fresh" soap scents, this is *such* a great set to try out! The lotion is a nice citrus and the soap is a musky botanical mix that I will honestly be buying forever more. The entire set is gorgeous (I actually have it all on display on my bathroom caddy because I'm a sucker for amber bottles) and the quality is obvious.
Get it from Bespoke Post for $70 (or $49 for members). 
13.
A loungewear set, because you know that turning 30 means prioritizing comfort. Giving them the gift of comfort without sacrificing fashion? Just watch, they're gonna wear this every dang day.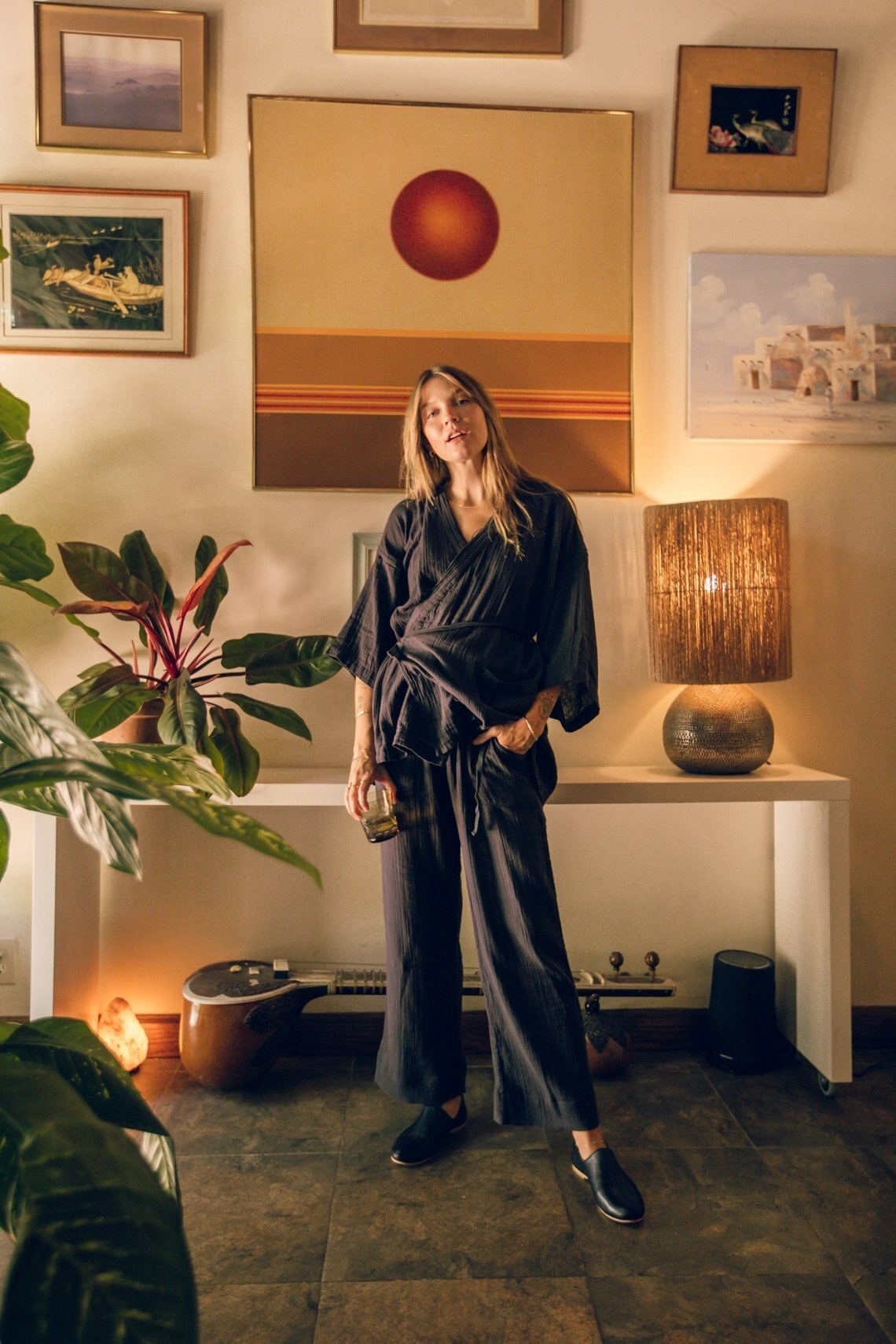 14.
A homemade gin kit so they can enjoy a DIY cocktail from the comfort of their home when they've grown sick and tired of the busy bar scene. Who knew aging would turn us all into such house cats? 
This kit comes with two glass bottles, a funnel, two botanical blends, and instructions.
Promising review: "The flavoring it came with was amazing. It tasted amazing and I'll definitely reorder this and purchase it as a gift for any of my gin loving friends" —Elena Gutierrez
Get it from Amazon for $39.80.