Women's soccer saved my relationship with my sister. More specifically, Ali Krieger saved my relationship with my sister. The past few years have been hard. Three years ago I moved off to college and left my sister at home with my parents. Sure, we see each other in the summer and over holidays, but it's not the same. I soon found myself growing apart from my best friend.
2016 has been an especially hard year for our relationship. Not only am I off at school, but my sister has gone off to school too. We have both grown into adulthood and become very different people. It's incredibly difficult to watch the person you are closest with in the world grow further and further from you. By July of this year, we could barely hold a conversation without yelling at one another. The only time we got along was when we were a united front against our parents, who hold different views of the world than we do. I felt like our relationship could never be repaired. I felt hopeless.
Unfortunately, 2016 has also been a rough year for women's soccer in the United States. With the fight for equal pay in the spotlight, the United States Women's National Team, or USWNT, hoped to bring home a huge win in the Olympics. Instead, they were faced with heartbreak and penalty kicks. Soon after their loss, star goalie Hope Solo was suspended. Legendary player Heather O'Reilly retired in August. September found many veterans left off the roster for October friendlies.
As a long time fan of women's soccer, I've found this year to be an emotional rollercoaster. My favorite player and role model, Ali Krieger, captain of the Washington Spirit and longtime USWNT player, has taken a front row seat on said rollercoaster. This was supposed to be a winning year for Krieger. She went to the Olympics for the first time, led her National Women's Soccer League team to the championship, and supported Equal Play Equal Pay. Unfortunately, it seems that disappointment has faced her at every turn. Losses at both the Olympics and the NWSL championship brought sorrow. The fight for equal pay has fallen away with the lack of media attention the USWNT usually brings with their wins. To put the proverbial icing on the cake, Krieger and her fans found her left off of the roster for the October friendlies.
Fresh off the Washington Spirit's loss to the Western New York Flash in the championship game of the NWSL, I thought it would be a good time to share my story. Ali Krieger needs some positive in her life right now, and if she has done nothing else this year, she has saved my relationship with my little sister. On July 22nd I found myself out to eat with my family. Sitting in a pub the next town over, I was delighted to see the USWNT vs. Costa Rica game on the television. It was the last game before the women headed to the Olympics, and I was excited to see how they would perform. As soon as we were seated I was glued to the television. About five minutes into our time at the restaurant I was shocked to hear my little sister say, "Isn't that the player that you love?" On the screen was number eleven, Ali Krieger.
To my surprise, my sister began asking questions. Who's that player? What does she play? Did she play with Cheney? (We are Indiana natives and huge fans). For the entire rest of dinner, she was as enthralled with the game as I was. Flash forward 24 hours and she had watched nearly every YouTube video on the team's channel. She had found her favorite players. And she loved Ali Krieger as much as I did.
Now, three months later, my sister and I talk on a regular basis. I drive home to watch games with her. We drove to Chicago in September to see the Chicago Red Stars take on the Seattle Reign. Together we experienced the heartbreak of the Olympics. I watched my sister cry when Solo was suspended. And last night we watched Ali Krieger fight her hardest to lead her team to a round of penalty kicks, and a sad loss.
I'm a nursing major. I'm nothing special. But I need Ali Krieger to know all that she has done for us, for our sisterhood. She brought us back together. She has renewed our friendship and love. Already a role model for myself, she is now one for my sister. Ali Krieger saved my relationship with my sister, and for that I am forever grateful.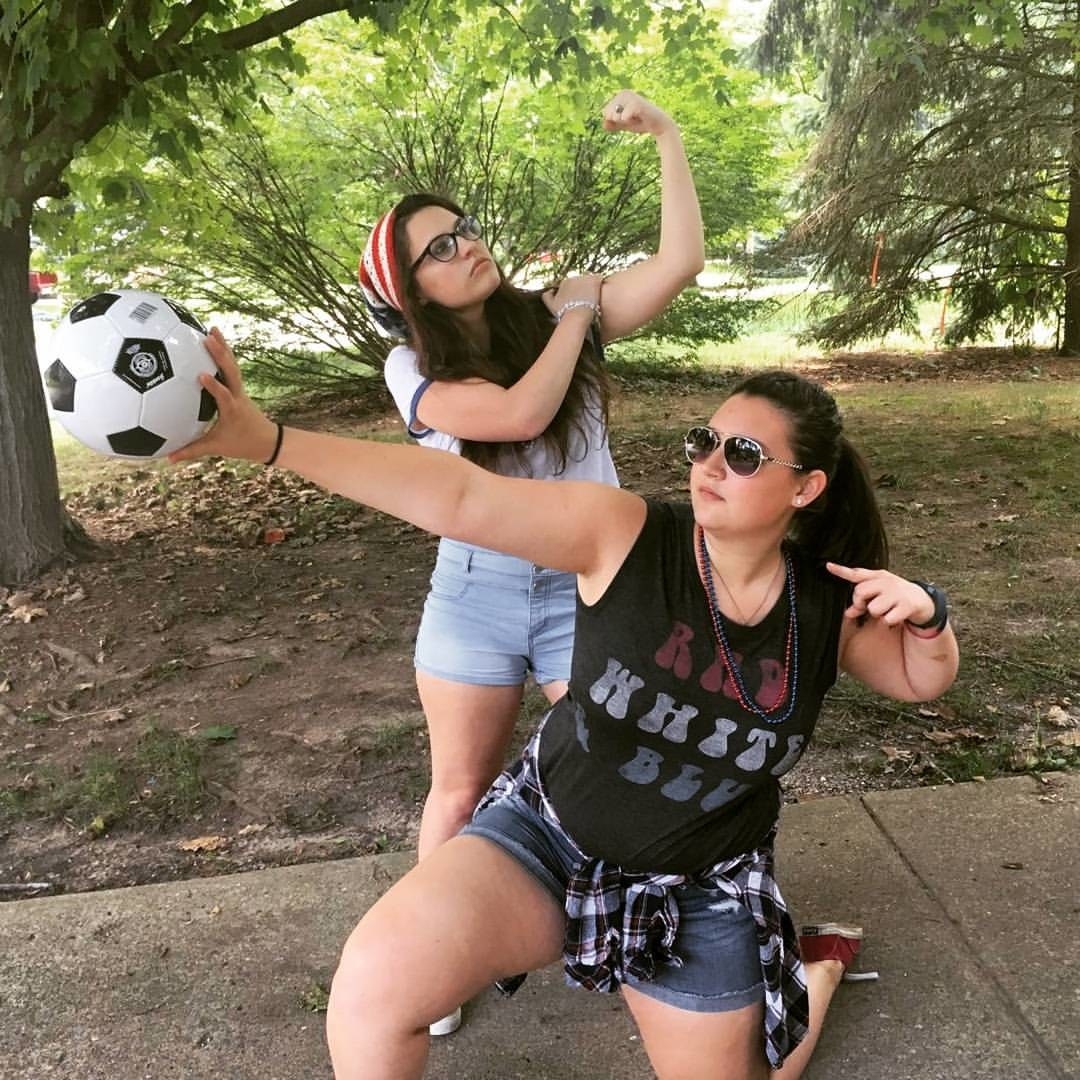 This post was created by a member of BuzzFeed Community, where anyone can post awesome lists and creations.
Learn more
or
post your buzz!