1.
A collagen-infused ~protein treatment~ for an intense at-home mask that'll help your strands look and feel less damaged in just five minutes. It's basically a time machine for your hair is what I'm saying.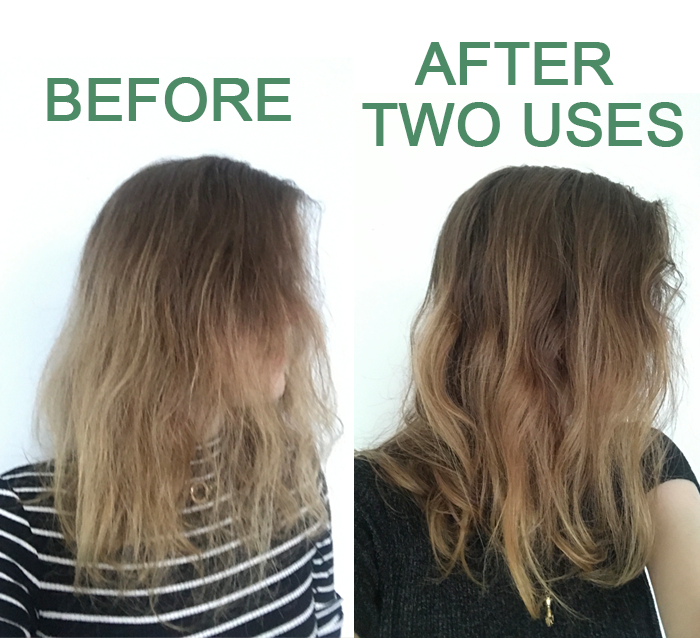 *One reviewer says it's even BETTER than Olaplex (which is over three times the price!).*
This is the same brand that makes the MIlky Piggy Carbonated Bubble Clay Mask so many people swear by (and it looks damn cool).
Promising reviews: "I've been very careful when lightening my hair, but the straw feeling is sometimes inevitable when bleached. THIS PRODUCT IS MAGIC. I've always gone to my hairdresser when coloring so I've been fortunate to have my hair stay pretty nice but this made a world of a difference. My hair is like silk, or soft butter. So incredibly soft and shiny, I feel like a walking hair commercial. My hair feels so moisturized and healthy, just as soft if not softer than my hair was prior to coloring (been highlighting for five years now). Will be buying more before I run out, I will never stop using this product. FYI my natural color is the dark brown at the roots and my hair looks healthier than a natural blonde IMO :) ADD TO YOUR CART YOU WONT REGRET. After you shampoo, load your hair up and do the rest of your shower, heck have it be a long shower bc you deserve it, and rinse out with lukewarm water." —Meghan Davey
"I have 4c hair and was looking for a protein treatment for my thin and fragile. I had recently used a product in my hair that had so much alcohol in it; that wreaked havoc on my hair, leaving it pretty damaged. I was very skeptical about this product because I have never seen anyone with my hair type use it. Boy was I wrong to doubt this product, it left my hair looking and feeling beautiful. I highly recommend it to anyone natural or with curly hair." —Therese-Claire
Get it from Amazon for $6.80.
And check out the BuzzFeed editor pictured above's Elizevecca treatment review for her first-hand experience (it's #1 in the post)!
2.
A pack of peppermint and eucalyptus oil shower steamers to help open up your sinuses (those spring allergies...amirite?!) and make your shower feel like a spa. Relaxation isn't just for bath-takers, you know.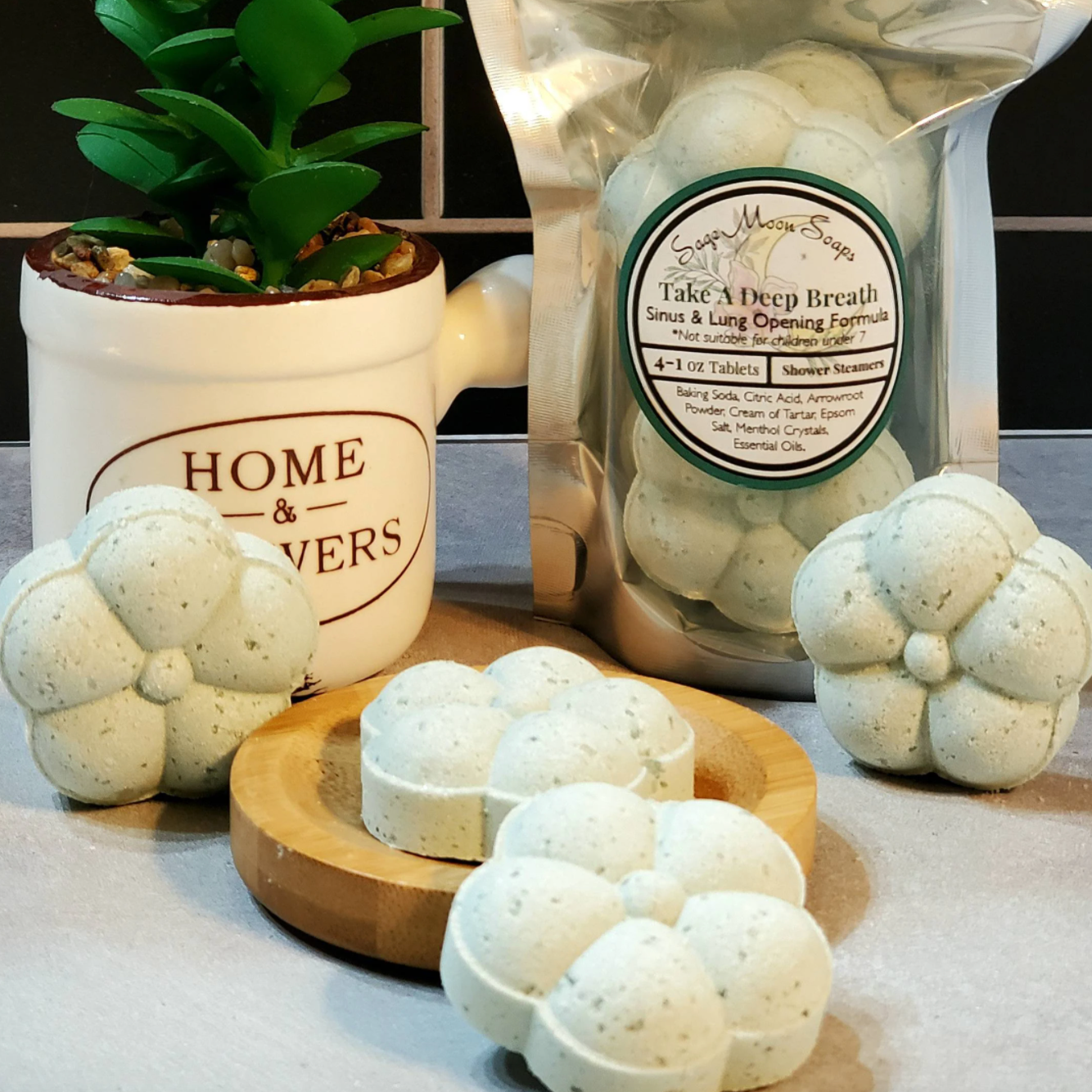 Promising review: "Let me start by saying I have a lousy nose — I've suffered with swollen sinuses all my life, but these steamers are a breath of fresh air! I place one in my tub with HOT water on and allow the steam to reach it — poof...(ah☺️)...I can smell it fine! I am very happy with this product and look forward to my shower time even more. Lasts a long time too. I'm very satisfied." —Laurie M. Fernandez
Get a jumbo tablet from Sage Moon Soaps on Etsy for $4.75 (also available in a pack of four smaller tablets for $12.59).
Sage Moon Soaps is a California-based Etsy shop making steamers, bath bombs, and other deliciously scented goods perfect for gifting.
3.
A grooming glove designed with nodules on the fingers and palms to make brushing the excess hair from your cat, dog, or even horse more like petting — so your pet won't fidget or get uncomfortable, and your sofa (and clothes!) won't be constantly covered in hair.
Promising review: "Fantastic dog grooming aid! Our older rescue dog isn't too keen on the routine dog brushing stuff but her thick coat really needs the grooming — this dog grooming glove is the exactly right answer. Put the glove on, pet the dog, and all that loose hair comes away leaving her coat feeling so much smoother and softer without causing her to be nervous or upset over a brushing. Highly recommend, and yes I'm going to be ordering as gifts for a couple of other dog owners I know!" —DSP
Get each glove from Amazon for $6.99 (available in both left-handed and right-handed versions, or a double-sided version that can be used on both hands).
4.
A suede and nubuck brush to freshen up your favorite kicks before storing them for the spring and summer. It has *four* different surfaces for different cleaning needs so you can tackle any stain.
The welt surface is designed for stronger cleaning of heavier scuffs and stains, the nylon bristles for gentler cleaning of small scuffs on fine suede, the arched half circle helps you clean rounded surfaces more (think toe boxes!), and the thin, protruding brush can access harder-to-reach crevices or grooves.
Promising review: "This little brush is the bomb. I have three pairs of suede shoes and they were starting to look really iffy. This thing is so easy to use — I'm usually able to get my shoes looking presentable in under 30 seconds. When I first opened it I thought it looked like an over equipped brush-army-knife hybrid, but after using it for a while you'll find that all of the different nubs and components of the brush have a function. I saw that some people purchase this along with some kind of suede conditioner — I've found that using only the brush has been effective. It is especially great for knocking off all of the NC mud and clay off of my boots without grinding it in. The brush seems durable and well made. I'm a fan!" —Alison B.
Get it from Amazon for $6.99.
5.
A foot filing rasp that'll undo years of callus buildup in mere MINUTES. No waiting for intense creams to do their work, no getting pedicure after pedicure — if you want to see results ASAP, you'll think it's ~grate~.
Promising review: "I have BAD feet. Like genetically bad. I have tried EVERYTHING. I've spent an excessive amount of money on foot masks, foot scrubs, pedicures, pumice stones, foot files, etc. Nothing worked. This fixed my feet in five minutes. I was actually in shock. I haven't had 'soft' feet in years. I literally feel like I have new feet. Best $10 I ever spent." —Hdb

Get it from Amazon for $9.95.

6.
An ingrown hair brush reviewers swear by to exfoliate and relieve those pesky ingrowns in just a few quick minutes when you remember to. Just use it gently over your skin in light, circular motions (wet or dry), especially before removing hair if you do so.
Promising review: "Where has this product been all of my life??? I was skeptical when I purchased it, but my ingrown-hair-riddled bikini line had little to lose. After a week I am amazed. I'm still not sure how this works differently than the exfoliation and brushes I had been using, but it does. Magic. It's not the softest brush so it took a few times to get used to the 'harshness' of it. But used in conjunction with Tend Skin this brush has eliminated 95% of ingrown hairs." —MB

Get it from Amazon for $9.99.

7.
A Schick touch-up razor to shape your eyebrows, remove peach fuzz hairs *and* dermaplane your skin, gently exfoliating and removing dead skin — without going to a salon for an eyebrow shaping or a facial.
Promising review: "These little guys work perfectly for dermaplaning! I used one the other night after I washed and applied toner to my face. It's been a couple days and my skin still feels baby soft. I didn't have any sort of reaction or anything to the exfoliation which was nice because I have severe cystic acne. My makeup goes on so smooth and i finally have that glowing look I've been trying to get! I will definitely be buying these again." —Hannah Jean

Get a pack of three from Amazon for $4.99.

8.
A foaming carpet shampoo people love to use on their car interiors. And with all the ice cream cones I've dribbled in my life, I can CERTAINLY understand why. And anyone with a dog? Yep, you need this.
It's citrus scented so after it FOAMS AWAY deep-set stains, you'll be left with a refreshing scent rather than "Old McDonald's Fries."
Promising review: "This stuff is ABSOLUTELY AWESOME! I posted before-and-after photos (above) for you to see for yourself! My 1996 Toyota Camry is 23 years old — this is the original carpet! It took me exactly three hours to clean this carpet and I will tell you this: IT WAS WORTH IT!" —treylee

Get it from Amazon for $9.99.
9.
A set of makeup-removing cloths to remove every single trace of dirt and makeup (even waterproof formulas!) with just water. And the cloths are super soft, so you won't have to resort to harsh scrubbing that can dry out your face.
Promising review: "This product... I have no clue how this works, but it does! Let me start by saying I was wearing a full face of make up. I mean foundation, contour highlight, eyeliner, seriously the whole nine yards. All I did was wet it and wiped my face, my jaw literally dropped. This is hands down my favorite make up remover at the moment. The best part is that they are reusable so you don't have to keep buying those expensive disposables that leave your face feeling greasy. And honestly, four dollars? Just buy them. Trust me, you won't regret it." —Heather and Ryne Griffith
Get a pack of three from Amazon for $4.99 (also available in a pack of five in other color sets).
10.
A red wine stain remover that'll turn any party foul into an amazing party trick. AKA when you spill wine onto your shirt while sitting alone on the couch. Happens to all of us.
It's nontoxic and bleach free — working at the ~molecular~ level to break up stains for easy removal. I love science, don't you?
Promising review: "It did pass my first test! I did not expect to use this product a couple of days after I received it. Had a spill of red over one of my favorite shirts. I did try to remove the most dramatic area with water and soap right away; then I let this product sink in for half hour before washing and voilà it was all gone!" —Gerson Melgar

Get it from Amazon for $7.95.
11.
Bamboo charcoal shoe deodorizers you can pop into your sweatiest, stinkiest beer-soaked flats or old gym shoes — the smell will be G O N E.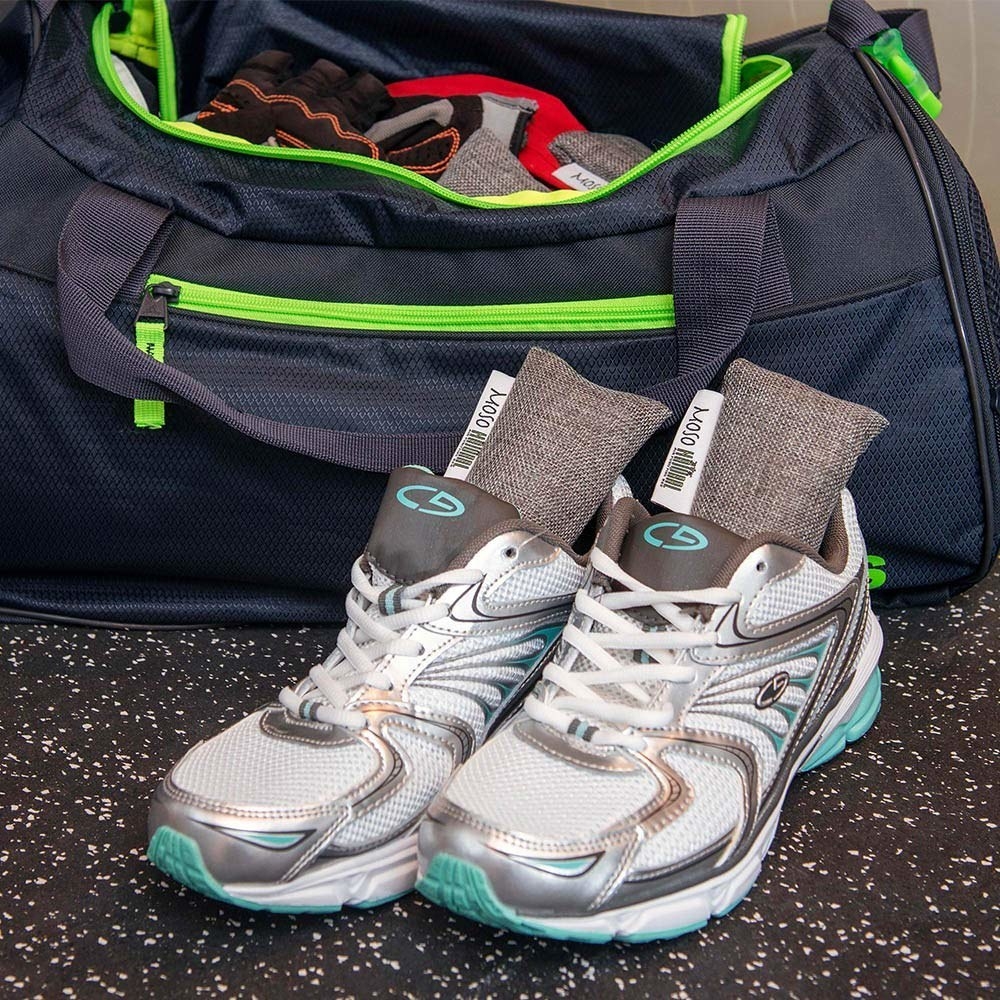 They don't mask odors; they also absorb moisture to prevent mold, mildew and bacteria from forming. You can reuse the bags for up to two years — just pop 'em in the sun for an hour every so often to freshen up.
Promising review: "I have a pair of black leather flats that stank so badly my husband would yell at me if I took them off anywhere near him. But I love the shoes! So I had to find something to make the stench go away without leaving me with an allergic reaction. Mini Moso was the answer. I honestly couldn't believe it. A few days after placing them in my prized off shoes, I took a whiff from about a foot away. Nothing. I got closer. Nothing. I stuck my nose practically in the shoe. Ok, maybe that's pushing things, but I've got to tell you that 95% of the broken-in leather grossness was gone. So happy!" —Erin
Get one pair from Amazon for $9.95 (available in two colors an in packs of three).
12.
A dishwasher cleaner and disinfectant to remove limescale, rust, grease, and other nasty buildup so your machine runs more efficiently than ever — while you just sit back and relax.
Promising review: "After using this product, I am happy to report that my $5 investment saved me over $500. I was ready to replace my dishwasher, due to super cloudy glasses, residue, and just not getting clean. Then, I became aware that the water softener no longer was doing it's job, so I had the rental company replace it. Dishwasher performance improved somewhat. I decided to do two more loads before deciding to purchase a new one. Then I saw a product test review for Affresh in good housekeeping magazine. I was ordering some stuff from Amazon anyway, so I added that to my order. When it came, I tossed one of the tablets into the bottom of the full machine, per instructions, and ran the regular cycle. I did not expect the results I got! My glassware that I thought was permanently etched and ruined came out like new. Same with cutlery. The difference is unbelievable. I will use this faithfully on a monthly basis, as recommended. I can even put it on my subscribe and save order, so I will get a new pack every 6 months. I am amazed!" —Sheila
Get a pack of six tablets from Amazon for $8.50.
13.
A fan-favorite Wet brush with a cult following for a reason. It'll detangle even the most stubborn hair...WITHOUT ripping it from your scalp.
Promising review: "I am that girl who wakes up in the morning with a HUGE knot in the back of my head! I DREAD getting out of the shower, with a wide tooth comb and painfully brushing out my hair. It takes about 15–20 minutes! With this new brush, at first I couldn't believe it was actually brushing my hair (no pain) by the end of a few minutes, ALL of my knots were gone and my hair felt silky and smooth! WOW! Thank you Wetbrush!" —Chrissy
Promising review: "I have think straight hair, I have one son with thin 3c hair that's very easily becomes matted, and a second son with 4c hair and this brush works great for all of us! Just make sure to use a spray bottle with some water in it or a detangler if you are using it on dry hair" —M. Sloane
Get it from Amazon for $7.99 (available in 21 colors and patterns).
It's a bit over $10, but if you have curly or coily hair, reviewers swear by this ergonomically designed detangling brush with cone-shaped bristles that separate tangles by pulling them apart sideways, not tugging them down. Get it from Amazon for $11.99 (available in five colors).
14.
A pack of individual pet hair removal sheets designed for removing every single strand from your clothing. Keep a few in your bag, in your car, and at home for on-the-go cleanup without having to find that lint roller.
Promising review: "Best. Pet. Hair. Removal. EVER! This is better than any lint roller, vacuum, ANYTHING! We have two dogs (sometimes three when my daughter visits) and two cats, so we know about pet hair. These remove large quantities of hair in one application. Very easy to use. I have taken a love seat used by our cats for the past few years, cleaned it with BrazilianMat, and have re-purposed it for my study. Before BrazilianMat, I was considering throwing it out because I could not get all the pet hair off. I am ordering more today." —Krista L. Cooper
Get a pack of 25 sheets from Amazon for $9.99 (also available in a pack of 50).