We hope you love the products we recommend! All of them were independently selected by our editors. Some may have been sent as samples, but all opinions and reviews are our own. Just so you know, BuzzFeed may collect a share of sales or other compensation from the links on this page if you decide to shop from them. Oh, and FYI — prices are accurate and items in stock as of time of publication.
You're probably aware, but it's Black Friday, which means the Internet (and stores IRL) are jam-packed with deals — so jam-packed that it can be hard to find the good ones.
SO if you 1. like caffeine and 2. are searching for a good deal, we've got you COVERED! The Nespresso VertuoPlus is a whopping 57% off, bringing it down to under a hundred bucks! $99.99, to be precise.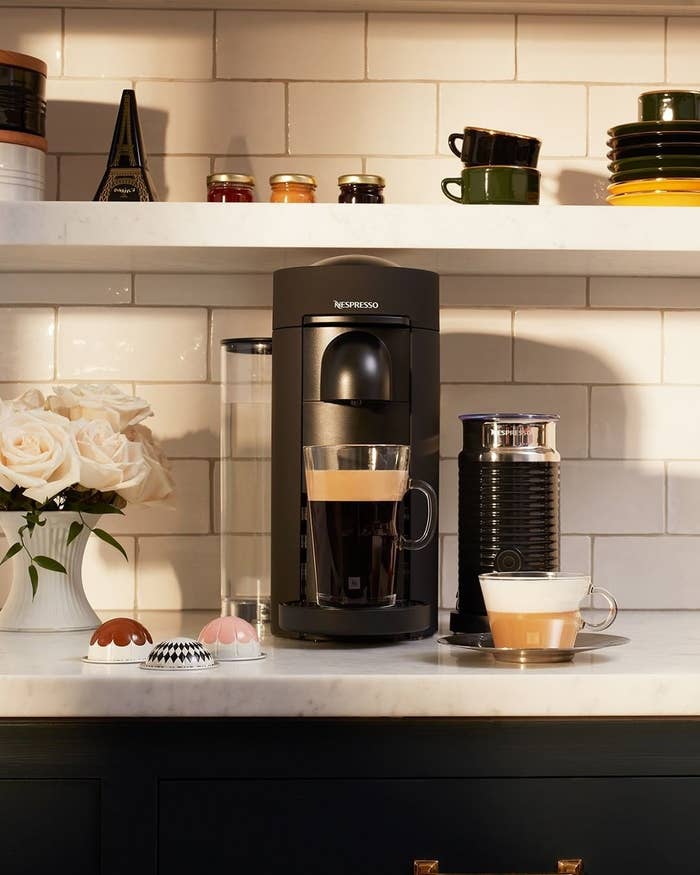 That's $133 in savings (I know!!). AND that's for the bundle that comes with 30 Vertuo-compatible capsules to get you started so you can find the right coffee blend for you.
It comes with 10 Stormio, 10 Odacio, and 10 Melozio pods (levels 8, 7, and 6 intensity) so you can try 'em out! The rating system for the intensities is GENIUS, IMO.
To start a personal note, I have a VertuoLine machine and it's super convenient on mornings when you really don't have it in you to do anything other than 1. push button. 2. make coffee.
So what are the features of the VertuoPlus that make it so great? Let me break it down for ya:
1. It can make five different sizes of coffee with the push of a button — from an intense espresso shot all the way up to an Alto Coffee (which is 14 ounces of the good stuff). It's like having a barista...living on your countertop.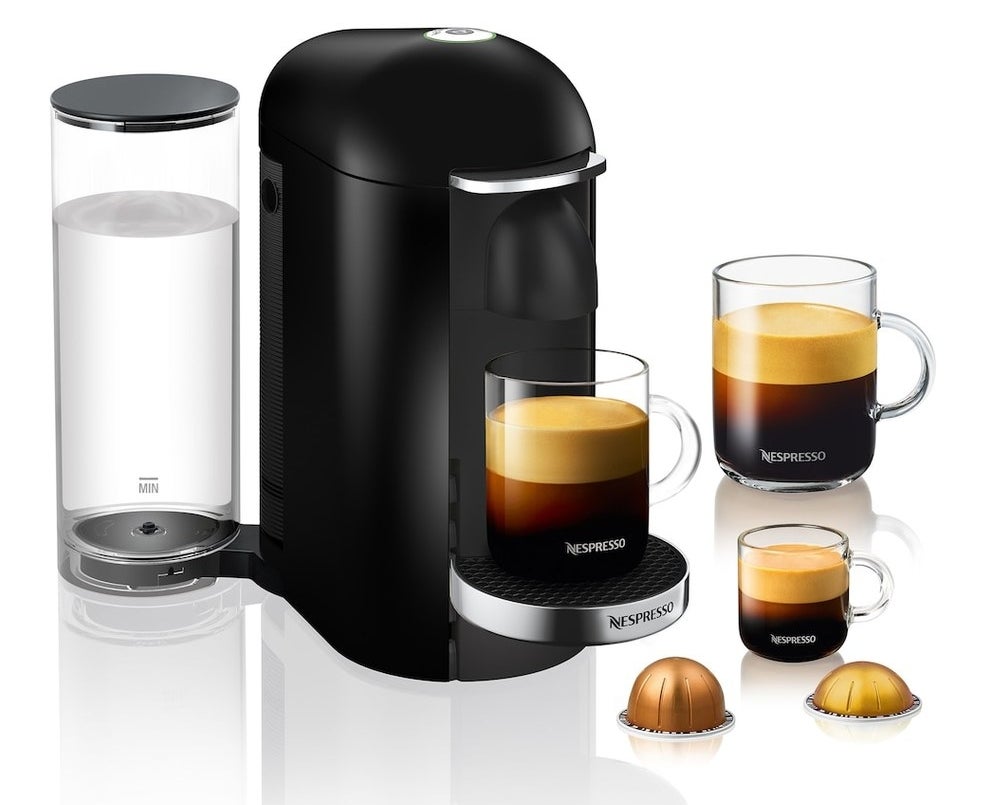 2. It takes almost no time to get your coffee — the machine heats up in 20! seconds!. Just pop in your capsule, turn on, and brew. And it automatically ejects the capsule when you're done, so there's no cleanup.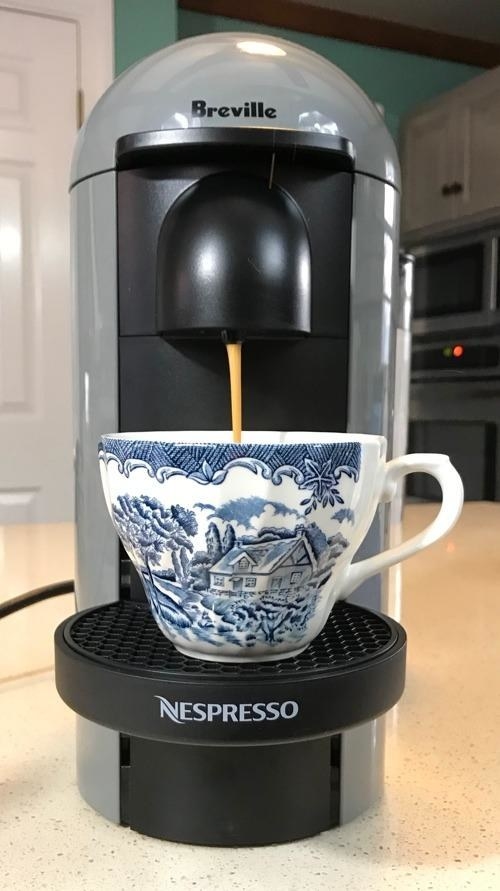 2. It makes a darn fine cup of coffee. The beans stay fresh in the air-tight pods, and then Nespresso's ~Centrifusion Technology~ blends them with the water to create a crema-topped, quality brew. Now I'm no scientist, but the proof is in the pudding. Just looooook at that crema!!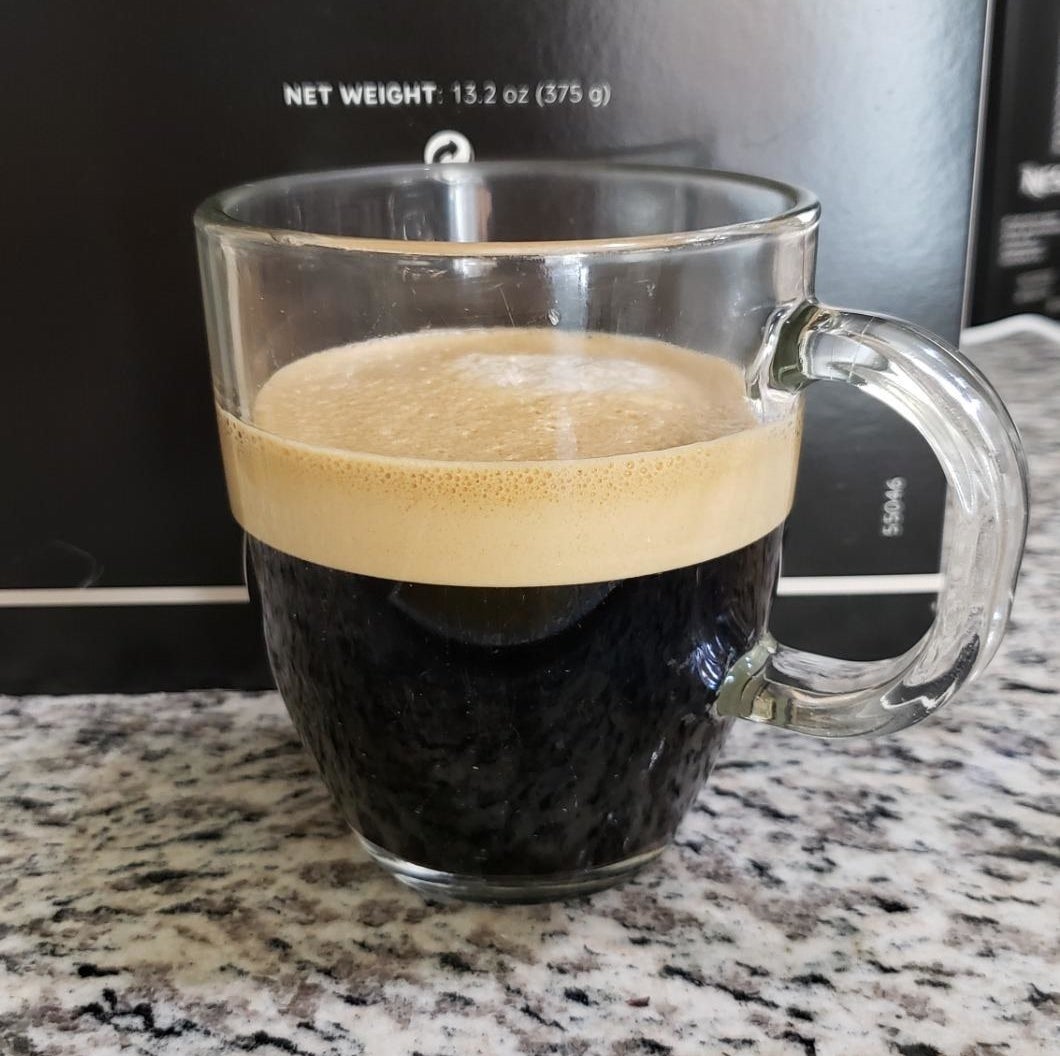 3. The aluminum pods are totally recyclable — you can bring them to your Nespresso store or simply mail them in the bag that comes with 'em.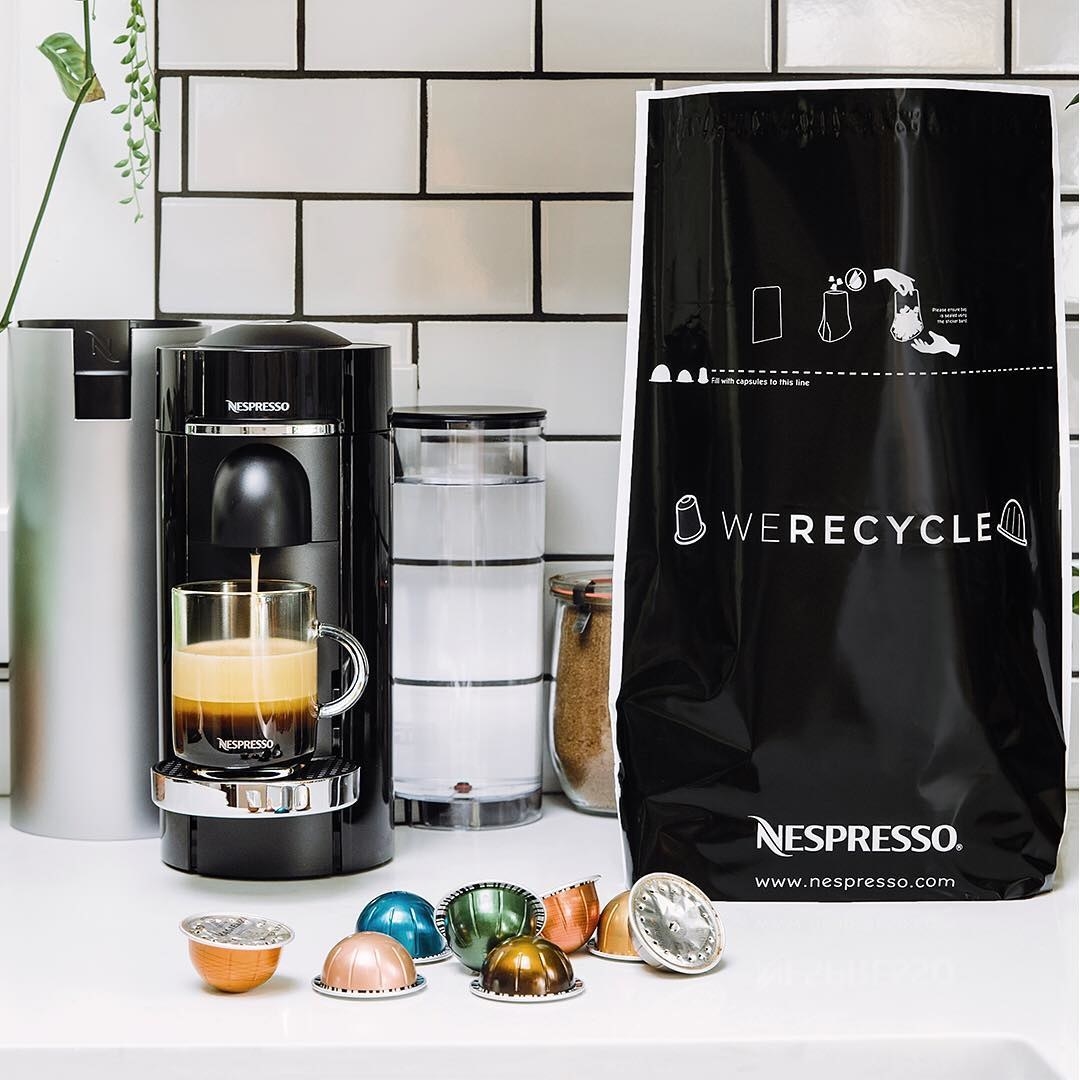 Let's hear more from some reviewers who love this machine (it has a 4.1 star average on Amazon, ya know):
"We absolutely love our Nespresso!! We describe this like a Keurig on steroids. The quality of coffee you're getting is comparable to Starbucks, for a fraction of the price. The recyclability of the pods eases my hippie mind, and the steamer/frother attachment is so fun! I'm not sure I would have sprung for it if I knew I could purchase the machine without it, but having it adds a touch of class and opens up a ton of different beverage opportunities. We love our Nespresso and if you like convenient and delicious coffee with a great variety of pod options, check this out." —amber liz
"I bought this and i am so glad i did. I love, love, love coffee and I'm am a coffee snob. Nespresso makes great coffee and great machines, but this us my fav by far. Easy to set up, use and clean. I love that i can make all types of coffee from espresso to full cups to large travel mugs sizes. This is one of the only machines that i have seen that produces a lot of crema. It pours the perfect temperature so you don't have to wait to drink it (some make it so scalding hot you have to wait 10 min to have your first sip) not this machine! The milk frothier is great. It can do either cold or hot foam. My dog loves her cold foam in the morning while i enjoy a perfect cup. There are many flavors of pods that you can order and it comes with a nice selection (12) as a starter kit." —Jason
"Love this machine. Got it for the office and everybody uses it. I like the fact that the pods/different types of coffee have a designated number for strength of the coffee. I don't know if it correlates exactly with the level of intensity in the coffee but I can choose an 8 in the morning and maybe a 4 in the afternoon for a little pick-me-up. I don't think I've been in a Starbucks since I bought this machine. That may not sound like much, but for me that's not saving at least $20 a week that I used to spend on Starbucks coffee." —Ernielaw
I don't know about you, but I'm ready for another cup of coffee. Get the Nespresso VertuoPlus from Amazon for $99.99 (originally $232.95).