This Galaxy Glitter Peel-Off Mask Will Reveal Your Softest Skin Ever
The I Dew Care Space Kitten Exfoliating Peel-Off Mask exfoliates, absorbs oil, clears out pores, AND IS FULL OF GLITTER. Need I say more?
We hope you love the products we recommend! Just so you know, BuzzFeed may collect a share of sales or other compensation from the links on this page. Oh, and FYI — prices are accurate and items in stock as of time of publication.
I am a stickler for my personal skincare routine — I've found my holy grail products, I have the process down, my skin looks better than ever and breakouts are at an all-time minimum, but it *does* get a little boring.
Enter this I Dew Care charcoal peel-off mask, which is filled with galaxy-like glitter to make your face look like the cosmos itself.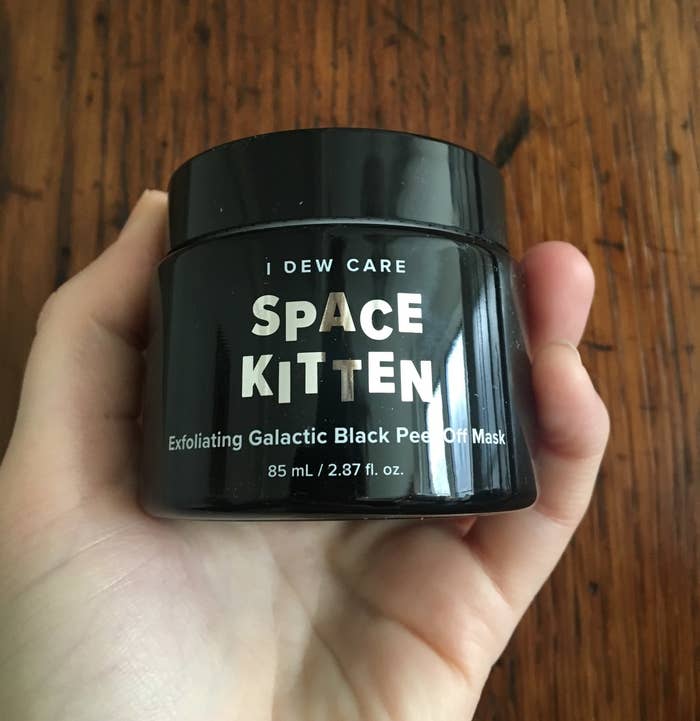 Before we get to the peeling gifs, let's talk about the ingredients: we've got topaz powder (which brightens and exfoliates), witch hazel water (which controls sebum production and clears out pores), AND charcoal (which removes impurities, helps with whiteheads, and absorbs sebum that's already on your face).
I already love me some charcoal masks (the Origins Clear Improvement one *totally* transformed my skin and I still use it once a week), so I figured this would be a safe bet for my super-sensitive skin and would help continue to fight my occasional breakouts.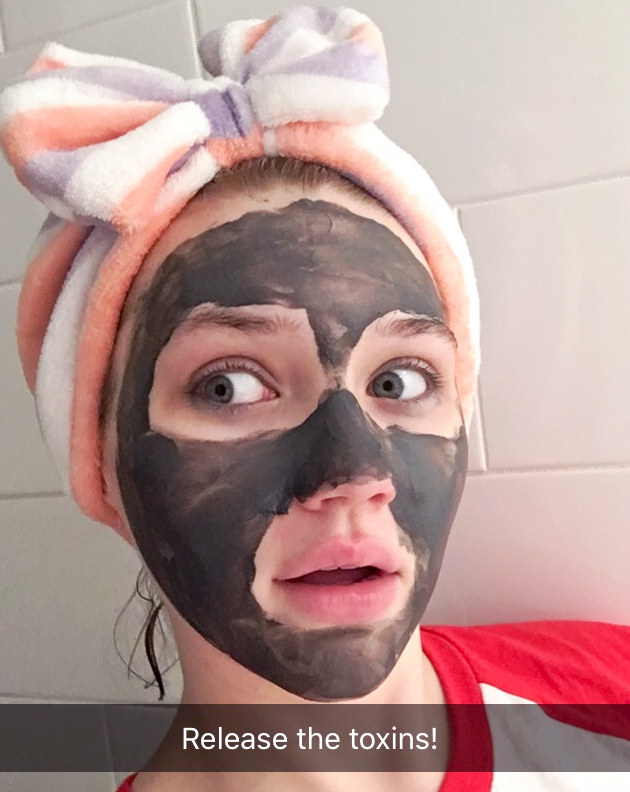 But back to the task at hand: This I Dew Care galaxy mask has a super gloopy, bouncy consistency, which makes it fun to apply. (I'm getting Topher Grace as Venom in Spider-Man 3 flashbacks).
You really don't need to apply a ton of product to get a good peel-off layer. PLUS you don't feel the glitter *at all* — it's totally non-abrasive. It also smells ahh-mazing.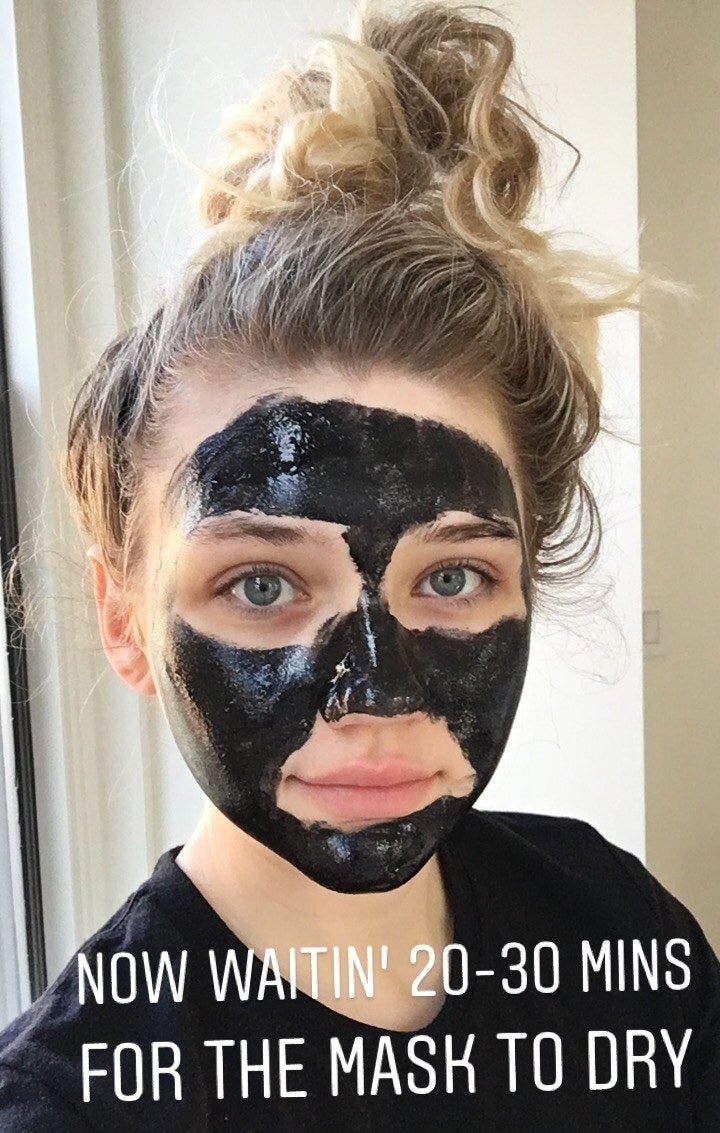 As it dried, my skin tingled in a nice way — that ~this product actually works~ feeling.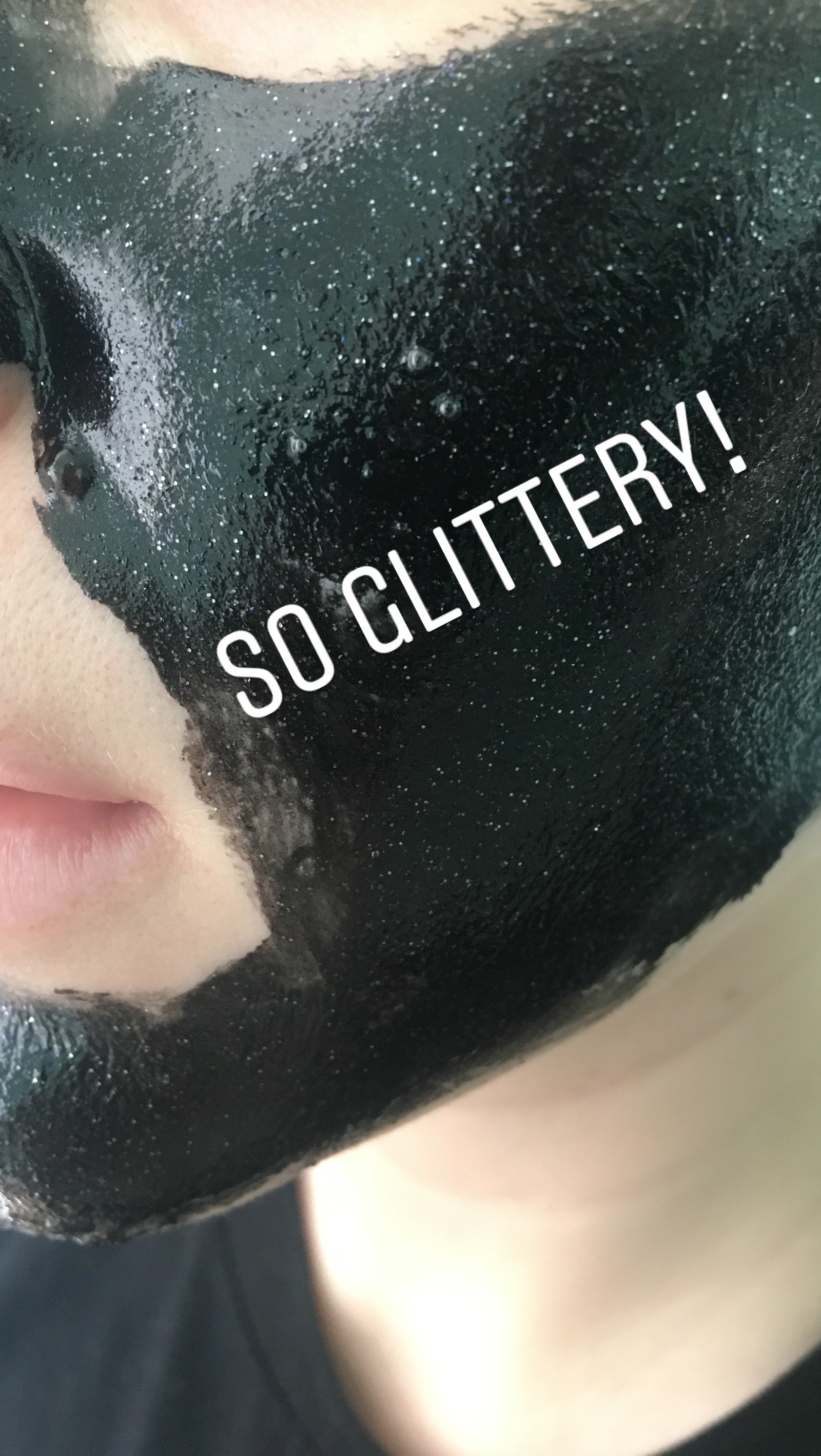 Peeling it off didn't hurt on my forehead, nose, or chin, but removing it from my cheeks was low-key painful — like ripping off a bandaid. BUT I peeled it off in *almost one piece*, which was really quite satisfying.
AND HOLY COW did my dead skin cell–free skin feel SOFT AND AMAZING after. Glowing. Soft. Wow.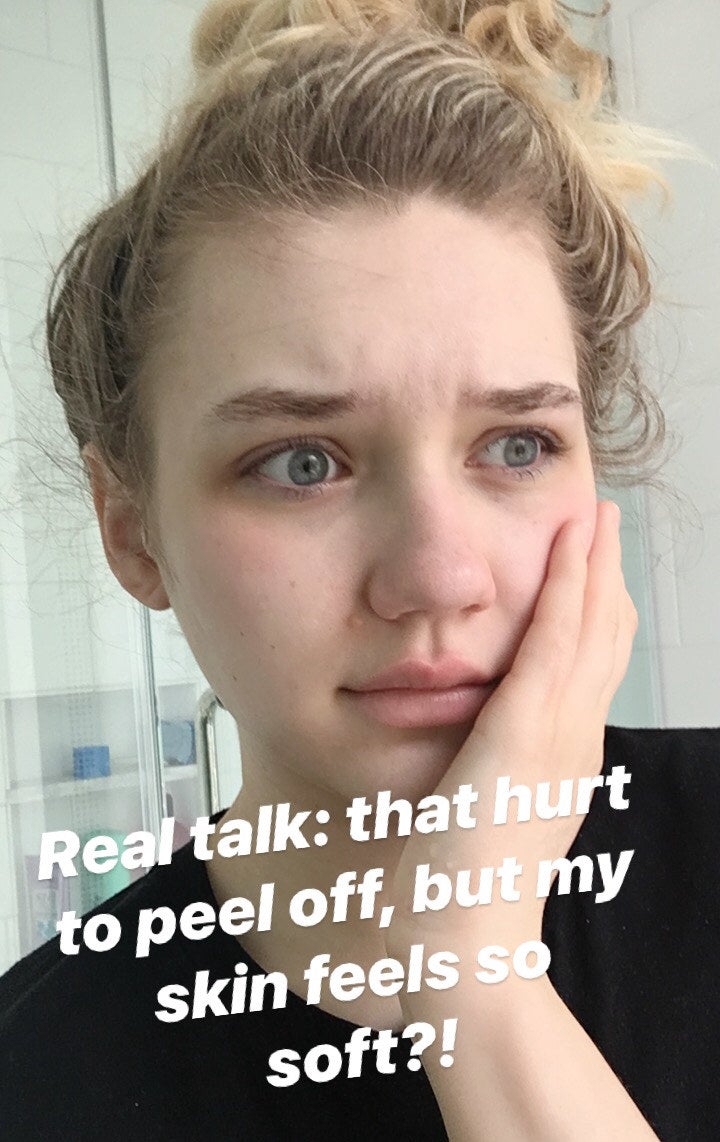 I have a very strict no-touching-your-face rule but BOY did I want to break it after using this.
I'll probably end up alternating using it on my whole face and just my t-zone area to make sure my delicate li'l cheeks don't get irritated. And if you have really sensitive skin, try it on your t-zone first!
And even though it doesn't have a ton of reviews (yet) I'm not the only one with WOW-SO-SOFT results:
Let's check out some reviews:
"This mask works as beautifully as it looks! First off, it looks exactly the same in the container, on the brush, and on your face; inky black with NON IRRITATING OR SCRATCHY blue, white, and silver glitter. It's not too sticky so it's easy to spread around, but it's not so runny that it drips off of your face, so it stays intact even if you're making cookies or playing with your dog or whatever.. In terms of exfoliation, very impressed. My face was super smooth, and my acne didn't flare up or become irritated from the peeling, which is great! It didn't hurt when I peeled it off, and it was so easy to remove I peeled the whole thing off in one go (hooray!)." —Memerina
"I get hormonal breakouts on my chin, and this peel off mask reeeeally helps my skin during those times. Sometimes it pulls out any peach fuzz I've got, but nothing that really hurts. My skin feels very smooth afterwards. And it's so pretty!" —avgaestheix
Tl;dr this is how I felt touching my skin after using this mask:
Aaaand I have their glittery *hydrating* peel-off mask, which I'm going to try very soon. Stay tuned for my next report!