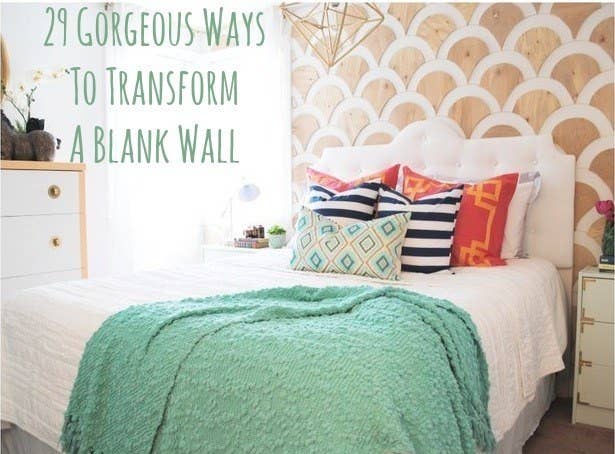 1.
Turn any fabric into wallpaper by attaching it with a solution of fabric starch or cornstarch and water. 2.
Place fabric panels inside of picture-frame molding for easy and removable art. 3.
A gold paint pen and plywood shapes make for an easy (and schmancy) scalloped wall. 4.
Stamp your favorite fruit shape in your kitchen or walk-in pantry.
5.
Use a projector to trace your favorite design or illustration on an accent wall. 6.
Use contact paper to make geometric cutouts on the cheap. 7.
Use ruined books or old newspaper to cover your walls in words. 8.
Brighten up your work or reading nook in your favorite wrapping paper. 9.
DIY a mirrored wall using square plates. 10.
Get your wanderlust on in a room papered in maps. 11.
These hexagons are the perfectly buzzy shape to add color to a room. 12.
Grasscloth is amazing (and amazingly expensive). Recreate the look with layers of paint textured using a regular broom.
13.
Or hang burlap on the walls for a grasscloth look for less.

Bonus: Use upholstery tacks on the edge for a more finished look. Get the steps here.
14.
Doodling on the walls is A-OK if you use a gold paint pen. 15.
Brighten up a dark accent wall with stenciled shapes. 16.
No exposed brick? Fake it with faux brick panels and some chalk paint. 17.
Transform your walls with batten boards and a fresh coat of paint.
What a difference. Find out how to recreate the look here.
18.
Skip the painstaking painter's tape and put up striped wall decals.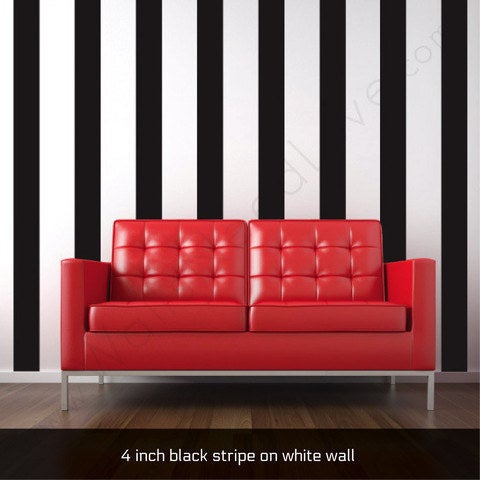 19.
With no borders or background colors, this wall decal looks like it's painted right on the wall. 20.
If you have cardboard lying around, you too can re-create this mod stenciled wall look. 21.
Have a wallpaper in mind that's beyond your budget? DIY a stencil to get a similar look on the cheap. 22.
All it takes is ribbon and tacks to get this diamond wall pattern in your favorite colors. 23.
Cut circles out of wide washi tape for the easiest possible confetti wall. 24.
Trompe l'oeil stone walls are just a paint-pen stroke away. 25.
Use paint and a regular hair comb to get these herringbone textured walls. 26.
Paper your walls with aluminum foil to get the look of metallic walls. 27.
Strips of contact paper to create an easy (and removable) chevron design. 28.
Use foil tape to create metallic details without having to whip out a paintbrush. 29.
This washi tape feature wall took only 20 minutes to complete(!!).