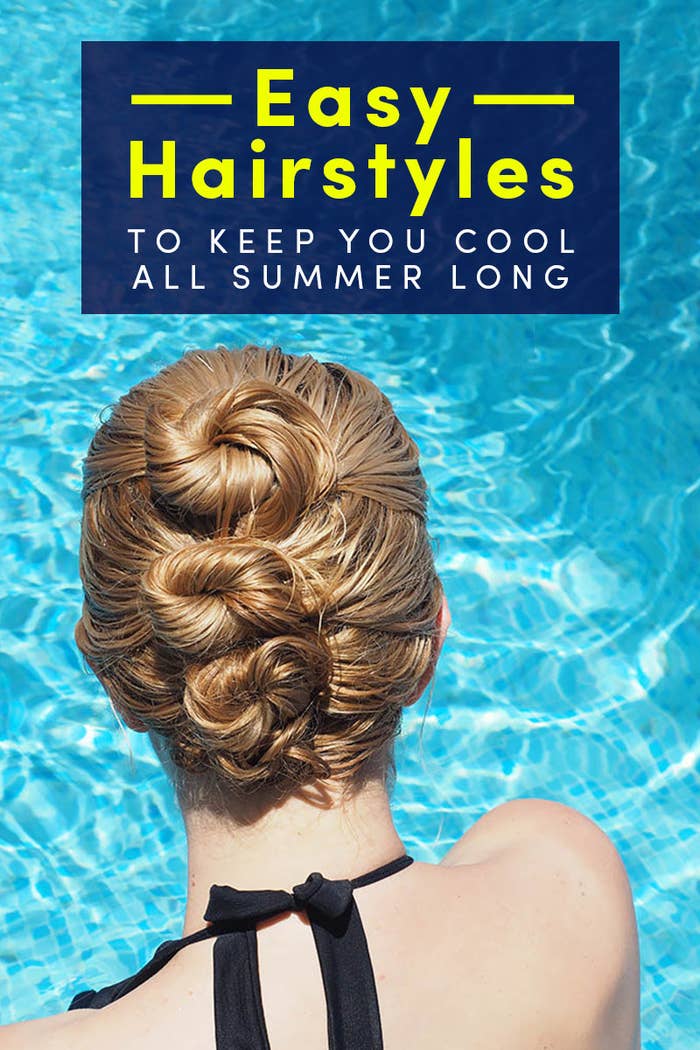 1.
Use an elastic headband to create an under-two-minute updo — no bobby pins required. It's as easy as wrap + tuck!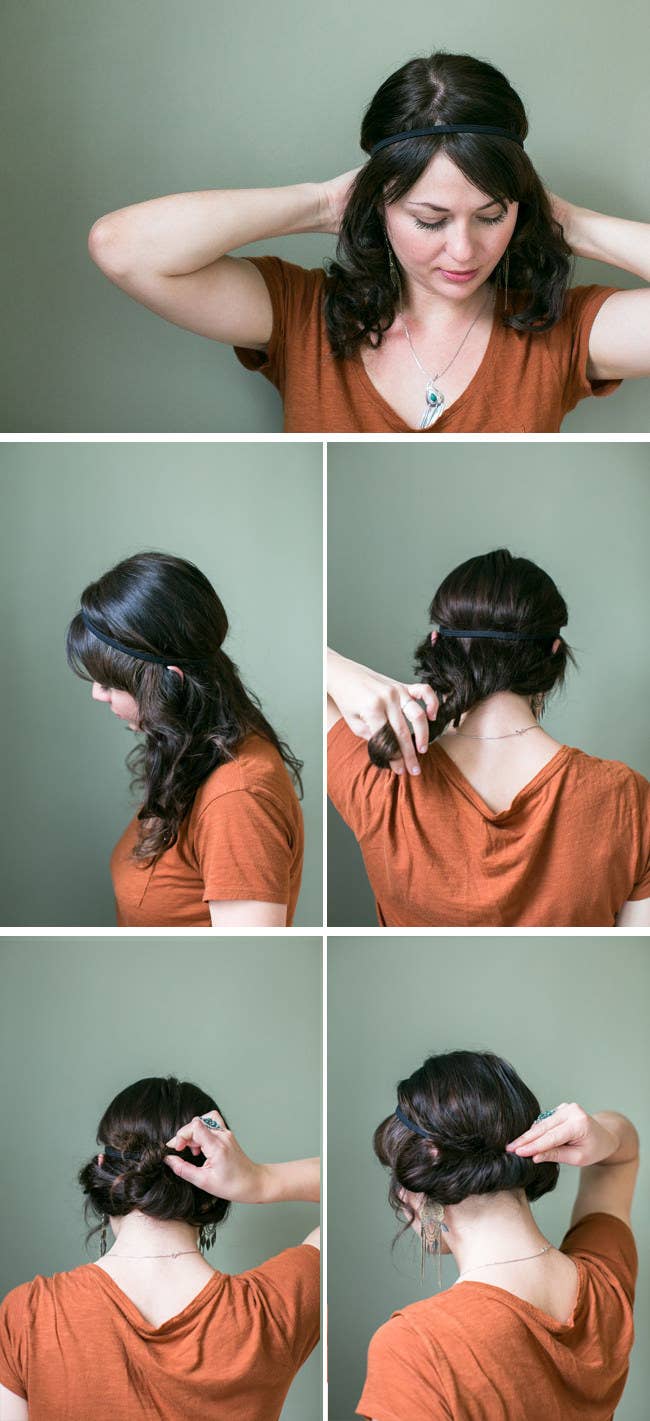 2.
Part your hair down the middle, work moisturizer in, then gather the two sections into high ponytails, wrapping each one around into a bun for an adorable style that's *also* protective.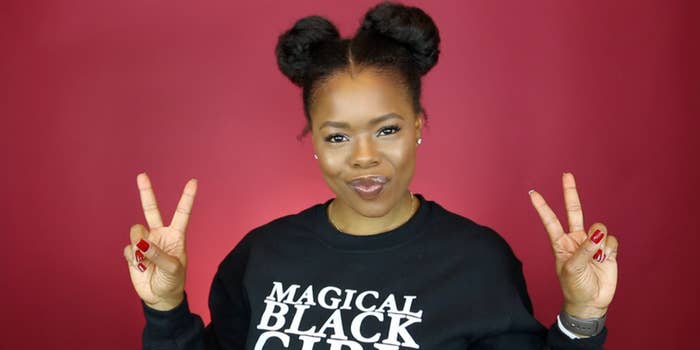 3.
Turn post-gym wet hair into an effortlessly cool look: Just make a high ponytail, braid it, and wrap the braid into a bun. DONE.

4.
Wow everyone around you by creating a surprisingly simple fauxhawk with a few side combs and some moisturizing cream. You'll get that voluminous look without any hair getting in your face.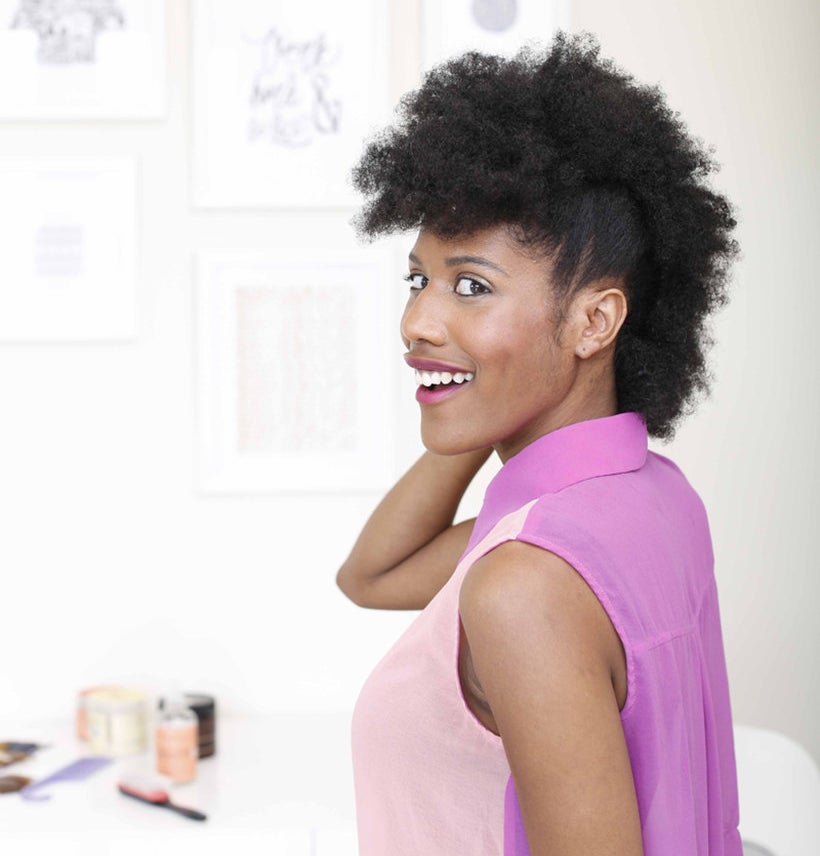 5.
Work a wet hair style that *isn't* just a messy topknot: Create three buns in the back of your head to distribute the weight of your hair (less likely to fall out!).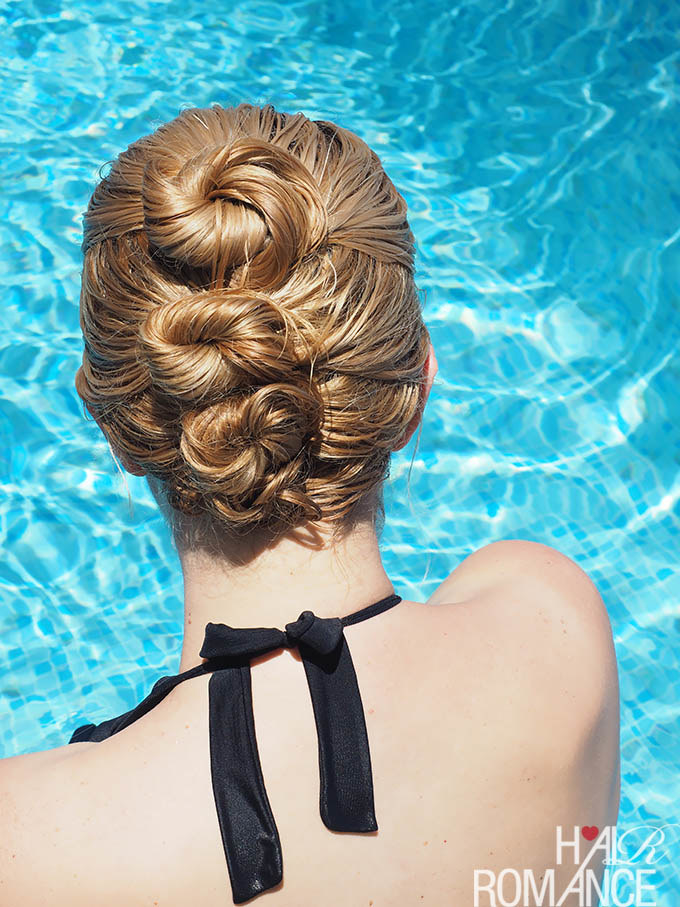 6.
Master the secret to a voluminous-in-the-front, never-fall-out topknot. Just clip the front of your hair back, leaving volume at the roots, with a large claw clip. Then create a ponytail with the rest of your hair and *wrap it around the clip*, then pin in place.
7.
Try your hand at a sleek chignon that only takes FIVE STEPS, so when you have a black tie wedding to go to and it's already 97°, you're prepared.
8.
If you have box braids, gather them into a low fallen bun for an off-your-neck look that's still dramatically stylish.
9.
Quickly braid both sides back for a low-pony look that *won't* have you looking like a founding father this Fourth of July.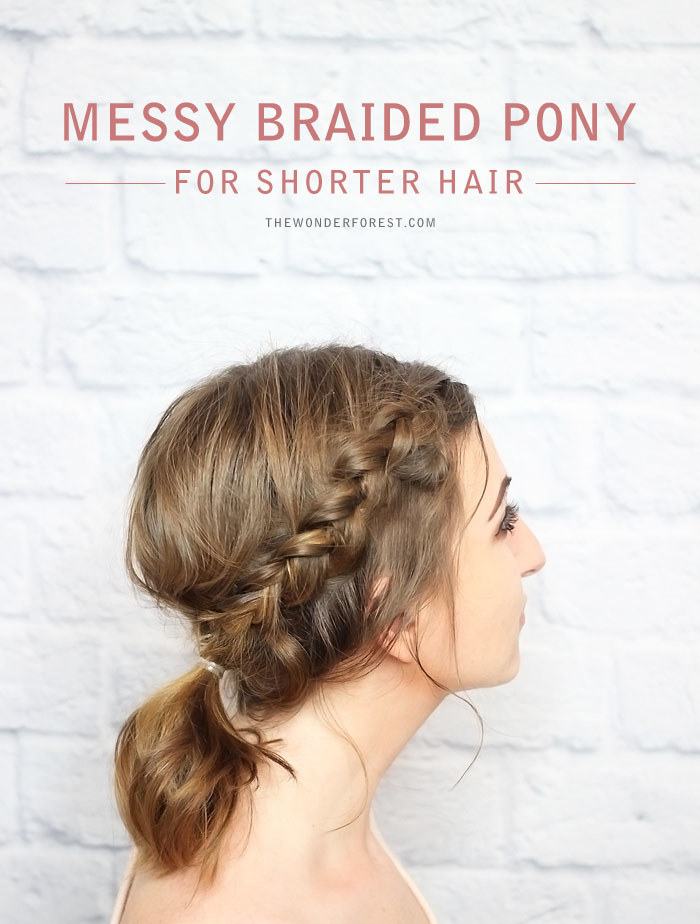 10.
Whip together an updo that looks intricate as heck, but is actually only three regular braids wrapped up and pinned to your head.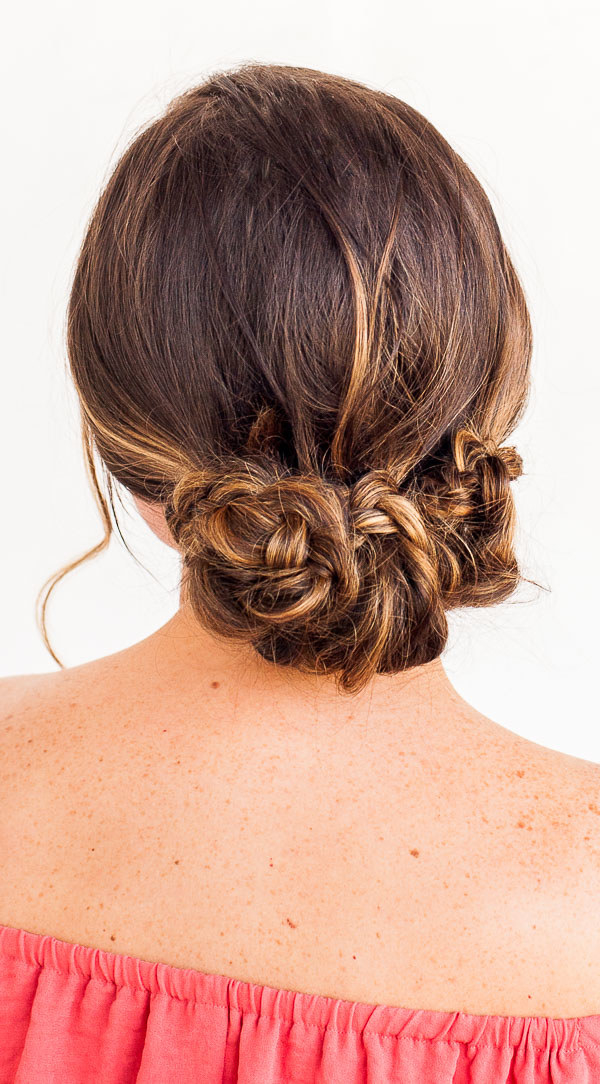 11.
Swap out your regular pony for a piled-high, pinned-forward one that'll create a waterfall-like effect that stays far away from the sweaty back of your neck.

12.
Top off your favorite vintage sundress with a ~lazy~ beehive that doesn't require the usual load of teasing — just use a mesh chignon form!
13.
If you're tired of wearing a plain ole topknot for the 87th day in a row this summer, scooch it forward to the very front of your hair for a fashion-forward look. It's still juuuuuuust as easy.

14.
Showcase your hair *while* keeping it out of your face by tying a head wrap that looks more intricate than it actually is. Just three knots + tuck!
15.
Achieve mermaid hair with a fishtail braid tutorial designed for beginners. As you're mastering it, just braid the top section above your pony so you can head out the door in no time flat.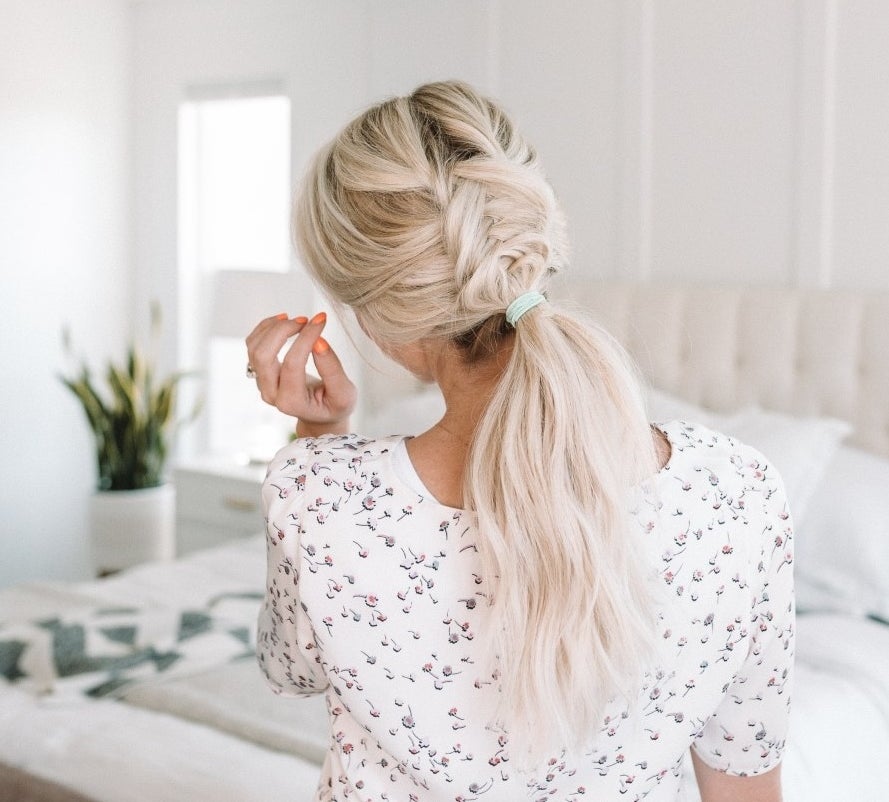 16.
Rock a dramatic puff in just a few quick and easy steps — and with just a non-damaging hair tie.
17.
If your hair is too short (or just slips out easily) for a regular braid, try a *faux* braid that'll stay put and look really thiccck.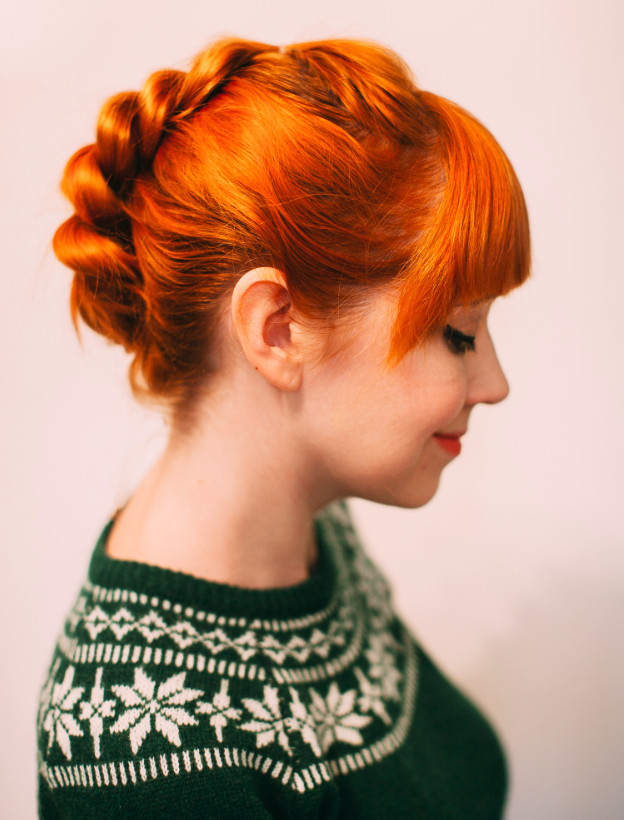 18.
Upgrade your pony in a casual way by simply tying a bandana around it. Your post-gym pony is suddenly #OOTD-worthy.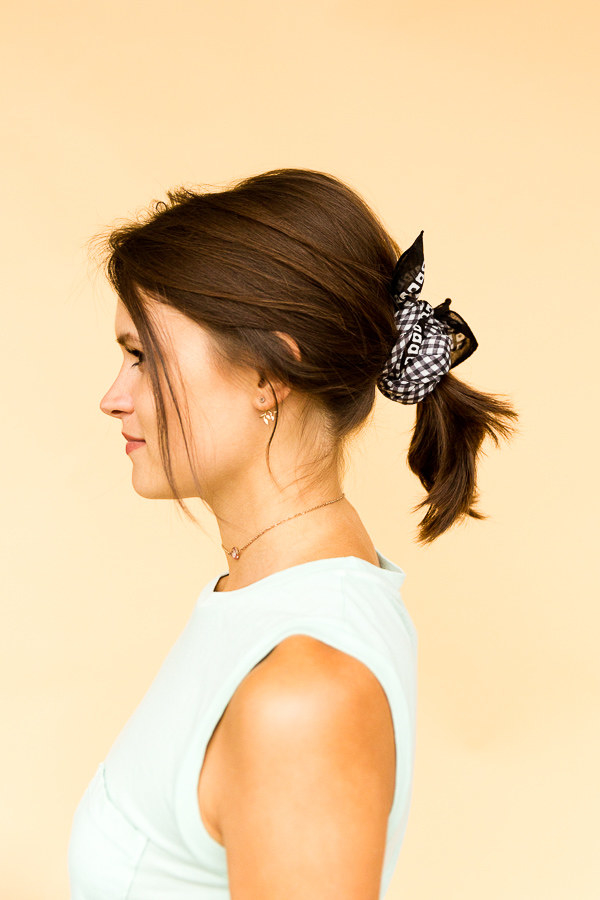 19.
Show off your long hair without feeling like it's alllllllll over you. Create a high pony, then attach more elastics along the lengh of your hair, then fan out the sections for a ~bubble~ effect.
20.
For a casual-trendy look that'll sit comfortably under a baseball cap or straw hat, section your hair into two pigtails. Instead of braiding them try a knot braid (literally just tying large knots in your hair) to up the cool factor.
21.
Or once you've braided your two pigtails, wrap them around each other and pin up for an occasion-worthy updo. Even if you can't get the ~figure eight~ quite right, this'll still look fancy-schmancy when it's messy!

22.
Got a bob that's a little longer in the front, and don't have a lot to work with in the back? Braid the top back, then twist + pin everything else with colorful or metallic bobby pins showing for an easy and edgy finished look.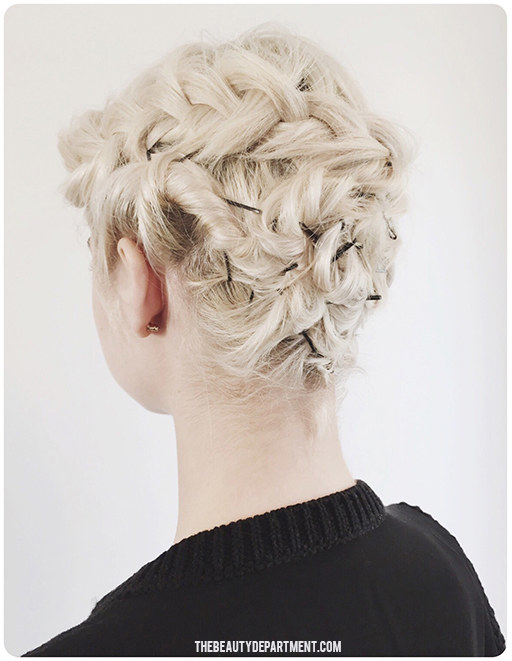 23.
Get colorful with a scarf bun that takes less than 90 SECONDS to create. Only three steps: 1. create ponytail, 2. twist the scarf around your pony in two strands, and 3. wrap the pony into a bun.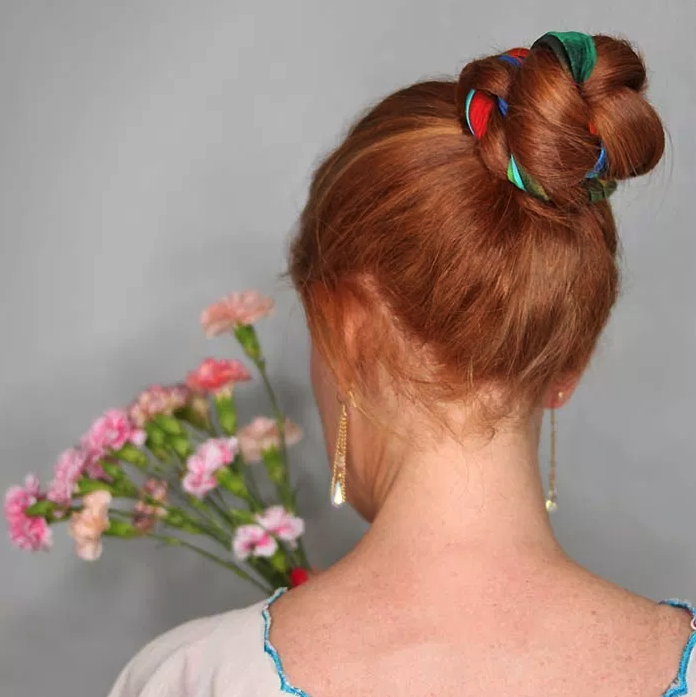 These delightful 'dos are a like an instant dose of: