1.
BBQ Zucchini Sticks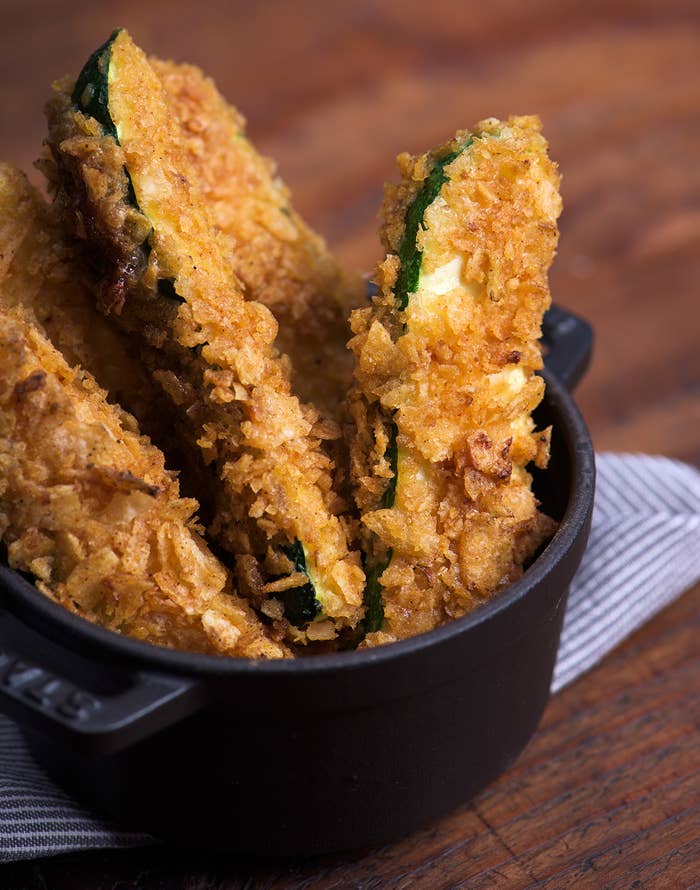 What you'll need:
3–4 tablespoons oil
2 large zucchini
1/4 cup potato starch
2 eggs
3/4 teaspoons salt
1/2 teaspoon paprika
1/2 teaspoon garlic powder
2 cups BBQ FailChips
Directions:
Preheat oven to 400°F. Line 2 baking sheets with parchment paper. Brush each sheet with 1–2 tablespoons oil. Slice each zucchini in half lengthwise and then widthwise to form quarters. Slice each quarter lengthwise into about 6 sticks. Place zucchini sticks into resealable plastic bag. Add potato starch to bag. Seal and shake to coat zucchini sticks in potato starch.
In a shallow dish, combine eggs, salt, paprika, and garlic powder. Place each type of crushed chips into a separate shallow dish. Remove zucchini sticks from bag and dip into egg mixture, a few at a time, then dip in either flavor of FailChips. Repeat until all zucchini sticks are coated. Place on prepared baking sheets. Bake for 30 minutes.
2.
Chip-Breading Cheese Ball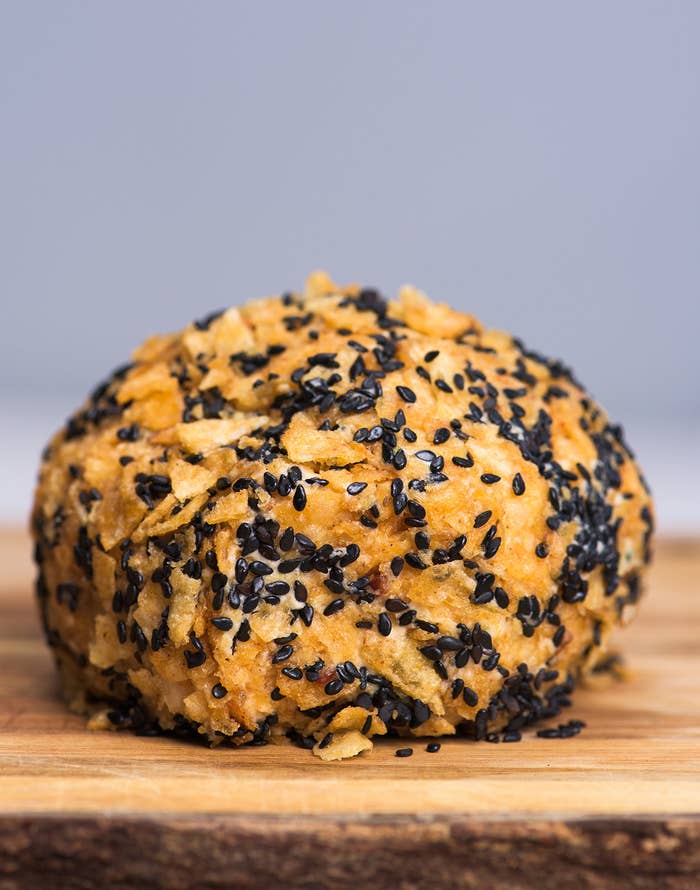 What you'll need:
4 ounces bacon, finely chopped
2 2/3 cups finely grated extra-sharp cheddar
8 ounces cream cheese, room temperature
4 tablespoons unsalted butter, room temperature
2 scallions, thinly sliced
4 teaspoons coarsely ground black pepper
4 teaspoons Worcestershire sauce
Kosher salt
1/2 cup BBQ FailChips
2 tablespoons black sesame seeds
1/2 cup Jalapeño FailChips
2 tablespoons dried jalapeño
Directions:
Cook bacon in a medium skillet over medium heat, stirring often, until browned and crisp (about 5–8 minutes). Transfer to paper towels to drain; let cool.
Process cheddar, cream cheese, and butter in a food processor until smooth. Pulse in scallions, pepper, and Worcestershire sauce, then season bacon with salt. Divide in two. Scrape mixture into a small plastic wrap–lined bowl; gather plastic around cheese, using your hands to shape into a ball. Chill until firm for 3–12 hours.
Cover one with BBQ FailChips and black sesame seeds, and cover the other with jalapeño chips and dried jalapeños.
3.
Baked Pickle Chips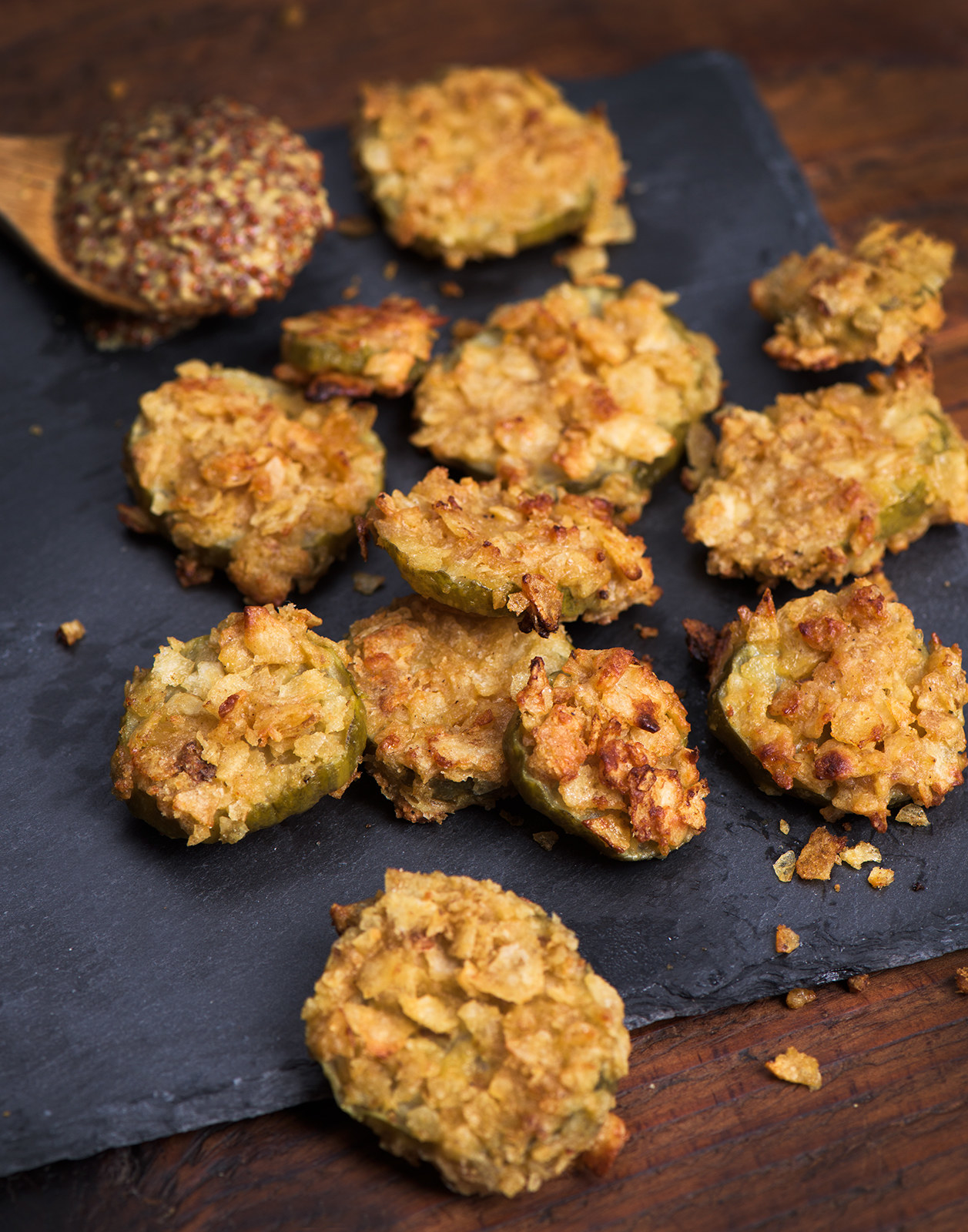 What you'll need:
2 eggs
1⁄3 cup flour
1 tablespoon Worcestershire sauce
1 teaspoon hot sauce
1 teaspoon garlic powder
1 teaspoon cajun seasoning
1 teaspoon pepper
1 24-ounce jar pickles, sliced
1 1⁄2 cups salt and vinegar FailChips
Directions:
Turn oven broiler on high. In a medium bowl, whisk together eggs and flour. Add Worcestershire sauce, hot sauce, garlic powder, cajun seasoning, and pepper. Mix well. Place chip crumbles in a shallow dish. Dunk each pickle slice into egg mixture, then dredge in panko bread crumbs. Place coated pickles on a rack set above a baking sheet and sprayed with nonstick cooking spray. Place pan on middle rack of oven. Broil for about 3 minutes on each side.
4.
Spanish Chip-tilla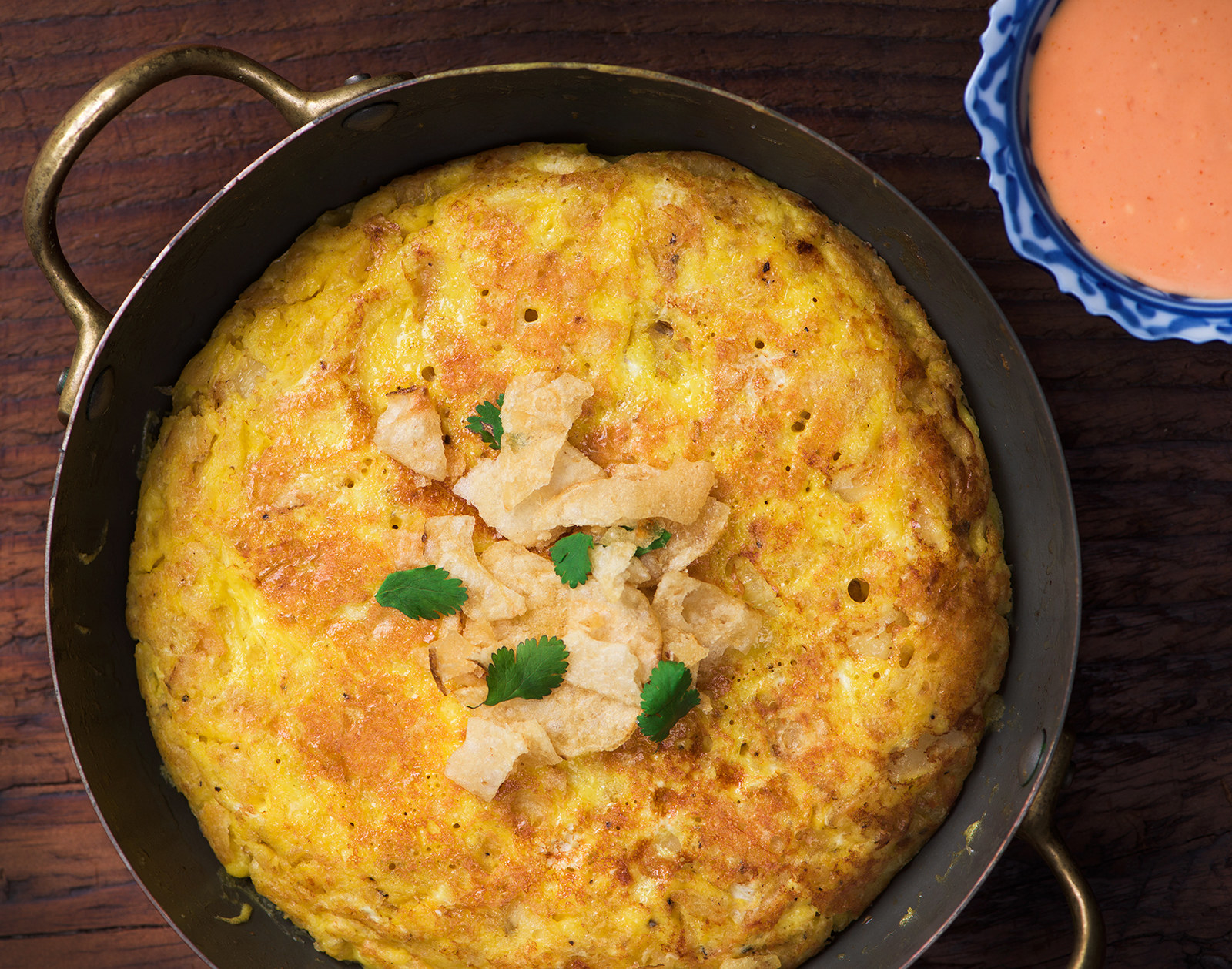 What you'll need:
1/4 cup extra-virgin olive oil
1 small onion, finely sliced (about 3/4 cup)
5 large eggs
1 tablespoon sherry or white wine vinegar
1/2 teaspoon salt
Kosher salt and freshly ground black pepper, to taste
3 cups (about 2 1/2 ounces) Salt and Vinegar FailChips
Directions:
Heat 2 tablespoons olive oil in a 10-inch nonstick or cast-iron skillet over medium-high heat until shimmering. Add onions and cook, stirring frequently, until softened and starting to brown. Transfer onions and oil to large bowl. Add eggs and vinegar and whisk to combine. Season with 1/2 teaspoon salt and a few grinds black pepper. Fold in FailChips until well coated.
Wipe out skillet and add remaining two tablespoons olive oil. Return to medium heat until shimmering. Add egg/potato chip mixture and cook, stirring with rubber spatula, for 10 seconds. Shake pan to evenly distribute mixture, then even out top with spatula. Cook, shaking pan occasionally, until tortilla is mostly set but still wet on the top (about 2 minutes).
Place a large metal or glass pot lid over tortilla. Using kitchen towels to grip lid and pan handle, carefully invert entire tortilla so it rests on top of pan lid. Slide tortilla back into skillet so cooked side faces up. Use spatula to tuck down edges and create even disc shape. Continue to cook, about 2 minutes longer, shaking occasionally, until tortilla is golden brown on second side and barely cooked through. Slide tortilla out onto cutting board.
Mix mayo and Sriracha to create a zipping dipping sauce.
5.
Eggs & Chips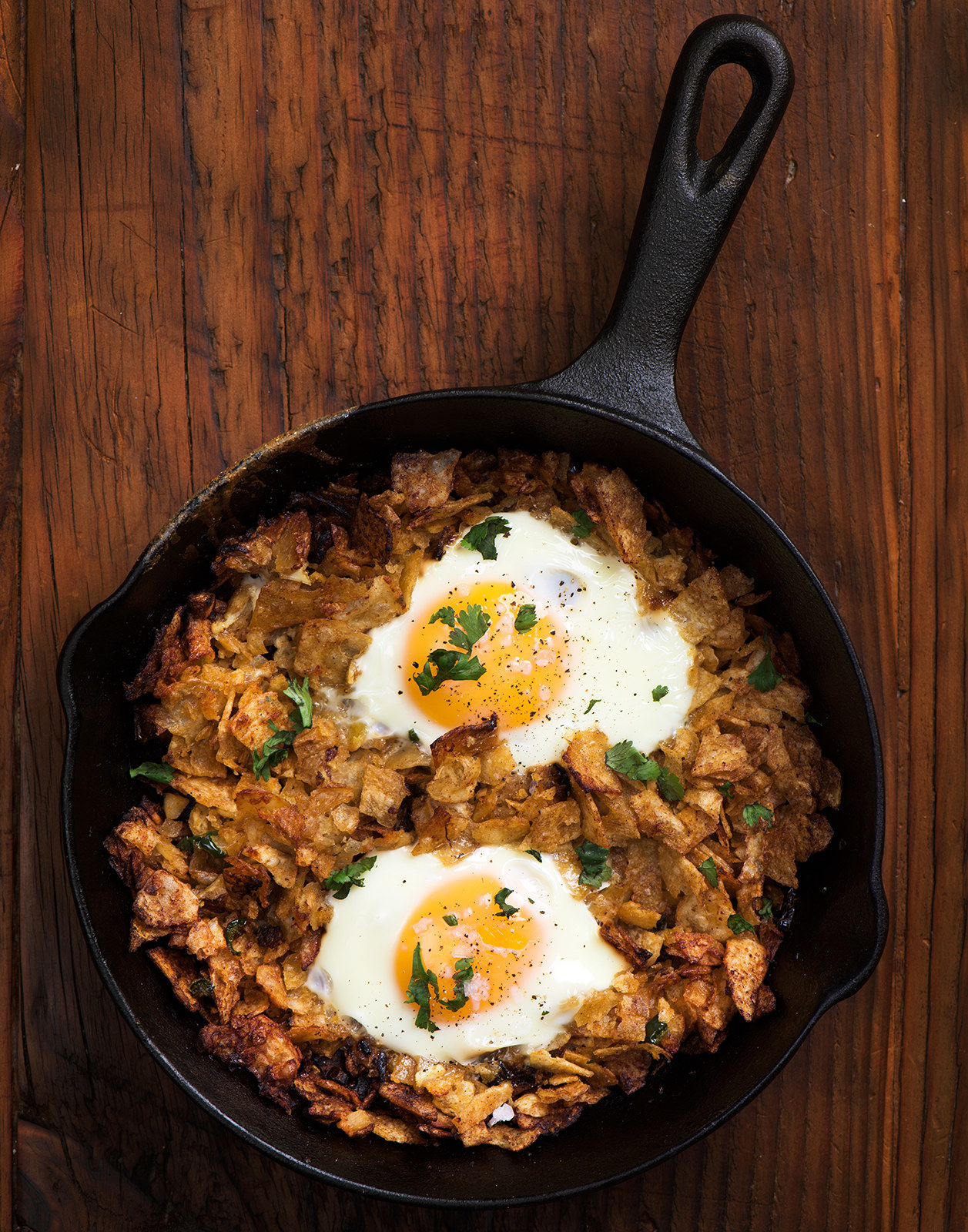 What you'll need:
1 tablespoon vegetable oil or butter
1 small onion, finely chopped
1 small garlic clove, minced
2 or 3 fresh green arbol, Thai, or serrano chiles, finely chopped
4 large handfuls Jalapeño FailChips
3 or 4 eggs
Kosher or sea salt
1/2 cup roughly chopped cilantro
Directions:
Preheat oven to 350 degrees. Meanwhile, heat oil on a sturdy, well-seasoned medium frying pan (cast-iron is preferred!) over medium heat. Add onion and cook, stirring occasionally, until softened, then stir in garlic and chiles. Cook for a moment or two until the garlic is soft. Add in FailChips, stirring contents to combine thoroughly.
Make 3–4 craters in surface of FailChip mixture and crack an egg into each. Place pan in the oven and bake to desired doneness, or approx. 15 mins. Season to taste with salt and top with cilantro.
6.
Grilled Ham, Cheese, Pickle, and Salt & Vinegar Chip 'Wich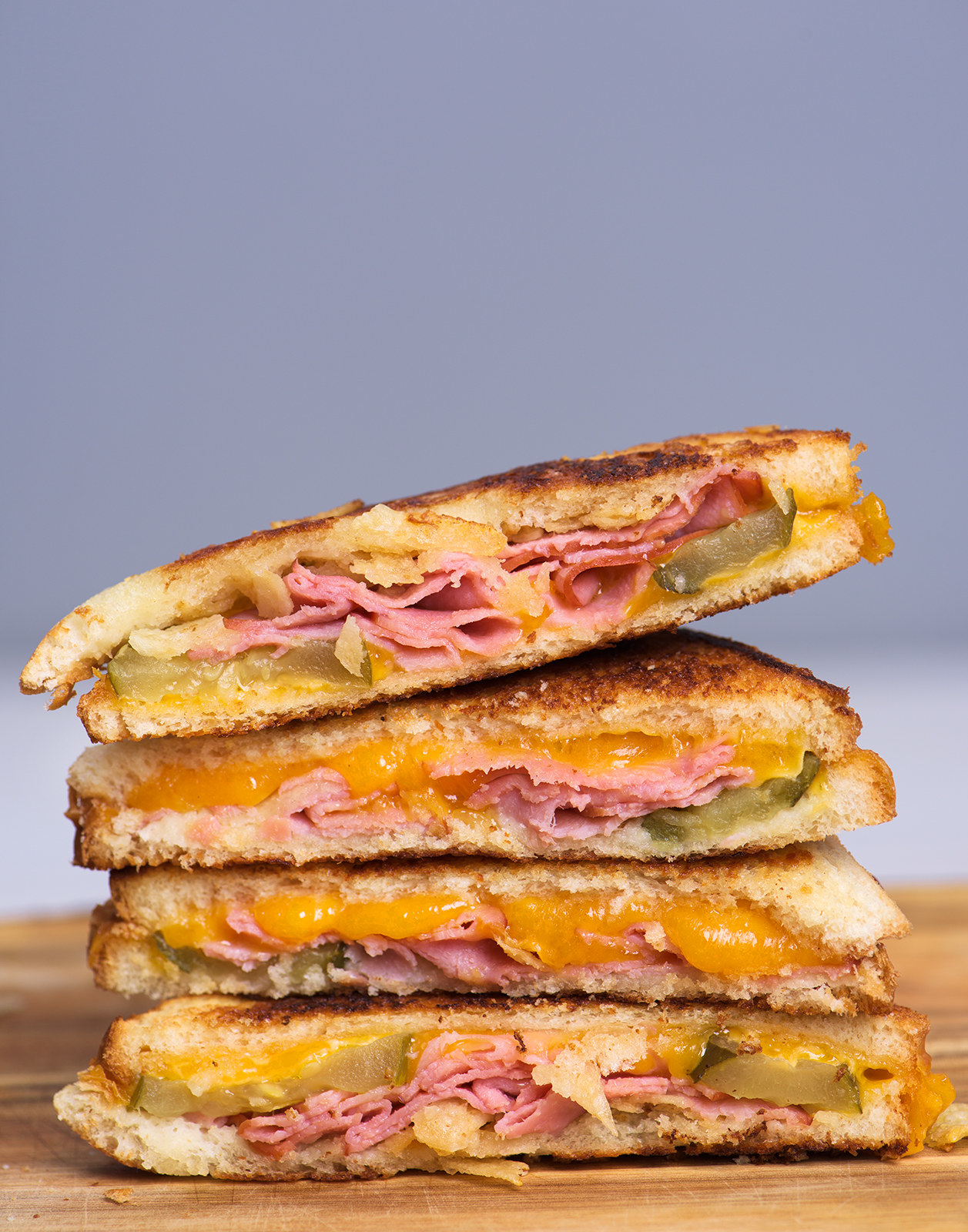 What you'll need:
Dijon mustard
2 slices sandwich bread
Cheddar cheese, thinly sliced
5 pieces ham, thinly sliced
Sliced dill pickles
Handful Salt and Vinegar FailChips
1 tablespoon butter, for grilling
Directions:
Spread mustard over both sides of bread. Top with cheese, ham, pickles, FailChips, and more cheese.
Smash sandwich breads together. Grill in melted butter on both sides until golden brown and cheese is melted. Slice in half. Serve immediately before chips get soggy.
7.
Salt and Vinegar Fish Sticks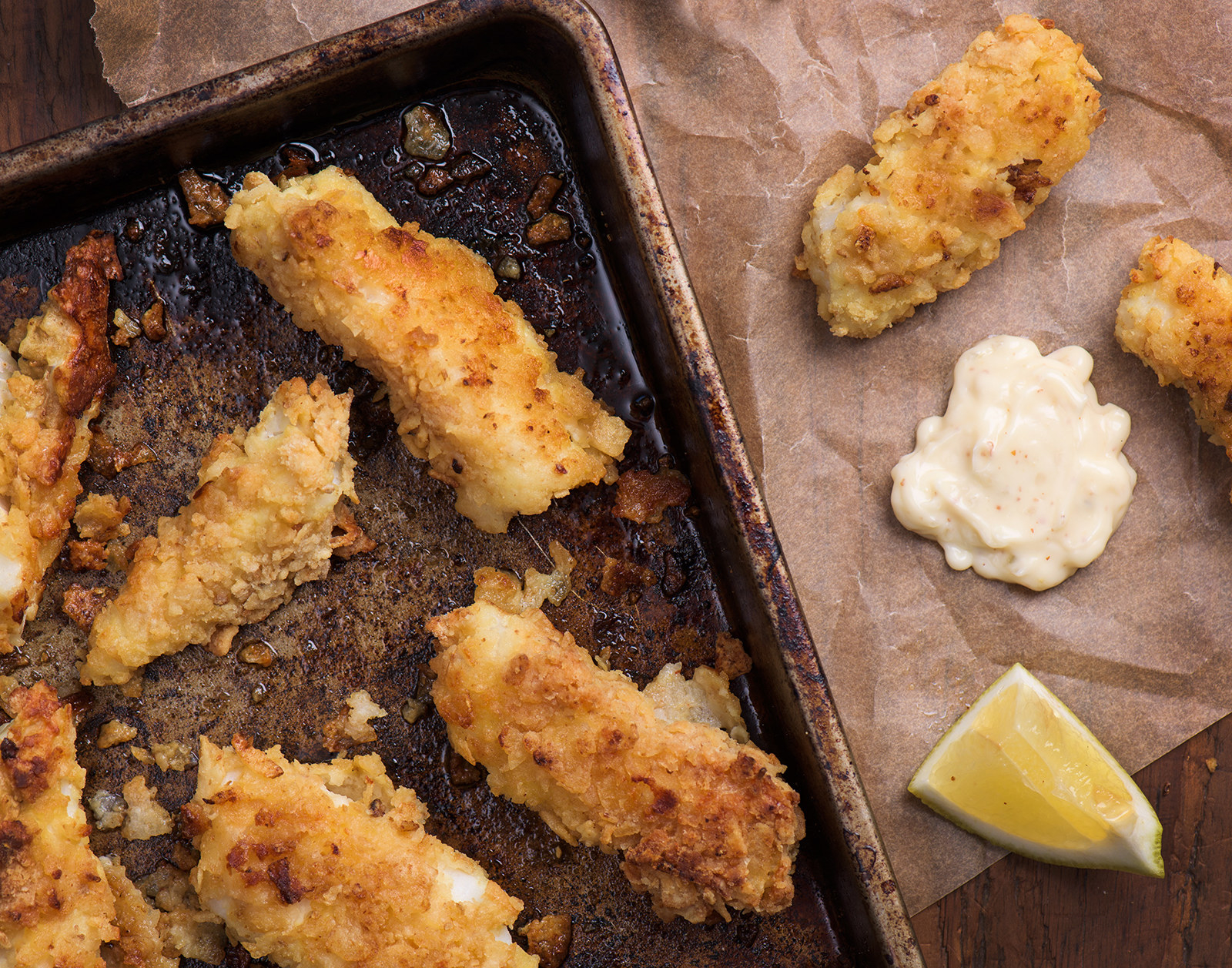 What you'll need:
10 ounces Salt and Vinegar FailChips
1/3 cup all-purpose flour
Kosher salt
Large pinch cayenne pepper
2 large eggs
2 tablespoons tartar sauce
2 pounds haddock or pollock fillets, pin bones removed, cut into 1-inch-wide strips
Olive oil spray
Lemon wedges and/or malt vinegar, for serving
Directions:
Preheat oven to 400 degrees. Combine crushed chips with flour, 1/2 teaspoon salt, and cayenne pepper in a shallow bowl. Whisk eggs, tartar sauce, and 3 tablespoons water in another shallow bowl.
One at a time, dredge each fish strip in FailChip mixture, turning to coat, then dip in egg mixture and dredge again in FailChip mixture. Mist each stick with olive oil and place on a baking sheet. Bake for 10-12 minutes, turning the fish sticks over at 6 minutes for even browning.
Serve with lemon wedges and/or vinegar.
8.
Chip Chicken Divan (Chipen Divan)
What you'll need:
1 pound chopped fresh broccoli
1 1/2 cups cubed, cooked chicken meat
1 10.75-ounce can condensed cream of broccoli soup
1/3 cup milk
1/2 cup BBQ FailChips
1/2 cup shredded cheddar cheese
1 tablespoon butter, melted
Directions:
Preheat oven to 450°F. Place broccoli in a saucepan with enough water to cover. Bring to a boil and cook 5 minutes, or until tender. Drain.
Place cooked broccoli in a 9-inch cast-iron pan. Top with chicken. In a bowl, mix soup and milk, and pour over chicken. Sprinkle with cheddar cheese. Mix melted butter with FailChips, and sprinkle over cheese. Bake in preheated oven for 15 minutes or until bubbly and lightly brown.
9.
Crunchy Fried PB&P
What you'll need:
1 cup chunky peanut butter
8 slices bread
16 slices of dill pickles
4 cups Salt and Vinegar FailChips, divided
3 large eggs, beaten
8 tablespoons (1 stick) unsalted butter
Directions:
Spread peanut butter on 4 slices of bread. Add four pickles and generous pile of chips on top of peanut butter slices; sandwich with remaining slices of bread.
Place eggs and remaining chips in separate shallow bowls. Heat a 12-inch nonstick skillet over medium-low heat and melt 2 tablespoons of butter. Dip a sandwich in the eggs, then the chips, pressing down to make sure the chips adheres to both sides. Repeat with other sandwiches.
In batches, fry sandwiches low and slow until golden brown, 2 to 3 minutes per side, adding more butter to pan as needed. Cut sandwiches in half diagonally and serve.
10.
Fried Avocado Tacos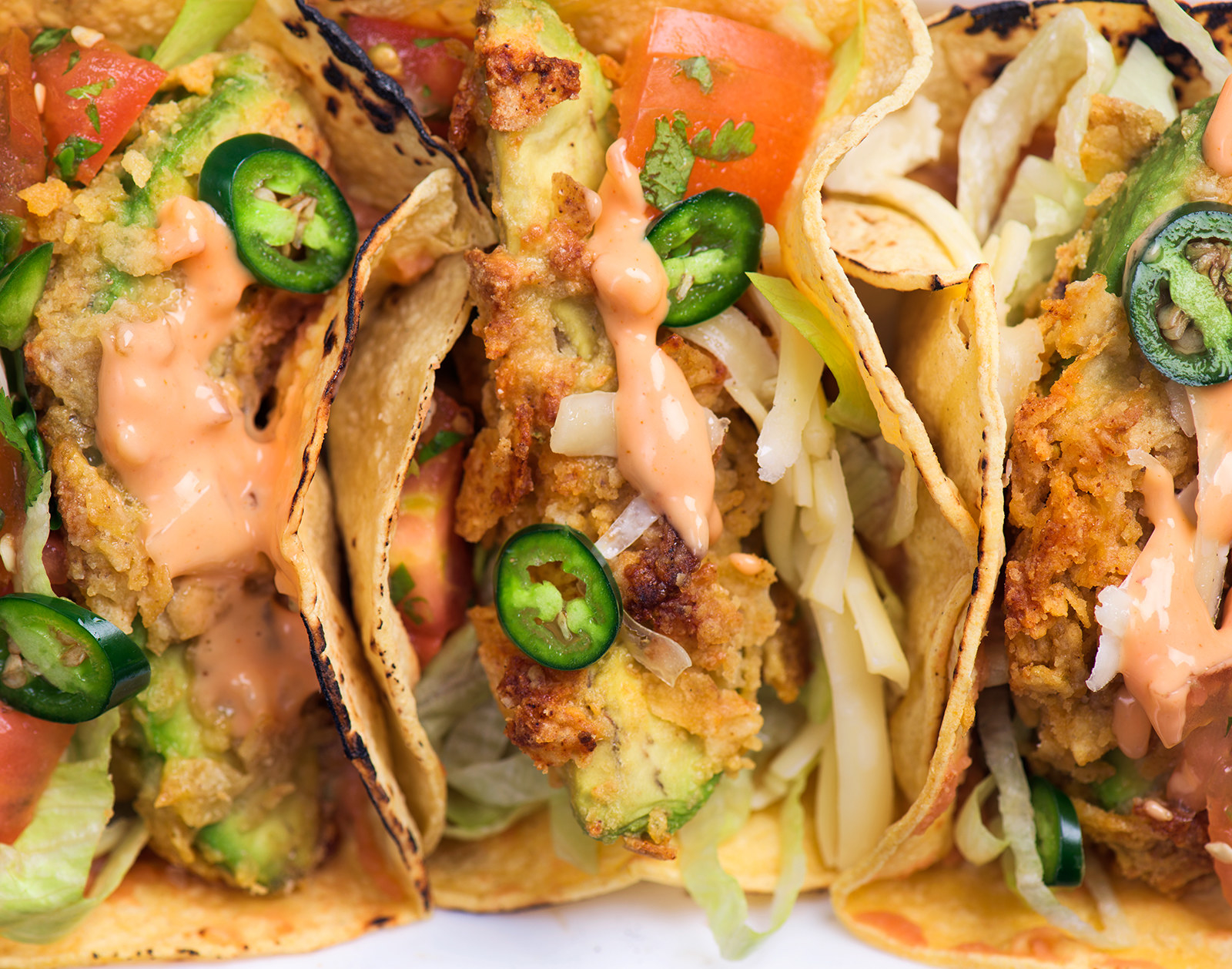 What you'll need:
2 large eggs, beaten to blend
1 cup Jalapeño FailChips
1/2 cup all-purpose flour
1 avocado, halved and pitted, cut into 8 wedges
Kosher salt
2 tablespoons olive oil
1 15-ounce can refried beans, warmed
8 corn tortillas
2 cups shredded iceberg lettuce
1 cup prepared pico de gallo
1 cup shredded Monterey Jack
Directions:
Pour 1 tablespoon of oil on sheet tray and set aside.
Preheat oven to 400 degrees.
Place eggs, FailChips, and flour in 3 separate shallow medium bowls. Season avocado with salt. Working in batches, dredge in flour, shaking off excess. Coat with egg, allowing excess to drip back into bowl. Coat with finely crushed Jalapeño FailChips, pressing to adhere. Place slices on sheet tray.
Drizzle remaining oil onto breaded slices and bake in oven for 15 minutes or until golden brown.
Spread beans on tortillas and top with fried avocado, lettuce, pico de gallo, and cheese. Serve with dressing alongside.
11.
Key Lime and Jalapeño Chip Cake Pop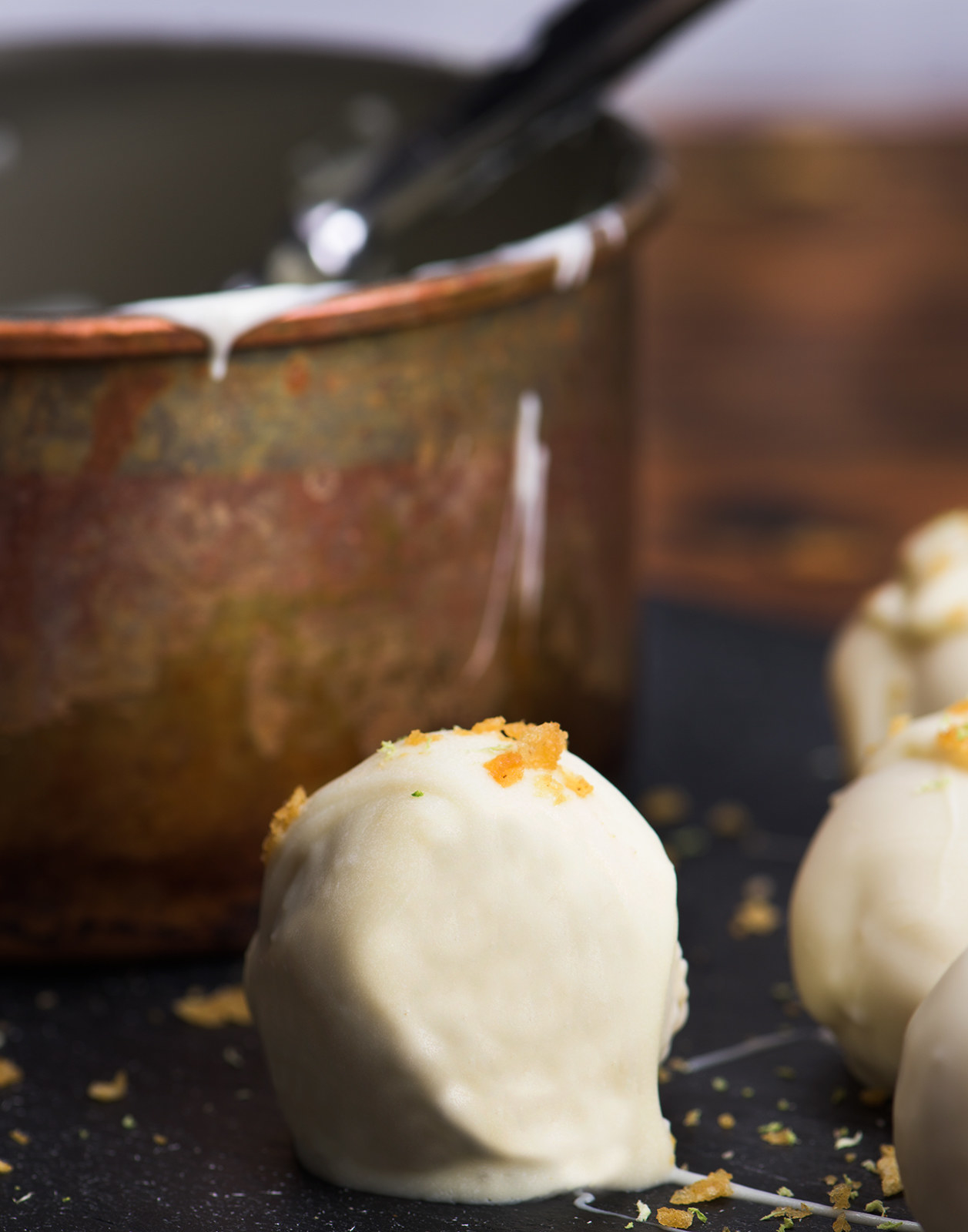 What you'll need:
1 box key lime cake mix (plus ingredients for cake mix)
1 cup Jalapeño FailChips
1/2 cup vanilla frosting
2 cups white chocolate candy melts
1 lime (for zest)
Directions:
Prepare and bake cake mix as directed on box; let cool. Crumble cake into a large bowl, adding finely crushed Jalapeño FailChips. Add frosting and mix thoroughly. Roll mixture into 1-inch-sized balls. Chill for approximately 1–2 hours in refrigerator. Melt white chocolate candy melts. Dip cake pops in white chocolate and place on wax paper to set. Sprinkle with finely crushed Jalapeño FailChips and lime zest.
12.
Chocolate-Covered Bacon and Chip Sundae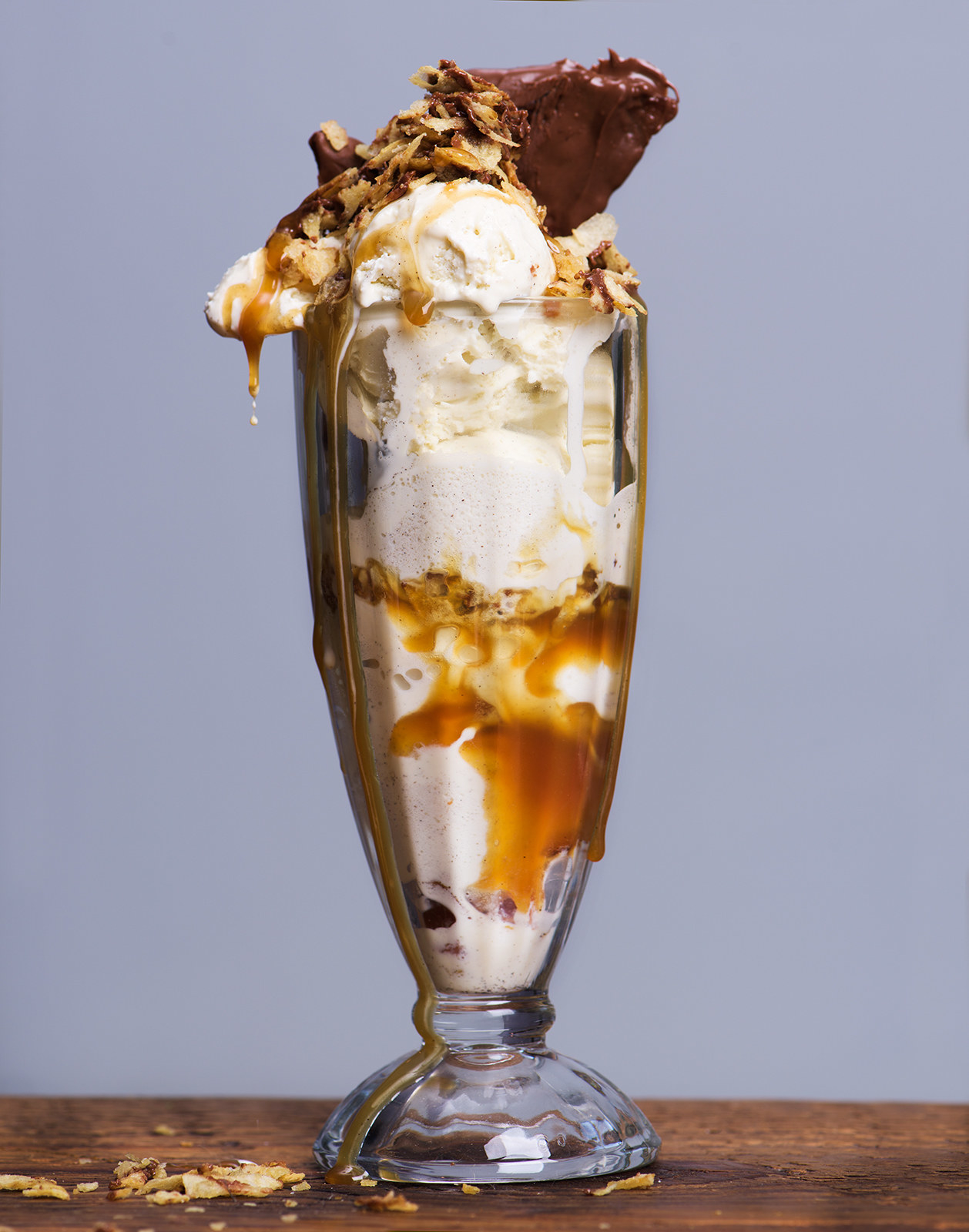 What you'll need:
12 ounces extra-thick center-cut bacon
8 ounces milk chocolate melts
20 Salt and Vinegar FailChips
Flaky sea salt
4 cups vanilla ice cream or gelato
1/2 cup caramel sauce
Directions:
Place bacon on baking sheet, cook in the oven at 350°F for 15–20 minutes or until desired crispiness. Allow to cool.
Melt chocolate in microwave in 15-second intervals, making sure not to let it burn. Stir between each interval. Once melted, cover chip pieces and piece of bacon to cover half. Garnish with additional flaky sea salt if desired.
To assemble sundae, scoop ice cream into cups and top with caramel sauce, bacon slices, and chips.
Photographs by Stone, Vogel & Zaser
Who knew the taste of failure could be so satisfying? FailChips. Embrace failure. MailChimp believes doing things your way isn't just more fun: It's good business.