Butter Chicken Skewers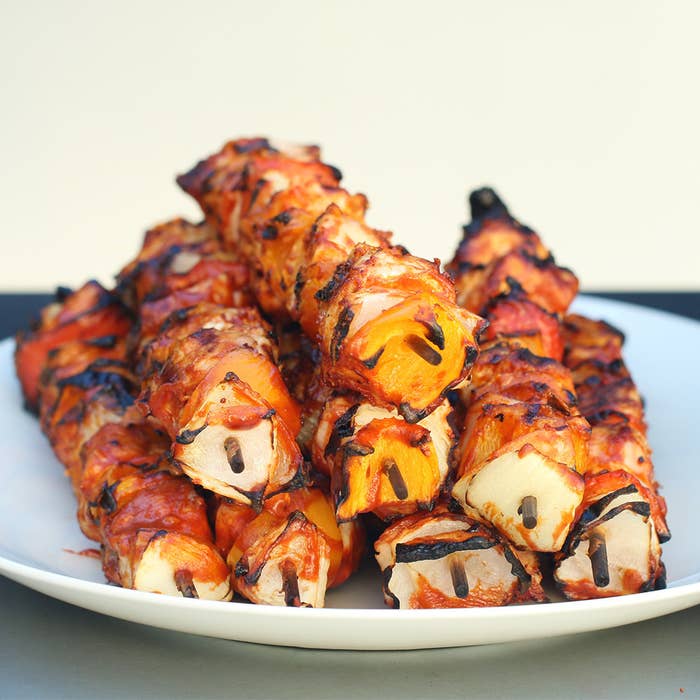 INGREDIENTS
Serving Size: 10-12
1 tablespoon butter
1 packet MAGGI Butter Chicken Recipe Base
1/4 cup tomato paste
2/3 cup cream
4-5 large boneless chicken breast
2-3 red and or yellow capsicum
1-2 large white onions
Vegetable oil
Wooden skewers, soaked
PREPARATION
1. Preheat BBQ. (HIGH)

2. In a pan over medium heat, melt butter. Add the MAGGI Butter Chicken Recipe Base, tomato paste, and cream. Whisk until combined and simmering. 

3. Cut chicken into large cubes and place in a bowl.

4. Cut capsicum and onions into large square slices.

5. Prepare the skewers by layering onion, capsicum, and chicken.

6. Lightly oil prepared skewers.

7. Place on grill and immediately turn down to Med-High. Close the lid and allow to BBQ for about 5 minutes.

8. Open BBQ and flip skewers. Close lid and cook for an additional 5-10 minutes.
9. Once the chicken has reached an internal temperature of 75ºC/165ºF, brush both sides of the skewers with butter sauce and remove from BBQ. Do not allow sauce to burn.

10. Best served with a fresh garden salad!

11. Enjoy!