Oh no! The babies realize their beloved Reptar is in trouble and they have to go save him. Can you help them make the right choices in order to get there in time to save the day?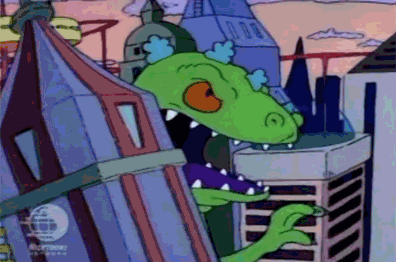 The Rugrats are stuck in the playpen and need to get out to help Reptar. Tommy doesn't have his trusty screwdriver though. How should they escape?

Nickelodeon

Trick one of the adults into letting them out

The Rugrats realize they're going to need help in order to save Reptar. Who should they ask?

Nickelodeon

The Rugrats have to pack light and only one of them can bring a toy with them. What should they take?

Nickelodeon

The babies have to sneak out of the house but there are adults in every room. Which way should they leave?

Nickelodeon

Through the kitchen where Didi is

Through the basement where Stu is

Through the backyard where Betty is

Through the living room where Grandpa Lou is

Time is running out and the rugrats have to move quickly in order to save Reptar. What mode of transportation should they take?

Nickelodeon

The babies find Reptar fighting the evil Robosnail and he's losing. What should the babies do to save him?

Nickelodeon

Shoot him in the face with Tommy's bottle

Trip him with Spike's leash

Put Tommy's ball in his way so he trips

Distract him with nakey-ness
This post was created by a member of BuzzFeed Community, where anyone can post awesome lists and creations.
Learn more
or
post your buzz!