There's something magical about summer camp. It has the amazing ability to give you an escape from your everyday life. It allows you to have experiences and grow in ways you otherwise wouldn't. You meet people from all different backgrounds, and, for many kids living in urban areas, it's their only chance to get out of the city and spend time in nature. Looking back, I have such fond memories of the many camps I attended as a child.
I remember going to sleepaway camp for the first time when I was about 12. I was so scared when my parents dropped me off; I waved goodbye as their car rounded the corner, wishing they would have taken me with them. A few days later, though, I had made some friends, had tie-dyed some T-shirts, and was feeling completely comfortable in my home away from home. That summer ended up being one of the best I've ever had.
As an adult with a nine-to-five job, my days are pretty unvarying. I wake up every morning, go to the same place, and leave at the same time. When I learned I would have the opportunity to create my own camp experience, I had that excited feeling that comes when one breaks out of their everyday routine. One of the best parts of camp is the friendships you make along the way, so I enlisted a few coworkers and set off to Urban Cowboy Bed and Breakfast to bring my camp vision to life.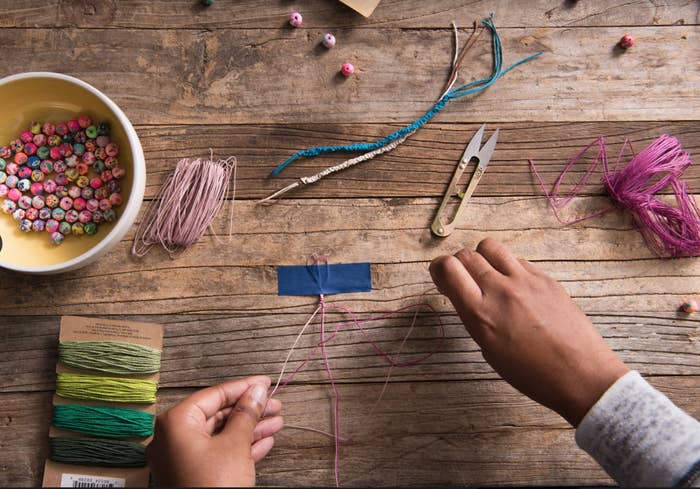 We decided to start with some classic crafts to really get us in the right frame of mind. What better way to get into the camp spirit than by making some friendship bracelets?

I'm clearly not a weaving pro, but crafting these cute bracelets immediately brought me back to days spent in the camp mess hall, weaving colorful string into stylish accessories to give to my camp friends with the promise that we'd stay in touch. We never kept that promise, but it didn't make those friendships feel any less important. When my coworkers and I exchanged bracelets this time, we knew keeping in touch wouldn't present a problem.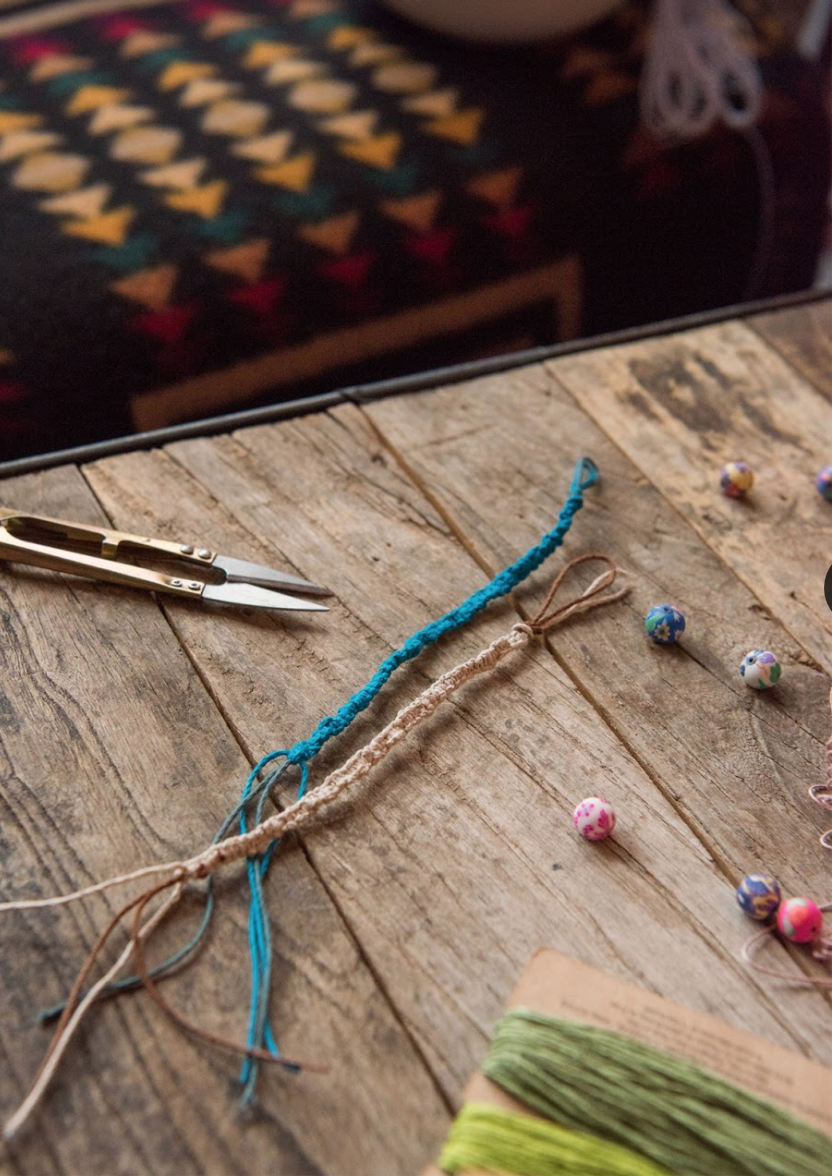 Once the bracelets were done, we got our hands in some molding clay, making ring dishes and cute little flags to label potted plants. And of course, you can't tell a millennial to make a craft without involving succulents, so we painted some cute terra-cotta pots to house our favorite houseplants. While none of our crafts turned out particularly great, it was an awesome bonding moment, even among coworkers, to get our hands a little dirty and create these little souvenirs.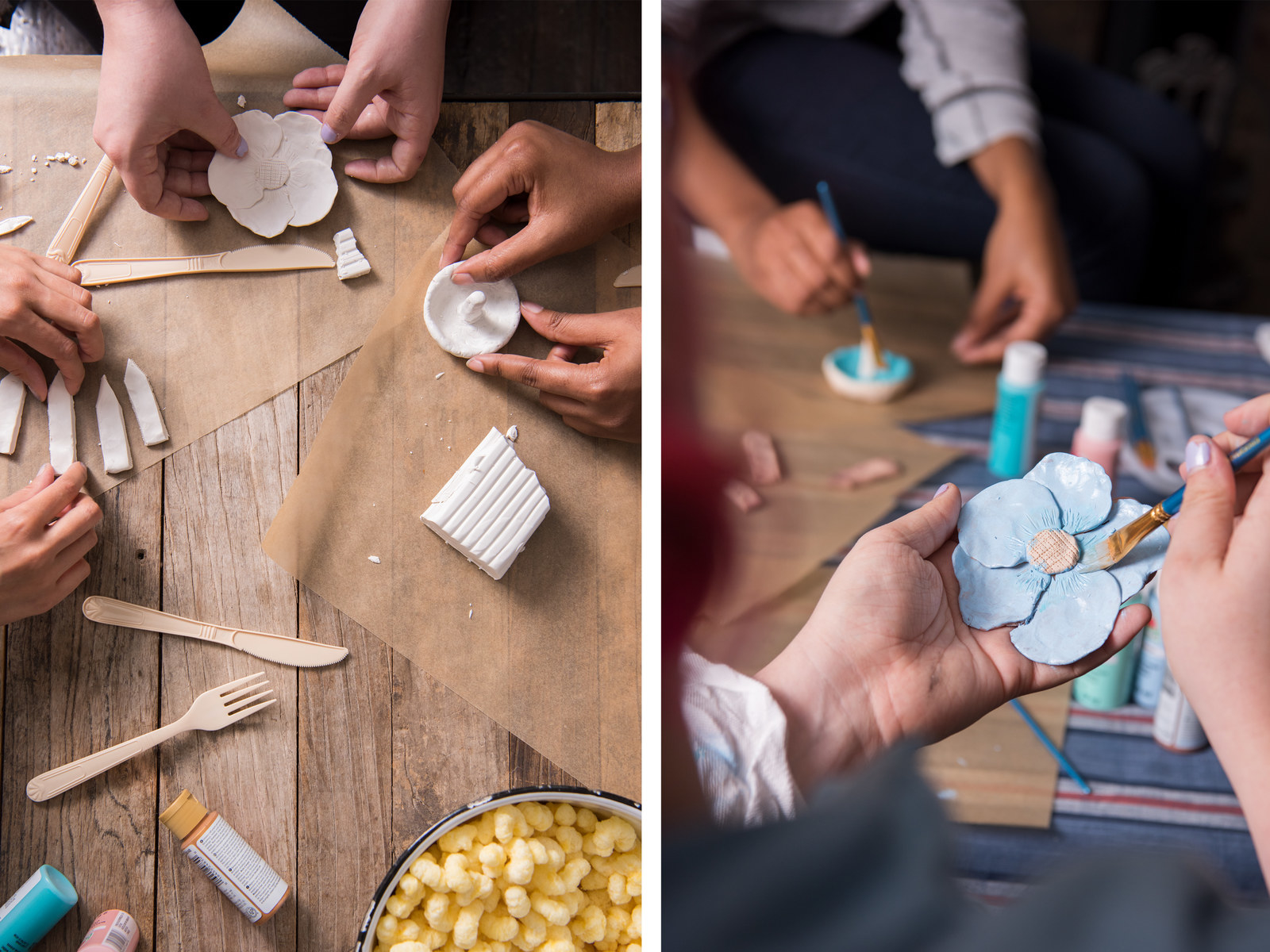 One thing I noticed revisiting these little activities as an adult was that I was so much less self-conscious about my work. I have always been a pretty terrible artist, and when I was younger, I never wanted to try too hard at any art project for fear of looking dumb when it didn't come out right. Fifteen years later, I can't say I'm any better at painting, but I'm a lot less concerned about looking stupid.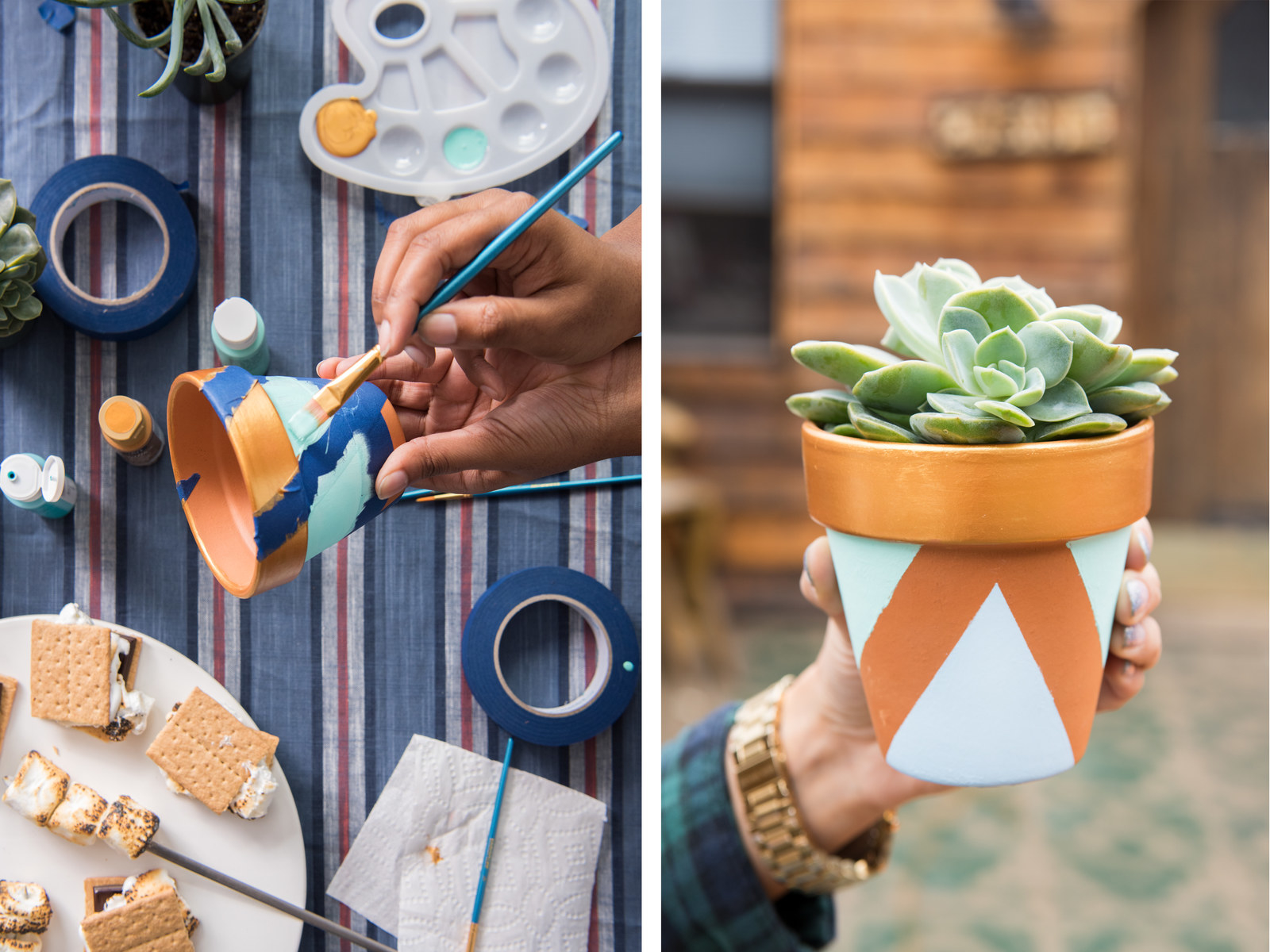 Up next was the really fun part: horseback riding. Camp always gave me the opportunity to have new and enriching experiences, and while it certainly wasn't the first time I've been on a horse, it had been quite a while.
We set off bright and early, traveling to Willow Grove Farm for our horseback riding experience. Willow Grove is a beautiful farm out in Long Valley, New Jersey. The woodsy landscape is accented by a lovely babbling creek that weaves its way through the town. The quiet, tranquil atmosphere was the perfect place for me to put my nerves aside and sit in a saddle for the first time in about eight years.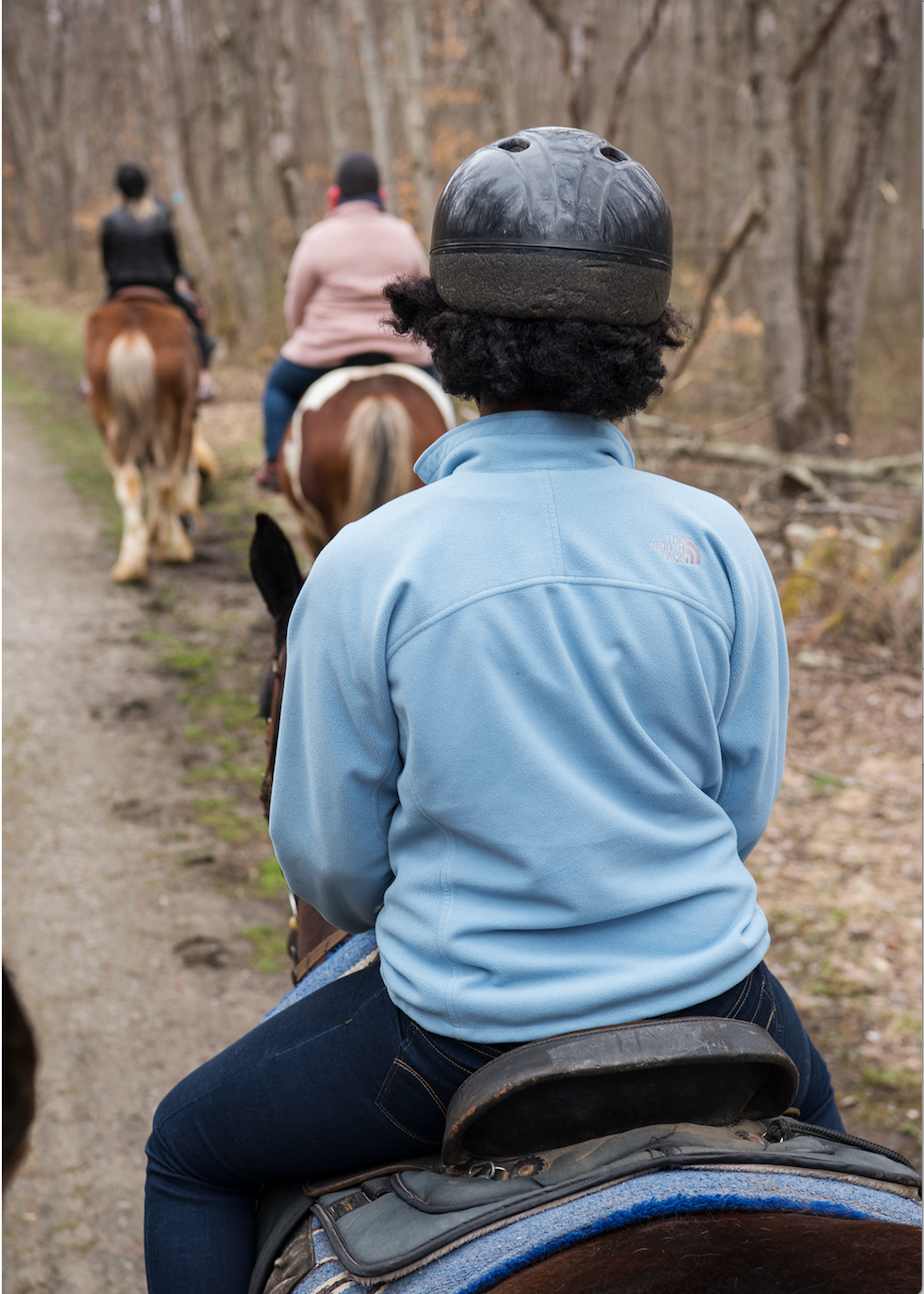 I also have to give some credit to my awesome horse, Lola, who made it easy for me to feel relaxed.
"If there's one thing you need to know about Lola, it's that she's an extremely slow walker who will take up the whole path and make everyone walk at her pace," our guide, Megan, informed us.
It was true: Lola lagged far behind the group for most of the ride, and I had to give her periodic squeezes to coax her along. I kind of enjoyed her leisurely pace though. She was reminding me to slow down and take in the scenery. At least that's what I told myself. She probably just wanted to go home and eat some more hay.

Overall, it was a great feeling leaving behind the hustle and bustle of my day job and escaping to this beautiful farm to chill with these amazing animals. I felt all the stress of the previous week leave me as I rode along the creek, a couple hours and worlds away from NYC.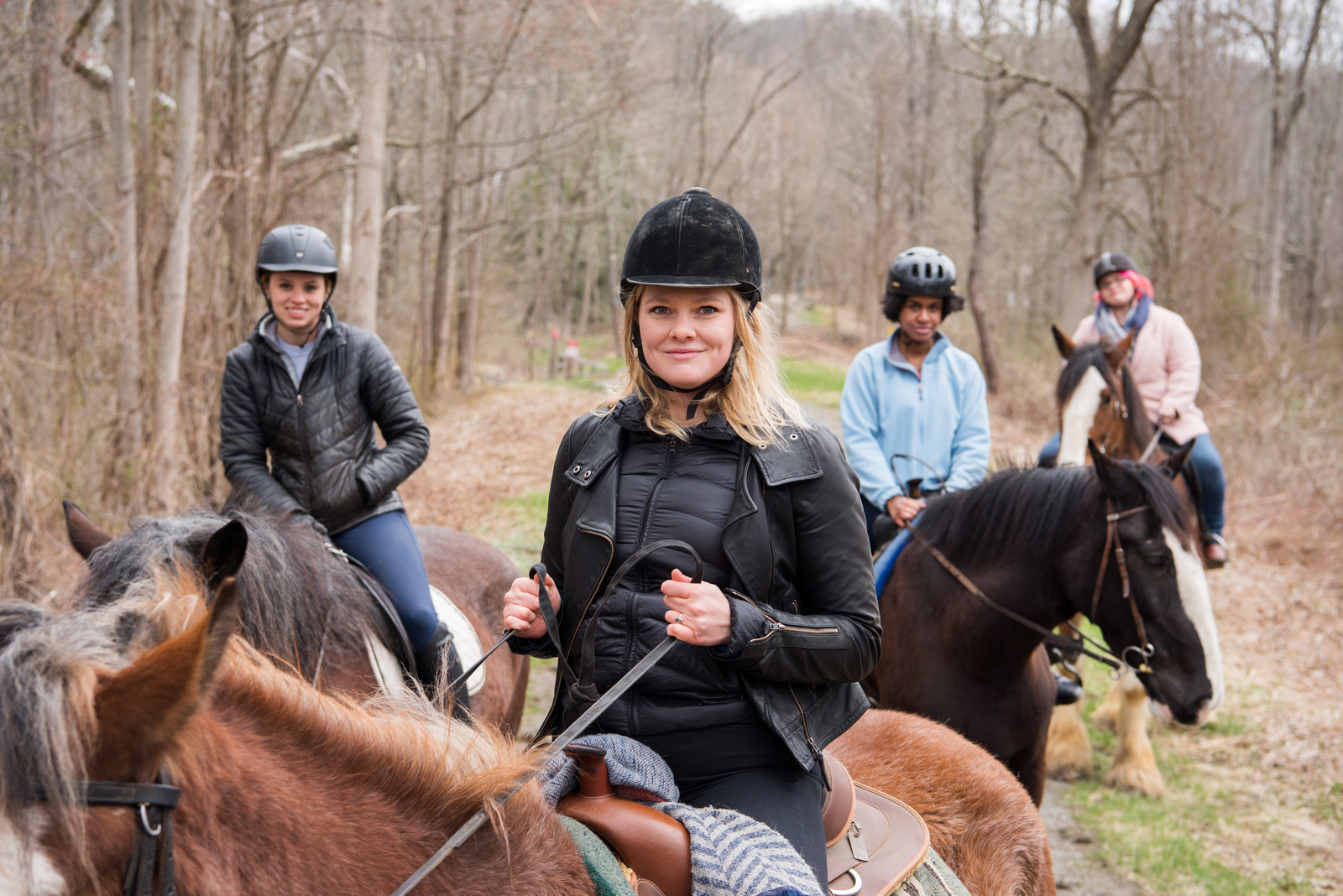 All too soon, our day of camp was coming to an end. It was time to head back to the barn. I dismounted my horse with a feeling of accomplishment. I felt super lucky to have had the opportunity to participate in our little adult camp experiment, and it brought back such fond memories of the summer camps I attended as a kid.
Camp gives you the chance to strike out on your own and have experiences you wouldn't otherwise have. It's an invaluable opportunity that I think should be available to every child...and adult.
Photos by Sarah Stone/© BuzzFeed
Feeling nostalgic? Help make sure every kid has the opportunity to attend summer camp by shopping at Macy's May 1–May 22 and donating your change to the Y.
Take this survey. It's almost like taking a quiz!