Saffron Yogurt Chicken Kebabs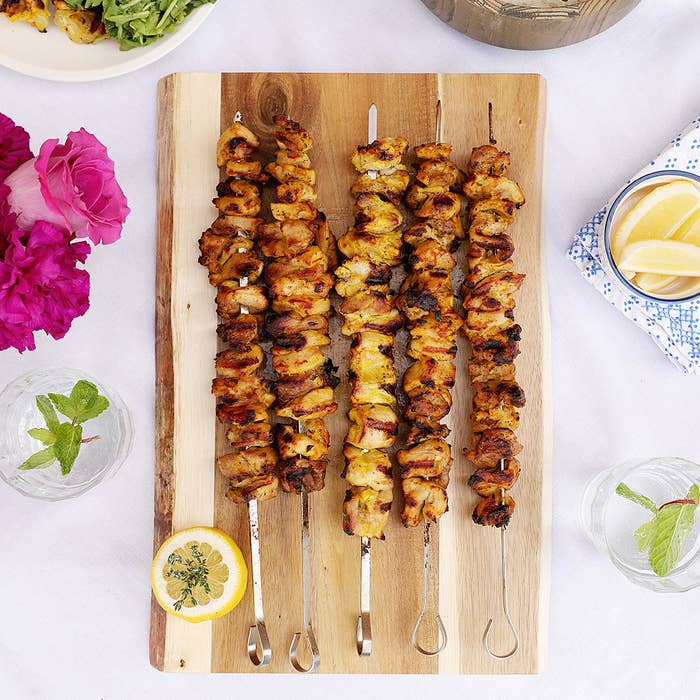 INGREDIENTS
Servings: 4-6
3/4 cup plain whole milk Greek-style yogurt
¼ cup olive oil, plus more for drizzling over cooked chicken
1 tablespoon lemon zest
3 tablespoons lemon juice
2 tablespoons chopped fresh thyme leaves
2 cloves garlic, roughly chopped
½ teaspoon saffron threads
½ teaspoon paprika
¼ teaspoon turmeric
1/8 teaspoon cayenne
Coarse salt and freshly ground black pepper
2 pounds boneless, skinless chicken thighs, cut into 2-inch pieces
6 lemon wedges, for serving
PREPARATION
1. In a medium bowl, whisk to combine yogurt, olive oil, lemon zest, lemon juice, thyme, garlic, saffron, paprika, turmeric, cayenne, 2 teaspoons salt, and ¼ teaspoon black pepper.
2. Add chicken to yogurt marinade and toss to coat. Cover with plastic wrap and refrigerate for at least 1 hour and up to 2 hours.
3. Preheat grill or grill pan to medium-high heat. Thread chicken onto six 10-inch skewers and season with salt and pepper. Grill chicken until cooked through, about 6 to 8 minutes per side. Drizzle with olive oil and serve with lemon wedges.
Cook's Note:
If using wooden skewers, soak them in water for 30 minutes before grilling.