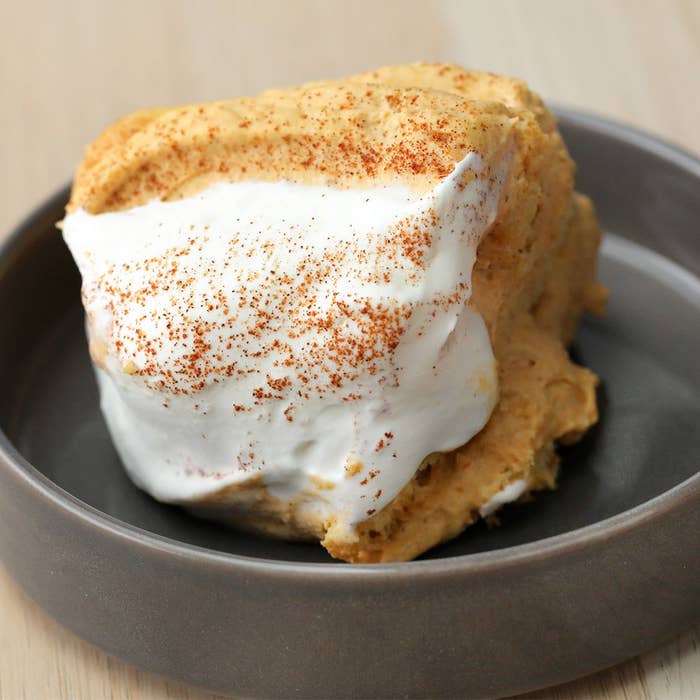 PUMPKIN TIRAMISU
Servings: 8–10
INGREDIENTS
1 15-ounce can pumpkin puree
1 cup brown sugar
1 teaspoon salt
11⁄2 teaspoons ground ginger
11⁄2 teaspoons cinnamon, plus extra for garnish 1⁄4 teaspoon ground nutmeg
1 teaspoon vanilla extract
11⁄2 cups mascarpone
21⁄2 cups heavy cream
2 cups coffee, cooled
21⁄2 packages ladyfingers
PREPARATION:
In a large bowl, combine pumpkin puree, brown sugar, salt, ground ginger, cinnamon,

nutmeg, and vanilla extract. Beat with a hand mixer until well combined. Add the

mascarpone and heavy cream. Continue to beat until until peaks form.

Set mixture aside.

Lightly dip each side of the ladyfingers in cooled coffee and arrange in a single layer in a

9x13-inch baking dish.

Top ladyfingers with a layer of pumpkin custard. Repeat with another layer of

coffee-dipped ladyfingers and another layer of custard.

Refrigerate tiramisu for at least 2 hours. Dust with cinnamon before serving.