These Eerie Photos Capture The Oddball Beauty Of Suburban America
Ryan Schude's enormous staged photos are filled with weirdness and energy.
Los Angeles-based photographer Ryan Schude has made a name for himself with vast, meticulously crafted photos that he has spent 10 years perfecting. His pictures are in the tradition of tableaux vivants, in which groups of models are staged to depict a scene.
Many of Schude's scenes develop from the environment in which they are shot in and take inspiration from the props that are available on the day. Each photo takes two weeks of preproduction, one full day of shooting, and another day of post-production editing to create. In the photo below, the narratives and characters grew from the camper van as the basis of the story.
The series Phoot Camp (below) was inspired by a retreat for photographers in a mansion in Calabasas, California. Working with fellow photographer Lauren Randolph, Schude created a scene telling the story of the aftermath of a party thrown by high school kids when their parents were out of town. Each model in the pictures dressed up as their favourite teenage stereotype.
"Once we arrived and saw what everyone brought, we created the story and shot it in the same day," Schude tells BuzzFeed. "The band geek gets thrown into the pool for trying to pick up the prom king's date."
Schude explains the photo above: "The next morning, band geek ends up with the prom queen while everyone slumbers in communal decadence. Naked guy deliriously escapes into the offensively bright afternoon."

"Phoot Camp (III)", 2012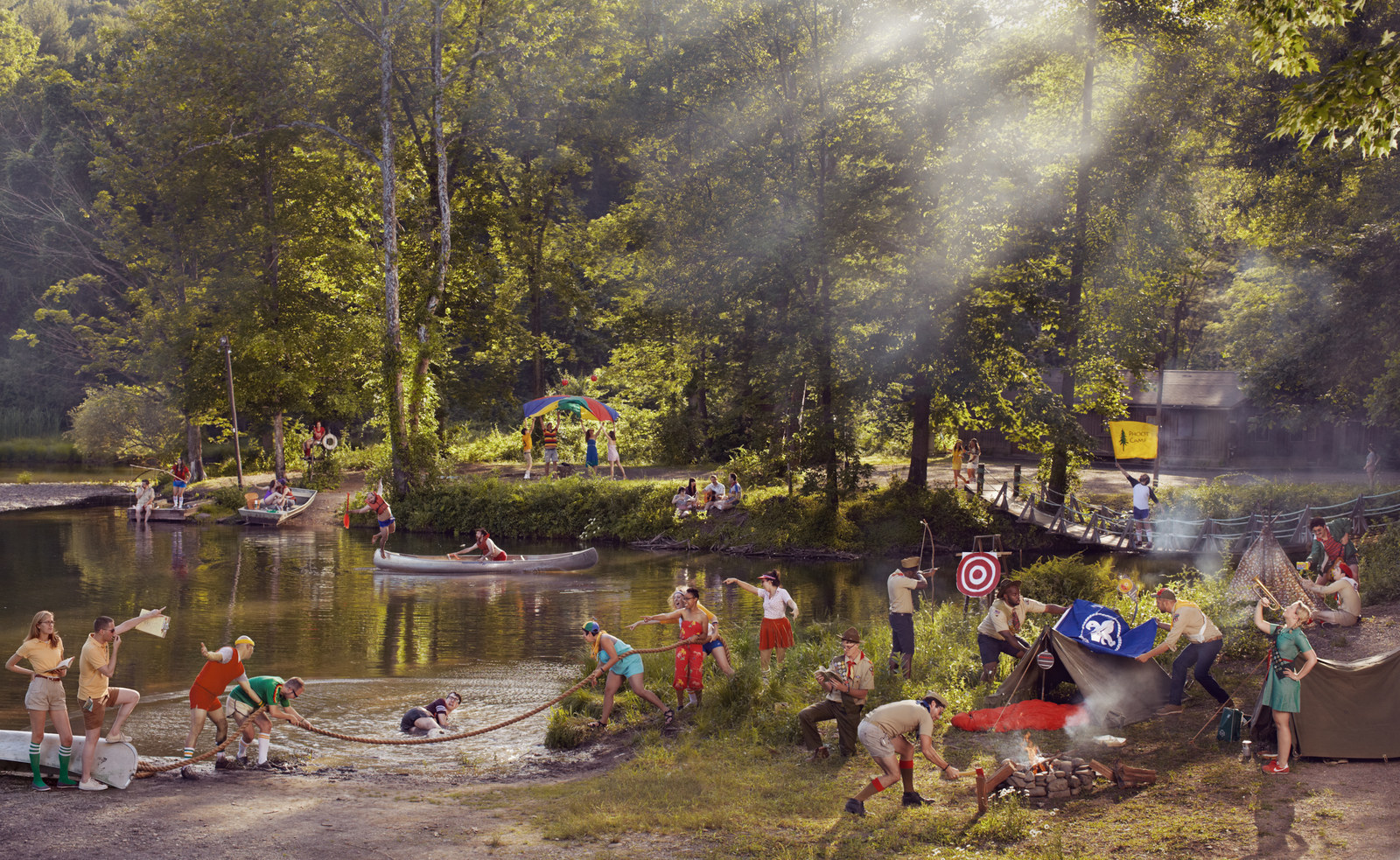 "We knew we were shooting in the church and had all these kids in matching pyjamas, but we had a ton of fun allowing the environment and available props help determine the story."
"This idea was based around an interior shot of a waitress spilling a tray of food in a diner. After finding the diner to shoot at, the exterior became more interesting, and I restructured the composition to include both."

"The young boy is this picture is fishing an extraterrestrial star out of the water and holding it aloft for his sister to see, while the mother and child seem not to notice."

"What started as a basic trick-or-treat scene turned into life-size mushrooms and Rapunzel letting the boy know what's up."

"This is based off of a short story of the same title by Davy Rothbart where he sleeps over at an abandoned motel with a girl on a dare. They wake up in the middle of the night and see a little girl they can't decide is an apparition or real. We aged the couple and did all the set design ourselves."

"This was one of the very first productions for me on this scale. I had the idea of telling the story of a relationship ending with someone's belongings being tossed from the second story of an apartment building"