These Are The Survivors' Memories Of The Rana Plaza Building Collapse
Photographer Annalisa Natali Murri's project aims to depict the psychological pain and distress suffered by survivors of 2013's Rana Plaza building collapse in Bangladesh.
In April 2013, Rana Plaza, an eight-story commercial building in Saver Upazila, Bangladesh, collapsed due to structural failure. It was considered the deadliest garment-factory accident in history as the collapse killed 1,129 people and injured 2,500.

Two years after the disaster, many of the survivors are still traumatised by what happened that day. Annalisa Natali Murri, a photographer based in Bologna, Italy, travelled to Bangladesh in 2014 to document the lives of these survivors, many of whom suffer from post-traumatic stress disorder, also known as PTSD, which can leave mental scars for months or years following the incident.
BuzzFeed News interviewed Murri about her work, which you can read after these images.
Even to this day, the bodies of many victims at Rana Plaza have never been found. People continued digging with bare hands to find forgotten mementoes among the ruins. There are dozens of people, mostly relatives of the victims, who honour the memory of their loved ones daily by wandering around the remains of the building.
"Rahat and Yasmin Akhtar are husband and wife. Both worked as sewing operators on the fifth and fourth floors of Rana Plaza. The day of the collapse is still stuck in their memories. "Everything was vibrating. It was like a sudden earthquake, there was dust and smoke everywhere," said Rahat, who survived by jumping from the building as it was collapsing. His physical injuries are healing, but the accident left mental scars." – Annalisa Natali Murri

"Aklima, 28, was affected by a severe case of PTSD. She is worried that what happened to her could also affect her children'•s wellbeing, and this only makes her more afraid." – Annalisa Natali Murri

"Aklima is mother to three children, one of whom is only a few months old. She was working on the seventh floor of Rana Plaza on the day of the collapse, but she cannot remember much. She says that she often feels lost and bewildered, as if her senses are no longer connected with reality." – Annalisa Natali Murri

"Massud Rana, 27, is trying to get rid of his persistent fear of indoor spaces and multi-story buildings." – Annalisa Natali Murri

"Arati Bala Das was rescued from the Rana Plaza building after spending three days under a concrete pillar. "It was dark all around, I couldn't even breathe. I thought I would not be able to return alive," she says. The rescue workers managed to save her, but they had to amputate her leg. She received some financial compensation from the government, which paid for her artificial limb, but it doesn't seem to have relieved her pain." – Annalisa Natali Murri

"Jamila Begum lost her daughter Shayla in the collapse. She remembers Shayla did not take any lunch that day. "I told her, please take your lunch, but she replied not to worry. She told me she just needed to go and pick up her salary, and then she would return home"," she said. But Shayla never returned. Since then, Jamila wanders around, always ending up at Rana Plaza ground zero, where Shayla's body is buried." – Annalisa Natali Murri

"Sheuly, 26, works at GK Garments, a clothing factory located very close to the site. She had to look for a job after she lost her husband, who was working at Rana Plaza when it fell. She looked for him for days after the collapse, and on the 17th day, she says, her heart finally broke when the search team found his lifeless body under the rubble." – Annalisa Natali Murri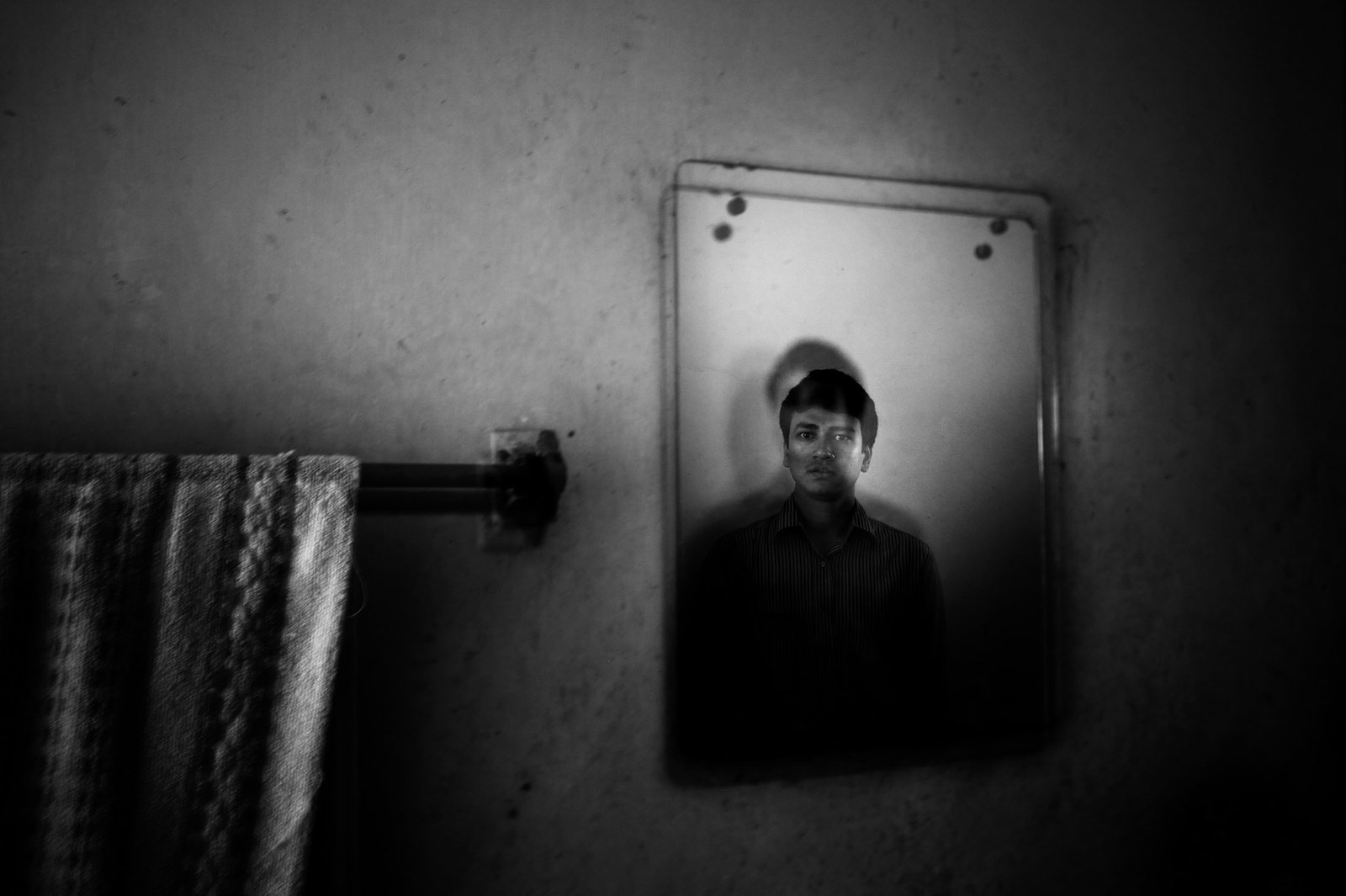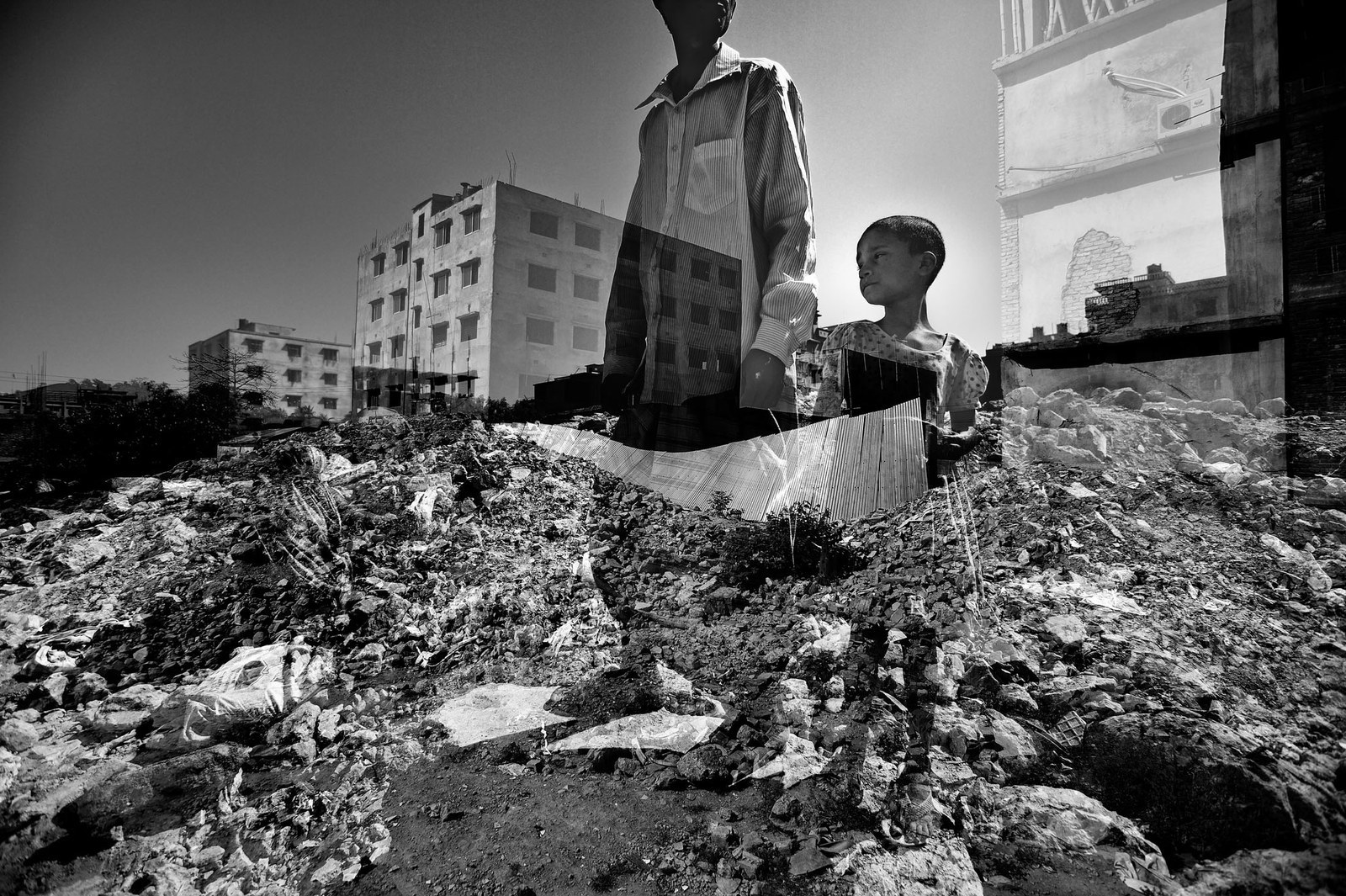 Here are excerpts from the interview with Murri, who arrived in Bangladesh a year after the collapse of Rana Plaza.

What inspired you to focus on the aftermath of the Rana Plaza tragedy?

Murri: I remember the number of the victims continued to grow after the event and I realised that the invisible aftermath of the collapse and its psychological consequences could have had a terrible impact on a society that is not sufficiently trained to cope with this. I wanted people to know about something that gets ignored sometimes.
Did you know from the beginning that you would create double exposures, or was there a particular moment when that started to make sense for you to work in that way?
Murri: I wanted to bring it to a different level than that of pure reality, to lead the observers to something hidden, less immediate. I thought I had to re-create in my images these sort of chaotic states of mind, fears and trauma that these people are still living with.
Did you stay pretty close to the Rana Plaza or did you also spend a lot of time in people's homes?

Murri: I've spent most of the time in Savar, where Rana Plaza was standing, and where most of the people's homes were situated. One of the poorest districts of Savar, Bank Colony, was just a few minutes' walk from the ground zero. When you, as a photographer or journalist, have to deal with issues like this and all the consequences it had on the survivors' minds, you should give importance first to their health rather than your work. It's a highly delicate matter. Therefore, it was fundamental to firstly understand with a bit of psychology, with whom you were dealing. Most of the time these people would not have been able to bring to their minds what they were trying to forget. I didn't.
Annalisa Natali Murri published this project with Catchlight, an organization that uses compelling photography to bring attention to social, political, and environmental issues.