1.
The Beatles, George V Hotel, Paris, 1964, by Harry Benson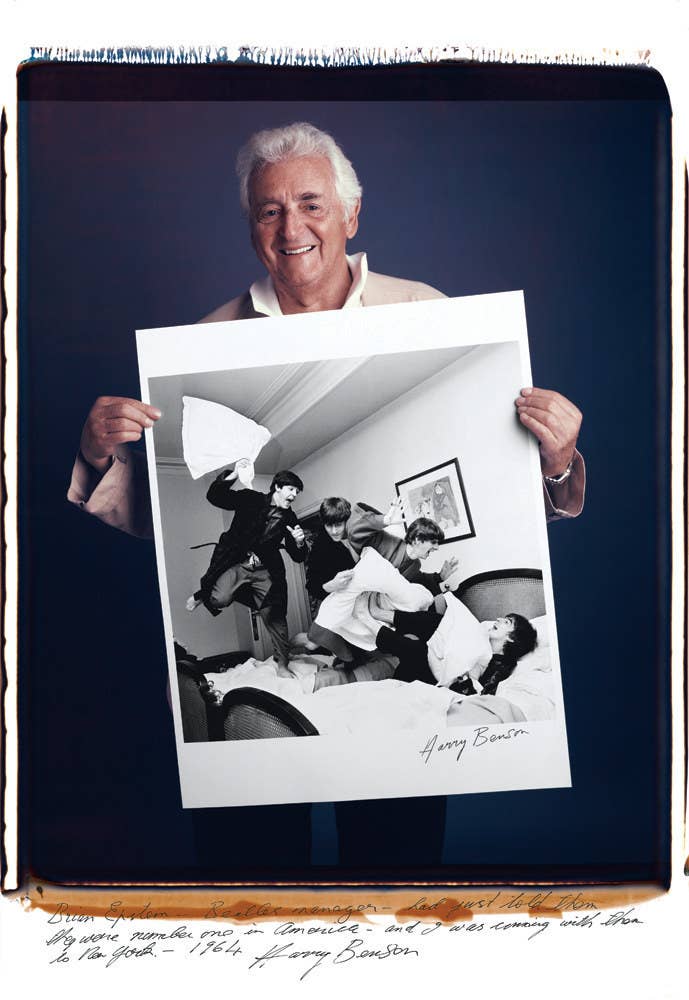 Brian Epstein, the Beatles' manager, had just told them they were number one in America and I was coming with them to New York [in 1964].
2.
"Afghan Girl", Peshawar, Pakistan, 1984, by Steve McCurry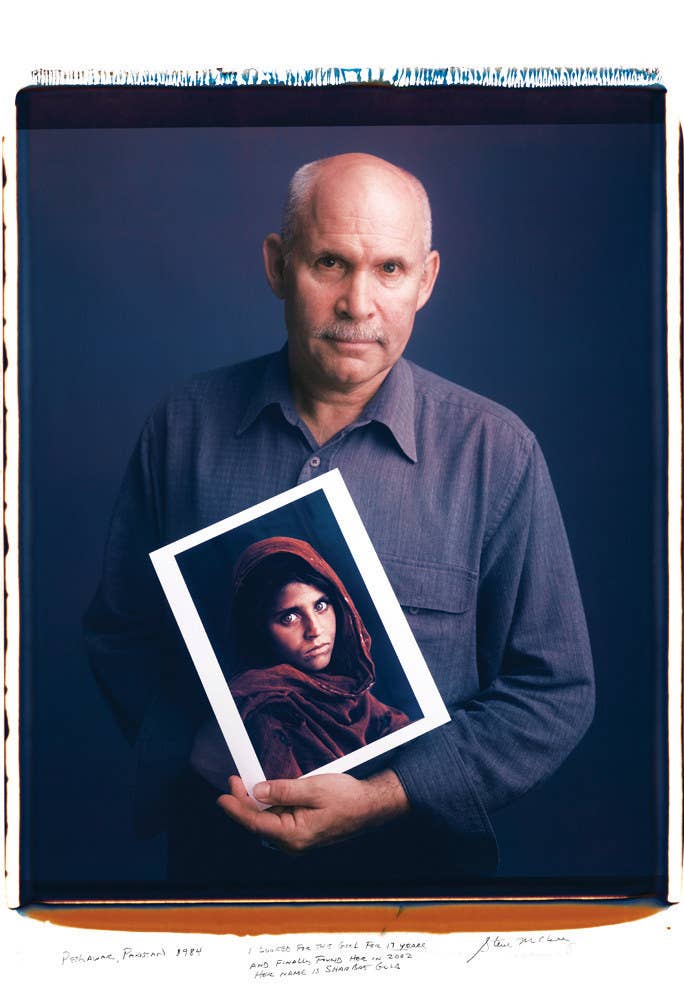 I looked for this girl for 17 years and finally found her in 2002. Her name is Sharbat Gula.
3.
John Lennon, New York, 1974, by Bob Gruen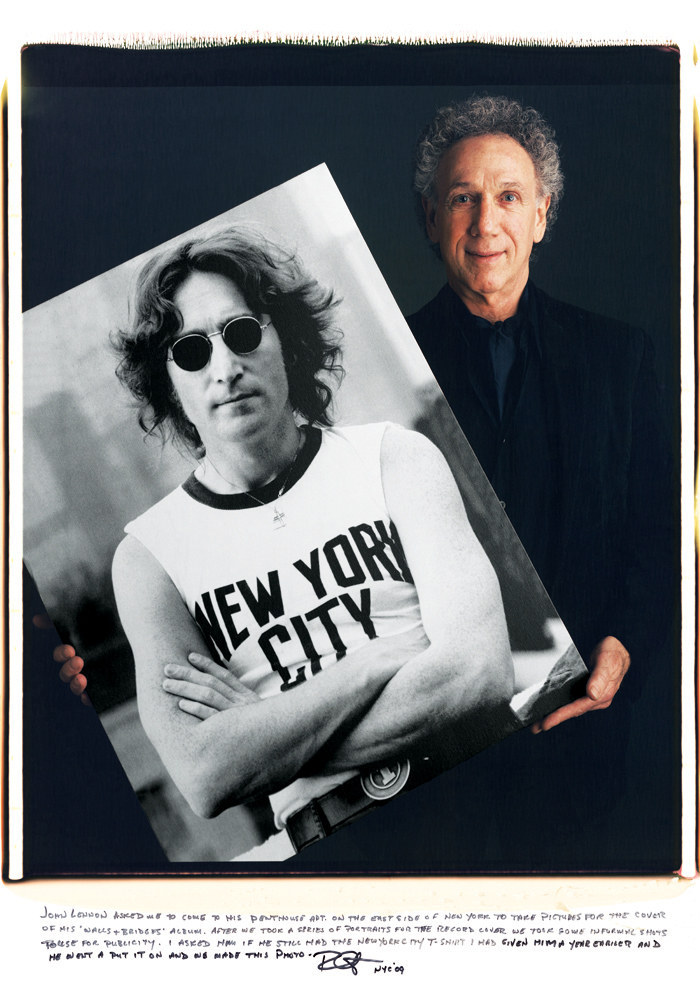 John Lennon asked me to come to his penthouse apt on the east side of New York to take pictures for the cover of his Walls + Bridges album. After we took a series of portraits for the record cover we took some informal shots to use for publicity. I asked him if he still had the New York City T-shirt I had given him a year earlier and he went and put it on and we made this photo.
4.
"Burst of Joy", Travis Air Force Base, California, March 17, 1973, by Slava "Sal" Veder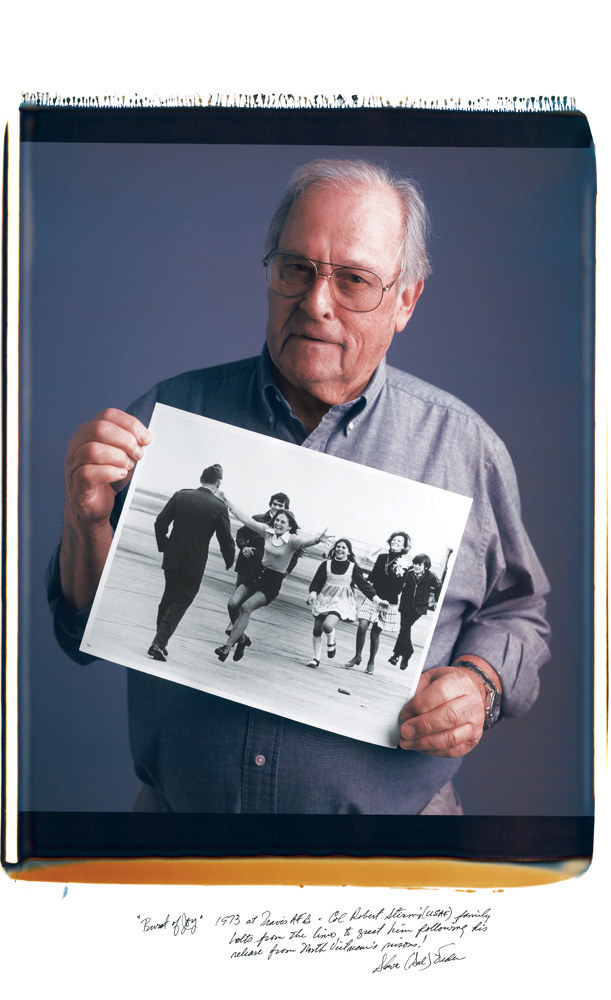 Colonel Robert Stirm's family bolts from the limo to greet him following his release from North Vietnam's prisons!
5.
Marilyn Monroe, L.A. Hospital Benefit, 1953, by Phil Stern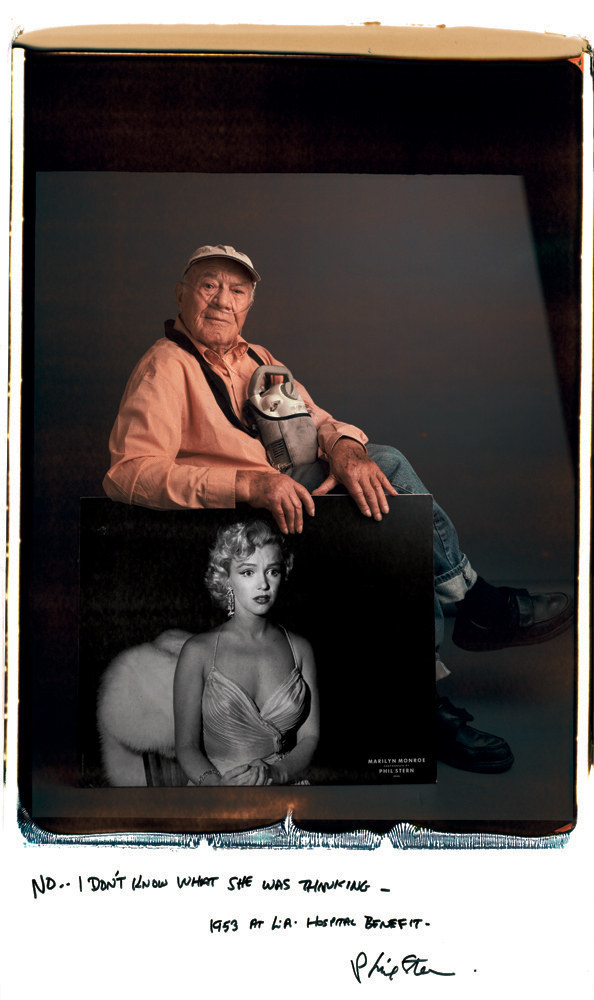 No... I don't know what she was thinking.
6.
Jimi Hendrix, February, 1968, by Baron Wolman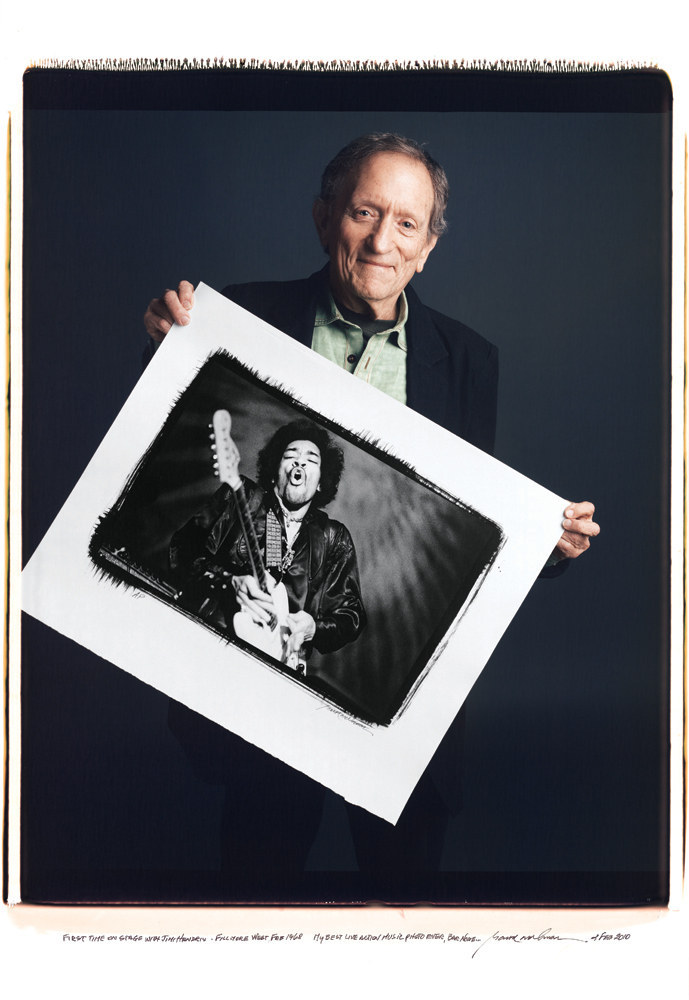 First time on stage with Jimi Hendrix in Fillmore West. My best live-action music photo ever, bar none.
7.
Johnny Cash, San Quentin Prison, 1969, by Jim Marshall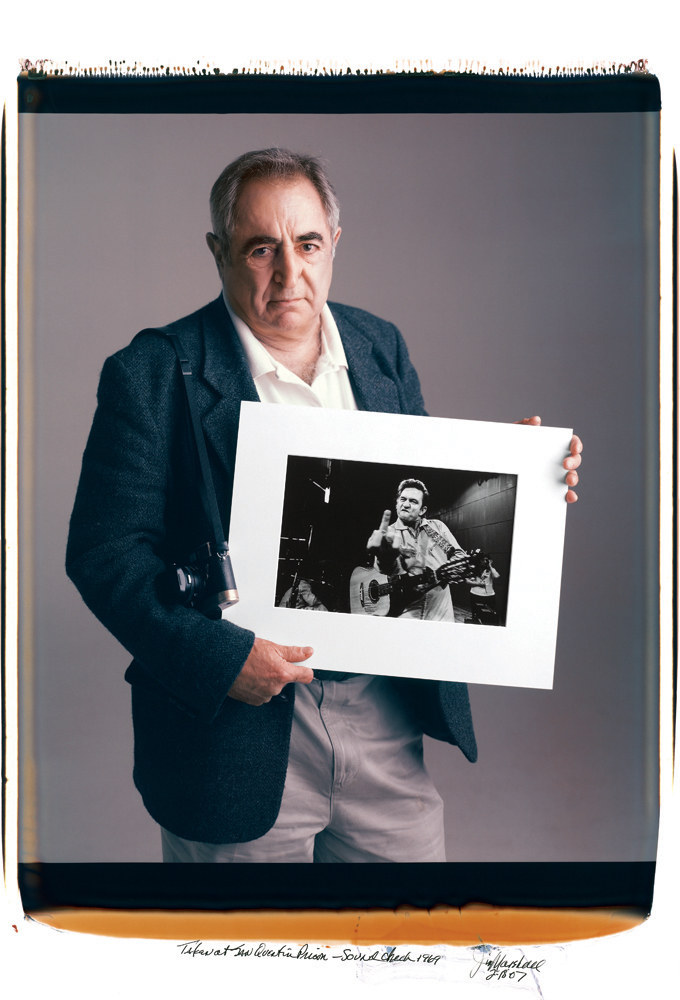 It shows John's individuality, but the gesture was definitely done in jest. This was not a serious shot.
8.
Trảng Bàng Village, 8 June 1972, by Nick Ut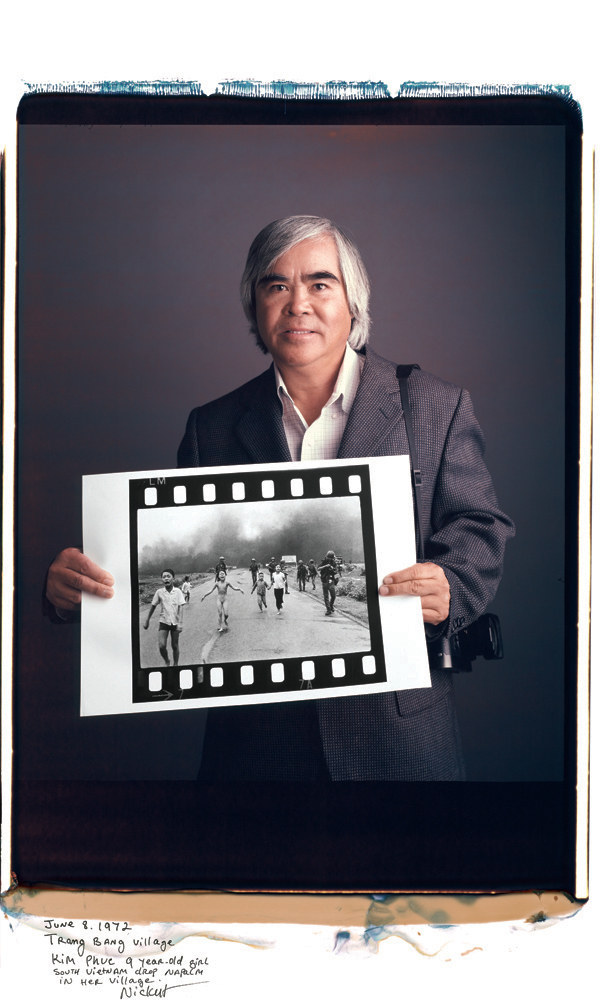 I remember looking through my Leica at the boy the boy who had just died. As I was shooting, I saw in the corner of the viewfinder a girl running with her arms stretched out to the sides. I thought, 'Oh my god,' and began running at her and shot all of my pictures. After I had taken a picture of Kim, I thought, 'Oh my god.' The girl was running all naked, and when she passed me, I saw her left arm burned and her the skin peeling off her back. I immediately thought that she was going to die. She was very hot even after the bomb. She was screaming and screaming, and I thought, 'Oh my god.' That's when I stopped taking pictures of her.
9.
Kurt Cobain, New York, 1994, by Mark Seliger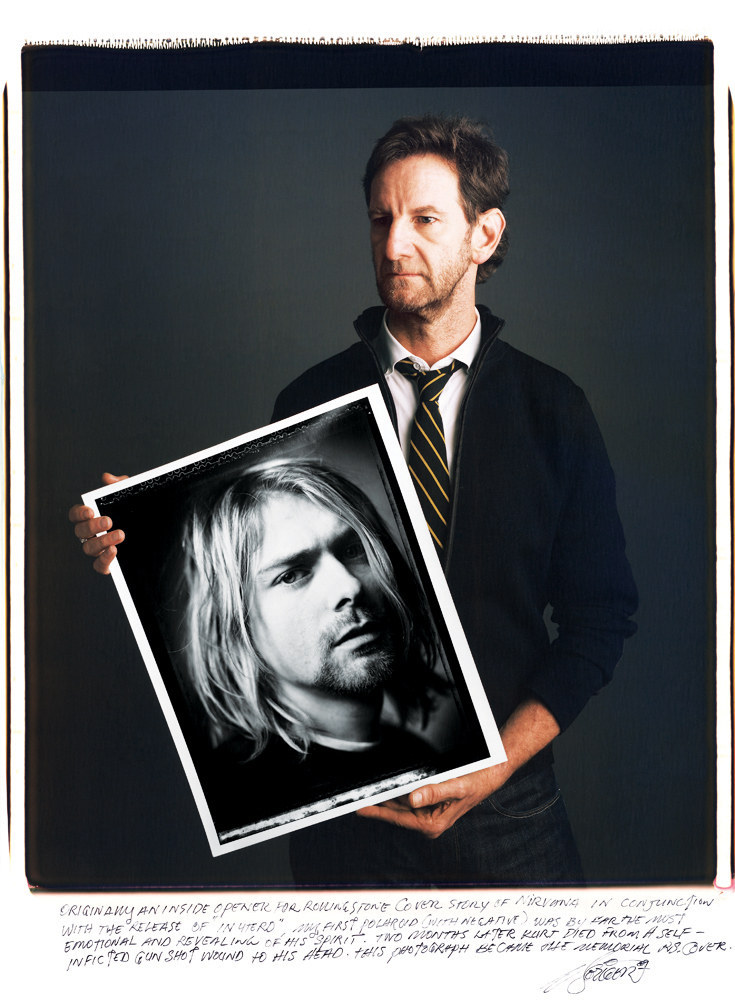 Originally an inside opener for Rolling Stone cover story of Nirvana in conjunction with the release of [third album] In Utero, my first Polaroid (with Negative) was by far the most emotional and revealing of his spirit. Two months later Kurt died from a self-inflicted gunshot wound to his head. This photograph became the memorial Rolling Stone cover.
10.
Mike Tyson, 1990, by Lori Grinker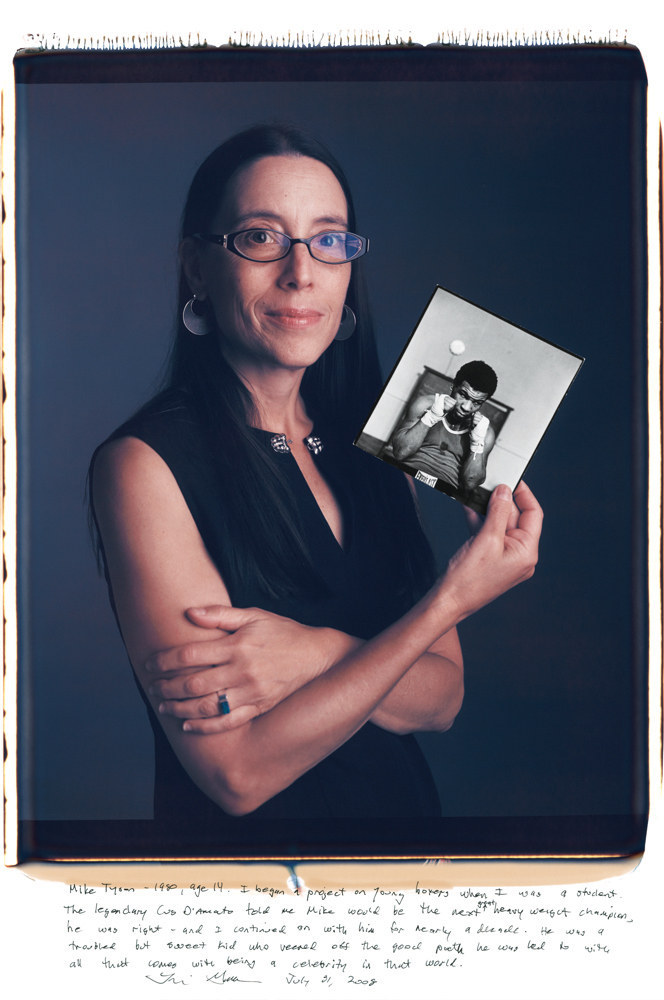 I began a project on young boxers when I was a student. The legendary Cus D' Amato told me Mike would be the next great heavy weight champion. He was right – and I continued on with him for nearly a decade. He was a troubled but sweet kid who veered off the good path he was let to with all that comes with being a celebrity in that world.
11.
Che Guevara and Fidel Castro, January 1959, by Roberto Salas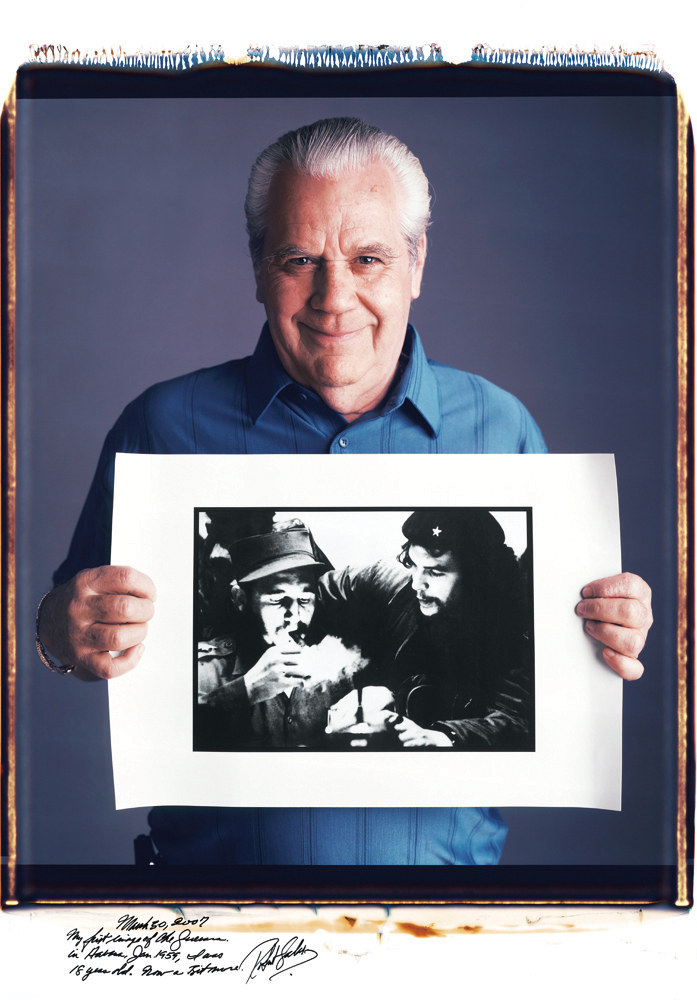 My first image of Che Guevara in Habana. I was 18 years old. Now a bit more.
12.
Andy Warhol, L.A, 1986, by Greg Norman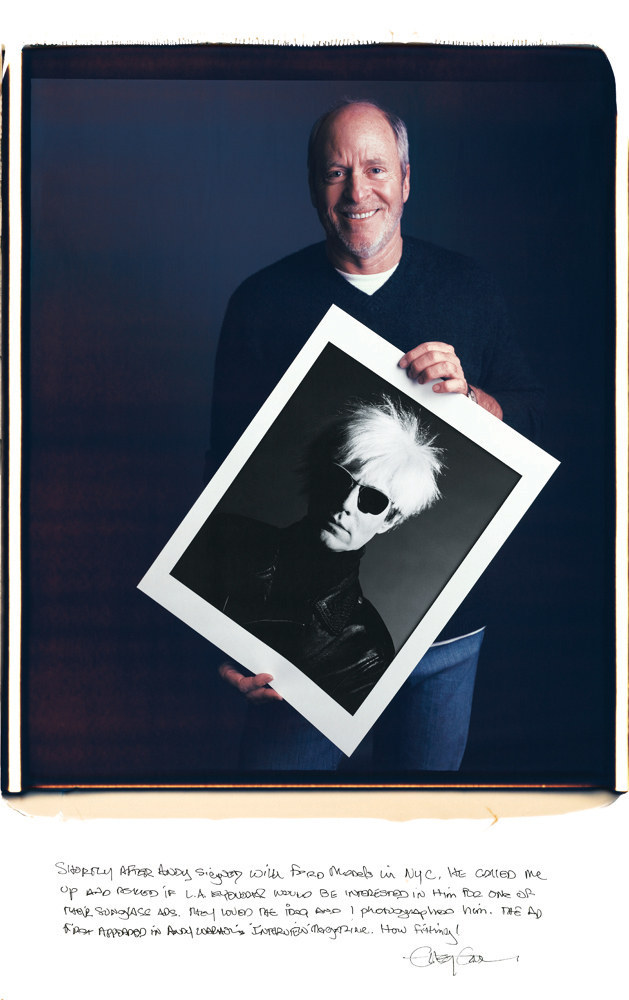 Shortly after Andy signed with Ford Models in NYC, he called me up and asked if L.A. Eyewear would be interested in him for one of their sunglass ads. They loved the idea and I photographed him.The ad first appeared in Andy Warhol's Interview magazine. How fitting!
13.
Mother Teresa, San Francisco, 1989, by Michael Collopy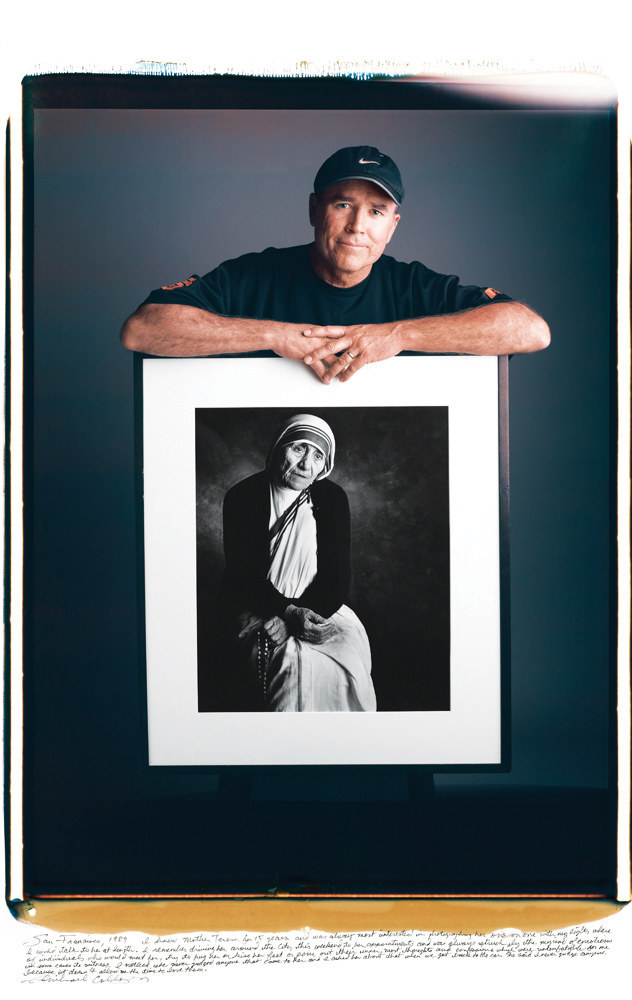 I knew Mother Teresa for 15 years and was always most interested in photographing her one on one with my lights where I could talk with her at length. I remember driving her around the city this weekend to her appointments and was always struck by the myriad of emotions of individuals who would meet her, try to hug her or kiss her feet or pour out their innermost thoughts and confessions which were uncomfortable for me in some cases to witness. I noticed she never judged anyone that came to her, and I asked her about that when we got back to the car. She said 'I never judge anyone because it doesn't allow me the time to love them.'
14.
Nelson Mandela, South Africa, 11 February 1990, by Allen Tennenbaum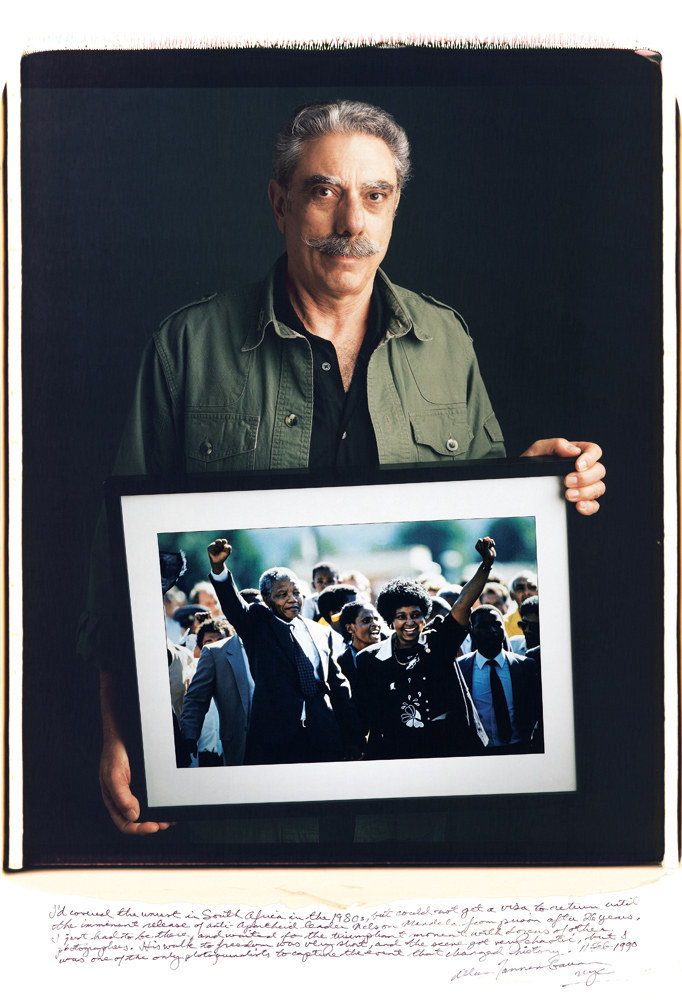 I'd covered the unrest in South Africa in the 1980s, but could not get a visa to return until the imminent release of anti-Apartheid leader Nelson Mandela from prison after 26 years. I just had to be there and waited for the triumphant moment with dozens of other photographers. His walk to freedom was very short, and the scene got very chaotic, but I was one of the only photojournalists to capture the event that changed history.
15.
Bill Clinton, by Robert McNealy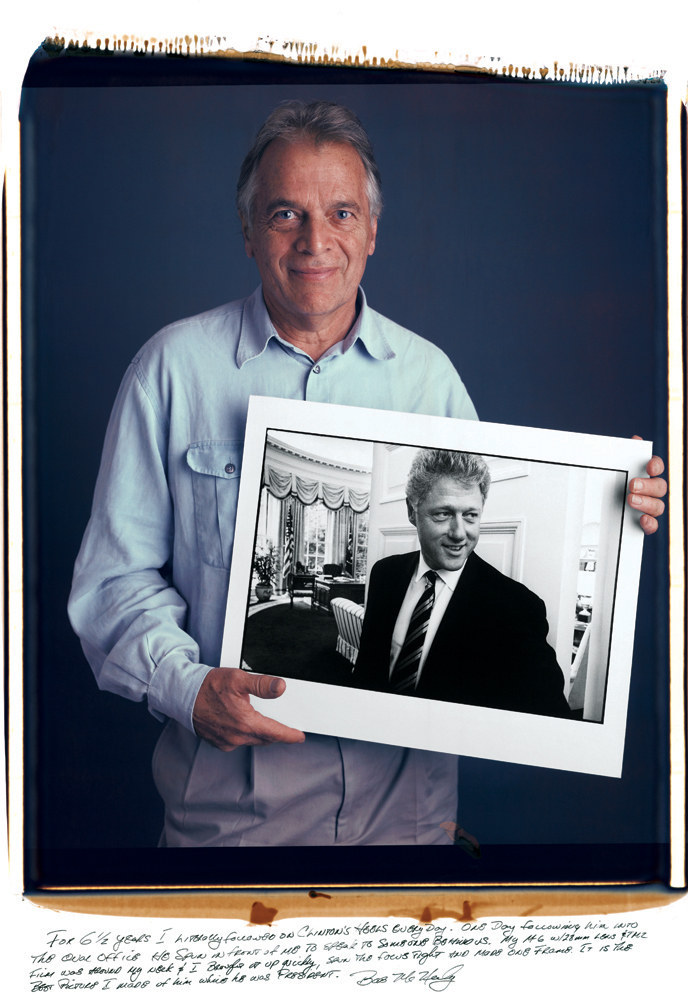 For six and a half years I literally followed on Clinton's heels every day. One day, following him into the Oval Office, he spun in front of me to speak to someone behind us. My M-6 with 28mm lens and TMZ film was around my neck and I brought it up quickly, spun the focus tight, and made one frame. It is the best picture I made of him while he was president.
16.
"The Children", Moscow, Russia, 1993, by Gerd Ludwig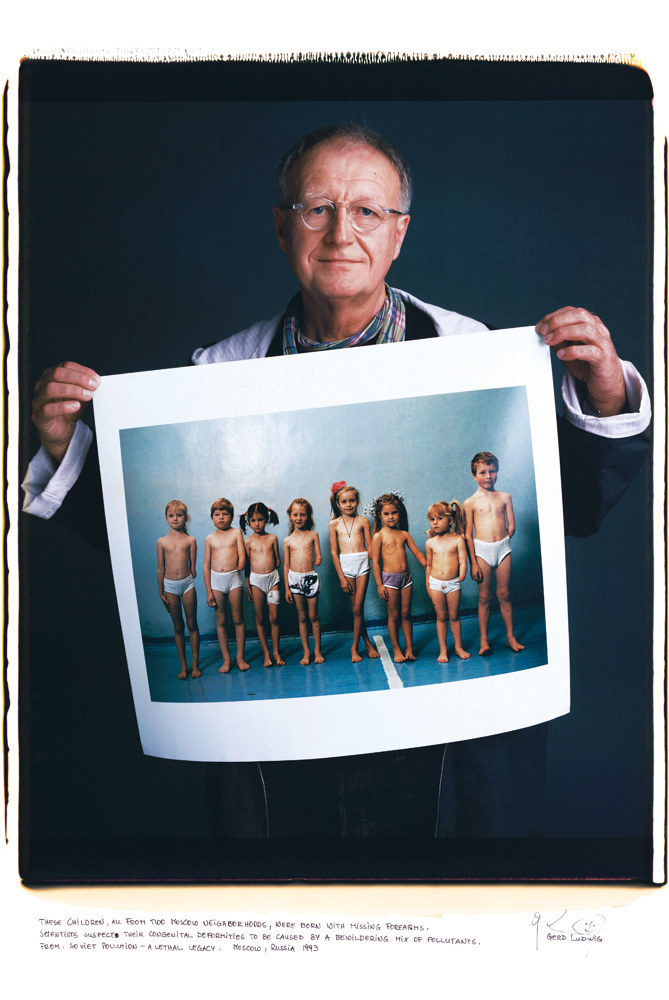 These children, all from two Moscow neighborhoods, were born with missing forearms. Scientists suspect their congenital deformities to be caused by a bewildering mix of pollutants. From: Soviet Pollution – A Lethal Legacy.
17.
World Trade Center, New York City, 11 September 2001 by Lyle Owerko
No one knew such a beautiful warm day would serve as the backdrop to one of the most painful and confusing events to the heart of mankind. This picture is one small part of such a huge event that ties the threads of thousands of stories and millions of people together. Written words will never convey the whole scope of the event, nor even summarize the sounds, the smells or even the voices that are frozen in my memory bank from that day. I did the best job I could in photographing 9/11 so that future generations would have an idea of the scope of what happened, to have the evidence of how innocence can so easily be snatched away in a razor's-edged moment of time. My hope is that in time the wounds and pain will heal and that wisdom and peace will prevail among the darkness of this event, so that humanity can move forward into a time of grace and understanding.
18.
Tiger Woods, 2001, by Fred Vuich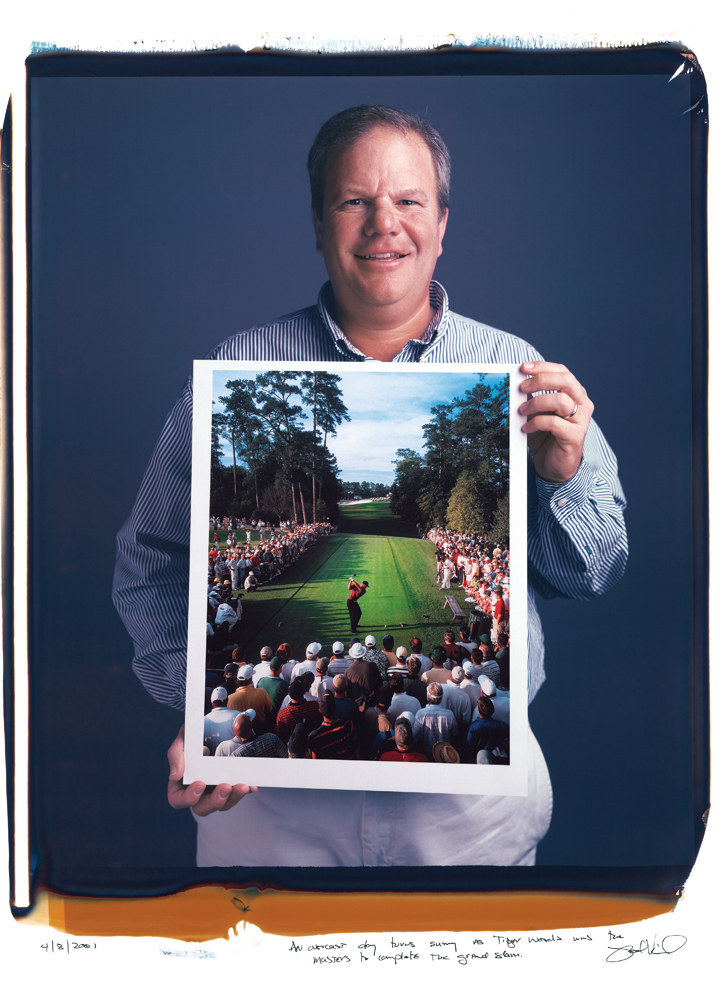 An overcast day turns sunny as Tiger Woods wins the Masters to complete the grand slam.
19.
"Ram Prakash Singh", Ahmedabad, India, 1990, by Mary Ellen Mark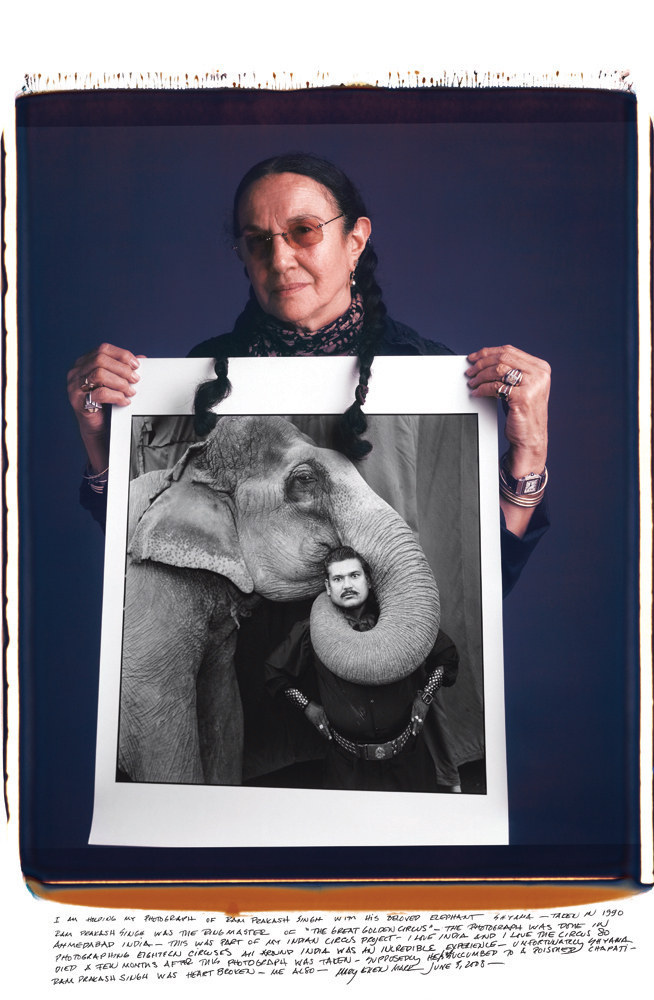 I am holding my photograph of Ram Prakash Singh and his beloved elephant Shyama. Ram Prakash Singh was the ringmaster of The Great Golden Circus [and] the photograph was part of my Indian Circus Project. I love India and I love the circus so photographing 18 circuses all around India was an incredible experience. Unfortunately, Shyama died a few months after this photograph was taken. Supposedly he succumbed to a poisoned chapatti. Ram Prakash Singh was heartbroken – me also.
20.
"Miner," January, 2007, by Jeff Dunas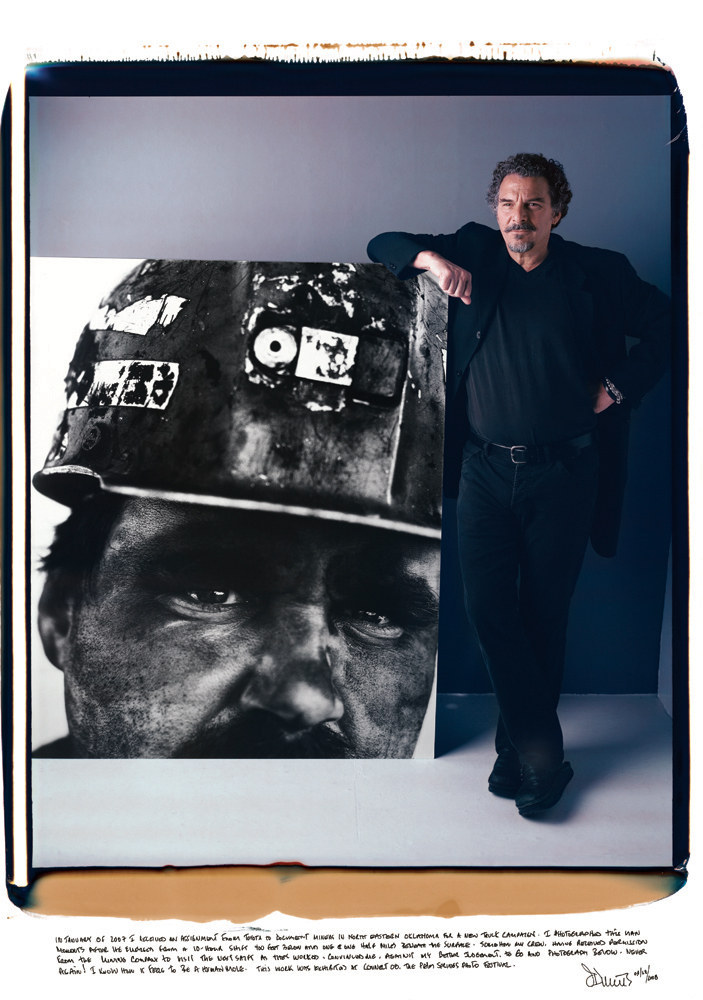 I received an assignment from Toyota to document miners in North Eastern Oklahoma for a new truck campaign. I photographed this man moments after he emerged from a 10-hour shift 400 feet below and one and one-half miles beneath the surface. Somehow my crew, having received permission from the mining company to visit the next shift as they worked, convinced me against my better judgment to go and photograph below. Never again! I know how it feels to be a human mole. This work was exhibited at Connect 08, the Palm Springs Photo Festival.
21.
Dr Martin Luther King Jr, Montgomery, Alabama, 1958, by Charles Moore
One day in Montgomery, Alabama, there were some demonstrations for Civil Rights led by Dr Martin Luther King. I went into the downtown area where Dr King was speaking when two policemen came up and placed him under arrest. I immediately started and photographed the police pushing Dr King on the street leading to the Montgomery jail.