Arresting Photos Of Animals Being Nursed Back To Health In Hospitals Across The World
Real-life Doctor Dolittles battle to keep rare and exotic animals fighting fit. Warning: Some people may find these pictures distressing.
In this photo set, veterinarians all around the world carry out routine treatments and complex procedures on wild and zoo animals.
Animal surgery and treatments can range from spinal surgery on a brown bear and acupuncture on a Komodo dragon to a CT scan on a lioness.
Meet Liesel, Budapest Zoo's oldest gorilla, who needed a three-hour-long surgical operation to remove a tumour. There's also a hungry baby desert porcupine in Israel, an examination for an orangutan in Sumatra island, and an endangered black vulture in Bangkok.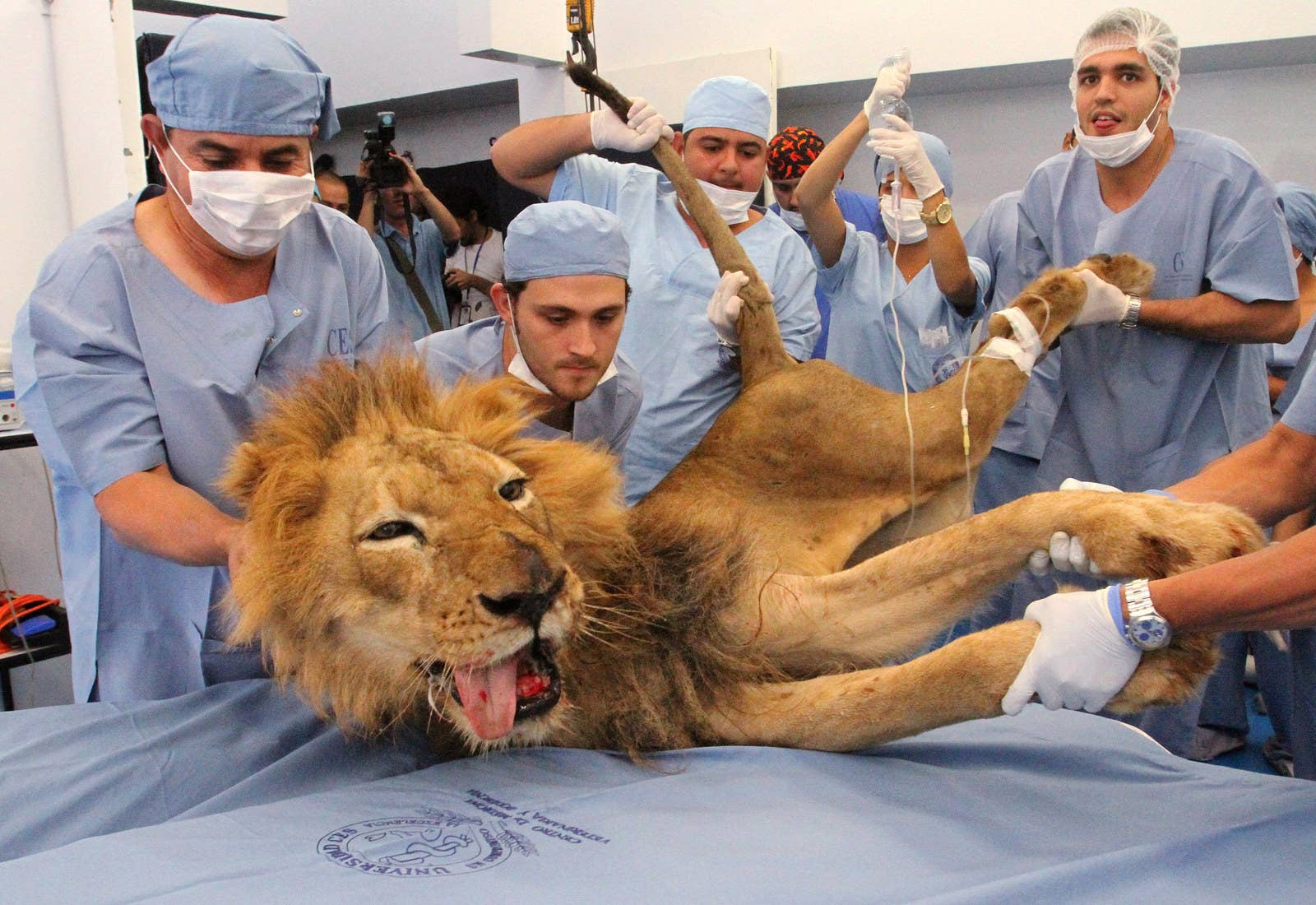 Male lion Tyson receives dental treatment at a veterinary clinic in Medellin on 15 September 2011. Tyson is a 20-year-old lion living at Santafe Zoo.

Veterinarians prepare the Budapest Zoo's oldest gorilla, Liesel, for an operation on 15 January 2009. The surgery became necessary due to the progress of a tumour that could cause the death of the ape. Surgery on gorillas is extremely rare, and it was the first time this kind of intervention had been necessary in Hungary.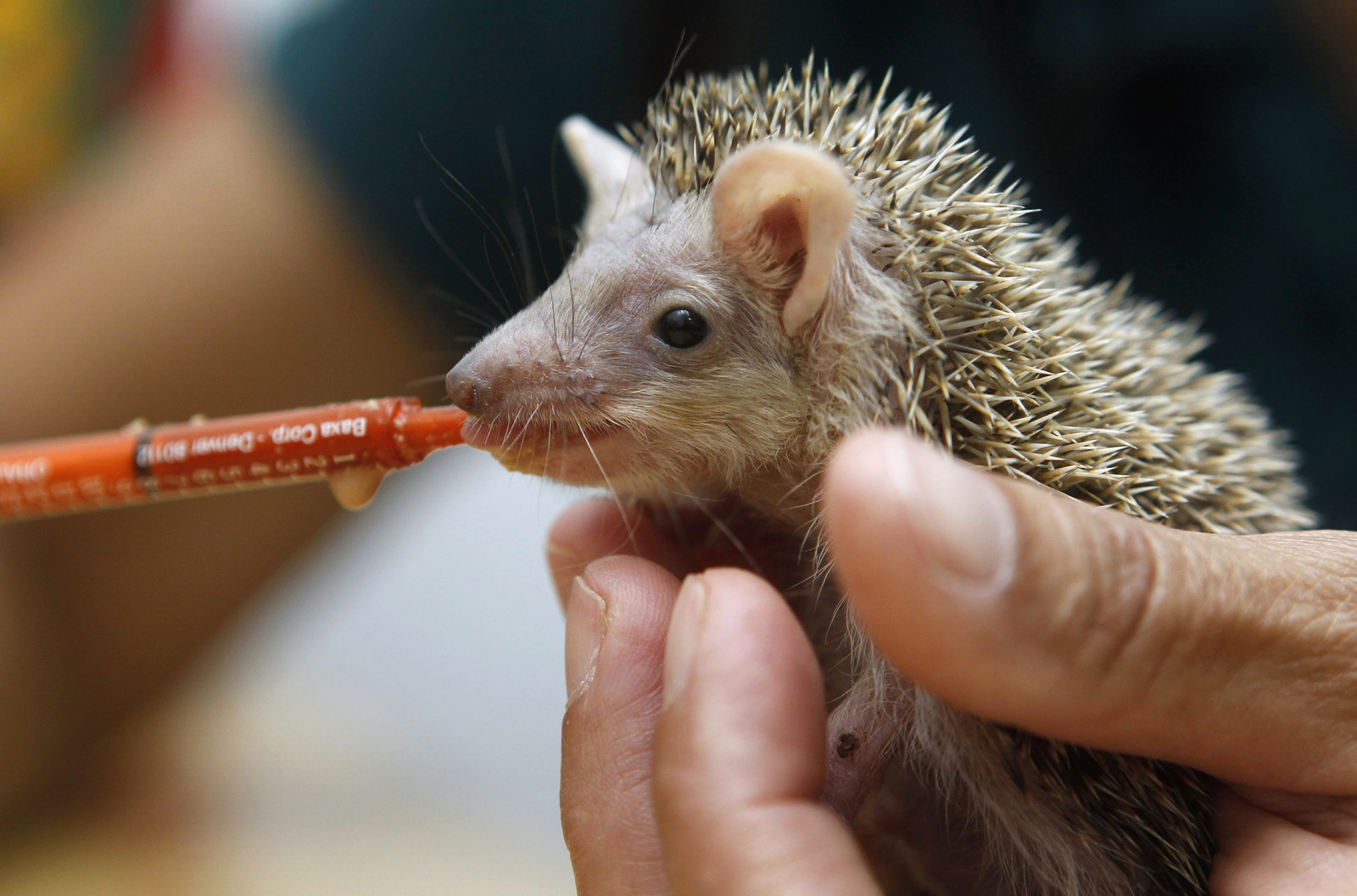 Rinat Matalon of the Wildlife Veterinary Hospital feeds a baby desert porcupine at a hospital in Ramat Gan near Tel Aviv on 16 June 2010. The hospital treats about 2,000 animals each year, many of whom are rescued after suffering injuries in the wild. The hospital also offers the animals treatments such as physical therapy and hydrotherapy.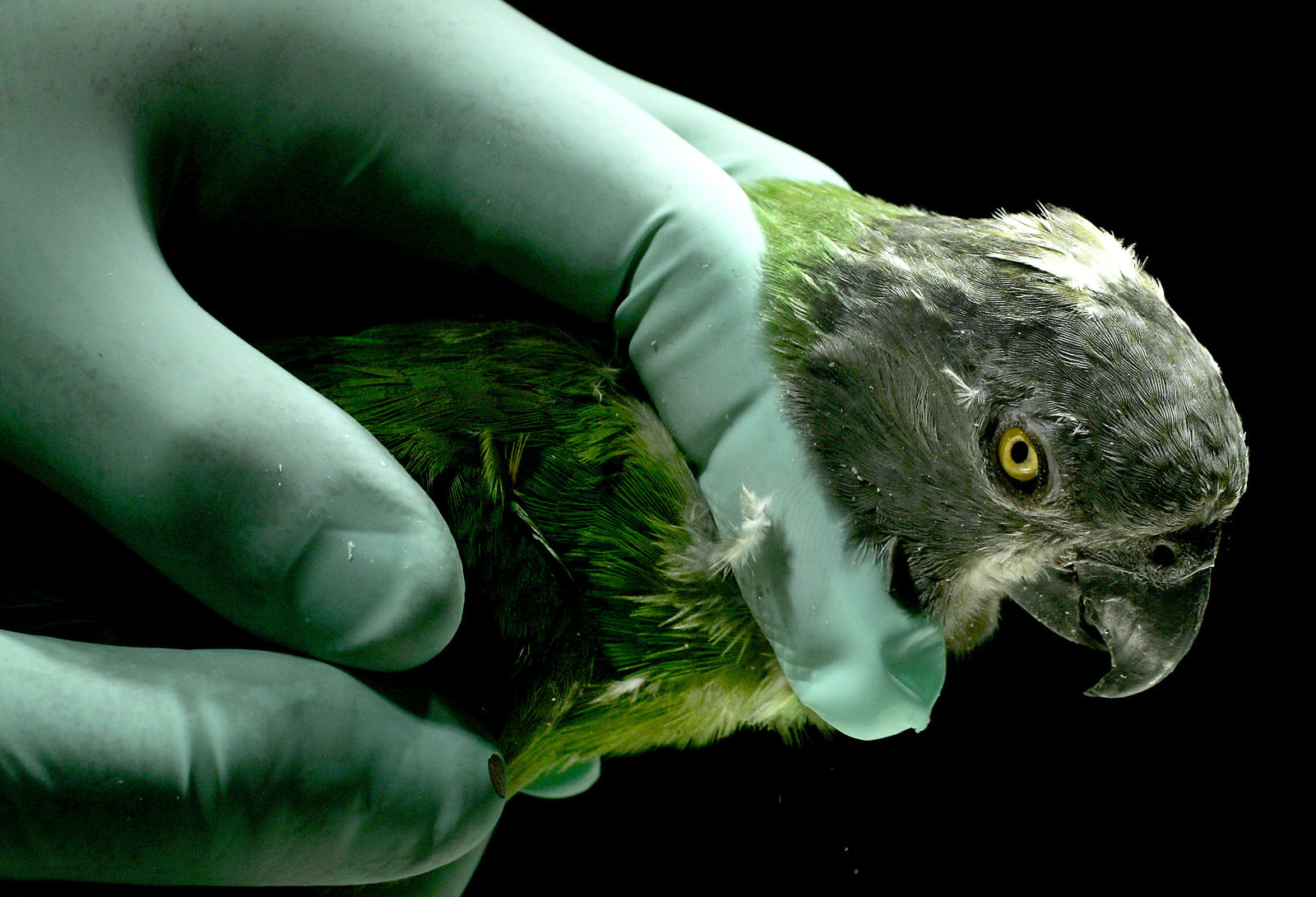 A veterinarian examines a Senegal parrot during a regular inspection in the Rome's Bio Parco Zoo on 19 October 2005.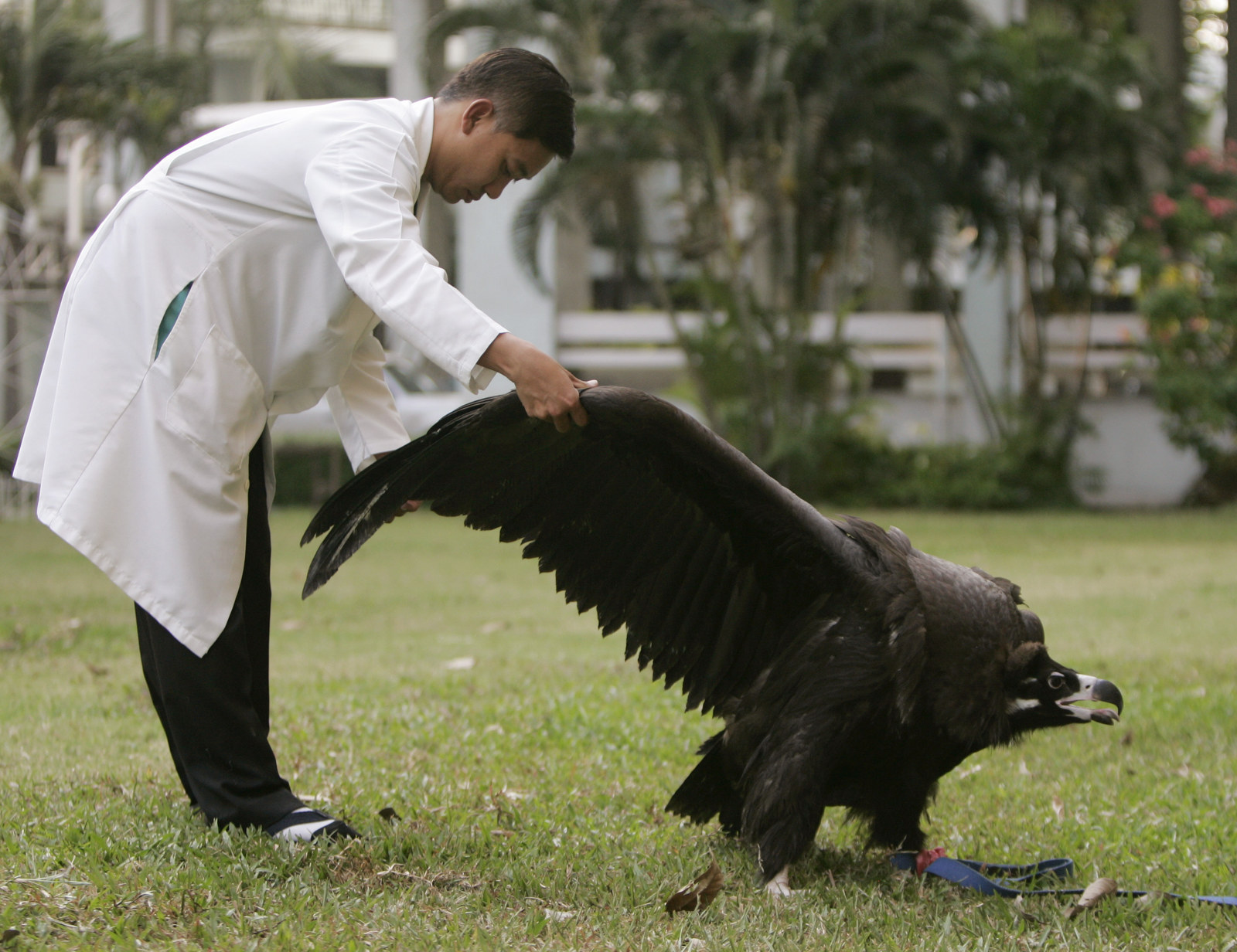 A veterinarian of Kasetsart University helps an endangered black vulture exercise its wings after surgery in Bangkok on 16 January 2007. The migratory bird was found in eastern Thailand and was being nursed before being sent back to Mongolia.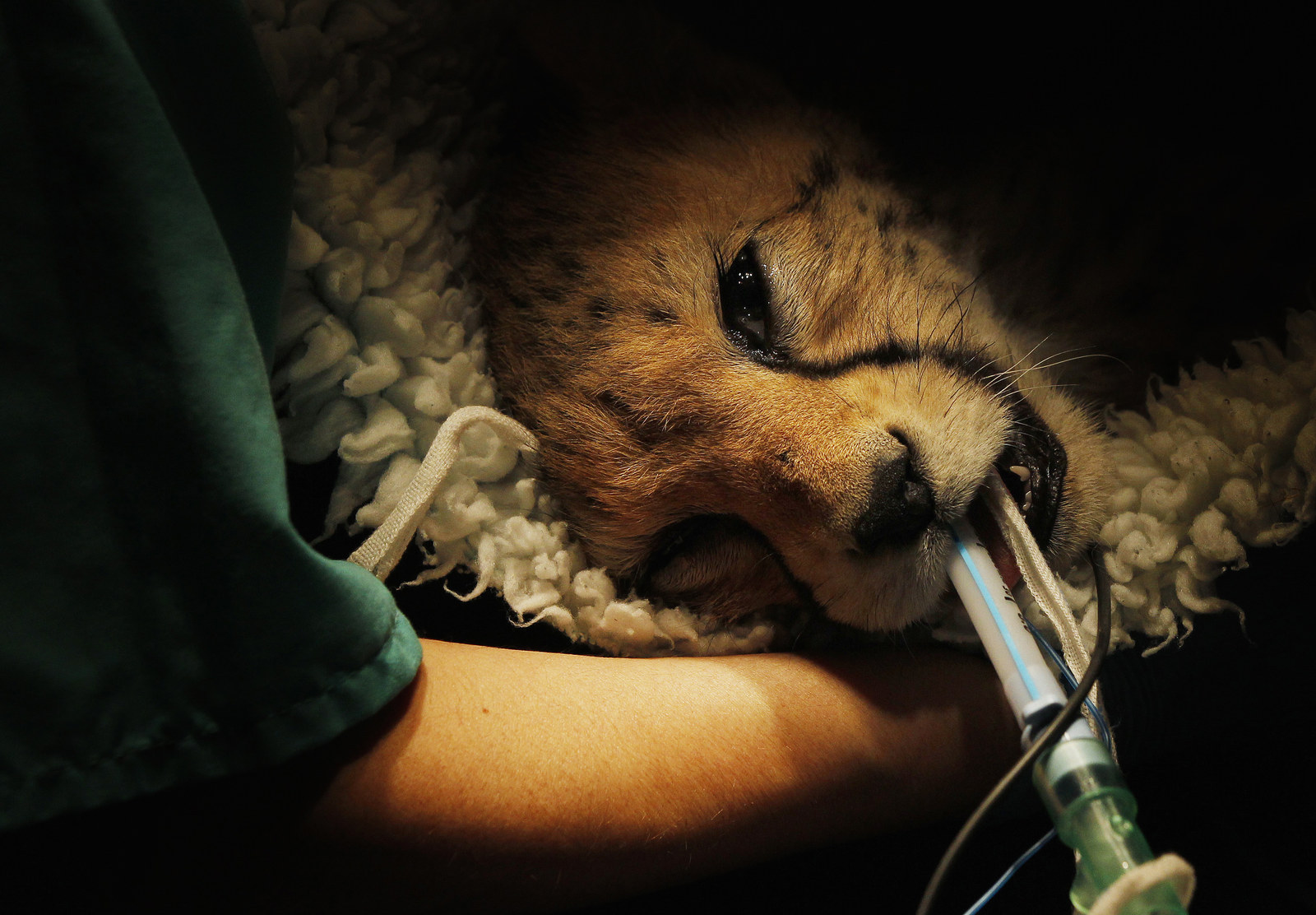 Veterinary staff tend to Juba the cheetah cub following his operation at Chester Zoo, northern England, on 3 February 2012. The 9-month-old cat was undergoing surgery to have a metal plate inserted into his right ankle to mend a fracture.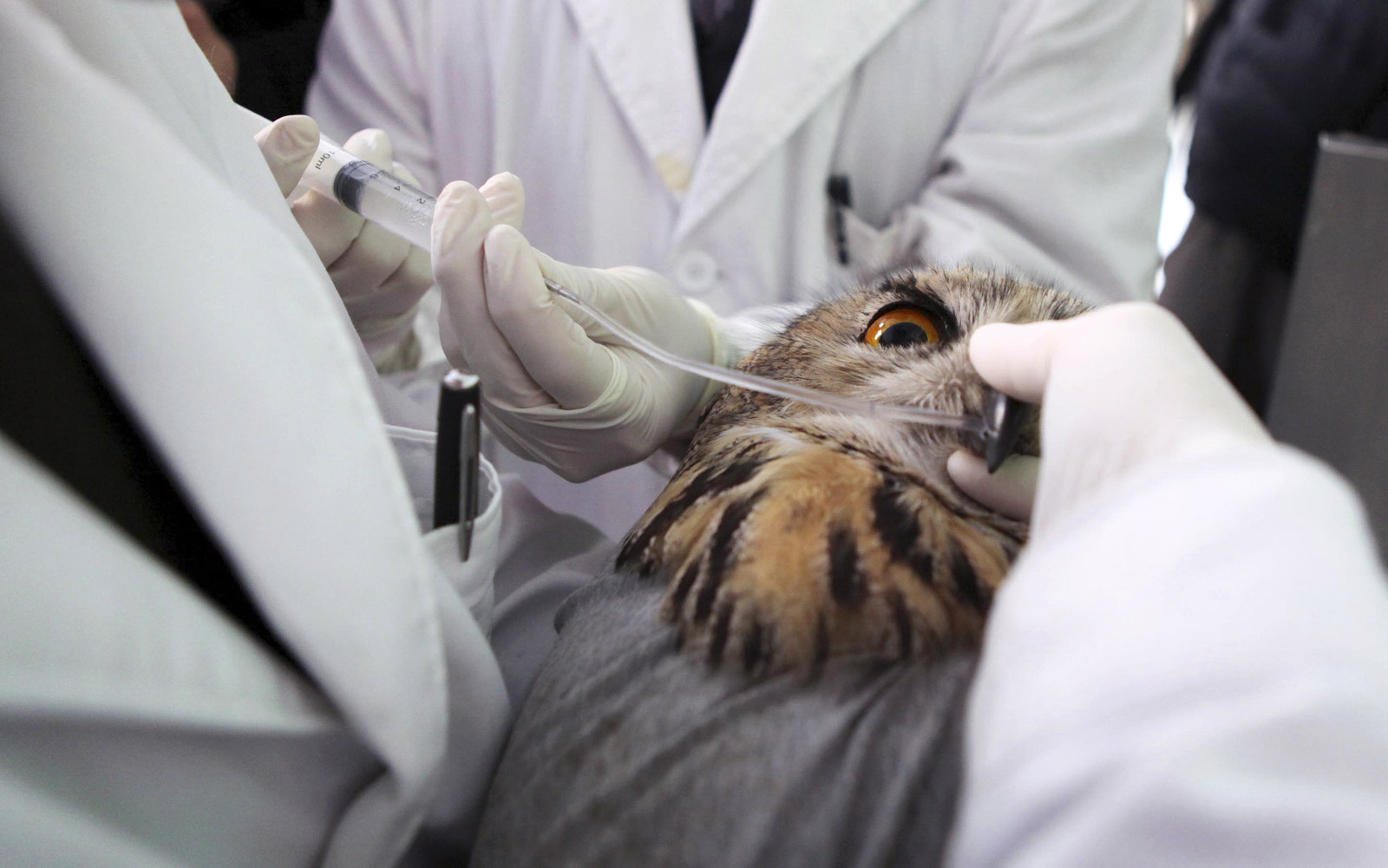 Veterinarians inject nutrient fluid to a Eurasian eagle-owl suffering from a bone fracture in their right wing at an animal hospital in Shenyang in Liaoning province on 20 January 2015. The Eurasian eagle-owl, listed as a second grade protected species in China, was in good condition after the surgery, reported to be the first of such kind in China, according to local media.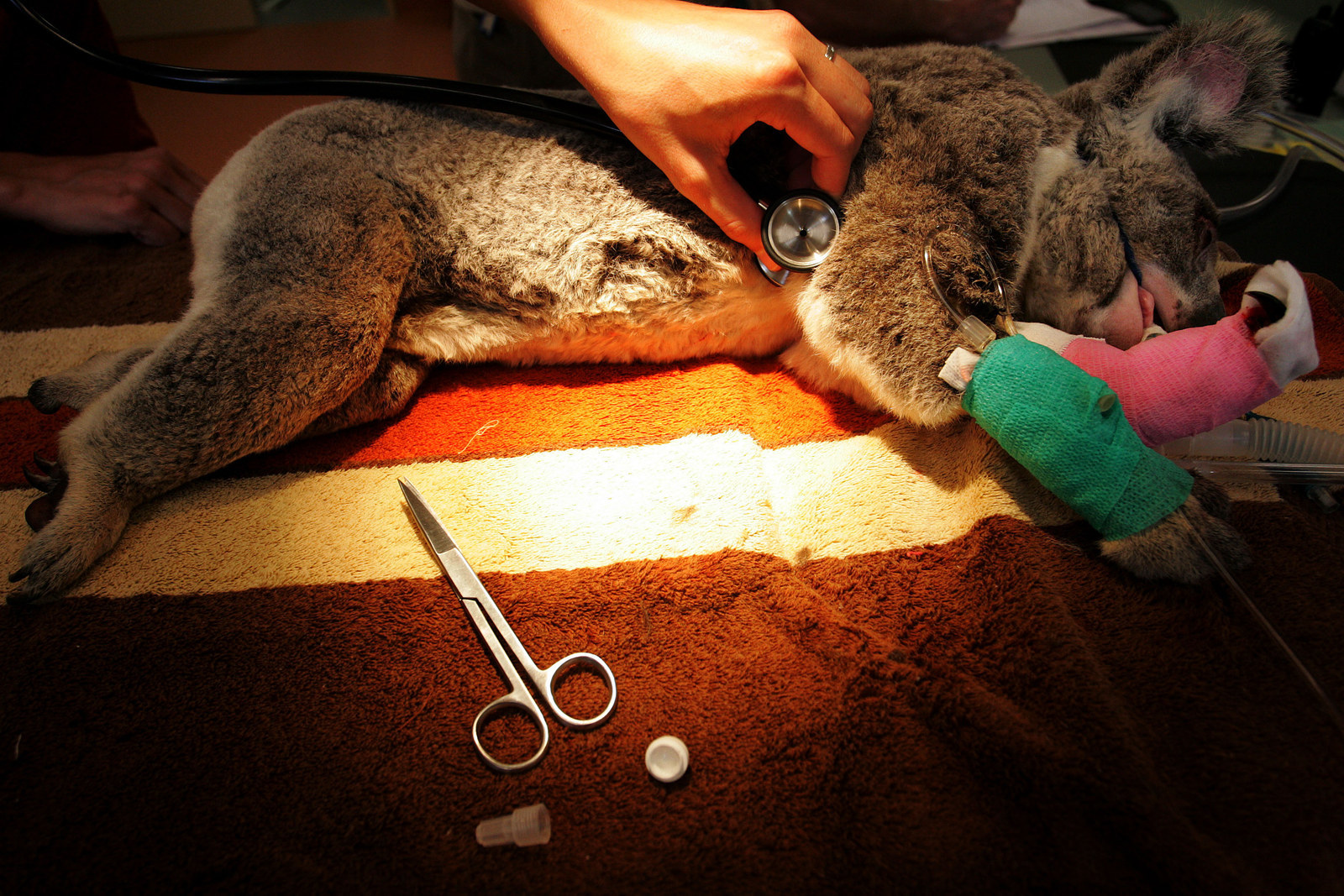 An injured koala receives treatment on 19 September 2008 at the Australian Wildlife Hospital in Beerwah, on the Sunshine Coast.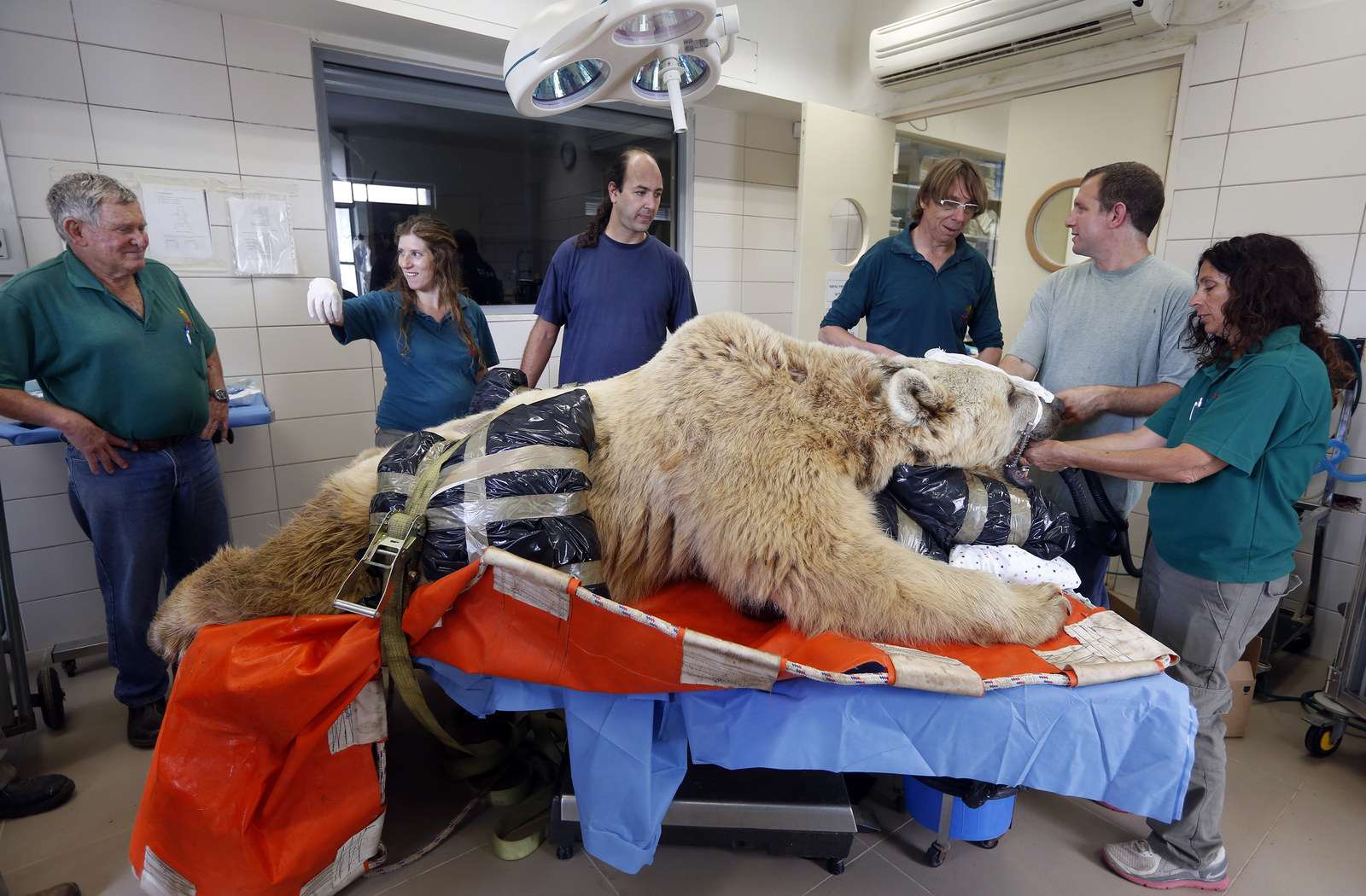 Zoo staff stand beside Mango, a 19-year-old Syrian brown bear, during preparations before his surgery at the Ramat Gan Safari near Tel Aviv on 7 May 2014. Mango suffered from a slipped disk, impairing his mobility and causing pain, and underwent complicated and unprecedented surgery on his spine in the hope of improving his quality of life.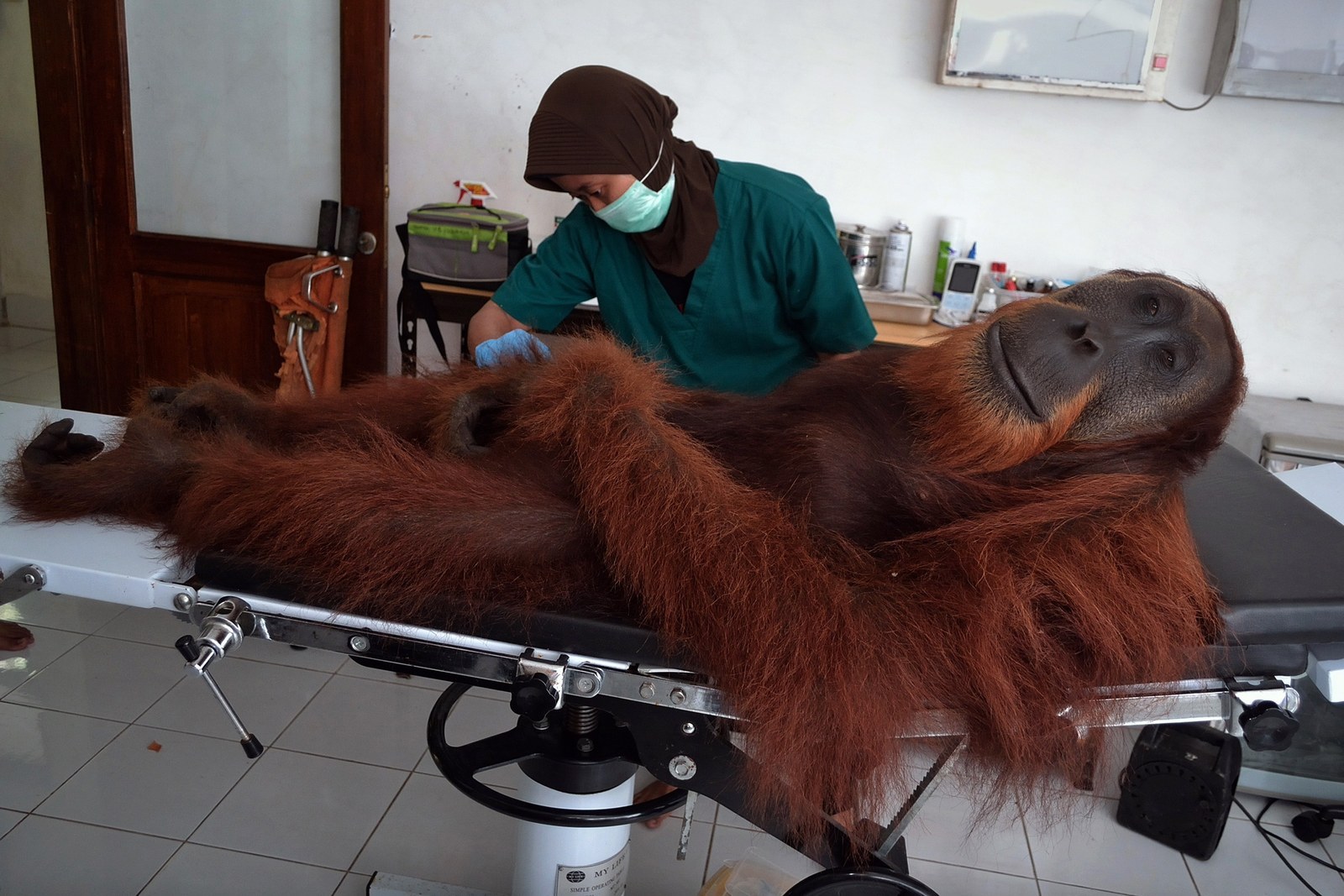 On 16 April 2014, a veterinary staff member of the Sumatran Orangutan Conservation Programme centre conducts medical examinations on a 14-year-old male orangutan found with metal air-gun pellets embedded in his body in Sibolangit district in northern Sumatra. The center has cared for over 280 orangutans rescued from palm oil plantations, poachers, and pet owners, and over 200 have been reintroduced to the wild.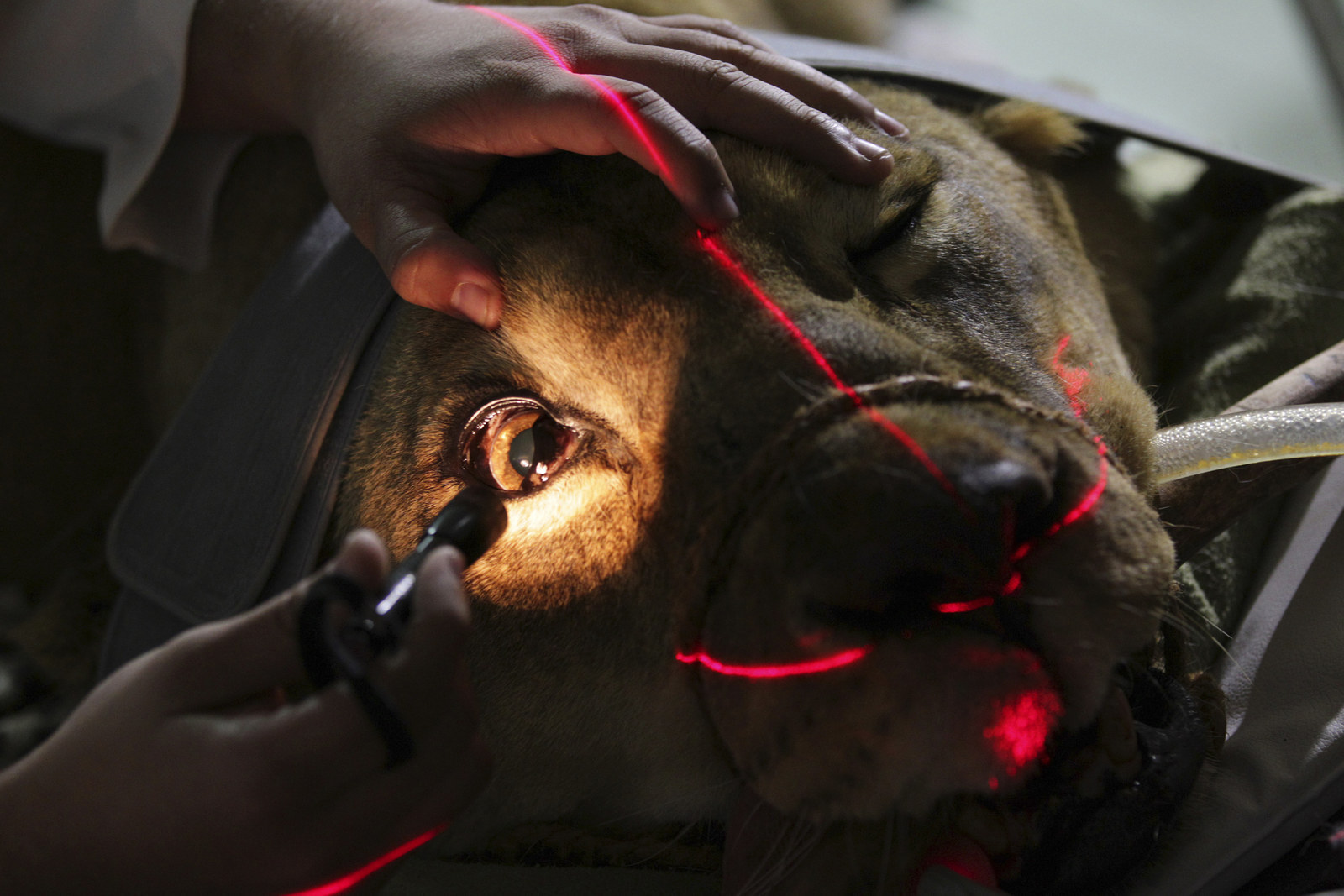 Fafa, a lioness that is nearly 18 years old, receives an eye check at the veterinary clinic in Brasilia on 7 August 2012. She was sedated and brought to the veterinary clinic after experiencing seizures and bleeding.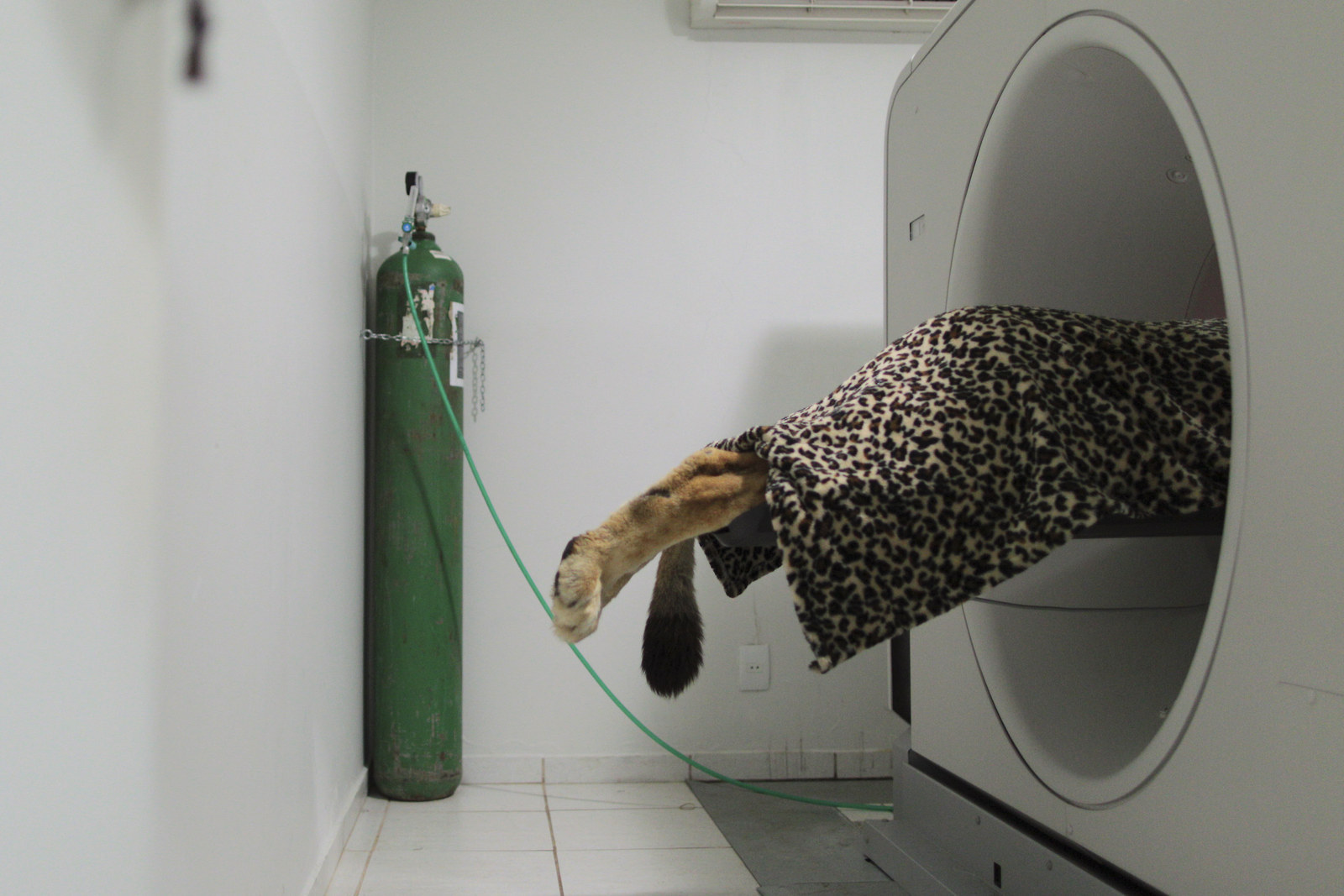 Fafa at the veterinary clinic in Brasilia on 7 August 2012. The lioness had to undergo a 3-hour-long session of CT scans to her chest, skull, and abdomen in order to diagnose the source of its health problems.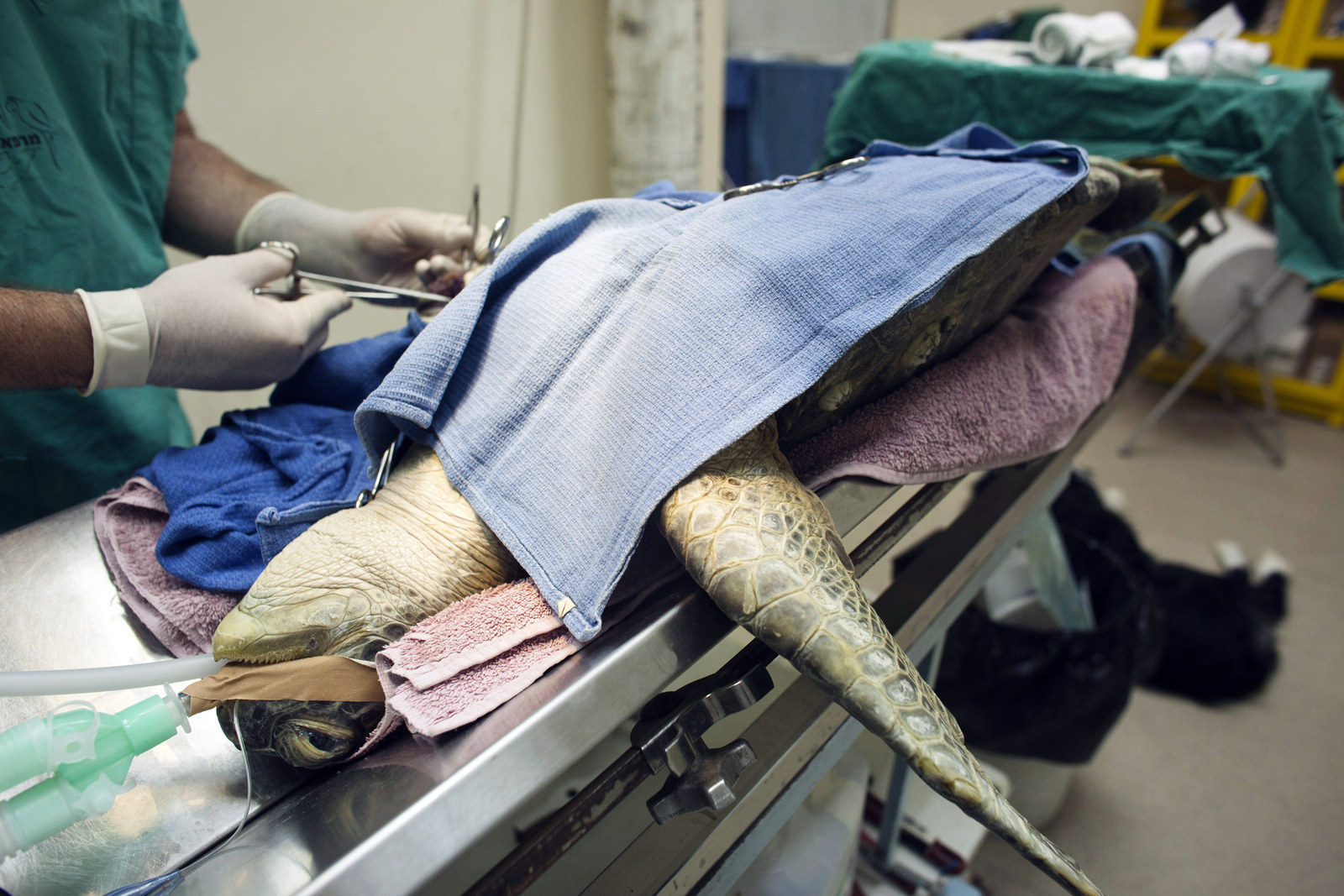 Dustin the green sea turtle undergoes surgery at his clinic in Rehovot, near Tel Aviv, on 27 June 2012. Dustin was found at sea floating bottom up and underwent surgery after a CT scan revealed he suffered from intestinal blockages and trapped air that may be causing loss of balance.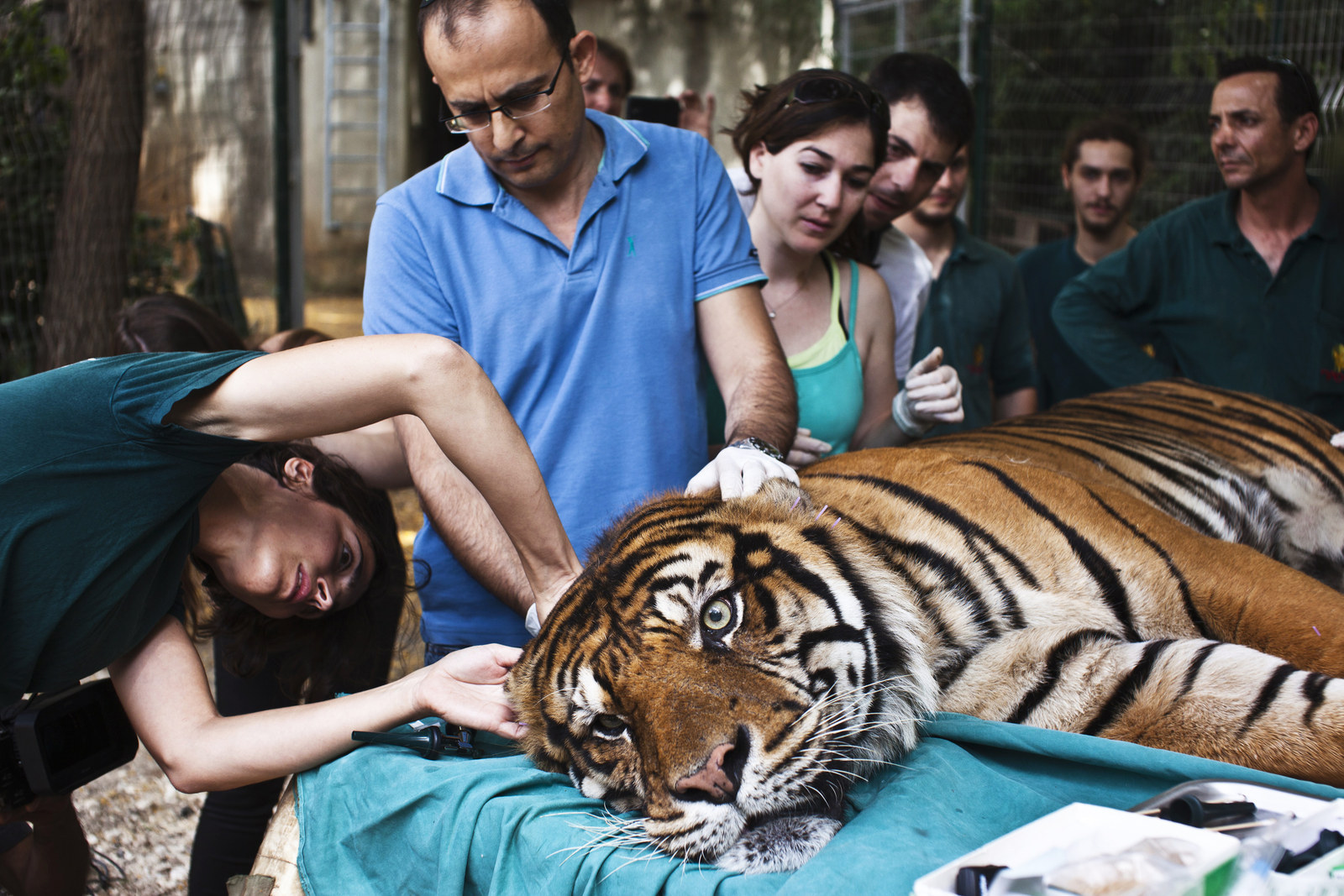 An alternative medicine specialist treats Pedang, a 14-year-old male Sumatran tiger suffering from a chronic ear infection, at Ramat Gan Safari near Tel Aviv on 9 June 2013.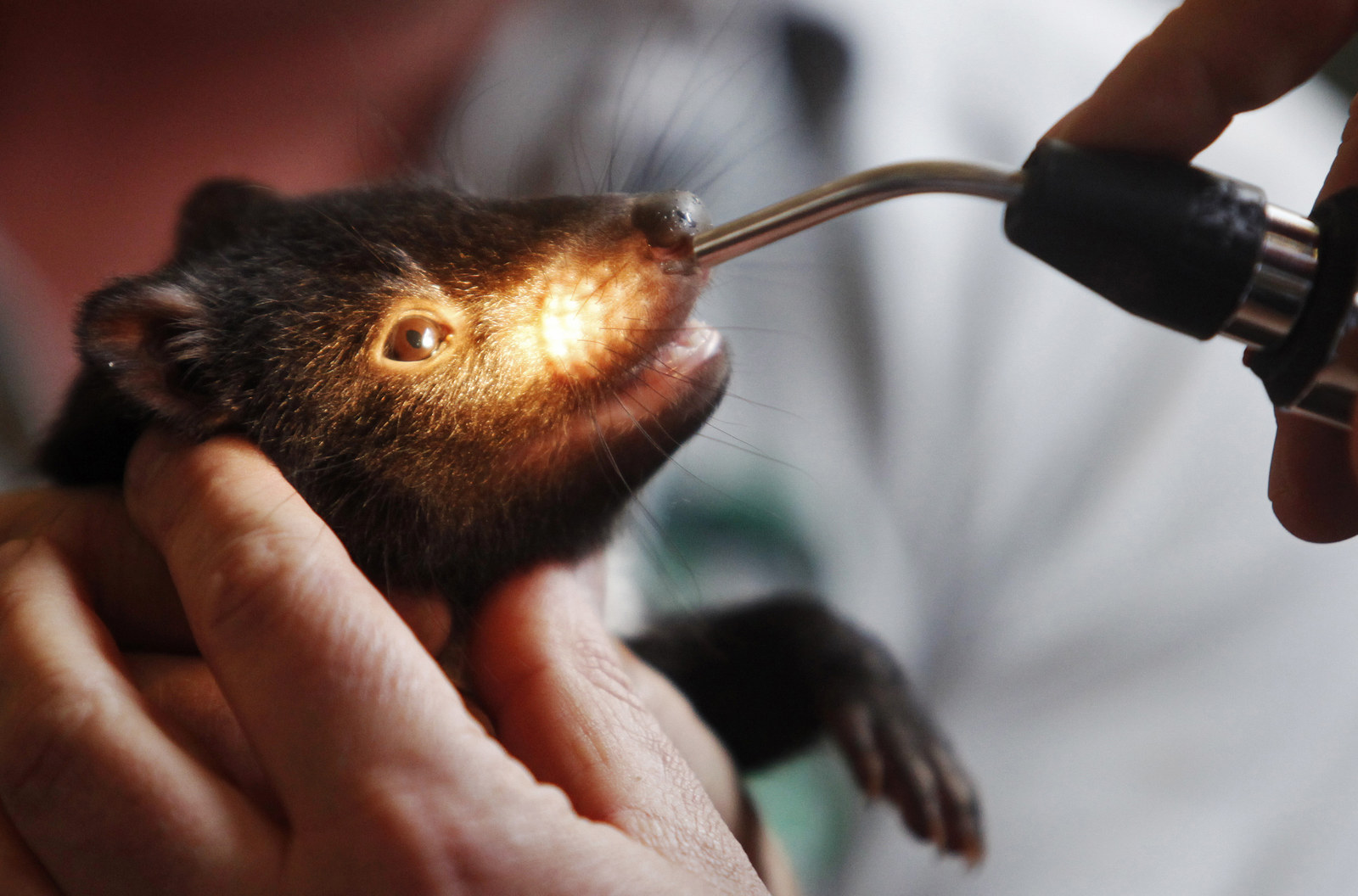 A male Tasmanian Devil cub receives a health check in his enclosure at Sydney's Taronga Zoo on 22 October 2009. Six-month-old Tasmanian Devil cubs are having health checks and paternity tests to avoid their extinction from a rare transmission cancer called Devil Facial Tumour disease.
A baby kangaroo named Tijana peers from the incubator in its enclosure in Belgrade Zoo on 16 April 2009. Her mother, after being scared by an emu bird, ran away and Tijana fell out from the pouch. Now Tijana, who cannot survive outside a pouch, must stay in a special incubator, with a temperature is 35ºC. Biologists made a set of canvas pouches for Tijana, who is fed every two hours with a special milk from the US and Germany.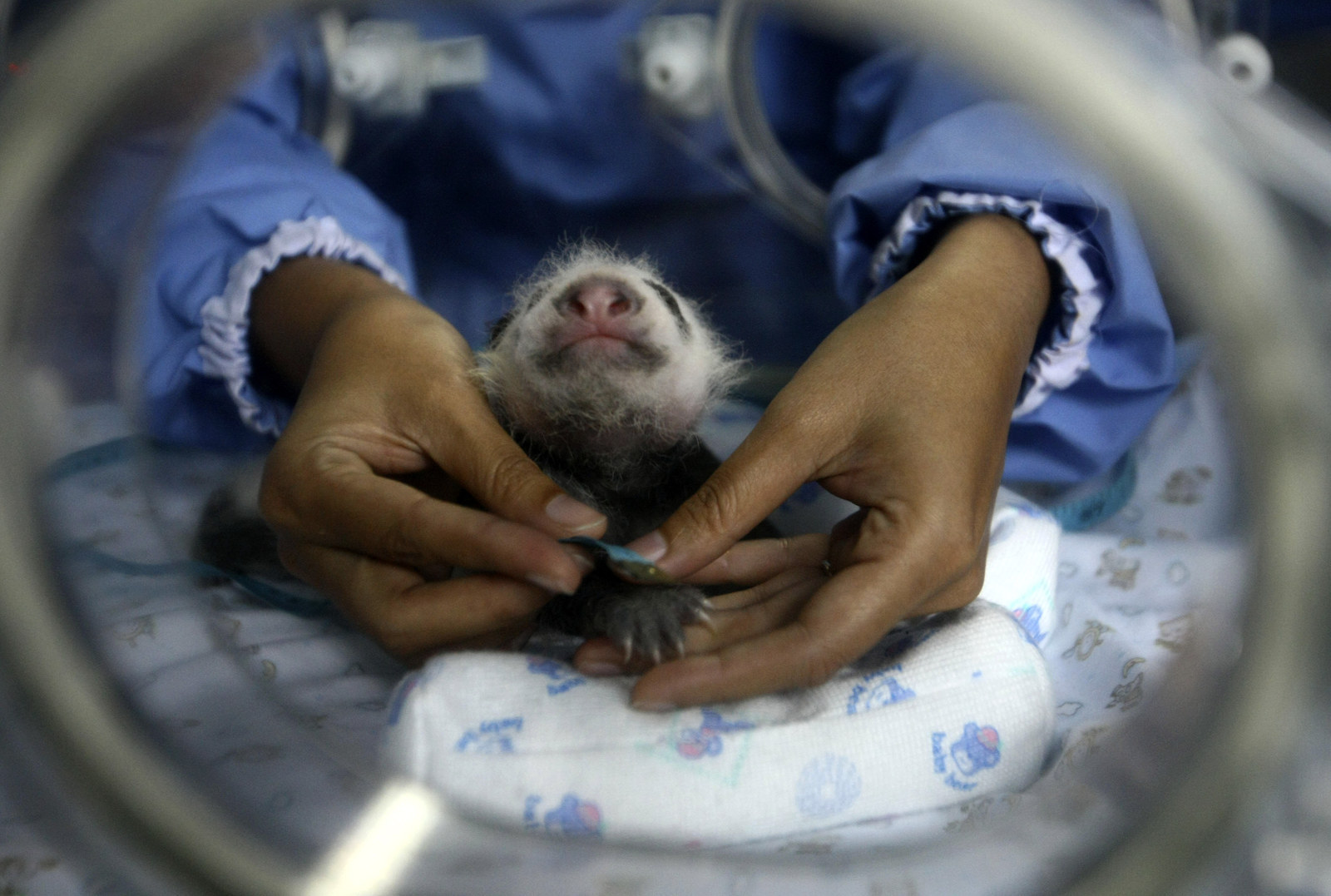 A veterinarian measures the offspring of female panda Lin Hui at Chiang Mai zoo in north Bangkok on 18 June 2009. Lin Hui, who was on loan from China, gave birth to the baby panda after being artificially inseminated with her partner's sperm for a second time.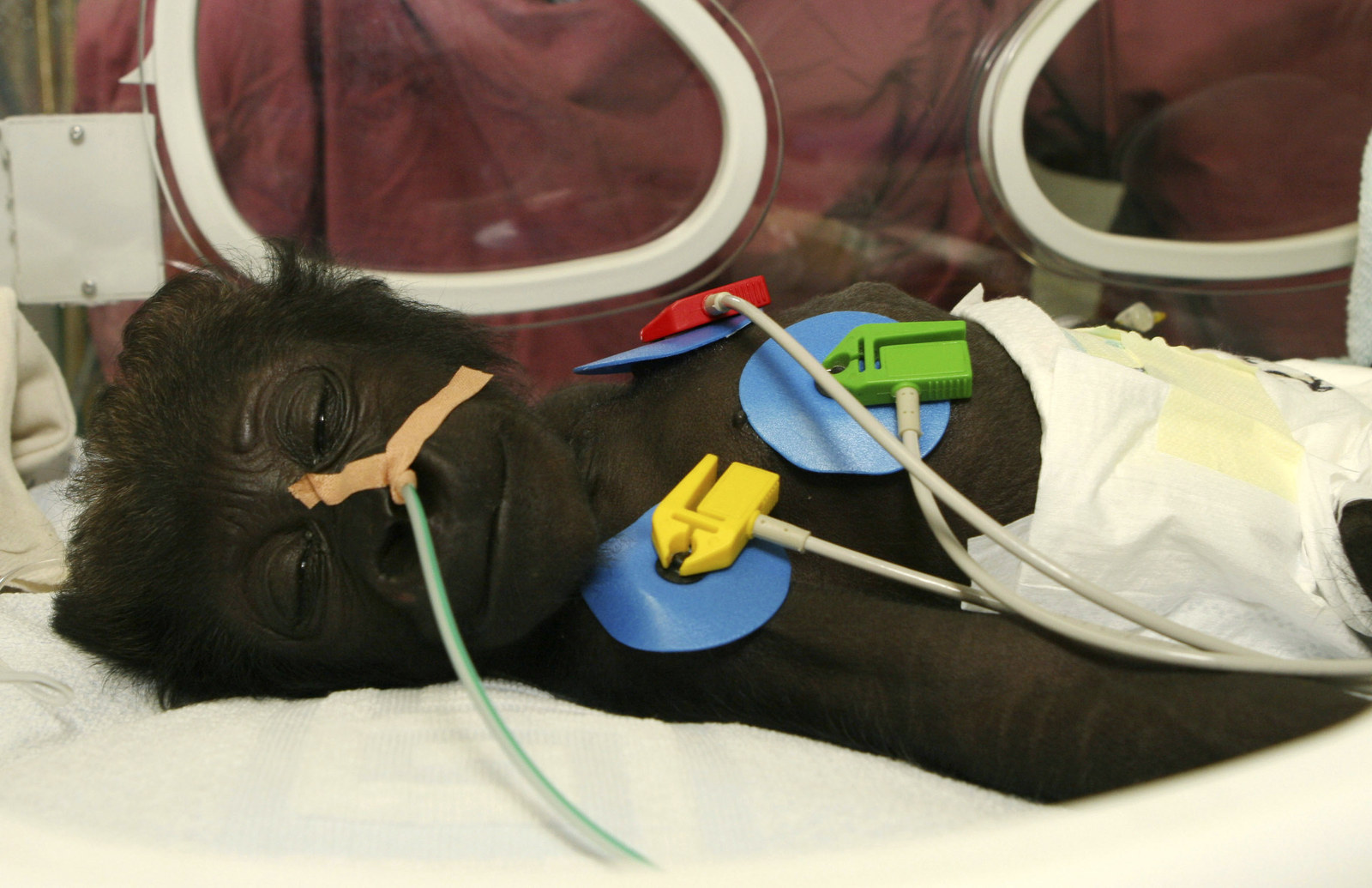 Baby gorilla Mary 2 rests in an incubator in the intensive care room of the children's university hospital of the western German city of Muenster on 1 July 2007. Mary 2 had to be taken to the intensive care unit of the clinic because she was neglected by her mother after her father repeatedly attacked her.
A 32-day-old gentoo penguin chick is weighed during a check-up at the Shedd Aquarium in Chicago on 9 July 2007.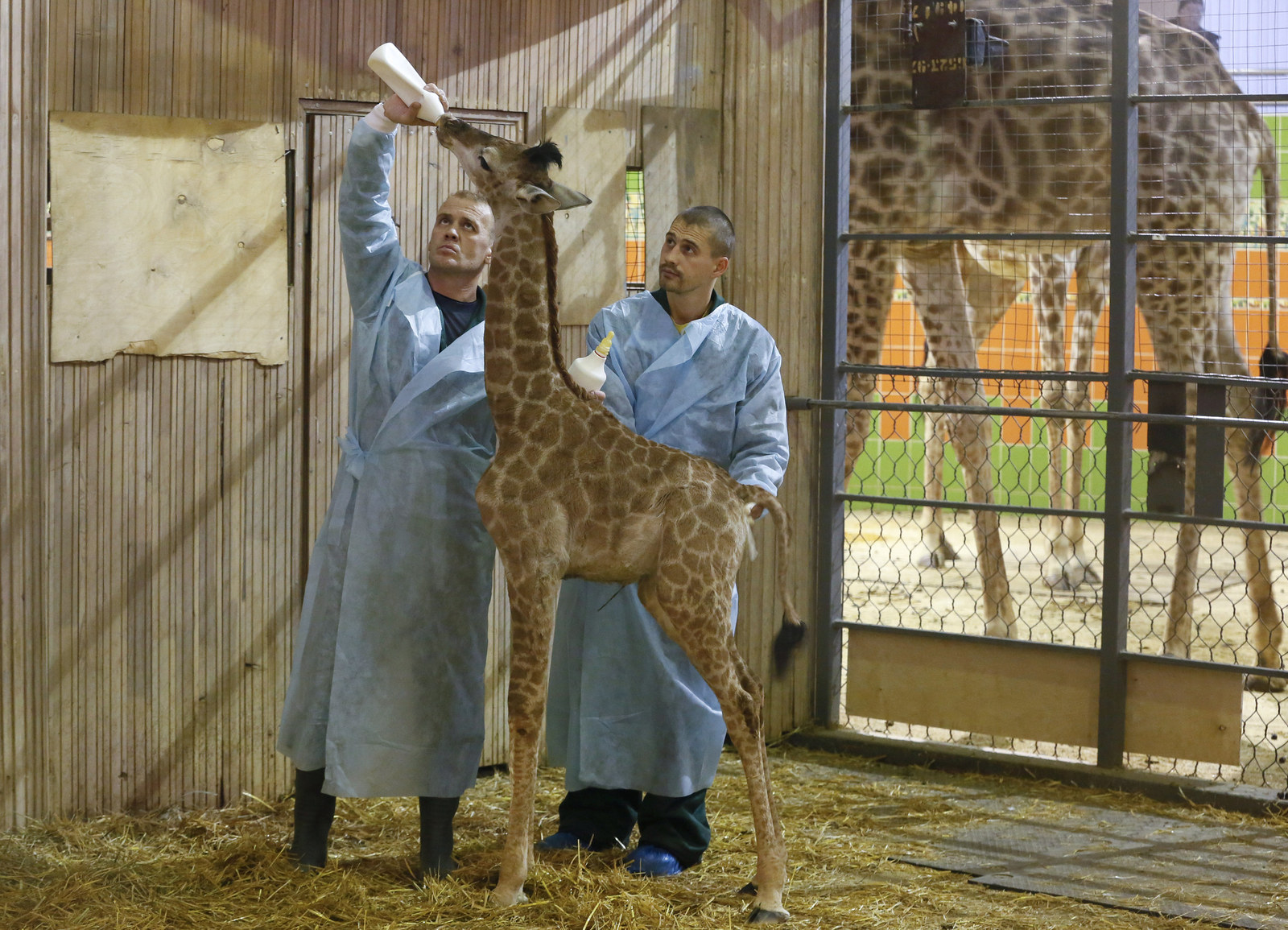 Veterinarians feed a 3-week-old giraffe calf at the Royev Ruchey zoo in the suburbs of Krasnoyarsk in Siberia on 6 November 2014. The calf's mother, Princess, refused to nurse him, and there had never previously been any successful cases of manual feeding of giraffe calfs in Russia.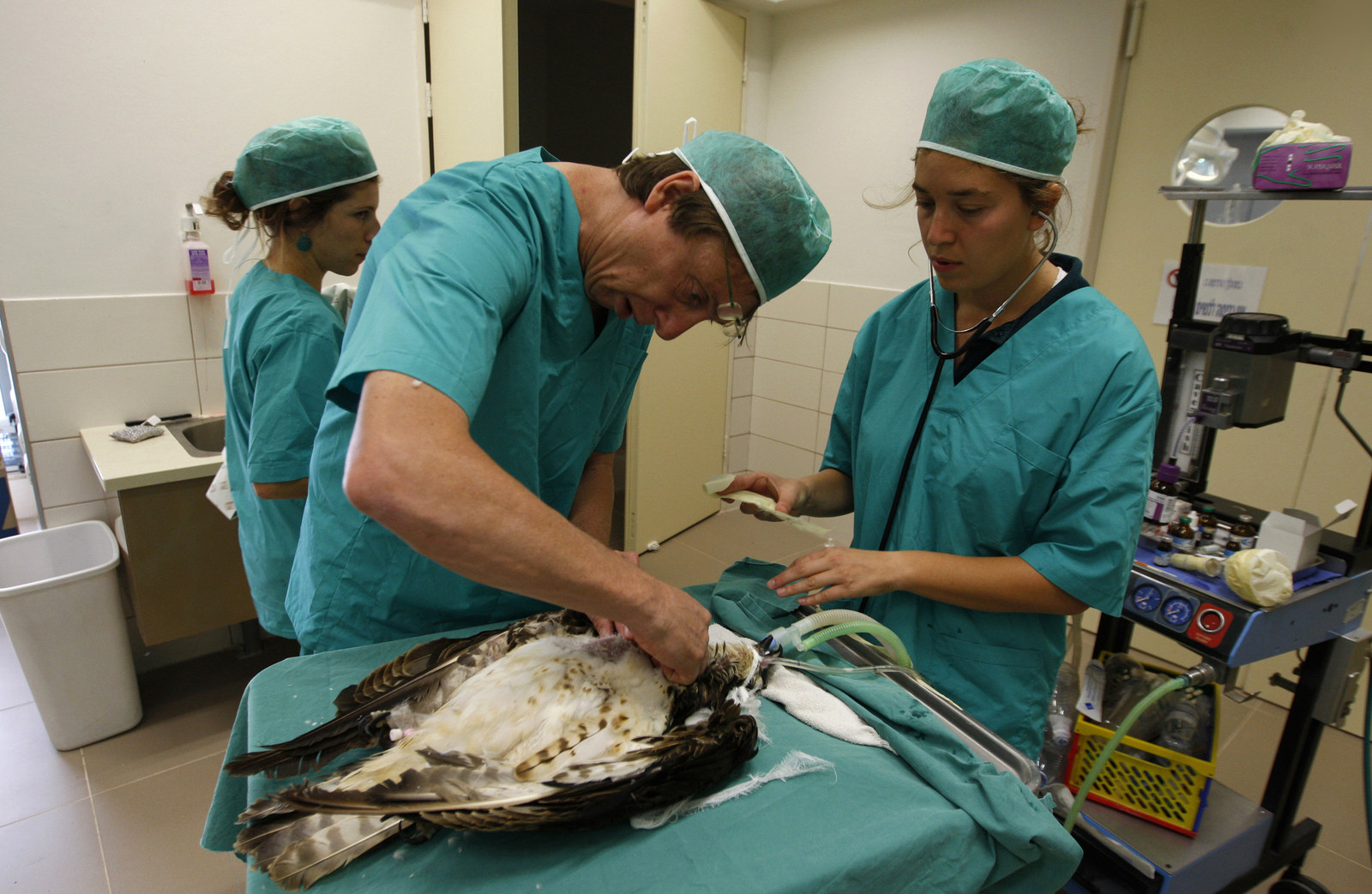 Veterinarian Dr Yigal Horowitz (centre) prepares an osprey with a broken bone for surgery at the Wildlife hospital in Ramat Gan near Tel Aviv on 16 June 2010. The hospital treats about 2,00 animals each year, many of whom are rescued after suffering injuries in the wild.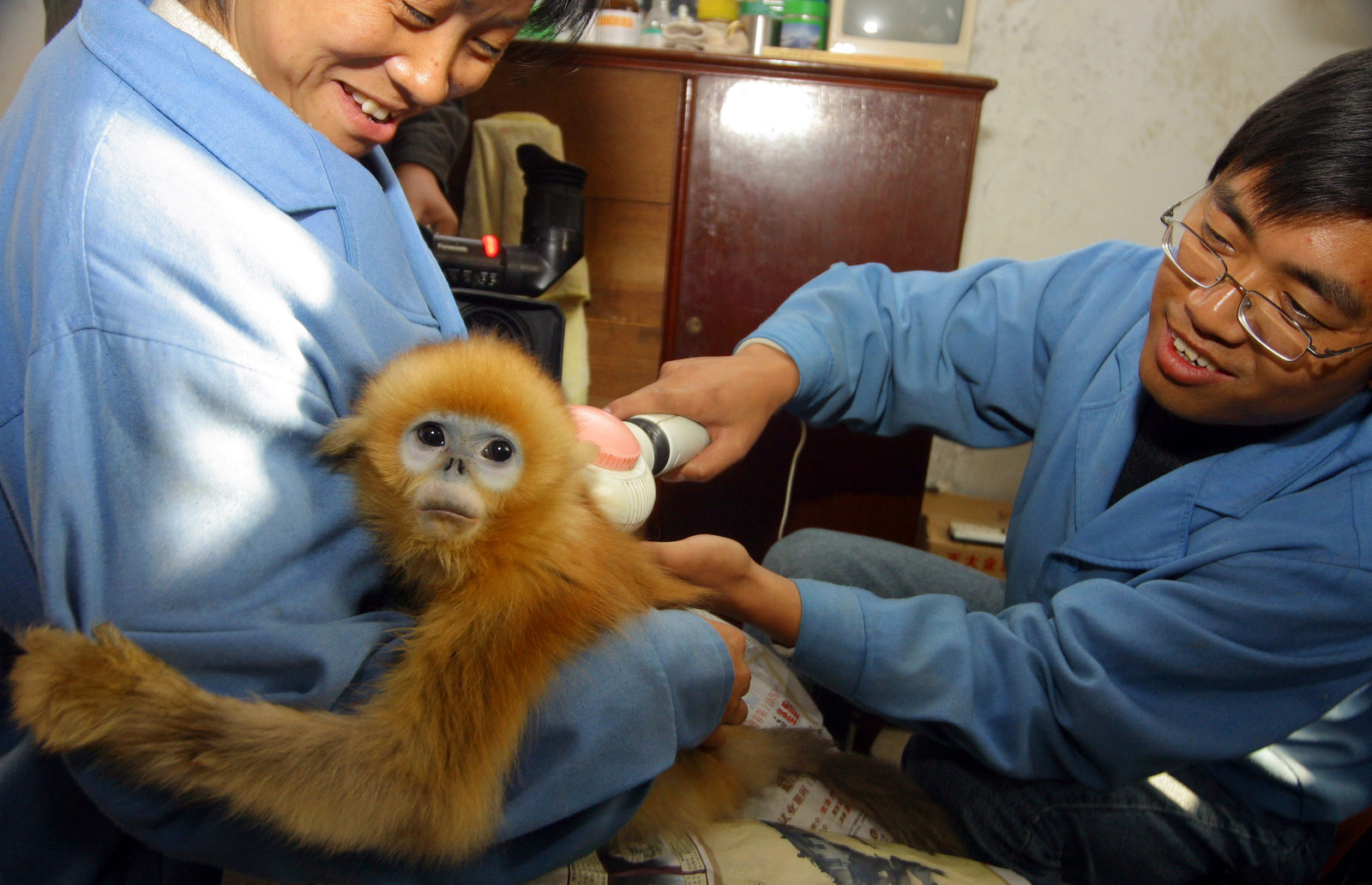 Two-year-old golden monkey Hongdou receives a massage treatment from veterinarians in Hongshan Safari Park in Nanjing, east China's Jiangsu province, on 29 November 2005. Since suffering from hemiplegia half a month before, Hongdou was unable to move its right hand and right leg freely, veterinarians said.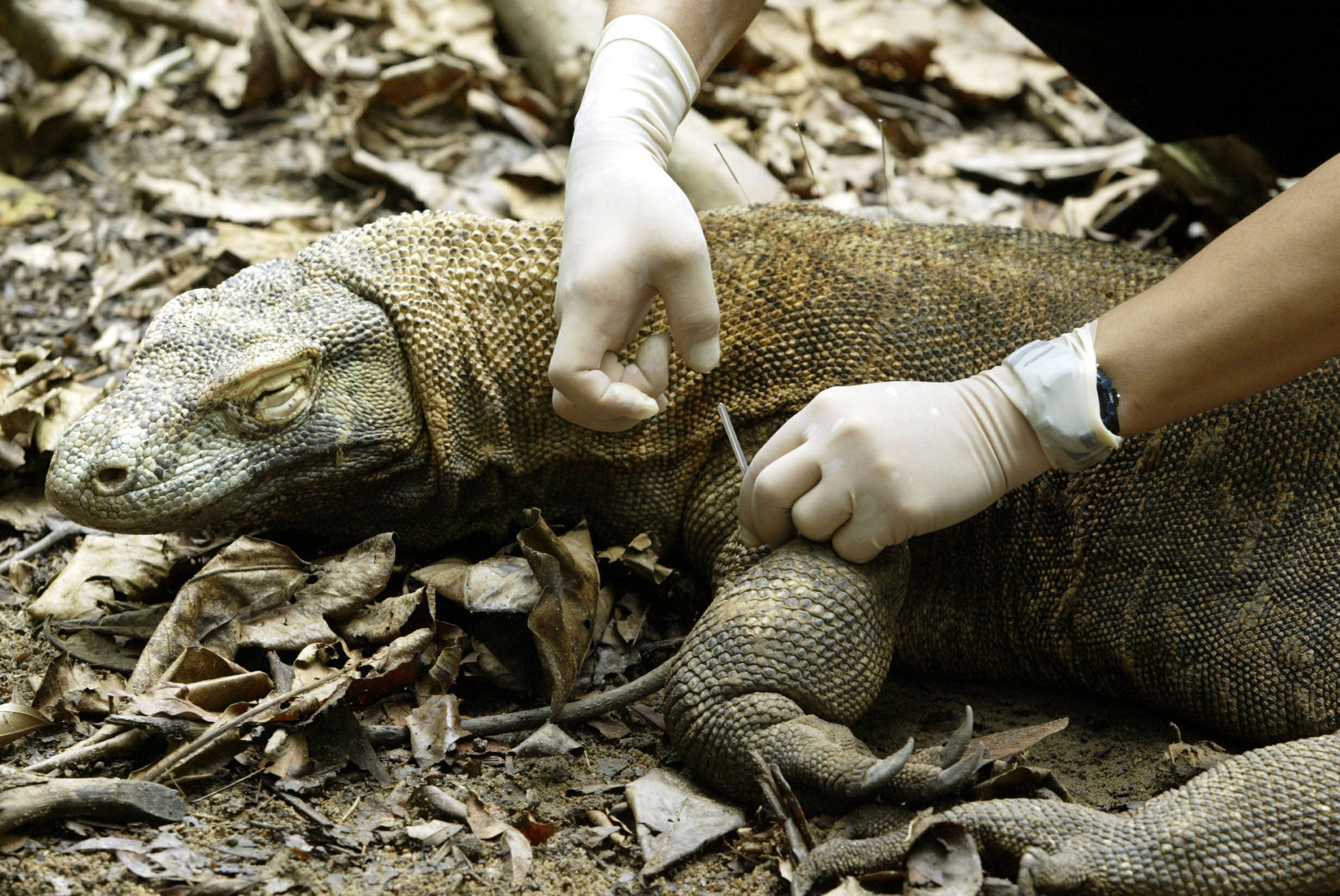 Tirto, an 8-year-old male Komodo dragon, undergoes traditional Chinese acupuncture treatment at the Singapore Zoological Gardens on 2 September 2003. Tirto, weighing 42kg and measuring 2.3 metres long, had been having problems eating and walking. After trying steroid treatment, the zoo turned to the traditional Chinese acupuncture for treatment of the problem.