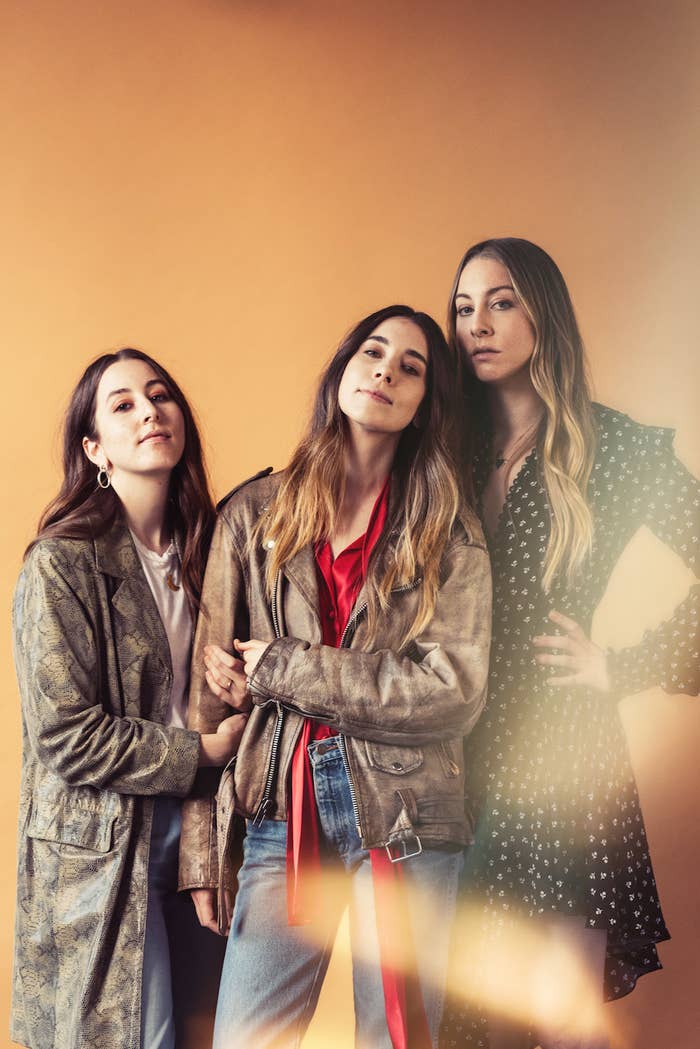 If you're not obsessed with Haim yet, then the fact is, you're on the wrong side of history. The three sisters from The Valley, Este Haim, Danielle Haim, and Alana Haim, just released their second studio album Something To Tell You, and it will make you feel all types of ways. Not only do they kill it on pretty much every musical instrument, but it turns out they are damn good at Jenga too. They stopped by BuzzFeed to play Truth or Dare Jenga and after a game that no one was sure would ever end, this is what we learned.
TRUTH: Tell us when and how you filmed the "Want You Back" video.
Danielle: We rehearsed from two to six in the morning—Sunday AM, Sunday morning. The street wasn't completely blocked off.
Alana: There was just a little puzzle piece blocked off.
Danielle: Yes, a puzzle piece of Ventura boulevard. And then from six to eight in the morning it was completely shut down, this little two-block radius. We did 15 takes, because it's all one shot. Shout out to Jake Schreier—
Este: No movie magic there!
Alana: And then, the one that we actually did, you can see it in the video.
Este: It says the time on the bank.
Danielle: And you can see the temperature. Which I think was 59 degrees.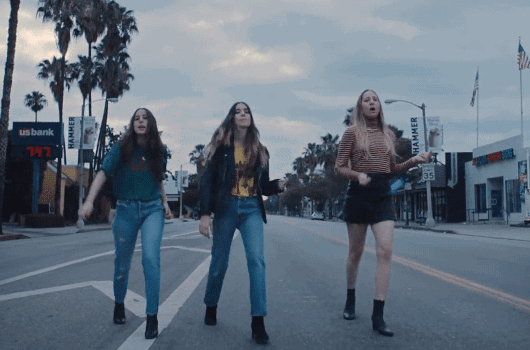 DARE: Alana, do an impression of one of your sisters.
TRUTH: Danielle, you can only wear one of the following for the rest of your life: leather jackets, or Levi's jeans. What do you choose?
Danielle: How did you know?
Este: I'm so glad I didn't get this question.
Danielle: I think it would have to be that Levi's gotta go. I love this [jacket].
DARE: Este, let your sisters position you any way they want, then take a picture and post it to Twitter.
Alana: [Posing Este] HAIM a little tea pot!!! There we go. And then tip the tea.
Este: Actually, Danielle, can you put your face in the teapot hole? DONE. BOOSH.
TRUTH: Who comes up with the truly amazing choreography in your music videos?
Danielle: Este, for our new video "Want You Back," definitely came up with this move [see GIF above].
Este: Danielle, you were the one who was like, we need to break free at the end!
Alana: And I did...nothing.
Este: That's not true!
Alana: I forgot the dance.
Este: We all had our moments.
Alana: I'm going to be truthful, because this is truth or dare. I'm not a choreographer, I leave it up to these two. We had some help, cause we also need someone to bounce ideas off of. Francis and the Lights helped us—we love you Francis. And our friend Ian helped us. It was a collab, if you will.
DARE: Alana, make up a 30-second song about one of your sisters.
Official Lyrics:
Este Haim, you are my oldest sister (Accurate)
And when I need help, I come to you, for boy advice! (Of course you do!)
Este Haim, what would I do, I don't know, it's really true,
Cause you're the best, the best in the west. And I loveee you, hey hey.
Este: Well, first of all: Niecy Nash—love of my life, fire of my loins.
Danielle: Heart eyes emoji.
Este: Randomly, in Studio City, there was a yard sale, and we have been known to frequent many a yard sale. [I] did not know I was going to a Clean House yard sale and walked up, saw the cameras, and said there's no way. No way.
Danielle: Also, we loved that show.
Alana: The fact that they came to the Valley—818 was so happy, let me tell you.
Este: I was just like, yes please. Where do I go? Just point me in the direction of the beauteous Niecy Nash. And literally it came true. If my memory serves me right, I was wearing a bouffant in the front?
Danielle: Let's be realistic, it was a mullet.
Alana: That's ok, I was wearing a headband and braces. I still have those Barbie cards by the way. Look it up. I still have them to this day, in a Crayola box.
Este: The lesson to be learned is, if you have a yard sale, we will come.
And the motorcycle?
Este: Sore subject.
Haim's album Something To Tell You is out now. Buy it on iTunes, stream it on Spotify, go to a store and get the actual CD, do whatever! Just be good to yourself and listen to it.