1.
When Benedict Cumberbatch photobombed all of U2: 2.
When Jennifer fell before even entering the ceremony, and then Ellen brought up her tripping history:
3.
And we witnessed Brad Pitt chomping down on some pizza: 4.
When the ultimate celebrity selfie was being organized...
5.
And the result was this glorious photo: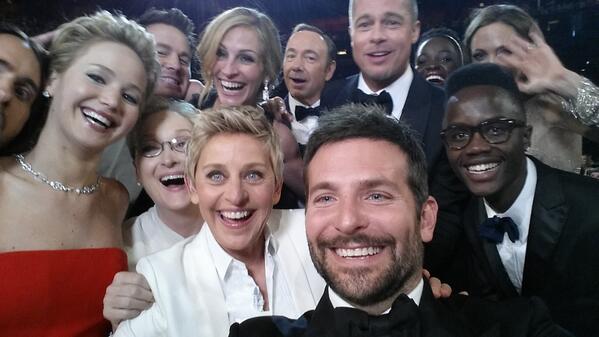 (Mostly just Leo, though.)
13.
And then Kerry got to enjoy some gluten-free pizza backstage:
14.
When Ellen became Glinda: 15.
And Whoopi showed off her Oz-themed tights:
16.
When Jamie Foxx did this little dance:
18.
This kiss between Leo and Matthew: 19.
When Amy Adams was caught being a little bored:
21.
When Emma Watson and Joseph Gordon-Levitt became the new cutest dream couple:
22.
Meanwhile, Matthew McConaughey and his wife Camilla were the actual, REAL cutest couple:
24.
And collected pizza money in Pharrell's giant hat:
26.
When Pharrell made suit-shorts a thing: 27.
And when Steve McQueen was ecstatic over 12 Years a Slave winning: