Everyone (Including Me) Wants To Know Where Diane Keaton's Pants Are From
We need to know.
However her last post has left us with a huge pants mystery. You see, Diane posted this pic of her in these pants.
She then wrote an ode to these pants. She wore the pants everywhere, and for all occasions. And they were beloved by many!!!!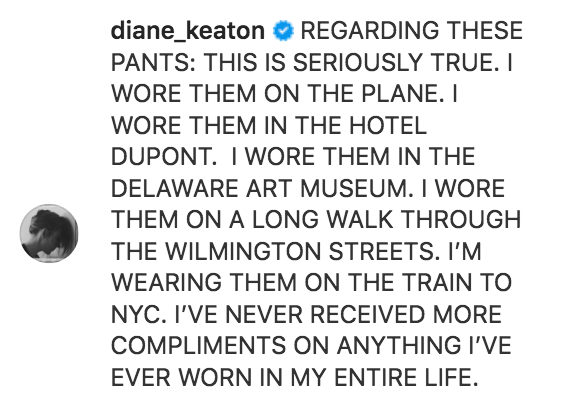 There was only one question to ask after seeing a thing like this.
And then I'm pretty sure this is the emoji version of that same question from Kate Hudson.
Lisa Kudrow was not concerned about the origin of the pants, but was supportive of them in general.

BUT THE REST OF US ARE CURIOUS, DIANE, SO PLEASE...JUST TELL US!!! WHERE THE HECK ARE THE PANTS FROM?!?!?! Get back to me ASAP. THANK YOU.