Lady Gaga has been one of many artists vocal about their support for Kesha since Kesha's preliminary injuction in a lawsuit against Dr. Luke was denied almost a week ago.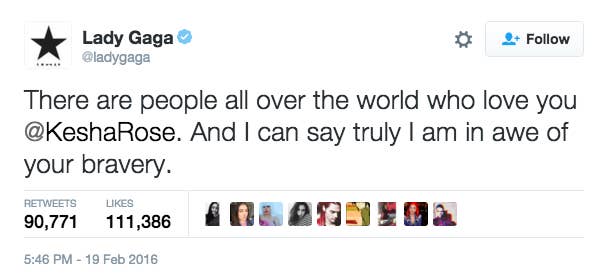 And yesterday Lady Gaga continued that support when she held Kesha's hand and posted a pic of the two of them together.
And if you follow Lady Gaga on Snapchat, you might have seen this really cute video of Gaga smothering Kesha with kisses. Or is it one really long kiss? I can't tell, but it's making my heart burst.
But since Gaga is a true icon, she hasn't stopped with her support. Early this morning she Instagrammed this message from the lieutenant governor of California, Gavin Newsom:
And then commented on Instagram about the truth of the industry and how she's personally experienced what Kesha is going through.
NOW LET'S FREE KESHA SO THAT SHE AND GAGA CAN MAKE BEAUTIFUL MUSIC TOGETHER AS LADY GASHA.