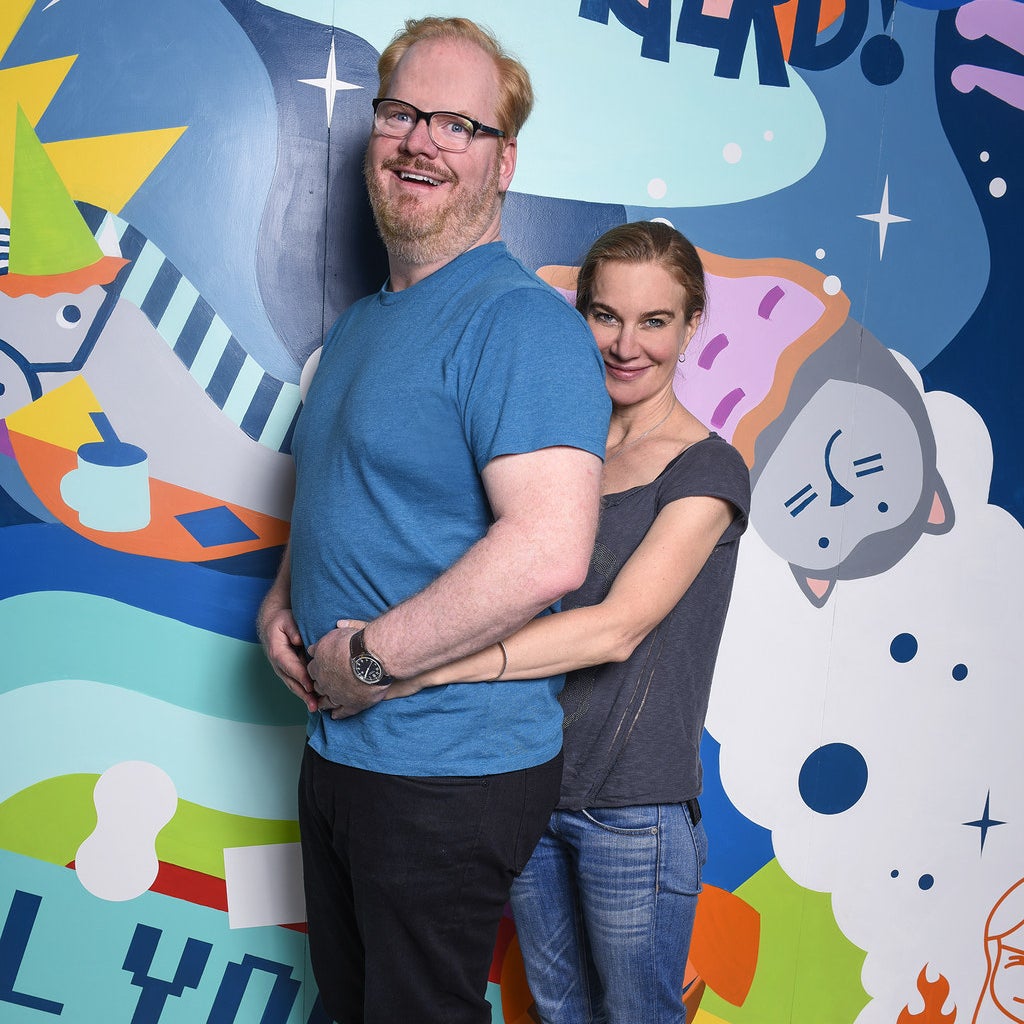 As you can see from the above photos, Jim and Jeannie Gaffigan are a loving couple. The two not only live and raise five children together, but they are co-writers and executive producers of the new TV Land show The Jim Gaffigan Show. The two stopped by BuzzFeed to play the not-so-Newlywed Game, in which we test how well they know each other. Here's how they fared.
Jim Gaffigan: I had cheeseburger but then I changed it!
Jeannie Gaffigan: That kind of counts.
Jim: It's fluid.
Jim: I said "salmon or something gross." So, cheeseburger? Really?
Jeannie: You know that! When was the last time I had salmon?
Jim: I don't know, sometimes you'll get salmon, or mussels, or something weird.
Jeannie: I don't know where to begin.
Jim: That's a good point. I didn't think of that.

What does he do?
Jim: Nicorette.
Jeannie: He wads it up and sticks it places.
Like at restaurants?
Jeannie: No, at our house.
Jim: It's Nicorette!
Jeannie: But it's gum! He puts it in a ball and, like, puts it on the table.
Jim: It's either that or heroin!
Jeannie: The constant eating, that's also pretty irritating. But it's been pretty great for our career.
Jeannie: Talking and complaining are similar. I'm always like, "It's freezing in here!" And he's like, "You're always complaining!" The worst thing to hear is that you're always complaining.
Jim: I mean, I did that once.
Jeannie: You say that all the time.
Jim: Essentially!
Jeannie: Well, this was in a book. He wrote essentially like 900 times in one chapter.
Jim: Essentially the hot dog is essentially my favorite food because essentially—
Jeannie: That's in writing. This [clocked] is what you say.
Jim: One word? Yourhorriblejim [sic]
Jeannie: No, I've never said that. This one, though. Everything is amazing. But you don't know you're doing it until after you watch yourself on TV and anything good is amazing.
Jim: Because Shaggy and Scooby, they're always eating too.
Jeannie: That's interesting.
Jim: We haven't gotten one right.
Jim: Oh, that's very similar!
Jeannie: They are in the same show!
Jim: I said the desk in my office. She's like, "The desk! The desk is always covered."
Jeannie: I always clean it, we have a big table—
Jim: How dare you have a computer on your desk!
Jeannie: He empties out his pockets. But also we're like, "No! Fast-forward, pause!"
Jim: I did, I wanted to be a farmer.
What happened?
Jim: I was in, like, eighth grade. Growing things felt so good.
Jim: She only needs four hours of sleep.
Jeannie: Everyone knows that, though.
Jim: That's insane. That's some Napoleon shit.
Jeannie: Well, that could all happen together!
Watch Jim in The Jim Gaffigan Show when it premieres July 15 at 10/9 C on TV Land.