Jennifer Lawrence And Amy Schumer Add Chris Pratt And Aziz Ansari To Their Squad
Squad in this case meaning cool people who are also working together.
Background: Amy Schumer and Jennifer Lawrence are already beeeeestttt frannnnds. They are also writing a movie together. Now they are adding to their #Squad some more really cool people: Chris Pratt and Aziz Ansari.
The proof: Here is a short film uploaded by Aziz Ansari, in which he plays a man swinging while saying, "Hi, guys." Chris Pratt plays the guy standing behind him. At the start you can hear Jennifer Lawrence giggling.
But besides laughing offscreen, Jennifer Lawrence also directed the short. Writing credits go to Amy Schumer, Chris Pratt, Aziz Ansari, and Kim Caramele.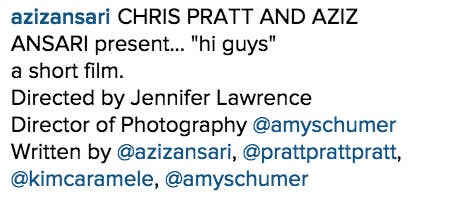 The group is also spending their time together waking each other up in the morning and laughing off camera.
BASICALLY I WANT TO BE FRIENDS WITH THEM (no offense to my current friends, love u guys too).