Everyone knows that Taylor Swift brings special guests to perform with her during each show on the 1989 tour, etc., etc. But at the St. Louis stop someone very special came out. And that was Nelly. They performed his new song, "The Fix."
Nelly and Taylor have a history of performing together on tour. He joined her during the Speak Now tour in 2011 (In Houston) and the Red tour in 2013 (in St. Louis). Honestly, it's adorable.
But on Sept. 29, 2015, during the 1989 tour, things got next, NEXT level when they started singing "Hot in Herre."
And THENNNNN Haim joined them onstage, and they all did a choreographed dance routine...
And for such a short-notice dance routine, it was, simply put, stunning.
I mean, look at the coordination! Look at the synchronicity!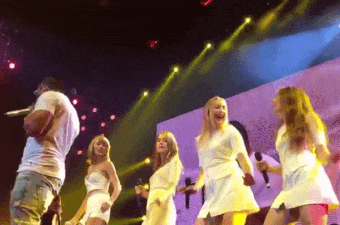 Basically it was beautiful, and Taylor, Haim, and Nelly should probably just tour together forever.