I'm currently sitting in my studio apartment watching reruns of Married at First Sight... meanwhile, Harry Styles is showing off a cute bottle of balsamic vinegar whilst visiting a villa in Italy.
But I'm not mad or jealous, I SWEAR. I'm just happy that we all get to see Harry happy with his vinegar.
And not only is Harry rich with balsamic, but he has a mustache now.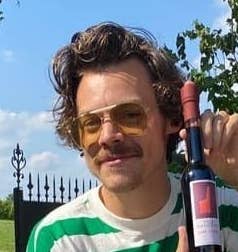 And he looks like an extra from Call Me By Your Name. I LOVE TO SEE IT!!!!