Christina Milian Answers 22 Random Questions About Herself
And of course, she dips it low. And picks it up slow.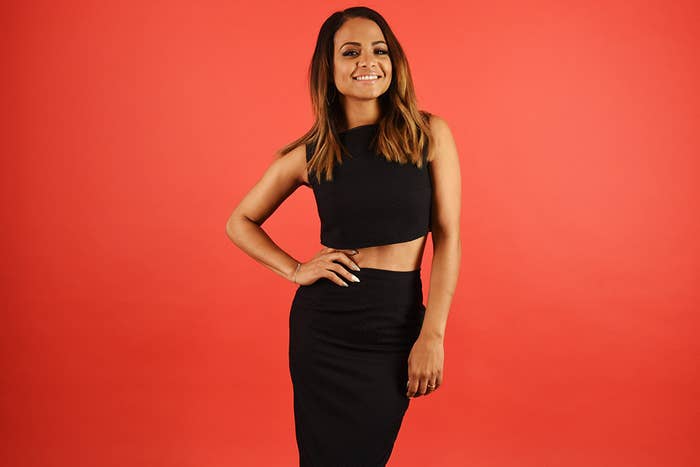 Christina Milian might forever be known to you as the girl who wants you to hit the lights — you know, so you can rock it day and night. But 15 years after being featured on her first radio hit with Ja Rule (who can forget Between Me and You), she's about to show a side of her that we've never seen before on the new reality show Christina Milian Turned Up, which premieres this Sunday at 10 on E!. Christina stopped by BuzzFeed and answered some questions about herself, including admitting a corny picky up line that just might work on her.
1. AM or PM?
PM. PM to AM! Really though. I'm up all night, and then next thing you know it's the morning and I'll sleep, like, three hours. I'm a night owl. I'm usually in the studio at night, working, and then I get home, I'm on my phone looking at Instagram pictures and buying stuff. Shopping.
2. How did you get the stage name Milian?
My real last name is Flores, and Milian is actually my mom's maiden name. So it's not made up, which is cool, it runs in the family. And it actually worked out better for my career to have the last name Milian, because Flores kept me in a little box, and no one really associated me with the last name Flores. So Milian really opened things up for me. It's weird what a last name will do. I changed it to Milian and next thing you know I was working, and getting auditions and stuff, and it was crazy.
3. How often does someone give you their number and say, "Call me, beep me if you want to reach me?"
If you want to page me, It's OK! I've actually had guys tell me they were fans from the Kim Possible days. And I've met people who still have the Kim Possible theme song as their ringtone. But no one has used that line on me just yet.
4. Does that song follow you around though?
In a good way! I think it's cool. I never imagined people would still be talking about it. I did it when I was 17 or 18. I used to be on Disney all the time, and I recorded the song, and did a commercial, and that was it. I didn't have to do anything after that, and people still talk about it! I didn't realize, I guess it's this generation now that they are grown and they are like, hey, by the way.
5. Back to the pickup line, would it work?
"Call me, beep me if you want to reach me?" It would actually be so cute. It might work, actually.
6. Your family is a huge part of your show, but who is your favorite relative?
My daughter, Violet. My favorite.
7. Is there anything we are going to see that you wish you hadn't done on camera?
There's a lot of things that I would have never done naturally on camera. I would have done them in private, with my family. But I wouldn't take anything back. I want people to see that this is me, and they can see that side of me. There's a whole other side of me that I think is unexpected, so they'll see that. In the moment though, there were things that I was like, OMG, I can't believe I did that. And I was texting the producers being like, "Please don't show my butt!" But then you're like, whatever. What's done is done.
8. What are your thoughts on bird-feeding your child like Alicia Silverstone?
Like chewing your food and then spitting it in their mouth? NO! I mean, no. No. I've never even heard of that method for humans. They must be very close.
9. What's your favorite fruit?
I do love pears. All types of pears. Not too firm, not too soft, they have to be at the right time of their life.
10. Favorite pizza topping?
Pepperoni, lots of cheese.
11. What was the first CD you ever bought?
Salt-N-Pepa, Very Necessary. And it wasn't a CD, it was a cassette.
12. Last song that was stuck in your head?
Oh gosh. It was Usher's song. Yesterday. (Sings) "Shorty I don't mind / If you dance on a pole." Now it's gonna be stuck again.
13. Christmas or Thanksgiving?
Christmas, because you at least get gifts along with the food. You get to chill out, eat, sleep, and you get gifts.
14. Do you have an outfit from your past that you regret wearing?
So many. I went through a phase where I thought G-strings were cool to show. So I wore the low-waisted pants, like the Frankie B. jeans. I'll never take that back. Those made me look really good, my torso, and abs when they were in shape. And I made sure to hike up the G-string, you know, you're coordinated, with rhinestones on the back and everything. It was a trend for sure.
15. Singing or acting?
Singing, just because i'm very passionate about me. It's very direct. You get to know me and I get to be creative and write. And I get to be on stage and it's like a whole other beast. And it's scary too not knowing if I'm going to do well, or if people are going to like it. It's an adrenaline rush.
16. Who was your idol when you were growing up?
Janet Jackson. She was the ultimate for me. And I remember going through puberty going through the Janet album, and it was a very sexy album, and I was just like, whoa, that's what all of this is about, that sounds so cool. And I was listening to her and she's amazing and gorgeous and a great performer. And I eventually ended up meeting her when I was 17 or 18 when I first got my recording deal, and I met her and I cried like a baby for, like, two hours. I've never been so starstruck in my whole life. Happy tears! And then later on I'd see her all the time and she'd sit down and talk to me in the club and it was really cool.
17. Is there a song that you are jealous you didn't make?
So many. So many great songs. I've always loved "Umbrella." Funny enough my ex-husband wrote that, and I'm not saying it was meant for me or anything — people will start twisting this — it is Rihanna's song! But I've always loved it. I think it has a great message and I've always loved the track; it really stood out and was really powerful. And still to this day. I love that song.
18. What would you say to yourself if you could go back in time to the year 2000 right before "Between Me and You" came on the radio?
I would say, "Learn how to be a bitch!" You don't have to be nice to everybody. At least to guys. It works.
19. If you could bathe in any liquid besides water, what would it be?
Something soft and gooey. A baby oil with lavender. Nothing sticky.
20. Instagram or Twitter?
Instagram. Pictures. Lots of pictures! I don't really care to read everyone's thoughts.
21. Who's your favorite person that you've collaborated with?
I had a really great performance with Steven Tyler, in the movie Be Cool. I performed "Cryin'," so we recorded the song beforehand. But I didn't get to meet him until I hit the stage with him and we had a live performance with 30,000 people in the audience and that was for the movie. And it was probably the most amazing experience of my life because that was something unimaginable because he was from my mom's generation and also my generation and he's such a rock star. I was like, he's kinda hot!
"So you kind of just bring it down, put your hands right here. Suck in your stomach, so your butt looks bigger."
"And then you just roll it around. And bring it down. Bring it down. Dip it low!"
"And then you just bring it up slow!"
There you have it, ladies and gentlemen, how to dip it low and bring it up slow, from the master herself.
Tune in to Christina Milian Turned Up Sundays at 10 on E!