Last night on The Bachelorette we had yet another example of how guys definitely don't gossip or have petty cat fights! Only girls do that hehhehhee.
Anyway it all started when this dude Lucas who says "whaboom" a lot (idk??)...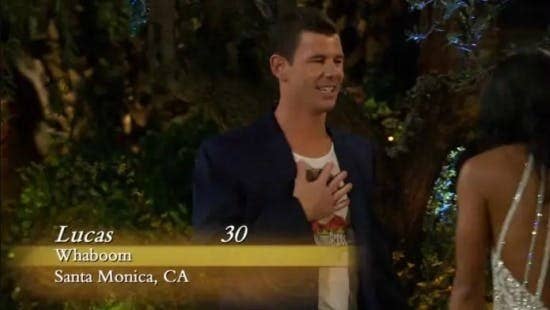 ...and this dude Blake, got into some argument because Lucas was telling Rachel that Blake was standing over his bed eating a bananas.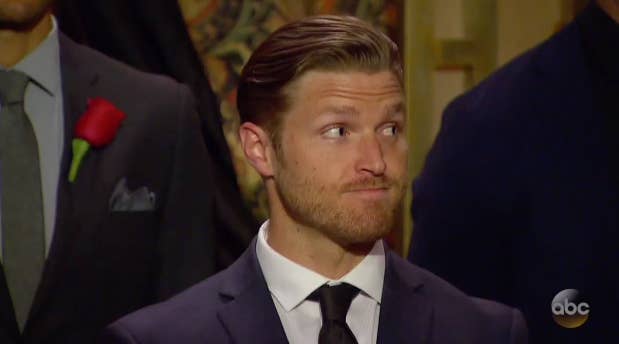 But FYI, Blake doesn't eat bananas because he doesn't eat carbs because he's on some diet that I literally cannot spell or pronounce.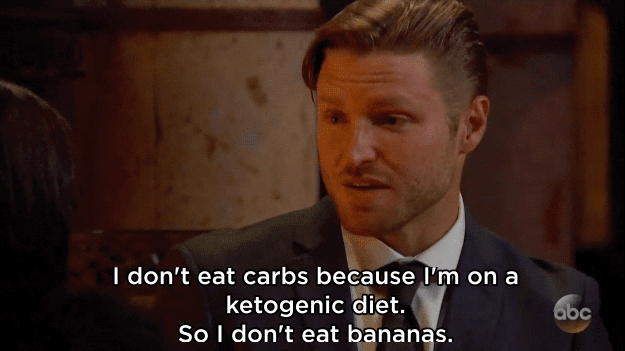 But anywho, I guess Rachel wasn't into the banana gossip, so they both did NOT get a rose, and the fight began. Blake started it off by joining Lucas in his post-elimination interview. Coming in hot by saying this: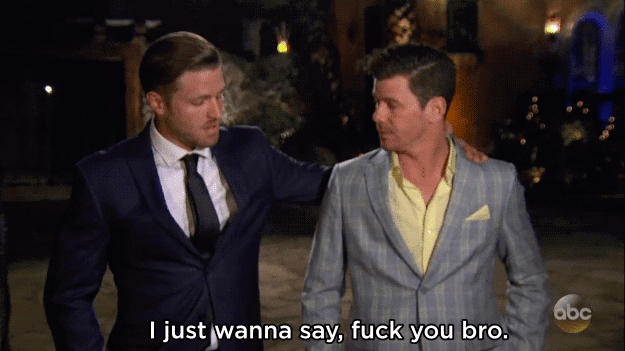 Then he added this: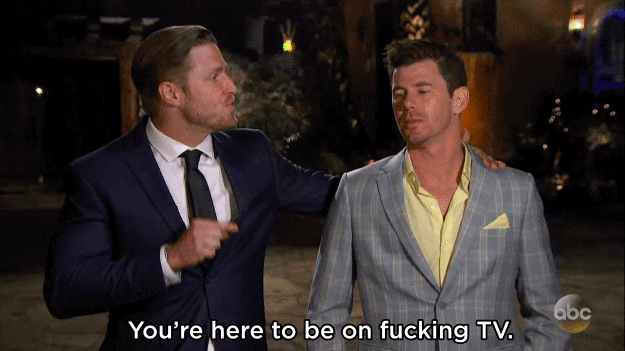 And then did his first impression of the night.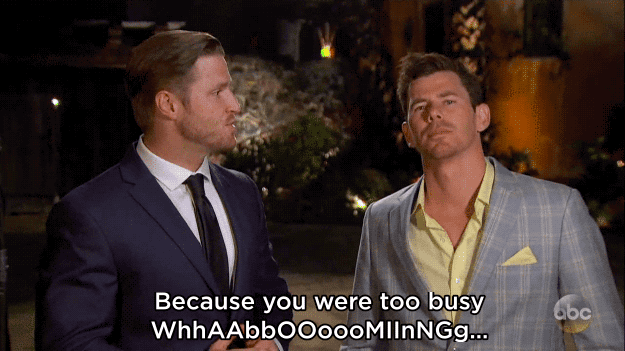 Lucas, who seems to have taken a horse tranquilizer earlier in the night, barely reacted, but then said this stuff: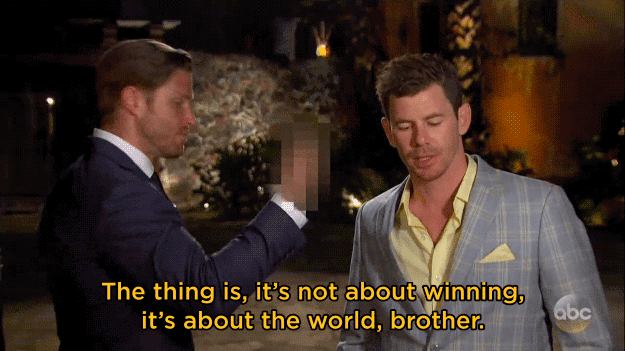 To which Blake replied with this: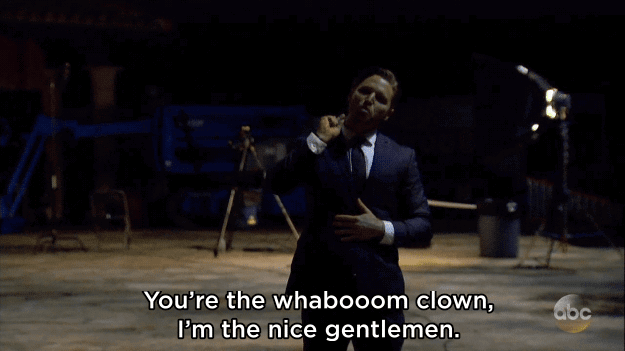 Lucas then took the route of a second grader and started to just speak in jibberish...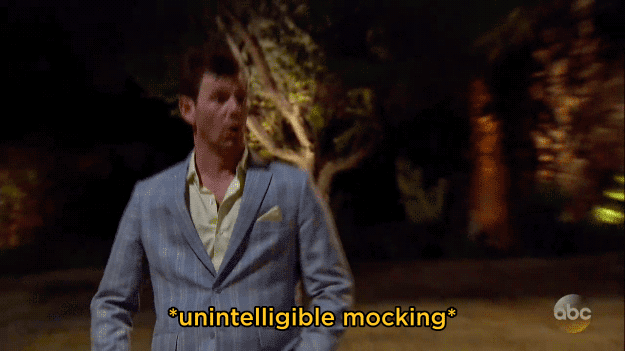 But then I guess the tranquilizer wore off and he started to explain to Blake that actually, BLAKE DOESN'T GET FUNNY!!!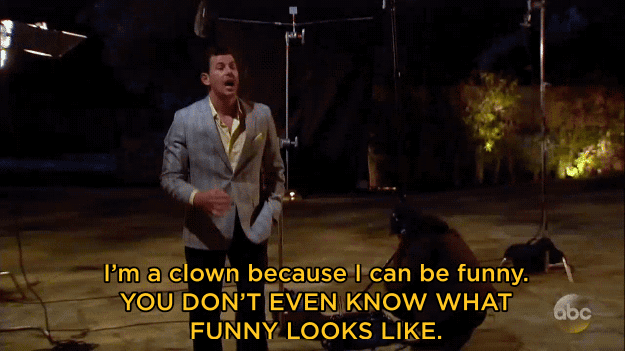 To which Blake responded that ummmm, he DOES!! And then he did his second impression of the night.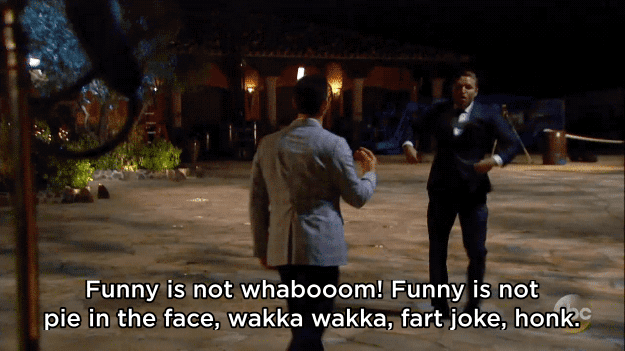 There were some more hand gestures and weird faces.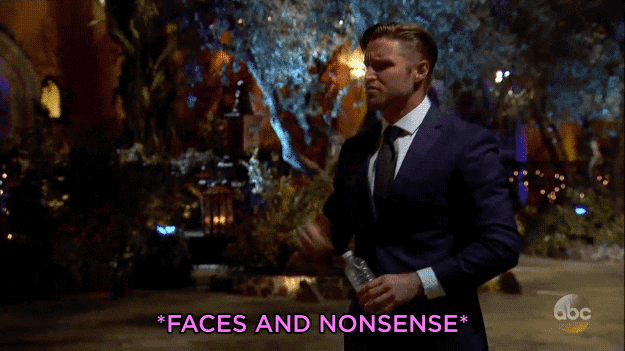 And then finally, they reenacted the scene from Austin Powers.
Oops. Something went wrong. Please try again later
Looks like we are having a problem on the server.
So now that you've relived the totally cool fight between two level-headed dudes, WHOSE SIDE ARE YOU ON?
I'm team Whaboom guy, the other guy has a stick up his butt!

I'm team doesn't eat bananas guy, i hate whaboom dude.

I literally despise them both equally and cannot choose a lesser of two evils.