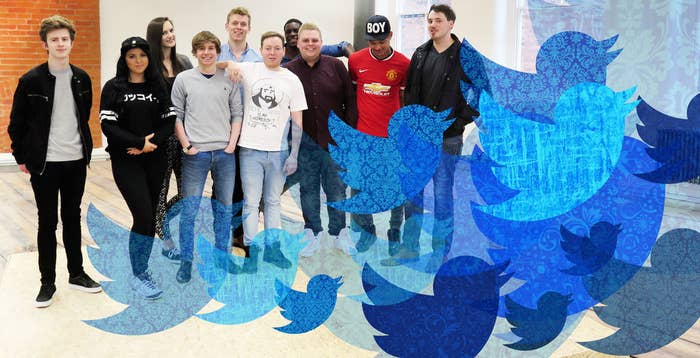 It only takes 26 minutes for the staff of Social Chain to push #YouKnowYoureBritishWhen to the top of Twitter's UK-wide trending list. By the time the hashtag dies down a few hours later, it will have appeared in nearly 40,000 tweets.
"OK, it's trending," Dom McGregor says nonchalantly. The 21-year-old co-founder of the company doesn't sound particularly fazed by the news.
None of the other people present, huddled around computers in a bland temporary office in the heart of Manchester, are particularly bothered, either. Launching UK-wide trends is familiar territory for Social Chain employees, almost all of whom are in their early twenties – or younger. One of the company's content creators, Hannah Anderson, will tweet later that day about the hashtag, saying they did it "for the craic".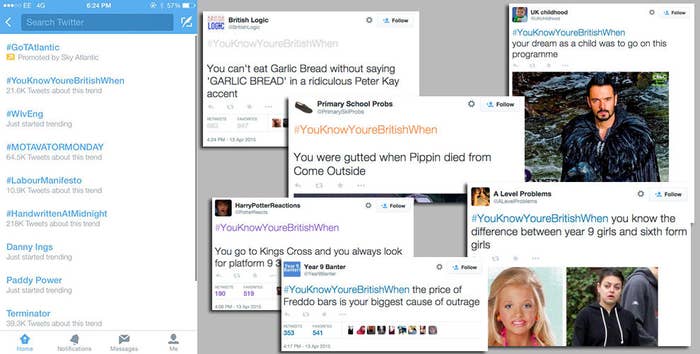 Social Chain's Twitter accounts are diverse, massive, and familiar to many British internet users. Fitness Motivation has 1.68 million followers, Friends Reactions has 154,000, British Logic has 198,000, and Primary School Problems has 371,000. There are many, many more. Their tweets are often rounded up by other websites, including BuzzFeed.
Despite only having been going for just over two years, Social Chain's influence over British social media is remarkable. The founders estimate that they own and control between 200 and 300 Twitter accounts, settling on 220 after some discussion. They also claim to be able to post from an even larger group of accounts they do not own but have relationships with – and say they can also use celebrities and YouTube stars to push their marketing messages when necessary.
As a result, Social Chain can start a trend and direct the conversations of thousands of Twitter users with remarkable ease. This daily viral trick has not just helped them take over the British internet, it's earned them hundreds of thousands of pounds in the process. But this success has also been accompanied by numerous accusations of large-scale plagiarism and potentially troubling advertising practices.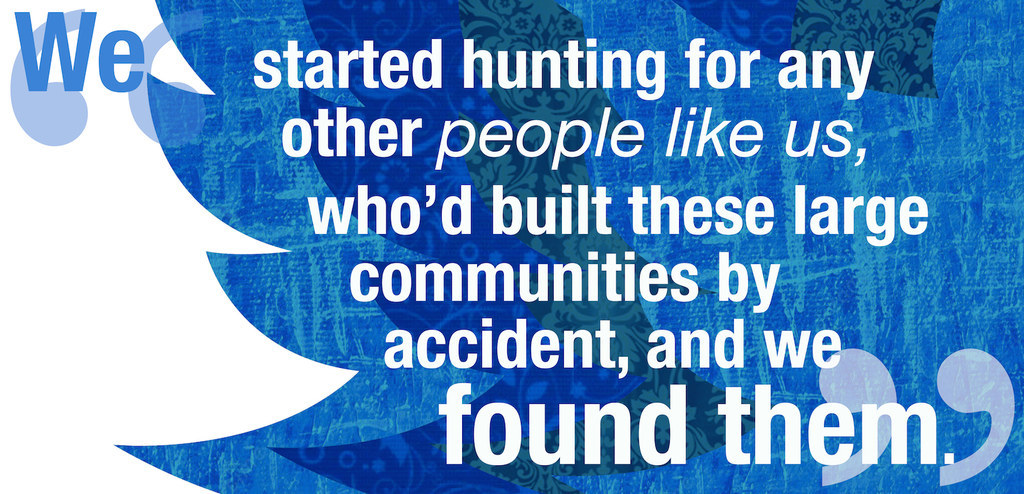 The company was started by Steve Bartlett, 22, who dropped out of a business studies course at Manchester Metropolitan University after a single lecture; McGregor, who dropped out of his uni after a single meeting with Steve; and Ash Jones, who had been making money as a professional FIFA player.
After exiting an online venture called Wallpark with a collection of semi-sizable social media accounts, they eventually realised that large UK Twitter pages could be consolidated into a single group.
"We started hunting for any other people like us, who'd built these large communities by accident, and we found them," says Bartlett. "So we rounded them all up in the UK, and all threw our communities together."
At present, there are around 30 employees, most of them full-time, split between Manchester and the rest of Britain. At 27, Jones is easily the eldest in a company that boasts an average age of 22. Some of the firm's content creators, such as Cathal Berragan, are still making their way through university, and have a history of building big followings on Twitter. Berragan's first Twitter page was Exam Problems, which he started when he was 16 and now has almost 70,000 followers.
Another team member, Hannah Anderson, 22, says she just began making pages for fun. "I was playing on The Sims, and I had 60,000 followers on my personal account. I know enough about it to make funny stuff up about it. That accrued 20,000 in the first week."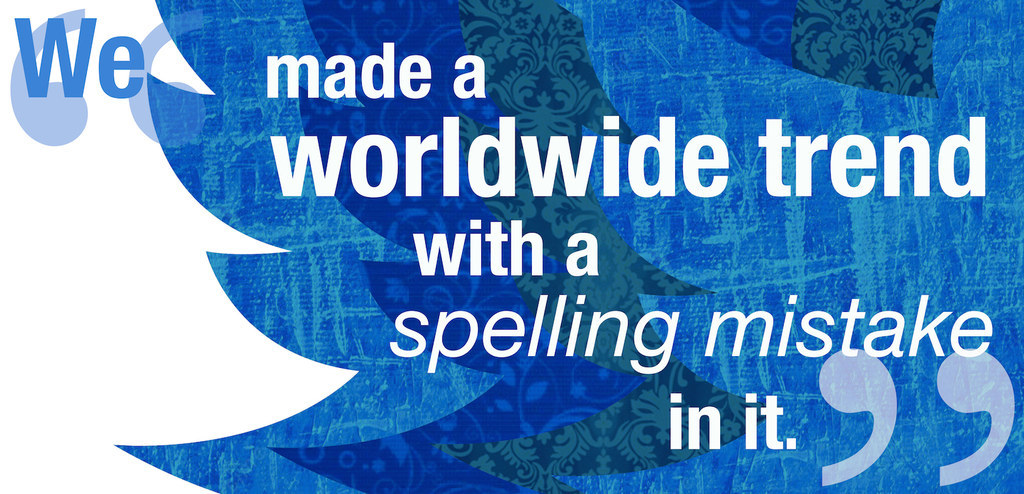 She brings up an incident that sparks laughter from around the table, one that captures the unusual online influence the group can have. "We made a worldwide trend with a spelling mistake in it," McGregor says.
They had been watching last summer's World Cup closely, looking to capitalise on the global conversations happening on social media. One of the highly successful hashtags that resulted ended up being "Thing More Likely Than Brazil Winning The World Cup", instead of "Things More Likely..." The flawed hashtag was still a hit, and was rounded up by Mashable, The Lad Bible, and the IB Times. "There were 300,000 tweets about it," says Anderson.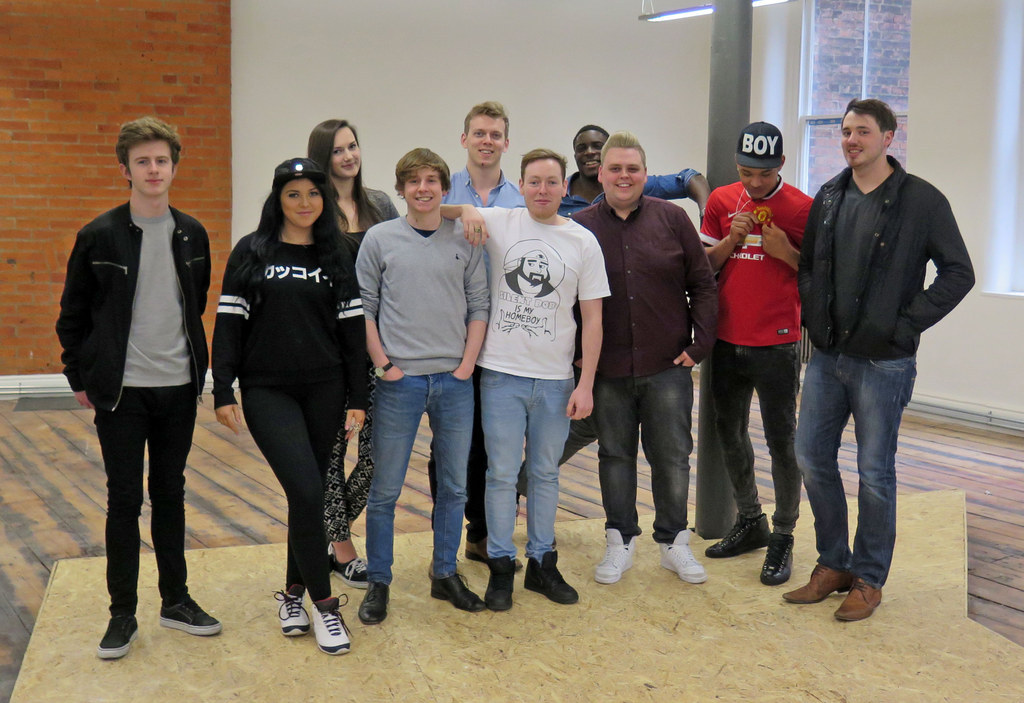 This massive scale and ability to completely take over online conversations has led to advertisers such as Asos and Haribo paying significant sums to Social Chain for brand promotion. According to Social Chain's founders, their top clients have spent in the region of £250,000–£280,000, while even the smallest campaign starts at £20,000.
The innovative advertising method they use is known as influencer marketing, and when the product fits with the method, companies can see great success. One promoted app, Tippy Tap, reached 100,000 downloads in the first eight hours of a campaign. Another, Sleepy Wings, broke through to tabloid newspapers such as the Daily Star, which described its popularity as causing "a meltdown on Twitter".
Social Chain's online dominance is strengthened by the sheer scale of its network. A new parody account can be rapidly retweeted by its huge existing accounts, gaining tens of thousands of followers within hours.
"Maybe six or seven out of 10 accounts are successful," says Berragan. If an account doesn't work, it can be converted into a different account under a new name, with a new concept, with ease. If you have ever found yourself following a parody account you have no memory of, this might be why.
Social Chain's most recent success was the Medieval Reacts account, which raced to more than a quarter of a million followers. But the originality of its content is questionable. Much of it, it turns out, has appeared on the internet before.
For example, the highly successful tweet pictured above left is an almost verbatim copy of a very popular Tumblr post from a year ago. Berragan, who created Medieval Reacts, admits he had seen that post, as well as other images used on the account from Tumblr. But he says the majority of the account's images come from other sources.
"There was a Tumblr post and it had all these medieval images," he says. "There are loads of blogs and websites that have documented how weird they are in the past."
In fact, Medieval Reacts has suffered from being copied itself, with dozens of accounts springing up in response, all using essentially identical names and even avatars. "You get used to it," says Bartlett, "and we don't complain any more – we don't chase them."
McGregor claims that 95% of the content on Social Chain's internal accounts is original, though this number is contested by other members of the team, who suggest it is lower without committing to a figure. They also maintain that there are different levels of originality depending on the account, and point to Sims Logic and Hogwarts Logic as examples of more original accounts.
But even with these accounts, whether it's a Sims Logic tweet using a Tumblr post or a Hogwarts Logic tweet that came from another Tumblr post, it appears that taking content found on the web without attribution is not an uncommon practice at Social Chain. And in the case of this Grand National joke, the whole thing was lifted from another tweet less than 40 minutes after the original appeared.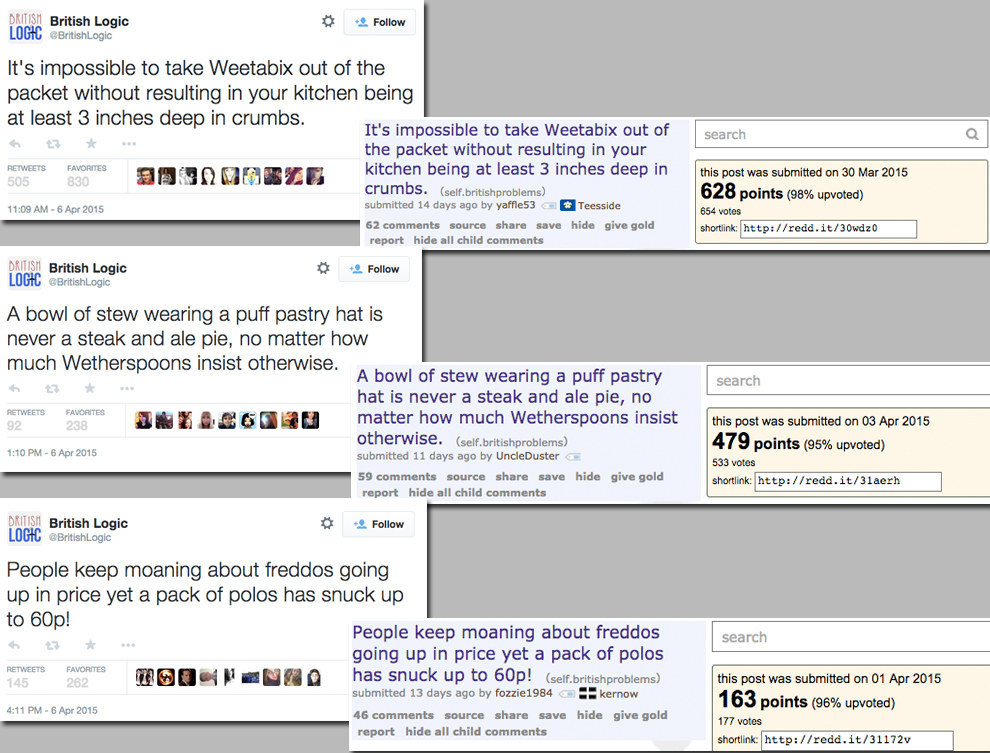 Meanwhile, British Logic, which has 198,000 followers, uses Reddit's British Problems subreddit extensively. Anderson, who runs the account, says it isn't an ideal situation: "It's when I try to get as many tweets out as I possibly can, and I'll look somewhere for inspiration, but then other than that I'll go through old tweets and what's happened this week. Then they take stuff off me as well."
It's not just tweets that Social Chain seems to source from elsewhere. There have been instances where the entire concept of an account appears to have been lifted. One early victim of this was Potter Today, an account that updates Harry Potter for the modern day. Within the first few months of its existence, a similar account appeared, called Modern Potter, posting tweets that were identical to the original.
The creator of Potter Today, John Michael Bennett, told BuzzFeed News that he started it as a personal project to de-stress. "At the time of its creation, I had been working multiple jobs while completing my undergraduate degree. I was overly stressed from a recent production night. When I'm stressed, I fall back on an old favourite – the Harry Potter series. My mother read the first four to me when I was a kid before she passed away, and I always found comfort in the books."
Shortly after Bennett tweeted about his disappointment in the jokes being taken, Modern Potter, which was being run by Anderson, stopped tweeting. It was converted into a different Harry Potter-themed account, still run by Anderson as part of Social Chain. Bennett says: "They didn't tweet at me with an apology, or say they were deleting it. As far as I know, they didn't acknowledge the theft at all."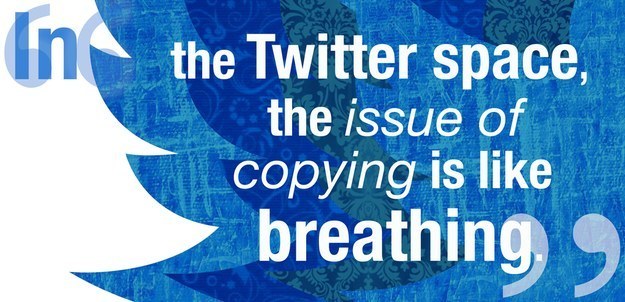 There are much more recent instances of this happening. Political Reactions, an account dedicated to mocking politicians, was started two days after very similar accounts had already been registered, and a large proportion of its initial content was taken directly from the existing accounts.
However, the size of the Social Chain network has led to its version growing faster and receiving a better response than any of the others. "If you tweet something out to that many people, you expect it to be redistributed," says Berragan.
But Bartlett doesn't think this is an issue. In fact, he describes the culture of Twitter as one of inherent theft: "In the Twitter space, the issue of copying is like breathing."
He also argues that Social Chain loses as much as it gains from copying: "The thousand people that copy us every single day, they gain followers which is going to help them on some level too."
"We have quite a strong moral compass," says Ash, describing how the team arrive at a consensus on what is acceptable and isn't. "I said we couldn't post about Ebola," says Bartlett. "I know we would have got a big payoff for it, but people are dying."
Some accounts do have content that could be considered questionable, such as Northerner Logic, which uses the word "chav" fairly frequently. When there are negative responses, it's clear the audience has objected, and the content creators try to avoid repeating the mistake. Although, as Berragan notes, "If they're actually replying, that's going to get the tweet more views anyway."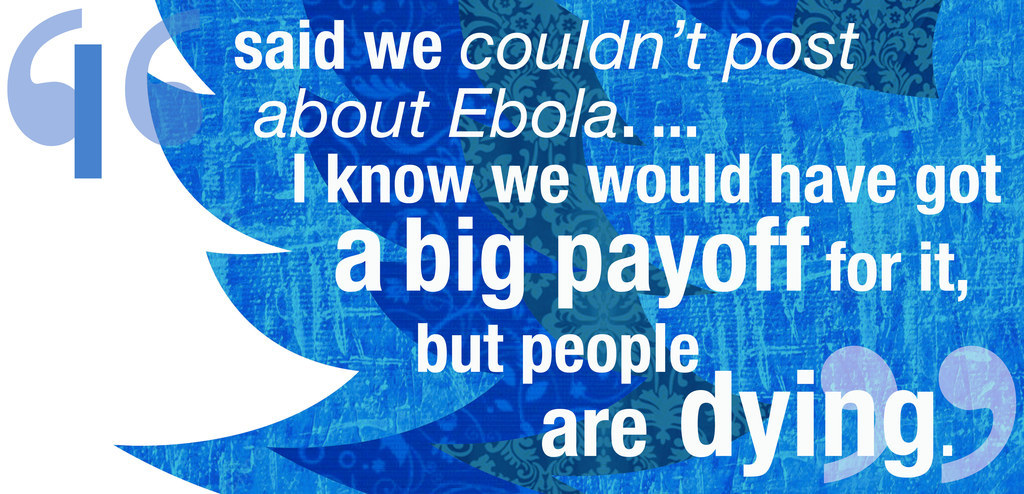 Social Chain is determined not to be limited by Twitter, or by the limits of its own accounts. It's expanding to Instagram, and working with a number of YouTube stars to promote Social Chain's advertising campaigns on Twitter. They post as though they have just discovered a new app or are using the product anyway.
TV celebrities have been involved as well, which is why Frankie Cocozza, the reality show contestant ejected from both The X Factor and Big Brother, happily tweets about new apps he's apparently a fan of. The Only Way Is Essex's Maria Fowler, Geordie Shore's Vicky, and as many as 30 others have been involved, at a variety of different cost levels. "Some of the TOWIE lot are are still on TV, and they can charge thousands and thousands of pounds," Bartlett tells BuzzFeed News. "Someone who's off TV might ask for 50 quid."
The Advertising Standards Authority (ASA) has previously investigated celebrities who tweeted about products without disclosing an interest – according to its guidelines, "marketing communications must be obviously identifiable as such". Social Chain's three founders are acutely aware of this, and say they're investigating how celebrity tweets need to be marked up to ensure they do not contravene guidelines. "For us, it's been an ongoing thing, because we have to do that now," says Bartlett. "It's something we're working out."
They're less concerned about flagging up which tweets are adverts on the parody accounts, something that doesn't appear to have been considered so deeply. "We do it every time if the influencers have management," says Bartlett. "With the parody accounts ... it's not been the case." As of yet, none of their parody accounts have started flagging up specific tweets as being sponsored.
The ASA told BuzzFeed News: "If any social media account (including celebrity and 'parody' Twitter accounts) are tweeting ads and it's not clear from the context that these are marketing communications, then they need to be labelled as an ad."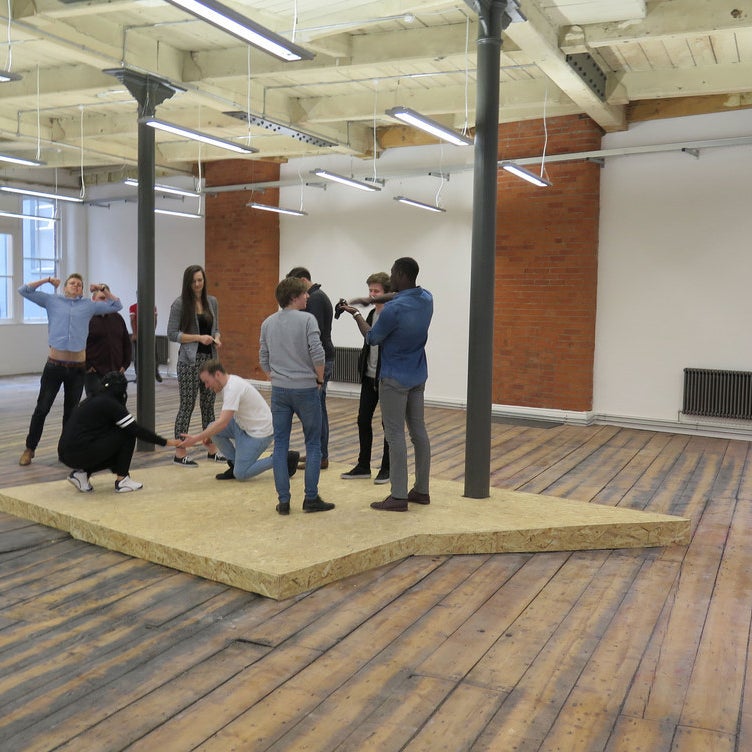 Social Chain is a rapidly growing UK media company. Its accounts reach millions of people every single day, many of whom don't realise there's a company behind them.
Its founders are keen to show BuzzFeed News their new office, which is replete with high ceilings and exposed brickwork. It's just down the corridor in the same building as their current, temporary space. They're in the late stages of renovating it and are frustrated by the delays they've experienced getting it finished.
It's still a work in progress, but the group is clearly excited. Each of them has had one request granted for a "luxury" to be put in. A basketball hoop is planned to take advantage of the wooden floors and a gap in the hanging lights. There's going to be at least one hammock. And in one recessed end, a mezzanine floor is to be added, some way off the ground, so they can build a slide that will lead into a ball pool.
"There'll be some desks, too," adds McGregor.