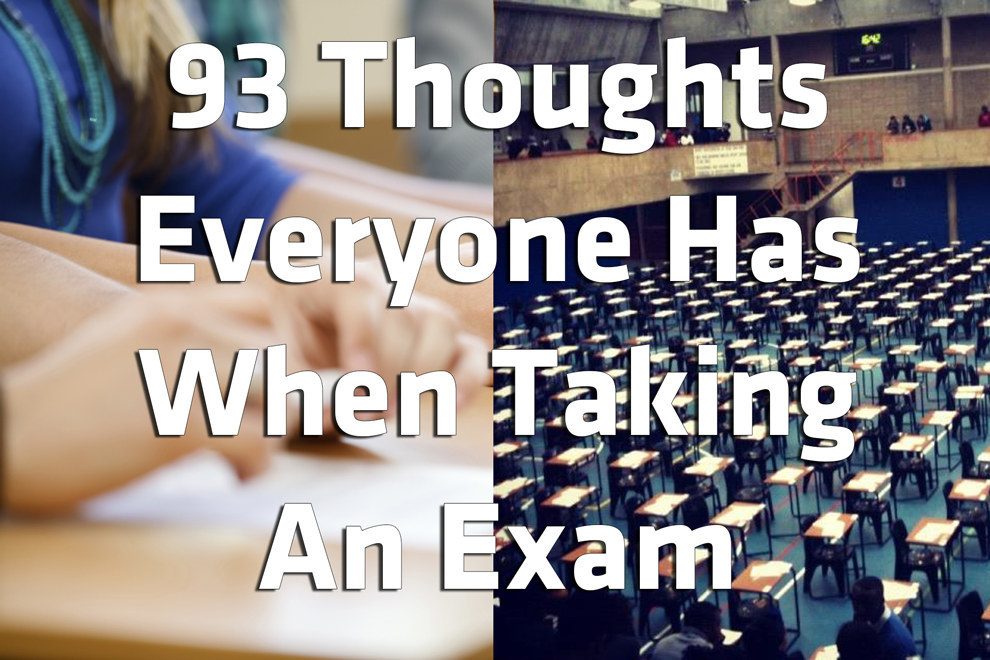 1. Right, I'm definitely prepared for this exam.
2. Not like the last one, I was never going to be prepared for that one.
3. That was just me trying to avoid crying.
4. I won't need to cry this time.
5. I'll just check the revision guide one more time.
6. Yeah, I remember all this. This is fine.
7. Is this fine? I don't remember this bit.
8. OH GOD I MISSED A WHOLE CHAPTER
9. It's fine, I'll just ignore those questions. That's how it works.
10. How does everyone else look so calm?
11. That guy is just on Twitter.
12. And she's revising for a different exam.
13. She's either really, really confident or really, really screwed.
14. Why are they laughing? Why are they all so happy?
15. I hope I brought everything I needed.
16. What if my pen runs out of ink?
17. What if my back-up pen runs out of ink?
18. What if all the pens run out of ink?
19. What if there's an apocalypse and all that's left are pens with no ink and this exam paper.
20. Maybe I'll get a C then.
21. The point is, I can do this.
22. Oh good, we're going in.
23. I bet my seat is right at the front, so the examiner looks at me all the time.
24. Or right at the back so I have to look at the entire room.
25. It's all alphabetical, so I just need to find my name.
26. Everyone is basically already sat down, how can't I do this?
27. Where is my name?
28. Wait, WHAT IS MY NAME?
29. IT'S ALL GOING TERRIBLY WHAT IF I'M IN THE WRONG… oh, there it is.
30. Look at all my neatly lined up stationary. This will definitely get me an A.
31. Something has to.
32. I have heard invigilators giving instructions way too many times at this point.
33. What if I just never turn my paper over? Can't lose if you don't play.
34. ARGH no I have to. OK. This looks do-able.
35. I know a bunch of this. OK. Yes.
36. Don't write too fast or it'll be illegible.
37. Don't write too slow or it'll be unfinished.
38. I don't know this one. It's just one. That's fine.
39. Hmmm, or this one either. Was this on the module?
40. I was DEFINITELY never taught this.
41. OR THIS WHAT THE FUCK.
42. Oh for fuck's sake, I don't know anything.
43. Can't wait to move to Outer Mongolia to live as a goat.
44. How is anyone writing? No one knows any of this.
45. Surely we could just strike, as a group.
46. Like, Marx had a point, probably.
47. I can hear everyone writing.
48. Fuck it, just got to try and get stuff down.
49. If I keep writing everything I know, something is probably going to be relevant.
50. Fuck shit fuck shit fuck shit fuck.
51. Cunt cunt cunt cunt cunt cunt cunt.
52. Except those words.
53. This isn't going well.
54. Actually, I think I can do this question.
55. Why am I only halfway through? There are so many questions.
56. OK, if I write continually for… ever… I can do this.
57. Ok, the next question needs about 15 minutes. The one after that needs about 10 minutes.
58. So that means I have 18 seconds to spend on the last one that makes up all the marks. Nice.
59. Did the invigilator just come and stand next to me?
60. Are they doing that thing where they have to pick the dumbest person and stand next to them?
61. Or maybe it's the smartest.
62. Yes, focus on that.
63. No, focus on WRITING MORE WORDS.
64. More words.
65. Why not words happen.
66. Things page be.
67. WORDS WORDS WORDS.
68. PAGE WORDS HAPPEN.
69. Fuck-trumpets.
70. Was my hand always shaking?
71. Oh my god it actually hurts. That is cramp.
72. That is a really bad cramp.
73. Everyone else seems to be doing this really easily.
74. Did she just ask for more paper? I have so many pages left.
75. Did he ask for more as well?
76. Hopefully they just have massive writing. And are leaving every second line blank.
77. Five minutes fuuuuuuuck.
78. Pissing hell, my hand is falling off.
79. Everything I've written is wrong, I'm pretty sure.
80. I can't remember any more facts. Are there facts?
81. Are facts a thing?
82. I have so many questions unanswered.
83. AND I NEVER WENT BACK TO THE ONE AT THE START.
84. Just conclude this bit.
85. What was I trying to prove?
86. "In conclusion, this supports my original hypothesis."
87. Nailed it.
88. Time's up but-if-i-keep-writing-they-cant-take-my-paper-away.
89. Come on, come on, come on WRITE MORE.
90. AAHH my paper's gone and fucking hell, this is the end, this a fucking shitshow, what have I just done to my life.
91. Actually, now I think about it, that went pretty well.
92. And it's only 3pm and I'm done for the day.
93. Wonder if anyone's up for a cheeky Nando's.