The city commuter looking to economize on transportation costs and even shave valuable minutes off their commute may choose to ride the urban landscape astride a manually powered set of wheels. When it comes to city bikes comfort and stability are important but so are compact sizes and portability in elevators, offices subways and more.
This is where the foldable bike offers important advantages over the full-sized urban cruiser. The best foldable bikes can collapse in an instant to fit onto a crowded train, store under a desk and can still be ridden with confidence and stability offered by full-sized bikes.
A good foldable bike will also last you many years with the proper care and maintenance. There are some important considerations you will want to keep in mind to ensure you get full value from your foldable bike.
The most important thing to know is that not all foldable bikes are created equal. There are a great many designs and varieties of wheel sizes, speeds and other features to consider and quality is never cheap. Depending on the budget you have you will need to economize on the design, handling, speeds, foldability or other features.
To make sure you find a bike you will love and use and not regret a couple months down the road, pay attention to your personal needs an urban commuter, family excursionist or avid cycling fan.
What will you use your folding bike for?
Not all folding bikes are supposed to be fit under a desk or in your back pocket. Some foldable bikes have full-sized wheels and support the same positions as a conventional sports bike. While this is great for the inhabitant of a tiny apartment it may not work well for the commuter needing to stow their bike in a small cubby hole or desk area.
Those made for high portability will have a good many design features that facilitate storing and stowing the bike. Those looking for a sports bike for exercise and convenient storage will find mudguards, water bottle storage, lights and even interchangeable pedals for road cycling. Following are some cool accessories that can be applied to your ride.
Then there are some very fine brands that take the art of urban cycling to another level with specially designed luggage carriers, accessories and a dedicated clothing line.
Folding bikes are certainly a chic and cost-effective trend with a keen following of health conscious individuals.
How much do I need to spend?
A better question would be how much can you feasibly invest in the upgrade to your lifestyle? You will find a suitable durable option for as low as a couple hundred dollars or even a few thousand. It is obviously a poor idea to buy the cheapest option as this will mean a heavier bike that will wear out faster and need replacing sooner.
By the same measure, your urban commute will hardly need the lightweight strength of carbon fiber, aluminum or even steel will do just fine. Most foldable bikes are considerably lighter than the full-sized bikes and will give you no trouble up a flight of stairs or over the occasional obstacle.
You will find an excellent selection of options at the following list of Top 10 Best Folding Cycles.
So, which one should I buy?
Folding bikes have evolved beautifully over the last decade or so and you will a great many varieties for a variety of purposes. The key to making the best selection will be knowing what use you will have for your foldable bike.
If you will be riding daily for a short to medium distance at a relaxed pace, the smaller wheeled options will do perfectly. Smaller wheels may be suited to shorter distances, but don't assume you will sacrifice speed, comfort or stability. The quality of the ride is very impressive and the comfort can be maximized with a dedicated gel seat.
The larger wheels will feel more like the conventional bike you have ridden since you were a kid, but won't fit as nicely on the city bus or under your desk. The important takeaway is that there is an option for everyone and every purpose as well as for any budget.
A Final Word of Warning on Portable Bikes
Outside of lighters, pens and candy from babies, bikes are the easiest possession to nick in an instant. Thieves love bikes as they can provide an inconspicuous getaway for the fleet of fingers then be stripped down and rebuilt to be resold for a dishonest buck. Don't let it happen to you, the following link has some of the best bike security options available on the markets today.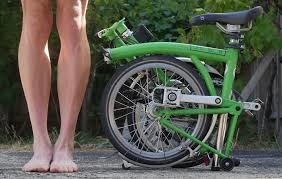 This post was created by a member of BuzzFeed Community, where anyone can post awesome lists and creations.
Learn more
or
post your buzz!
Looks like there are no comments yet.
Be the first to comment!