1.
A bottle of Wet and Forget shower cleaner that'll give you a squeaky clean shower minus the hours of scrubbing. Once a week, just spray the whole shower down with this stuff, let it sit overnight, and rinse it off the next day. It'll do all the mold- and mildew-fighting for you. Magic!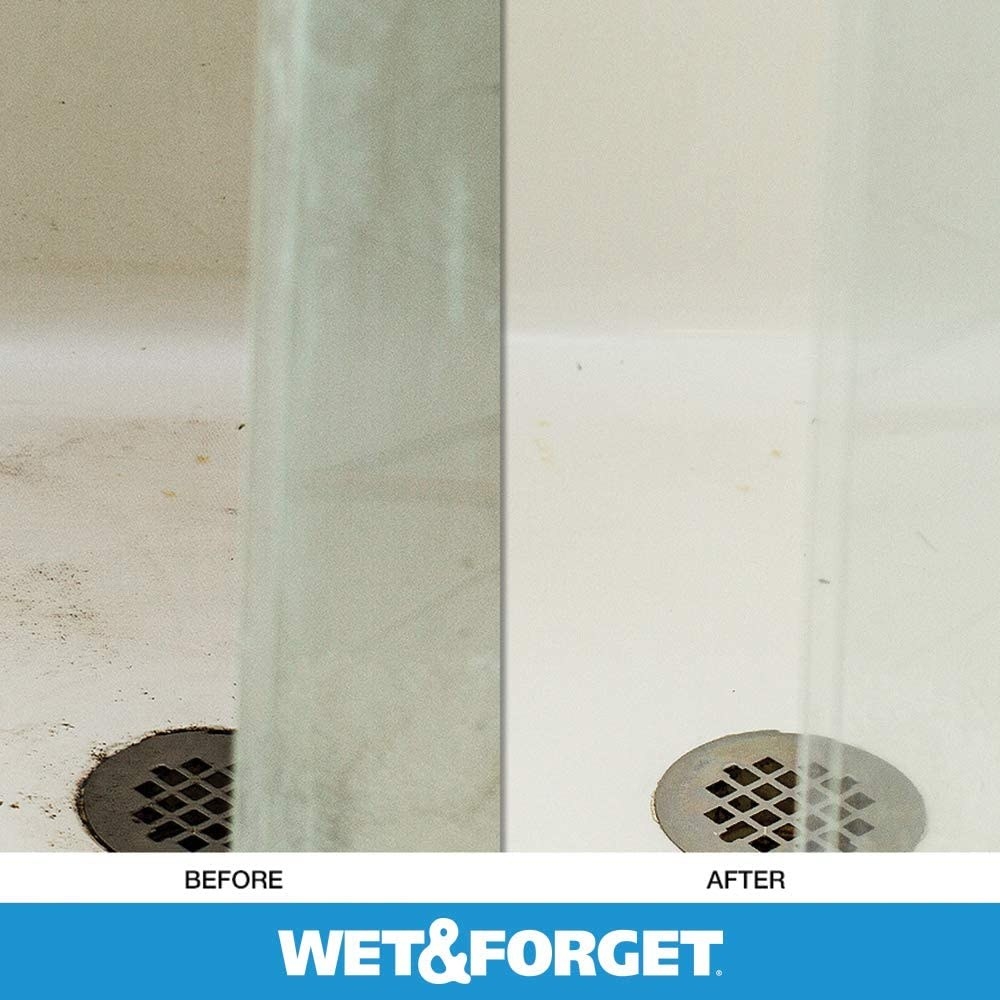 Promising review: "We cannot BEGIN to tell you what a lifesaver this is! We have two old fiberglass tubs with vinyl shower enclosures that no matter what amount of scrubbing we have done with everything from bleach to cleanser to vinegar and baking soda would NOT come clean. After I took my shower last night, I sprayed down the tub and walls. Within minutes, all the built-up water deposits and dirt and grime began to melt away in front of my eyes. I left it on overnight, and when I got up this morning, it did not look like the same tub and shower. This product is a godsend, especially for old folks like us who have difficulty getting down on our hands and knees and scrubbing anything. More importantly, it performs as advertised. We plan on using it as part of our weekly cleanup routine. This is truly an overnight sensation!" —Amazon Customer
Get it from Amazon for $19.54.
2.
A pack of dishwasher cleaning tablets, because cleaning the things that clean other things is truly next level cleanliness. Usable even with a full load of dishes inside, these little tablets will get the guts of your dishwasher just as sparkling as your flatware. 
Promising review: "Convenient, easy, quick way to keep the dishwasher fresh and working at peak." —Amazon Customer
Get a pack of six tablets from Amazon for $8.99.
3.
A reviewer-beloved true HEPA air purifier, because even if you didn't realize that you needed one of these until, uh, recently, it's definitely worth the investment. These suckers are a true household workhorse, from improving ventilation in general to filtering out specific things like paint fumes or pet smells. (Ask me and my cats' litter boxes how we know about that last one!)
Promising review: "This is an excellent purifier for those who are affected by cat dander, mold, and other problems associated with breathing difficulties. I have several cats so there is so much hair in the air in addition to their dander. This machine has solved my breathing problems during the night (I use it in my bedroom). In fact I am sleeping better every night, which I'm sure is due to the cleaner air that I am breathing. Another plus is that I'm using a great deal less tissues." —Linda Cruz
Get it from Amazon for $89.88.
4.
A pro-level grout cleaner that'll give the in-between spaces of your tiles a new lease on life. Fun fact: Your grout is probably not gray. Plop some of this stuff on it for a few minutes, scrub, and then rinse, and you'll see what I mean.
Promising review: "Amazing product. We had very rough grout in a high traffic area that I thought for sure would require grinding and regrout. But five minutes and light brushing made it look brand new. Even the really tough areas look new! This works better than any product we've ever tried. Money well spent and one bottle did three rooms!" —Scott S.
Get it from Amazon for $21.95.
5.
An enzyme-powered stain and odor eliminator spray, because every pet owner knows that having one of these in your cleaning arsenal is non-negotiable. Pet messes of every imaginable variety — and probably ones you've never dared to imagine, too, for that matter (*shudder*) — literally break down in the face of this stuff, removing all traces from both sight and smell.
Rocco & Roxie is a family-owned small business named after the Magleby family's pets Rocco, a Labradoodle, and Roxie, a former shelter tabby cat. They make a variety of pet supplies, including cleaners, treats, grooming tools, accessories, and toys.
Promising review: "I have six elderly cats, and a few of them oftentimes leave smelly pee puddles to register their disdain at whatever cats get 'peed off' about. It's not a litter box problem and, although I've caught one or two of them doing it, I can't blame them all. This product works great on fresh messes as well as dried ones. After blotting up fresh pee pads, I saturate the area with Rocco & Roxie's odor remover and let dry. For dried stinky stuff, I just saturate the area and let it dry. It has a pleasant odor and completely eliminates the ammonia odor. Believe me, I've tried all kinds of products, and this one works the best. I buy gallons now just to have on hand. It's better than smelling that awful pee!" —mona mia
Get it from Amazon for $19.97+ (available in two sizes).
Check out our in-depth Rocco & Roxie Professional Strength Stain & Odor Eliminator review.
6.
A box of rinse pods for your Keurig, because have you looked in there recently? It's a horror show. Happily, cleaning the nastiness that is the inside of your coffee machine after it's been left to its own devices for too long is easy to do: Just run your Keurig as usual, subbing out your regular coffee pod for one of these rinse pods instead; then, run one more cycle with just water to get everything sparkling inside.
Promising review: "Thought I was having problems with my machine. Used two cups to flush the entire coffee maker out and it started working like new. Totally satisfied!" —Dara Pazooki
Get them from Amazon for $9.95+ (available in packs of six, 12, and 18 pods).
7.
A fish-shaped humidifier tank cleaner that'll keep the inside of your humidifier from getting super gross, super fast. Let one of these lil' guys swim around in the tank and it'll slow down any... growths that might want to spawn in there for up to 30 days. 
8.
A pet hair-focused handheld vacuum, because if you have a furry friend, then you also probably have a furry couch — even if it's not actually supposed to be furry. This hand vac's nozzle is specially designed to grab pet hair and fur, and the whole thing is bagless to boot. Cleaning up after Mittens has never been so easy.
Promising review: "I have a 13-year-old beagle and my daughter has two rescue kittens, one of which is a Maine Coon. Needless to say there's lots of hair in my home and on my furniture. I tried a lint remover, a Shop Vac, and manual labor to get all the hair off my couches with no luck. Then I found this on a BuzzFeed article. Wow. The reviews lured me in and the actual product sold me. I spent two glorious, satisfying hours yesterday vacuuming hair off every surface in my house and I can't believe how awesome this little machine is!" —Jacque Jones
Get it from Amazon for $30.22.
9.
An instant carpet spot remover that reviewers say make even the worst messes vanish right before your very eyes. Coffee? Red wine? Pet-induced yuckiness? Something... else? Dab some of this stuff on it, give it a quick little scrub, and blot it. Voilà! And for my next trick...
Promising review: "This stuff is AMAZING. We have a 1.5-year-old puppy and have make several futile attempts to clean up carpet stains from her potty training days. Another dog owner clued us into this, and we cannot believe we didn't buy it sooner. Seriously, the same night this arrived, I spilled an entire bottle of beer on white carpet (oops), grabbed the Folex, sprayed a bunch onto the stain, massaged it into the carpet with my finger tips, and blotted with a damp towel. You can't see ANY remnant of a stain. I've also attacked old stains (like one-plus year old) and saw the same results. Seriously, buy this!!!" —AKM
Get it from Amazon for $6.65.
10.
A fun gel dust cleaner that's as satisfying to use as it is effective. With a Gak-like texture and a fresh lemon scent, this squishy dust remover can smoosh itself into even the oddest of corners – and the gunk it'll pick up is truly astounding.
Promising review: "WOW!!! This stuff is incredible! I work in an environment that is very dirty and our office is always covered in a fine layer of dust. Just a few minutes spent mashing this slime into all the cracks and crevices of my keyboard, mouse, phone, etc and it's all clean as can be! This stuff picks up dirt on contact and leaves behind a clean, no smell, no residue surface. I bought a second jar for my vehicle and it works miracles in there as well. My air vents, shifter and seats are now spotless. I couldn't be happier with this product." —Jenna75
Get it from Amazon for $6.88+ (available in three colors).
11.
A teeth-whitening pen to make your pearly whites, well, pearly white again. Each pen is good for up to 20 uses and can lighten stained chompers between four and eight shades – and it's a whole lot easier to use than messy and complicated whitening strips.
Promising review: "This worked quick! I'd say I noticed a difference in three days in my teeth. It's super easy to use. Just brush and floss your teeth, dry them with a tissue, and apply. You only have to hold your mouth open for 30 seconds and then you can relax. Not much of a taste either. I love them!" —Amazon Customer
Get a two-pack from Amazon for $13.59.
12.
A deep-cleaning mold and mildew remover so you can literally dissolve all that unsightly buildup on your bathtub or shower's caulk. This stuff takes a bit of time to work – it's best applied, left on for several hours or ideally overnight, and then rinsed off later – but y'all? Speaking from experience, it works.
My tub has a tendency to... grow things. (It's the water in this house, and also maybe the pipes, because this place was built in 1981 and is officially middle-aged.) I do not love it. But you know what I do love? This mold-remover gel. I got myself some of this last year and did as directed – apply, leave on for a substantial period of time, and then rinse clean – and the results were truly astonishing. All that black gunk, gone! As if it had never been there! SORCERY!  

Promising review: "This stuff is amazing. I live in an older apartment complex and even though I scrub and clean my bathtub every week, the caulk around the edge still managed to grow mold and turn brown/ black. I scrubbed with many different products and it didn't seem to make a difference. I found this product and the transformation is huge. First, it's easy to apply because of the squeeze top. I was able to just really focus on the caulk. Then, because it's a gel, it stayed put and didn't ooze everywhere. It really surprised me on those vertical sides. In the first picture, I already scrubbed my tub and even used some sturdy brushes attached to my power drill. The second half of the picture is after five hours of letting this mold remover soak and just wiping it off." —Rochelle
Get it from Amazon for $14.99.