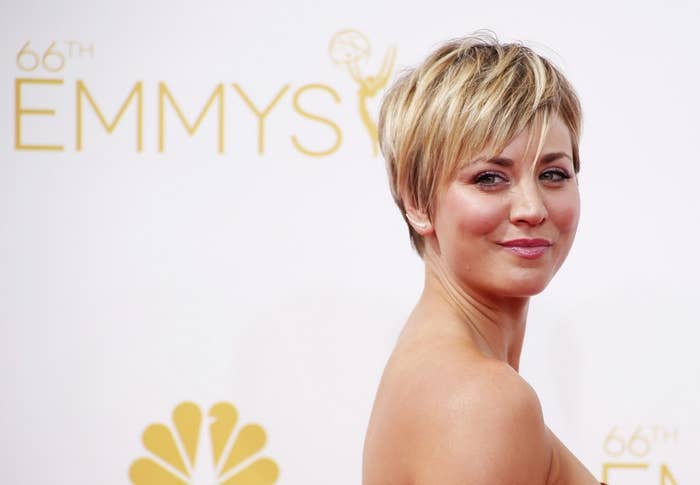 The Big Bang Theory's Kaley Cuoco-Sweeting couldn't let go of 2014 without making headlines for her interview with Redbook Magazine, in which she discussed her feelings regarding her breast implants (hint: they're positive) and the relatively-recent hack of her nude photos. What's drawing the most attention, though, are the 29-year-old's comments regarding feminism and her take on equality.
When asked by Redbook Magazine about her take on the feminist movement, Cuoco-Sweeting responded, "Is it bad if I say no? It's not really something I think about. Things are different now, and I know a lot of the work that paved the way for women happened before I was around...I was never that feminist girl demanding equality, but maybe that's because I've never really faced inequality."
What we should take away from this: Ultimately, what we should recognize is that while Cuoco-Sweeting may not consider herself a feminist, she admits (though perhaps without realizing) that her position comes from an area of privilege. Having "never really faced inequality," Cuoco-Sweeting views feminism from the perspective of a privileged, white, American woman. She recognizes the inherent connection between feminism and equality, but fails to understand that while she, in her position as a celebrity figure, may experience what she considers equality, minorities and underprivileged women across class, race, and gender identity, most certainly do not. When women in the United States are earning roughly 73% to 77% of what men earn across a lifetime, have a roughly 1 in 5 chance of being raped during their lifetimes, and have historically only held 4.6% of Supreme Court Justice positions, it's very evident that inequality is still alive and flourishing in our country.
Cuoco-Sweeting's experiences with inequality fall in line with those touted by women against feminism across the internet. Still, considering that most of those women come from white American backgrounds and thereby carry a large amount of privilege, isn't it time to start listening to the women who do not?