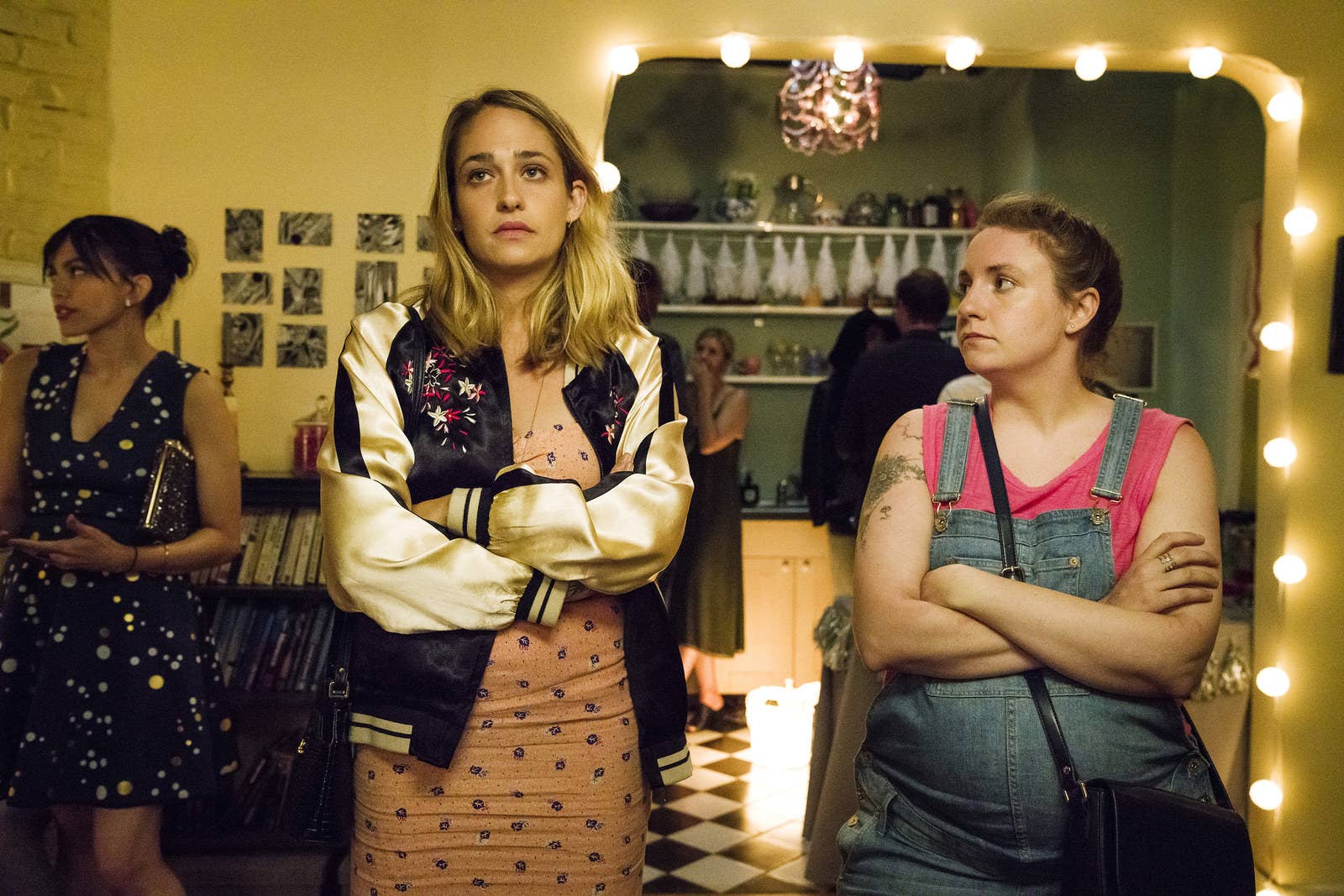 In the penultimate episode of Girls' final season, Hannah (Lena Dunham) inserts herself into a conversation between three college students. "I'd like to remind the three of you not to sleep on this friendship, because I know it feels like it's just gonna be, like, love and lust pushing you forward, but lust fades and friendship never does, if you nurture it," she warns.
Hannah is wrong, of course: Friendships can fade, even when valiant attempts are made to, at best, strengthen them and, at worst, sustain them, a harsh reality that is readily apparent throughout the aptly titled "Goodbye Tour." The episode sees Hannah reconnect with her core group of friends — Marnie (Allison Williams), Jessa (Jemima Kirke), and Shoshanna (Zosia Mamet) — only to discover that they're as incompatible as ever. Even as they make amends and come together to dance the night away to the latest Banks single, it's clear that this group is fractured beyond repair. That's not a happy ending, but it's not a bleak one either. It just is.
Shows like Sex and the City — which paved the way for Girls with its HBO-defining focus on female friendship and unapologetic sexuality — repeatedly underlined Hannah's pronouncement that while love is fleeting, friendship is forever. No matter what was going on in her romantic life, Carrie (Sarah Jessica Parker) always had Miranda (Cynthia Nixon), Samantha (Kim Cattrall), and Charlotte (Kristin Davis) to fall back on. They outlasted the series, reappearing in two movies that reinforced their unshakable decades-long bond. It's certainly admirable to portray friendship as a constant, unyielding force in an otherwise chaotic world, an essential contrast to the tenuousness of romance and sex — but that's not necessarily realistic.
The bravest thing Girls has done in its final season is to pull the rug out from under the idea that friendship is somehow sacred when in fact it can be a lot closer to romantic love than Sex and the City once had us believe: It's contextual, sometimes as much about circumstance than any sort of innate kinship. That's especially true in your twenties, the decade in which young people grow into adulthood and often move past the friendships of convenience that dominated their college years. The episode before "Goodbye Tour" broke up Hannah and Adam (Adam Driver) for good and threw water on the TV concept of an "endgame" relationship. "Goodbye Tour" is a reminder that forever friendship is a similar fantasy, however comforting the notion might be.
At times, the episode is sharply cynical about friendship. Elijah (Andrew Rannells) consoles Hannah, who is having trouble connecting with Marnie and Shosh, by telling her, "You've made so many wonderful friendships here." Immediately, they break into laughter. "That's not a thing," he continues.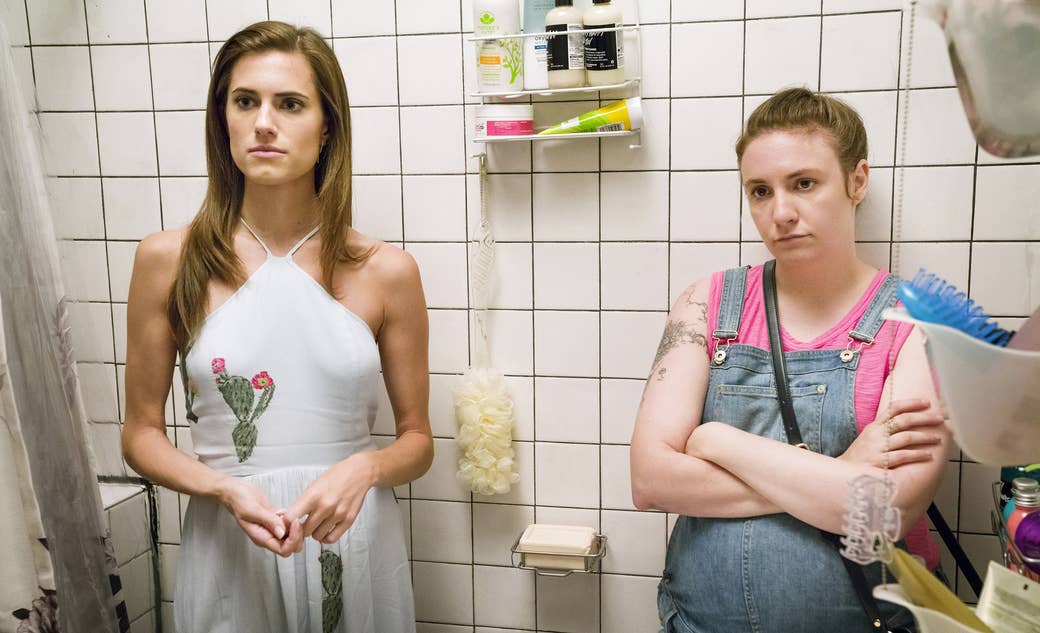 When Hannah does finally meet up with Marnie and Shoshanna — and Jessa, to whom she's not speaking — Shosh offers a scathing indictment of the once tight bond among the four of them: "We can't hang out together anymore, because we cannot be in the same room without one of us making it completely and entirely about ourselves."
Shoshanna has been conspicuously absent for much of this season, but in "Goodbye Tour" that pays off. Hannah's shock about Shoshanna's engagement — she didn't even know she had a boyfriend! — mirrors our own. Because Hannah is our most consistent entry point in the series, we've seen Shosh through her eyes. Her lack of screen time throughout the season reflects that unspoken estrangement. But with that space, Shoshanna gets clarity. She tells the others, "I have come to realize how exhausting and narcissistic and ultimately boring this whole dynamic is, and I finally feel brave enough to create some distance for myself."
The confrontations are not all so biting. Hannah and Jessa do finally approach reconciliation — things haven't been the same since Jessa started dating Adam, and Hannah mined her feelings of betrayal for a "Modern Love" column, and Jessa and Adam made a movie about his and Hannah's relationship. Their tearful conversation is one of Girls' most poignant moments, mainly because it's refreshingly honest. While Hannah suggests, "We were all just doing our best," Jessa counters, "Our best was awful." These women can now inhabit the same space without screaming at each other, but they're not going to be BFFs again. No matter how much they might cling to their connection, all four of these former friends bring out the worst in one another. The "worst best," as Hannah terms it, isn't something to settle for.
"Goodbye Tour" was the last we'll see of Jessa and Shosh, who both got fitting (and bittersweet) conclusions to their arcs. Sunday's series finale may provide some closure for Hannah and Marnie, but it likely won't be a return to what they once had. And while there's something deeply painful about that — the dissolution of friendship is its own special kind of heartbreak — it's grounded and frank in a way that represents Girls at its best. Learning that everything fades eventually is one of the toughest lessons in growing up.