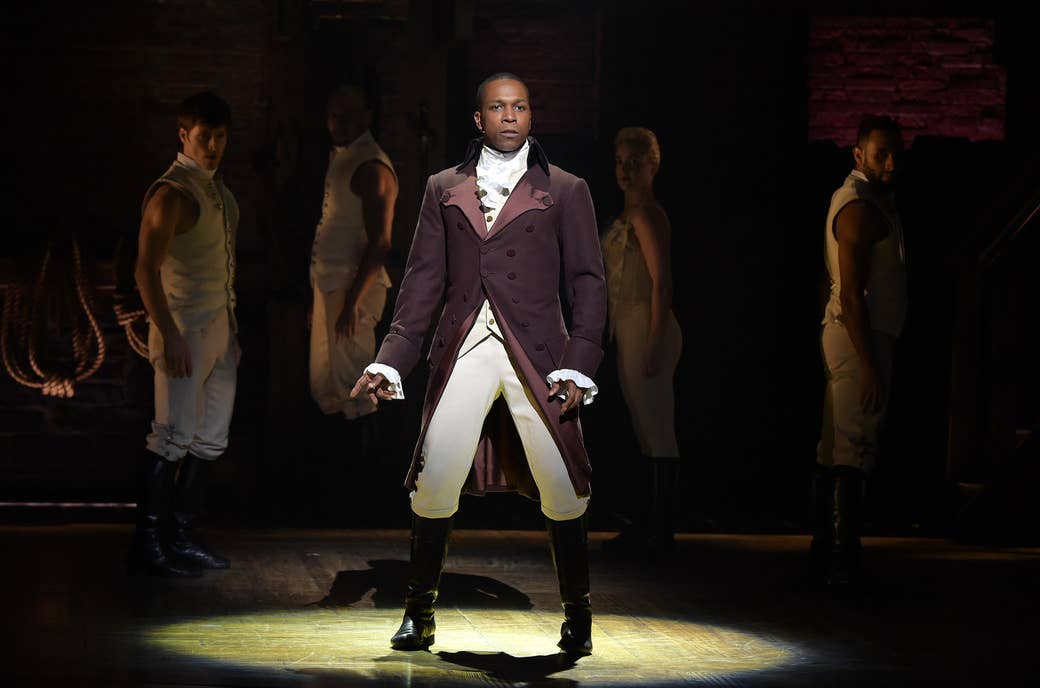 The first time Leslie Odom Jr. had an emotional response to Hamilton was months before he was performing in it.
In the summer of 2013, Odom saw a workshop of what was then called the Hamilton Mixtape as part of a festival of new work at Vassar and New York Stage and Film's Powerhouse Theater.
"I saw that it worked in six seconds," he told BuzzFeed News at the Hester Street Café in the New Museum on New York City's Lower East Side. "Six seconds into that opening: 'How does a bastard, orphan, son of a whore, and a Scotsman…' You're like, Something's about to happen. Something. Those first lyrics — what the fuck is happening here? And by the end of the opening number, you're in even deeper."
What moved Odom most was the way the show's cast was populated largely by actors of color, including Indian-American actor Utkarsh Ambudkar as Alexander Hamilton's adversary, Aaron Burr, a role Odom would eventually take over. While the historical figures portrayed in the musical were white, writer-creator Lin-Manuel Miranda deliberately conceived the roles for actors of diverse ethnic backgrounds.
"Actors of color rarely get to do material that is that well crafted."
By the end of "The Story of Tonight" — the song in which Hamilton, played by Miranda, forges a bond with contemporaries Burr, the Marquis de Lafayette, Hercules Mulligan, and John Laurens — Odom was in tears.
"I was watching great performances and hearing great music, but it was so—" he stopped to collect his thoughts. "Actors of color rarely get to do material that is that well-crafted. That's exciting. I was seeing something really special. So I was in a puddle, seven minutes into the reading."
At the time, Odom didn't imagine that eight shows a week on Broadway, he'd be playing Burr, the former vice president who shot and killed Hamilton in a duel. It's a responsibility that he's taken very seriously ever since he first assumed the role in a workshop in the fall of 2013.
Not only is Burr pivotal to the plot, but he also introduces the audience to the story and carries them throughout the show as its narrator. It's Odom as Burr who steps onstage first every night and begins the performance with the opening lines of "Alexander Hamilton" that moved him to tears the first time he heard them.
"I'm the tour guide for the night, and so it's my job to make sure they're OK, to make sure they're getting it," he explained. "It's my job to make sure they stay with me because we have a lot of ground to cover, and we're going quickly."
In that opening number, Burr lays out the plot and announces his culpability in Hamilton's death. So, it may be impossible to make Hamilton's ending a surprise, but that doesn't mean Odom isn't trying.
"I want them to forget, somewhere in the middle of the show, how it's gonna end," he said. "You go see a great production of Romeo and Juliet, where those kids are full of life and love, you hope and forget. You hope that it's gonna end differently, and you take the ride, when you see it done well."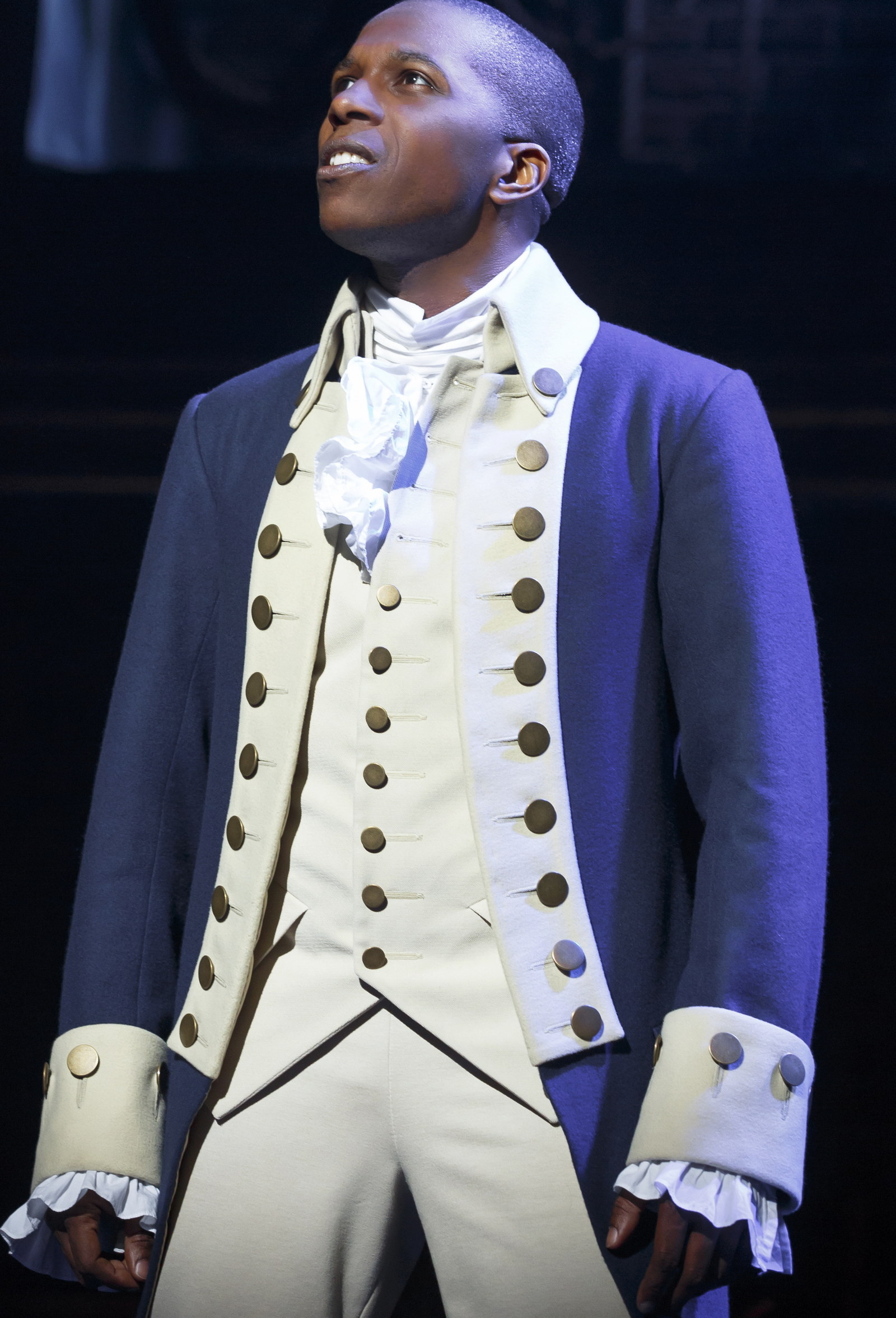 But even if the audience is primed for Hamilton and Burr's inevitable confrontation, the emotional potency of the moment can still catch them off-guard. Odom, for example, has said the line "I had only one thought before the slaughter / This man will not make an orphan of my daughter" onstage nearly 500 times. But with each performance of the musical's penultimate song "The World Was Wide Enough" — from the workshop, to the show's off-Broadway run at the Public Theater, to its Broadway opening in August 2015 — he tries to play it differently.
On the cast recording, Odom's voice cracks with emotion on the word "orphan," but he doesn't always break down in tears at the same time. Sometimes he doesn't cry at all. And sometimes, he's sobbing long before he reaches that point.
For Odom, choosing how to play Burr for the night hinges on the performers around him and the tiny variations that make each show unique.
"What I try to do is just to honor the truth of whatever we are collectively, whatever we have created in the room at that time," he said. "If we've created a simpler thing tonight, if we've created a quieter thing tonight, then that's right, then that's what we want."
"I just don't want to fuck this thing up."
That speaks to what Odom has learned after playing Burr for nearly three years: The audience isn't always going to respond to the same moments the same way. And even in a musical with near-universal acclaim like Hamilton, he's not resting easy.
"I want to know that I'm gonna knock 'em dead every night," Odom said. "But what I believe is knocking 'em dead, what this show has taught me, what this time in my life is teaching me, is that knocking them dead each night can look different."
He paused, grinning. "I just don't want to fuck this thing up."
"This thing" is something Miranda had been working on for eight years before it made it to the Public. Odom first met Hamilton's creator at the opening of 2012's Bring It On: The Musical, for which Miranda co-wrote the music and lyrics. At the time, Miranda had started performing the Hamilton Mixtape around New York and Odom was a cast member on NBC's musical drama Smash. Much like Hamilton and Burr, Miranda and Odom continued to run into each other at social events. It was a couple months after the summer Powerhouse reading when Odom got an email from Miranda asking him to join the next workshop in fall 2013.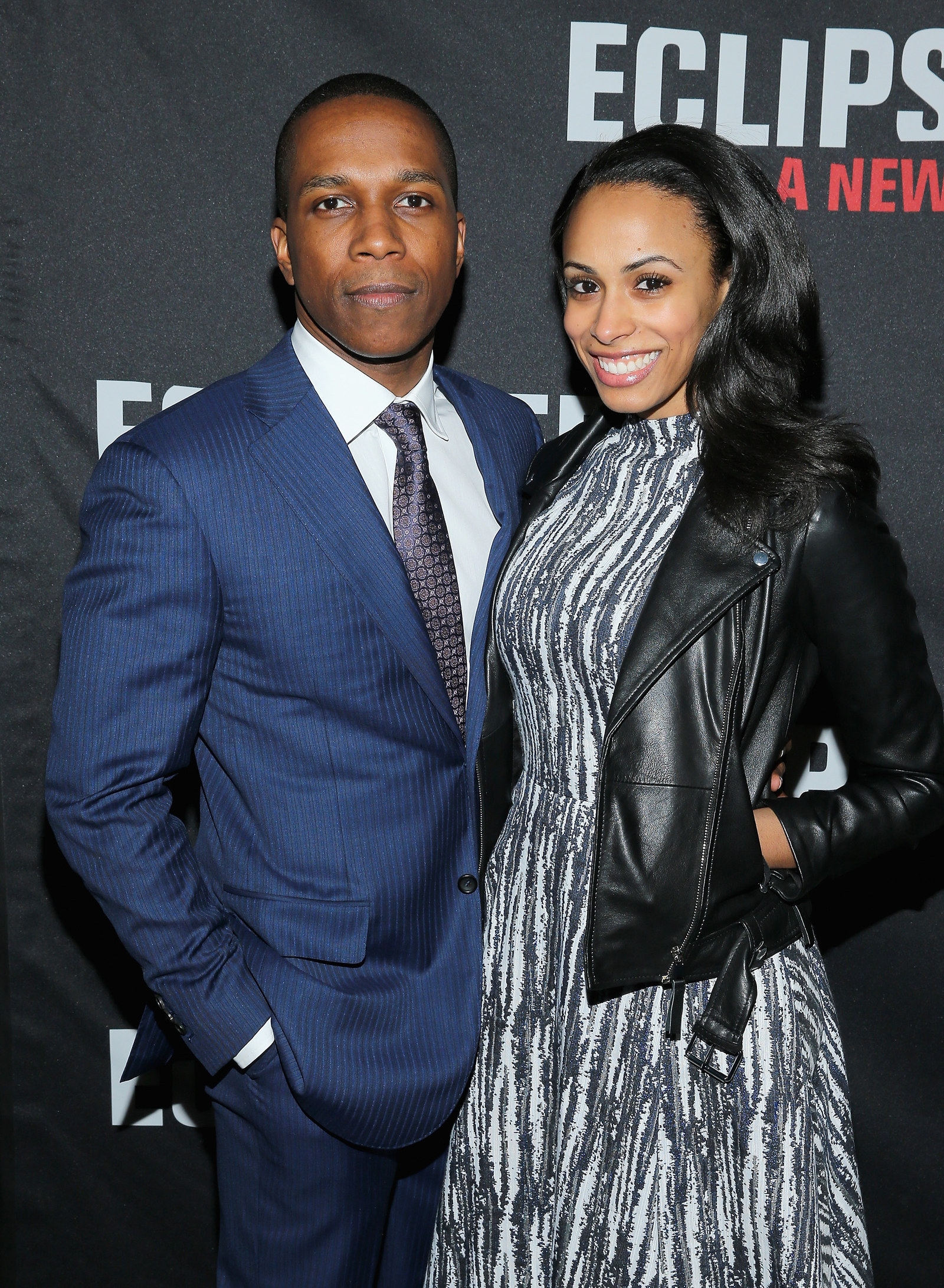 "He was just the happiest I've ever seen him, maybe aside from our wedding day," Odom's wife, fellow actor Nicolette Robinson, said in a phone interview. She had seen how the music had moved her husband at the Powerhouse festival, where she had been performing in another workshop. "There was just something with this piece that it was giving him so much life."
Before taking on the role, Odom dived into research. All he knew about Aaron Burr at the time was that he was once vice president and had killed Alexander Hamilton in a notorious duel. Now, discussing Burr, Odom is eager to highlight what he learned on his own, like the fact that Burr was one of the country's early feminists. "That's a really nice [point] to throw to counterbalance a lot of the things that were thought about him," Odom said.
"I'd never seen him prepare more for something ever in his life, because he loved this piece so much," added Robinson, who watched Odom pore over research materials. "He wanted to enter that room showing them that he was the guy to be a part of this project."
Odom's drawn-out attempts to understand Burr speak to the character's opaque nature: He is arguably the most complex figure in the show. While Burr is ostensibly the villain in Hamilton's story — a title he owns in "The World Was Wide Enough" — he's also a nuanced and ultimately sympathetic figure. To a modern audience, the idea of a duel is barbaric, but the show makes his arrival at the field where he shoots Hamilton feel like a natural conclusion to their fraught relationship.
"My job every night is to step in that man's shoes and walk in them."
Finding the balance between protagonist and antagonist is a uniquely satisfying challenge for Odom, and it's one he's thrived on from the moment he joined the cast. If he can't excuse Burr's actions, he can at least help the audience understand what led Burr to make the choices he did. That's part of why Odom spent time researching the real Burr — he has to take the empathy for the character in Miranda's book and articulate it for the audience.
"My job every night is to step in that man's shoes and walk in them, and my job is also to step in Alexander's shoes as much as I can and to walk in them," he said. "I do my best to try to understand both of their perspectives, 'cause that's complicated and that's rich. That's drama."
The opportunity to play a complex character of color like Burr is one that Odom recognizes as regrettably rare. Prior to Hamilton, he was accustomed largely to translating roles that had not been written specifically for actors of color. In those cases, it was Odom's job to infuse his performance with his perspective as a black man and to ground it in the black experience.
"Most of the things you work on don't succeed. And even the ones that do succeed don't matter like Hamilton does."
"I've done a lot of translation in TV, and I can do it. I'm trained to do it," he said. "I know how to inject a certain amount of my naturalness into that and where I come from into those things, but it helps if somebody's writing with my experience in mind."
Odom noted that black playwrights like Robert O'Hara (Booty Candy) and Colman Domingo (A Boy and His Soul) "are writing from the black experience." "I know those people," he said. "When I see the black experience — there's not one, but it is specific, and you can't ignore it."
Without disparaging the work he did before Hamilton — which includes Rent, his Broadway debut, and Leap of Faith — Odom acknowledged the "great joy and pride" he experiences performing the words written by Miranda, the son of Puerto Rican immigrants who not only creates characters with actors of color in mind, but also writes them from his own non-white perspective.
And Burr is the kind of part Odom has been waiting for since he embarked on an acting career. "In college, you're only working on Shakespeare and Tom Stoppard and Stephen Sondheim, and so you get this idea that you're gonna get out and that's the business," he said. "That's what they're preparing you for. And you realize very quickly, especially with new work, you ain't working on any of that stuff. Most of the things that you work on don't succeed. And even the ones that do succeed don't matter like Hamilton does."
Odom's commitment to his performance shows how much he appreciates the fact that Hamilton matters. From the moment he joined the show, he's challenged himself to question his work and to push the character further.
"I always see him going for it," Renée Elise Goldsberry, who plays Hamilton's sister-in-law Angelica Schuyler, said in a phone interview. "He sets that bar with the way he approaches his own work. And watching him go for it, it's a master class."
As far as Odom is concerned, he's just doing the job he's been hired to do, and that's creating a meaningful theatrical experience for every performance. It would be easy to relax a bit, seeing as Hamilton has earned more accolades over the past year than most shows will over their lifetimes. But for Odom, who likens working on Hamilton to "standing in the eye of a hurricane," the goal to connect with each and every audience is a constant.
"I don't have the option to get carried away by it because I start at the beginning every single night. I have to rebuild it every single night," he said. "When you came on Wednesday, you didn't care that we were great on Tuesday. We were great on Tuesday night — you didn't give a fuck. You want to see your Wednesday night show as good as we did it for the president and Oprah and Beyoncé and Jay Z."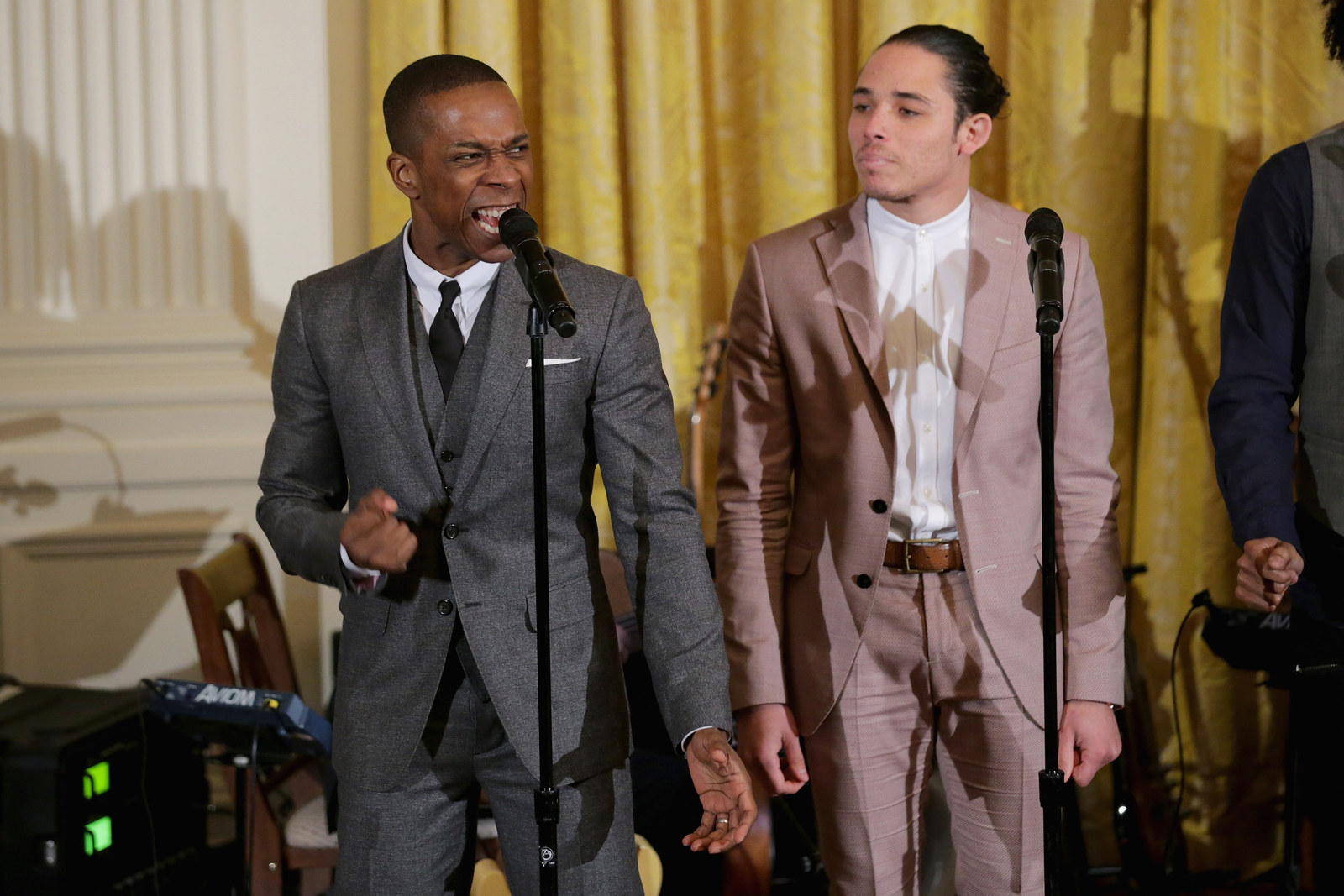 As repetitive as eight shows a week can become, Odom is always finding something different to hone in on. "A couple weeks ago, I just felt like I lost 'Wait for It,'" he said, referring to the song he sings in the first act. "I wasn't panicked or anything. Just for about a week and a half I couldn't find it. It was gone. And now it's come back in a way that was stronger than before. It had to die for a second to be a reborn."
And the more recognition Hamilton has gotten, the more audiences have come in with some apprehension. How good could this show possibly be? But seeing their crossed arms and dubious expressions as the first person onstage every night means Odom also finds the pleasure in watching audience members' doubt melt away.
By the time he's singing "The World Was Wide Enough," if he's done his job correctly, he's successfully taken the crowd on a journey. The real thrill for Odom is in surprising the audience members who thought they knew exactly what they were getting.
"It's a perpetual Groundhog Day," Odom said. "And that's what can drive you crazy about theater in a way, but it's also what's so wonderful and what is the challenge of it. I mean, we start from scratch every night. We have to prove ourselves every night."
"Black people can play white people and Asian people can play black people."
Odom never seems to grow tired of talking about Hamilton, from his ever-changing conception of Burr, to the way Hamilton — with its nearly unprecedented fanbase — mirrors Rent, the first show Odom ever did on Broadway. It's not just that both Rent and Hamilton inspired a major cultural movement and a dramatic shift in theater; it's also that the shows are socially conscious in a way many mainstream musicals are not.
For Odom, who has always engaged with the question of diversity on Broadway, simply by virtue of being an actor of color, the work Hamilton is doing is essential on a deeply personal level as well as on a larger scale.
"Listen, theater can be any fucking thing we want it to be," Odom said, leaning forward. "It is malleable. It is strong. It is sturdy. So shut the fuck up. We can make it whatever we want it to be. Kids can play adults. And old people can play young people. And black people can play white people and Asian people can play black people. If it's done with a thoughtfulness and a care and a reason, we can do anything."
Yes, Hamilton has underlined that point, but that doesn't mean Odom is settling. Because no matter how successful Hamilton is, it can't last forever. And part of why Odom continues to work so hard is because he knows it.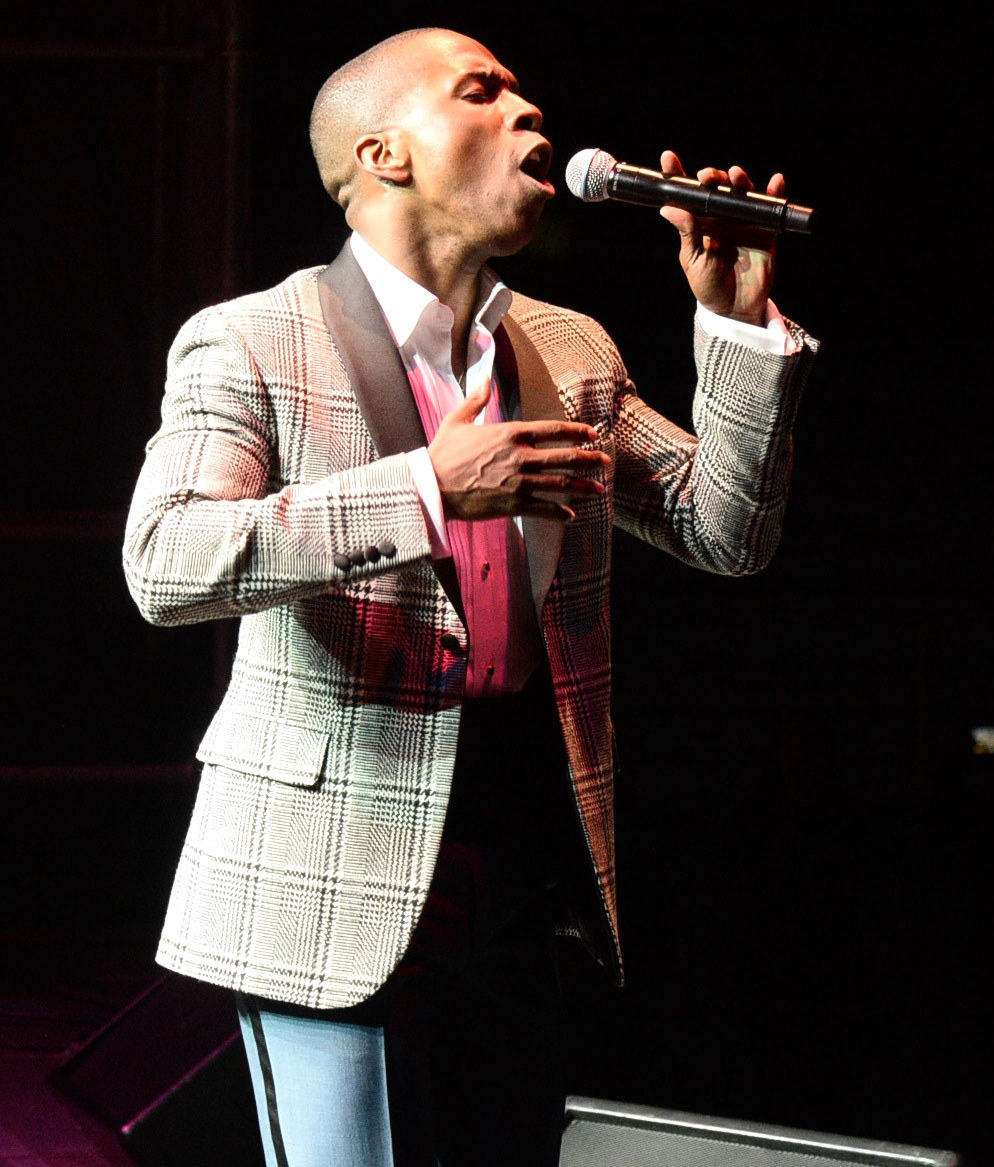 "You kind of just get used to things not coming through and being rejected and being in shows that are not successful. And so when it does come around, I think what keeps you grounded is that you're kind of always wondering when it's going to fall through," Robinson said.
There's a certain amount of uncertainty inherent in any actor's life: Every major success is tempered by the question of what's next. For now, Odom is focused solely on the daily challenges of Hamilton and reinventing himself in every performance.
And by the time he steps out of Aaron Burr's shoes, he'll have worn them every way possible.
"I know that it's only a moment — it is fleeting," Odom said. "But to have a show that means as much to historians as it does to rap legends, as it does to actors and writers and young theater practitioners and businesspeople and parents, this is the dream. This is it."
UPDATE
This story has been updated to reflect that the Powerhouse Theater is a collaboration between Vassar and New York Stage and Film.