How The Faster Pace Of "Looking" Season 2 Changes The Show
After a slow-burn first season, the San Francisco-set HBO comedy-drama has become an even richer look at gay life. BuzzFeed News talked to the show's actors and executive producer about the diversity issue, unlikable characters, and what to expect this year. Minor spoilers ahead.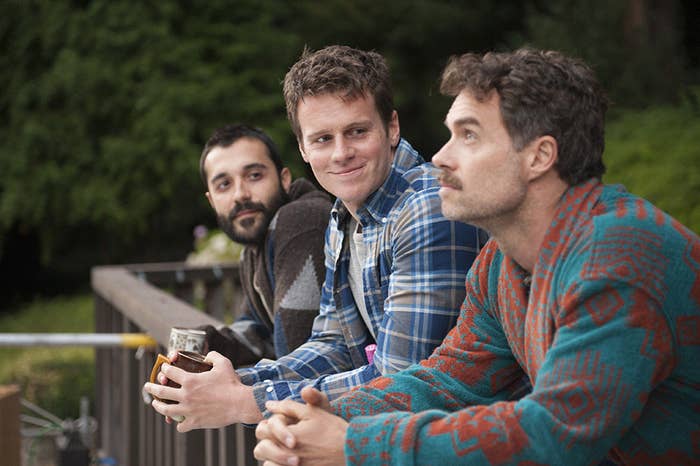 On a show called Looking, it's bound to take a while before the characters find what they're searching for.
Season 1 of HBO's half-hour comedy-drama, which follows the lives of three gay friends — naïve Patrick (Jonathan Groff), aimless Agustín (Frankie J. Álvarez), and stunted Dom (Murray Bartlett) — as they navigate life in San Francisco, ended with the characters at a bit of a low point. But that was by design, according to executive producer Andrew Haigh, planned from the beginning by Haigh and Looking creator Michael Lannan to place each of the characters in flux at the end of the season: Patrick ended the season dumped by Richie (Raúl Castillo) just as he decided he was ready for a relationship.
"Patrick has no fucking clue what he's doing, I don't think," Haigh told BuzzFeed News in an interview at his office in Looking's post-production space, a converted house in Hollywood. "Agustín, obviously, rock bottom at the end of last season, fucked his life up basically by ruining his relationship. I think this season is him trying to sort his life out, make it better, make better decisions. And Dom is on the same path as he was last time, still trying to make his dreams come true, and work out that relationship with Lynn [Scott Bakula] and how that works and what that's gonna be."
Season 2 of Looking, which launches on HBO on Jan. 11, picks up shortly after Season 1 has ended. And while the friends are working to climb out of the holes they've found themselves in, in some ways they have dug themselves in deeper. Patrick in particular finds himself in a tough spot: Now removed from his almost-stable relationship with Richie, he's dealing with the aftermath of sleeping with his already coupled boss Kevin (Russell Tovey) in the Season 1 finale.
At the start of Season 2, Patrick still hasn't told his friends about his inappropriate hook-up. "[The writers] didn't build to something in the first season and then hit the reset button. We pick up all the characters where they left off, in the thick of their drama," Groff told BuzzFeed News earlier this week. "They don't waste any time with this season. They really just jump right in."
That increased pace reflects a newfound confidence Looking has in its storytelling. It's also a testament to the work the series did in its first season to establish the characters and build their world, allowing Season 2 to dive in without much exposition.
Haigh knows that "slow burn" storytelling doesn't work for everyone, especially viewers accustomed to more plot-driven shows, particularly half-hour series, but he's confident that the writers taking their time with the first season was the right approach for introducing audiences to Looking, and he's excited about the opportunity to build on it. "Now the characters are set up, so it means we can set them loose a little bit," he said, "which does enable us to move slightly quicker through stories and through plot and through characterization, and that helps us."
Season 2 is also broadening its scope: In addition to the three central friends, Looking has bumped up Castillo, Tovey, and Lauren Weedman — who plays Dom's roommate Doris — to series regulars. In the first two episodes of the new season, viewers also meet Eddie (Daniel Franzese) and Malik (Bashir Salahuddin), potential new love interests for Agustín and Doris, respectively.
Then there's the increased episode count, going from eight last season to ten this year, which Haigh said allows the writers to tell increasingly complex stories. For the most part, Looking is the same show it was last season, still interested in telling grounded, character-driven stories. But it's also become undeniably expansive: a deeper, more intricate look at the lives of these men, and the people around them.
"I think it probably does feel a little bit bigger. I think our episodes feel bigger than they did last year," Haigh said. "In terms of production this year, every single episode felt bigger than any of the episodes that we shot last year, in terms of locations and actors and all of those things. I think we've certainly upped the ante a little bit."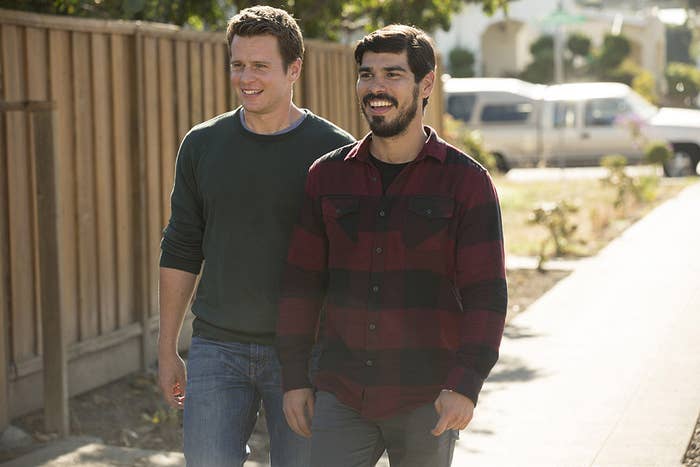 Some of the changes were less perceptible to the actors than others. Castillo told BuzzFeed News that being promoted from a recurring character to a series regular between seasons felt like more of a contractual decision than a reflection on his role in the show.
"Richie was so part of the first season," he said. "The first season was the initiation of this relationship. I think the second season is really an exploration of where they are moving forward."
The tenuous relationship between Richie and Patrick remains one of the focal points of Looking. And Patrick is working hard to reconcile his feelings for Kevin, which he now knows are reciprocated. Both potential love interests bring out different sides of Patrick, who struggles to assert himself and shake off his Season 1 indecisiveness.
"Patrick has great potential, and I think Richie is an example of that in a way," Castillo continued. "Richie is an example of the great love that Patrick can find, and kind of his most ideal self."
While it's far too soon to know which man Patrick will end up with — or if he'll break free from both — Haigh admitted that he has an endgame in mind for Groff's character. At the same time, he's not eager to get there: The series is about the seemingly impossible challenges of finding exactly what you're looking for. And once you get there, of course, there's no telling you'll be satisfied.
Groff himself chooses to focus on the varying relationship dynamics and less on where his character might end up.
"Patrick finds himself really opening up to Richie, and he's really attracted to Richie. They have sort of an initial undeniable spark," he said, reflecting on what led his character to the love triangle Patrick has found himself in. "He's able to be himself with Kevin because it's not an option for it to be romantic. So there's a connection there because of the sort of situation that they're both in. Patrick isn't as self-conscious and weird because he feels like nothing really romantic can happen, which allows both of those relationships, the one with Richie and Patrick and the one with Kevin and Patrick, to develop in different ways, because the rules are different."
And because Looking remains tightly focused on these characters' inner lives, these ever-shifting dynamics keep the show complex without sacrificing its narrative restraint.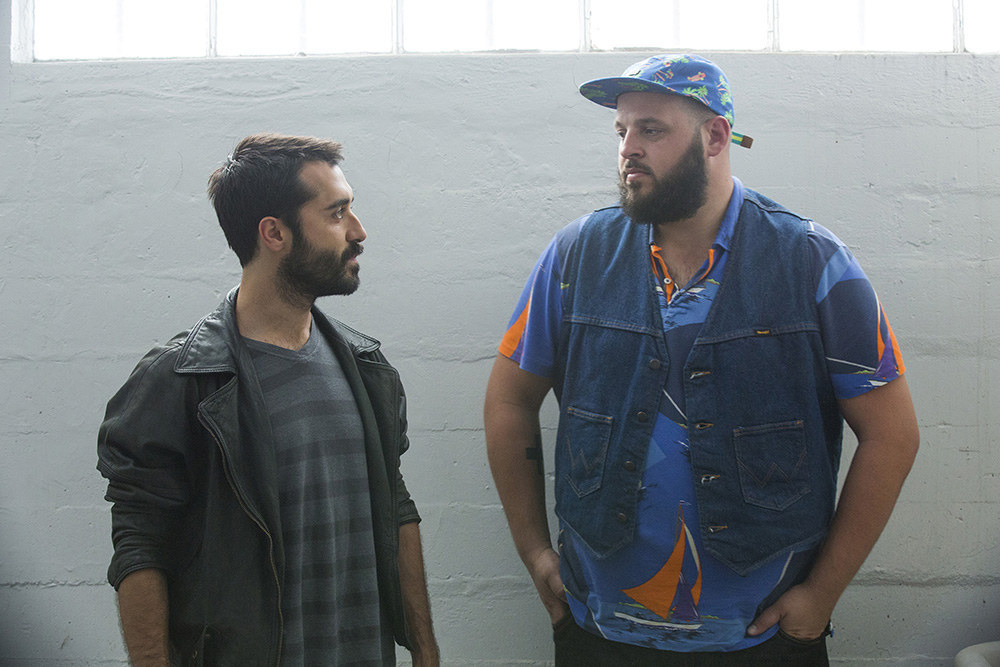 That's not to say that everyone will be satisfied with the new season. Season 1 of Looking had its fair share of critics, who claimed the show was a poor representation of the LGBT community, problematic in its limited scope, or just boring. Much of the ire was directed at the character of Agustín, who — to be fair — made a series of bad choices that alienated both his friends and now ex-boyfriend Frank (O. T. Fagbenle).
While Haigh was surprised by the vitriol, he stressed that his characters are deliberately flawed: "You want to watch aspirational characters on television, but I'm not going to tell stories about those people. I'm not interested in those people," he said. "I'm interested in telling stories about real normal people who just have everyday lives."
There are, however, other criticisms that the writers and actors are careful not to dismiss. Looking, much like Girls before it, has been called out for what some perceive to be a lack of diversity. As television continues to move forward with representations that reflect the reality of human experience — and there's still a long way to go, to be sure — more and more series are being held accountable for sticking with the status quo.
It's a tricky area to navigate, but one that the cast and writers are happy to engage with — as long as critics are giving Looking a fair shake.
"I love hearing people that have watched every episode intelligently discuss about what we are representing, what we aren't representing, the opinions of if it's being represented well or not well," Groff said. "What was uninteresting to me was people that had watched one episode of the show or had watched the trailer of the show, and had decided it wasn't diverse."
For Castillo, the diversity question is even more complicated. As a Latino actor and pop culture consumer, he has been equally put off by a lack of diversity on television. But the specific criticism of Looking seemed to overlook his own ethnic identity — not to mention that of Álvarez, who has been a series regular from the beginning.
"I am all for people speaking out and demanding more diversity on television. I think we should continue to do that, and I'm excited for that, and I'm glad that people are holding us and other shows accountable," he said. "At the same time, it was frustrating. Agustín is one of the three main characters, and Richie did play a prominent role as the season went along. We're not gonna make everyone happy. We're gonna fail miserably if we try to do that. But I think they've done a good job of trying to introduce diversity into the show without making it contrived."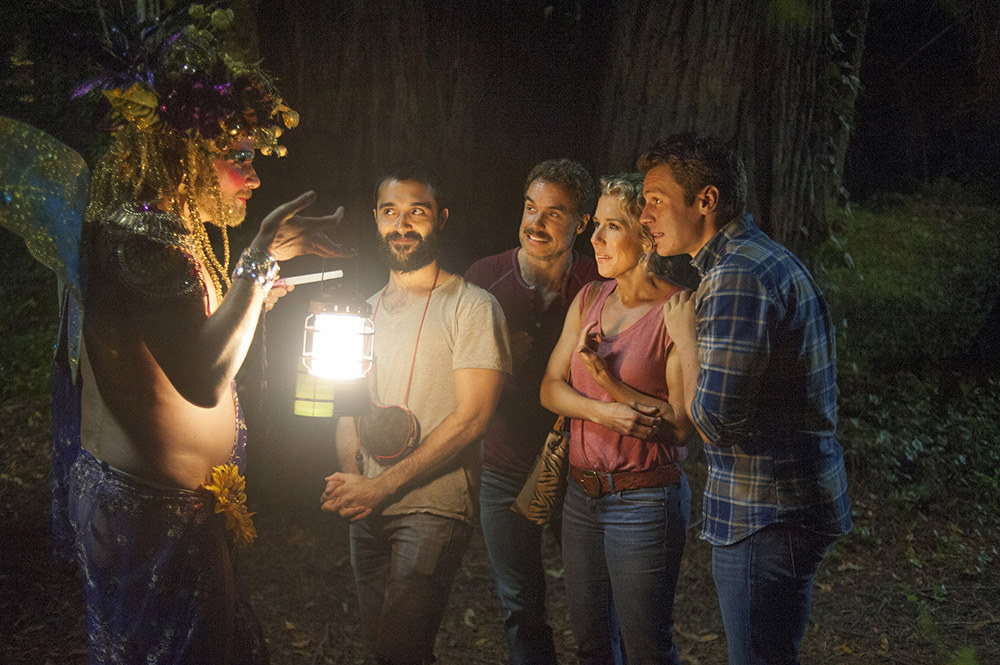 As one of the few expressly LGBT-centric shows on television, Looking is often expected to fairly represent all different facets of the broad spectrum of queer life. That's an impossible task, but it hasn't stopped critics within the gay community from lamenting the fact that they don't see themselves on screen.
Groff recognizes the futility of portraying everyone, but he also sympathizes. He recalled a Q&A when a heavyset man asked if Looking would ever incorporate any bears or otherwise not-thin characters. (In fact, Agustín's potential love interest Eddie, who first appears in the Season 2 premiere, identifies as a bear.)
"There's not a lot of gay TV and there's a real need to be represented," Groff said. "The creators of the show are aware of all those things, and I do think they're trying, but you also don't want it to feel like a show where you're checking off every gay."
For his part, Haigh maintained that introducing the character of Eddie wasn't a direct response to complaints about a lack of different body types on the show. He finds the obsession on different types within the gay community to be strange. While there has been a concerted effort to populate Looking with diverse characters, it's not about pleasing particular subsets of LGBT people.
"To me, Eddie is Eddie. It's not that he's just a bigger guy. I think he's incredibly attractive and incredibly charming, and that's the end of the story," Haigh said. "Hopefully we haven't made a show that's just about lots of super attractive models. I don't think they are. They look to me like regular people. And yes, of course, they are attractive, but I think they're all attractive in different ways. I think Jonathan's attractive in a certain way, and Daniel, who plays Eddie, [is] attractive in another way, and Bashir, who plays Malik, is attractive in another way. It's about getting lots of people who are all just good people."
And no matter what, some viewers will always be impossible to please.
"There was one comment I read that was something like, 'This show is so shallow. There aren't even any hot guys in it,'" Haigh recalled, laughing. "You just need to stop and think about what you're saying there."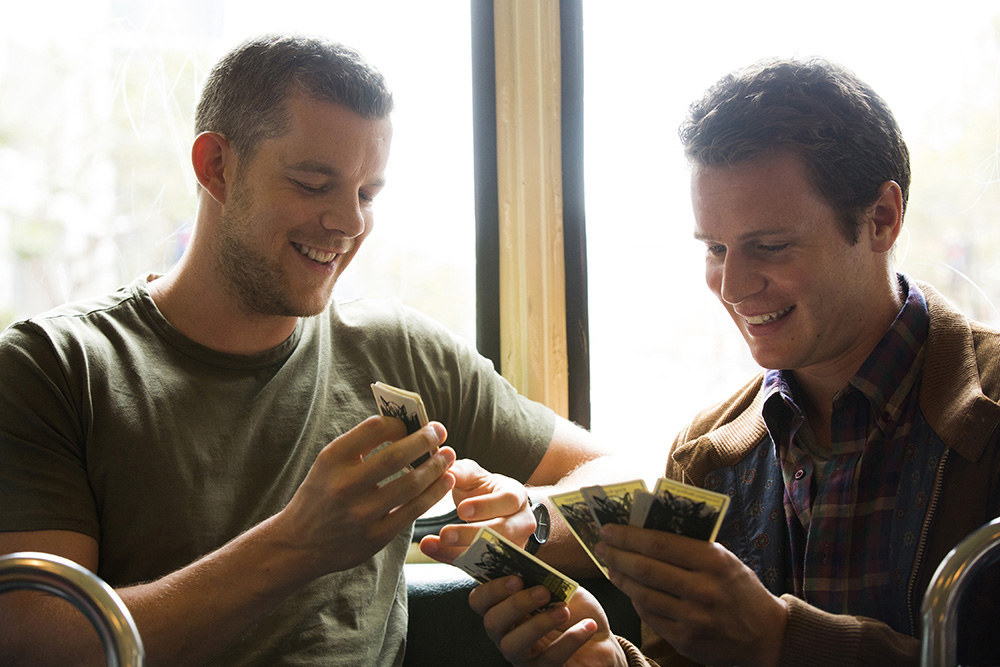 Looking continues to break ground as it enters its second season. In terms of queer representation and the frank display of sexuality among men, there is no other show on television like it — not since Showtime's Queer as Folk have gay relationships and gay sex been so front and center on a weekly series.
Perhaps that's why Looking, though not a ratings hit, continues to generate so much commentary, both positive and critical.
"It's hard. There is a lot of pressure. We are probably the only show that's all about gay people. Which is kind of crazy to me," Haigh said. "A spotlight is always gonna be shining on it, about whether it fails or exceeds or whether it lives up to expectations or confounds those expectations or whatever it is. There is inevitably a pressure on that, and I feel that pressure. You can't not feel that pressure."
But while LGBT fans will continue to have strong opinions into Looking's second season, the writers' concern remains on the storytelling. Haigh takes in the feedback, but he refuses to let it dictate the choices he makes.
"It's so out of our control … to do anything about that. You just have to make the show that you make and hope that people like it, and that's about it."
Above all, Haigh and the actors are passionate about the show they're making. And that's important on a series that's so personal to the people involved. Even Castillo, though straight, feels deeply connected to the relationships portrayed — and embraced by the gay community and the city of San Francisco as one of their own.
For Groff, who is openly gay, Looking continues to expose and reflect the unseen realities of queer life, though he questions how people describe the work he does on the series.
"Some people are like, 'It's so brave to be gay, playing gay, getting fucked on screen.' And I just feel like, Really?" Groff said. "I feel so excited and I love the show and I love playing the character, and I'm so excited to be on HBO. Nothing about it feels brave to me."
"To me, it feels like, Let's shine all the lights on it," he continued. "Let's talk about it. Let's put it out there in the world."