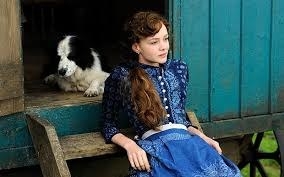 Untamed
In the movie Bathsheba begins as a small town girl. She's beautiful, smart, hard working and unmarried. For that time (the Victorian Era) , Bathsheba's love status was seen as quite the problem. The men of the town (and the women) found it puzzling that such an attractive, young woman was still unmarried and without children. Enter Gabriel Oak, a young, handsome farmer with eyes for Ms. Everdeen. When Gabriel asks Bathsheba to marry him she responds with "I need someone to tame me and you'd never be able to do it." This signifies a lot about Bathsheba's personality and just how much she is aware of her reputation.
Turning Point
We begin to see just how independent, strong and stubborn Bathsheba is when she inherits her uncles farm. Bathsheba was the only woman in the whole town to own a farm or an estate. Many men that were previously in her uncles employment doubted her ability or strength to run the farm. Some quit, but to those who stayed, Bathsheba showed just how great of a boss she could be. Many men saw this in her and fell for her beauty and her charm. She was pursued by many but always refused marriage, believing that she never really wanted it. Along comes Sgt Frank Troy, a brooding, mysterious soldier. Troy awakens something in Bathsheba and attracts her (at least sexually) like no man has before. We see Bathsheba here become vulnerable and begin acting like a young girl. She herself is aware of her own cliche of falling in love with the brooding soldier but nevertheless she agrees to marry him. One of the things I love most about this movie and Bathsheba's character is how unexpectedly realistic both are. The marriage eventually turns sour when Troy can't get a hold on his gambling problem and can't get over his ex. Another one of Bathsheba's potential husbands shoots Troy after he threatens Bathsheba, which lands him in prison. Bathsheba is again back where she began and yet she is a completely different person. She learned a lot about herself and love. Eventually she realizes her love for Mr. Oak and asks him to repeat the marriage proposal she once turned down.
#farfromthemaddingcrowd #mroak #mseverdeen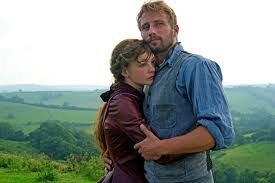 This post was created by a member of BuzzFeed Community, where anyone can post awesome lists and creations.
Learn more
or
post your buzz!