If you've ever wanted a dream wedding, you may or may not have a mental checklist of things that would make your big day a little ~extra~ special.
Like, maybe you saw a fancy-schmancy snack bar at one wedding and thought, "Now I want a snack bar at my wedding."
Or maybe you've never been a fan of formal attire at weddings, so you'd actually prefer having a casual dress code at yours.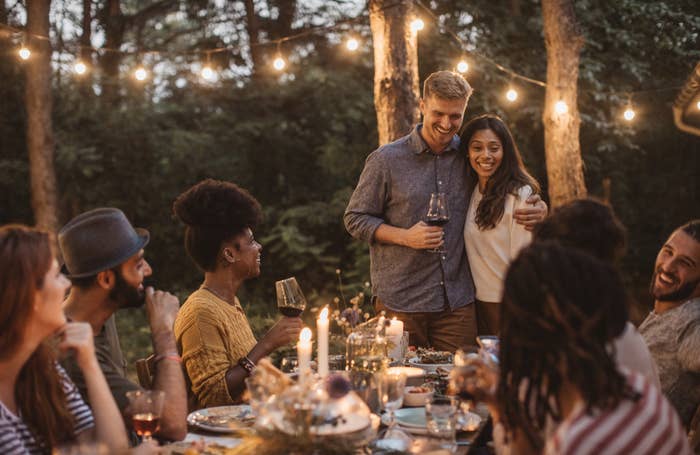 Lately, TikTok users have been bringing their dream weddings to life and sharing what they'd actually like to have at their own future celebrations. Using the hashtag #WeddingRules, people are naming all kinds of wedding must-haves, and tbh, prepare to take some notes, because they range from hilarious to actually brilliant.
While it's not clear who started the idea, it's QUICKLY becoming a popular trend on the app.
Some people put a lighthearted twist on the trend and shared their hilarious rules and strong wedding opinions. Popular TikToker @flossybaby's rules range from funny ones, like "everyone must recite one Nicki Minaj verse" to enter the venue, to ones that really just make sense, like "no long speeches" during the reception:
TikToker and YouTuber @chrisklemens shared his rules for his "party" wedding, which include not wearing "boring suits" and bringing two gifts if you bring a plus-one:
@basicbrownchick1 got real when it came to her wedding rules, which include no kids (unless pre-approved) and no random plus-ones (yup, that includes no random Tinder dates):
@victoriagarrick4 also put some humor in her list of rules, which ranges from having food trucks at the reception and *hopefully* having a guest appearance from Dan Levy:
Other users hopped on the trend and shared some clever wedding planning inspo. @claudiagreiner gave her wedding rules in a series of videos and shared fun ideas, like giving out disposable cameras for people to take photos instead of using cellphones, and having guests write letters to the married couple for them to open on their anniversary:
@sloane_____ shared popular wedding traditions she wouldn't have at her wedding, such as wedding favors and the garter toss:
And @mirandandersonphoto gave a cool list of ideas for her future wedding, such as having both parents walk her down the aisle, having a flower wall for guest photos, and renting an Airbnb in the mountains as a venue:
Overall, this new trend has me learning ~and~ laughing.
So, what do you think of these wedding ideas? Which rules would you have at your own wedding? Let us know in the comments below!
TikTok videos not playing for you? You might need to change the settings on your device — here's how.