If you grew up watching The Suite Life of Zack & Cody, it's no secret that London Tipton, played by Brenda Song, was one of the most memorable characters, like, of all time.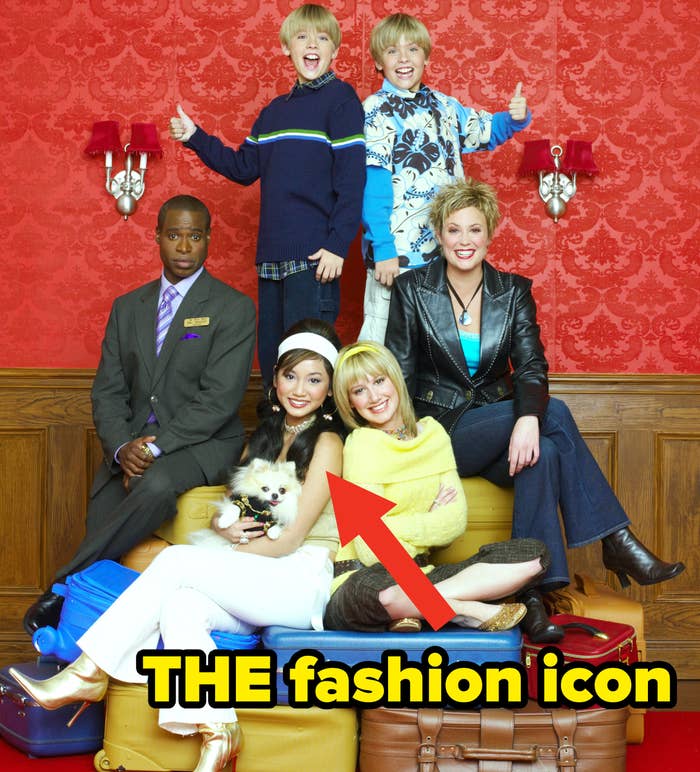 From "Yay me" to "PRNDL," the hotel heiress brought iconic catchphrases, sass, and plenty of heartwarming moments to the show. And most of all, London Tipton embodied fun, bold, and glam mid-to-late 2000s fashion.
So, let's take a trip down memory lane together. Here's how I'd rank some of London's most iconic looks from The Suite Life of Zack & Cody from worst to best.
22.
This "milk, vanilla, sugar, chocolate shake" graphic tee.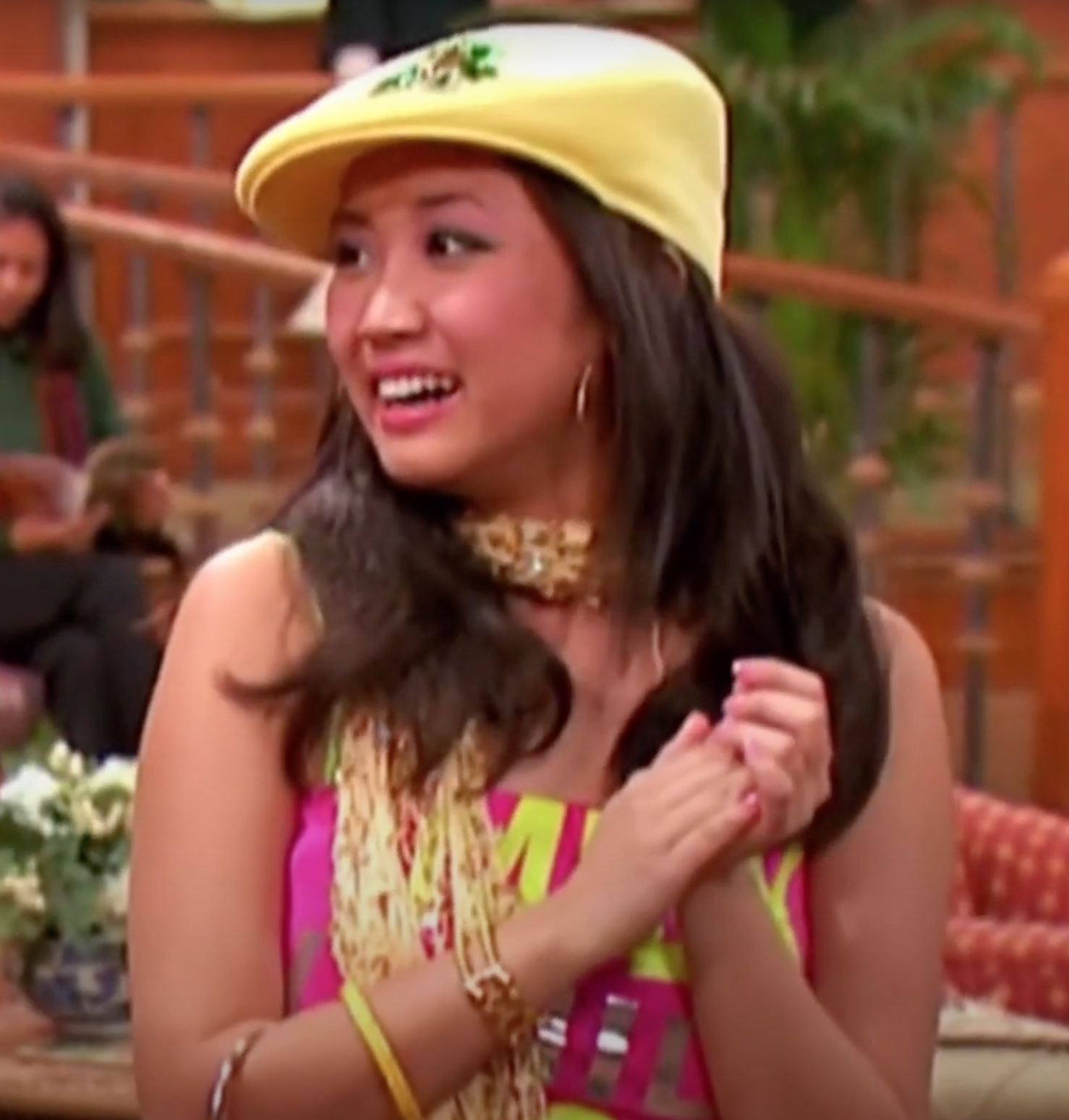 Let's face it: Graphic tees had us all in a chokehold in the 2000s. Now, the yellow and pink color combo is one thing, the skinny scarf is another, but I just can't get behind the random ingredient list top!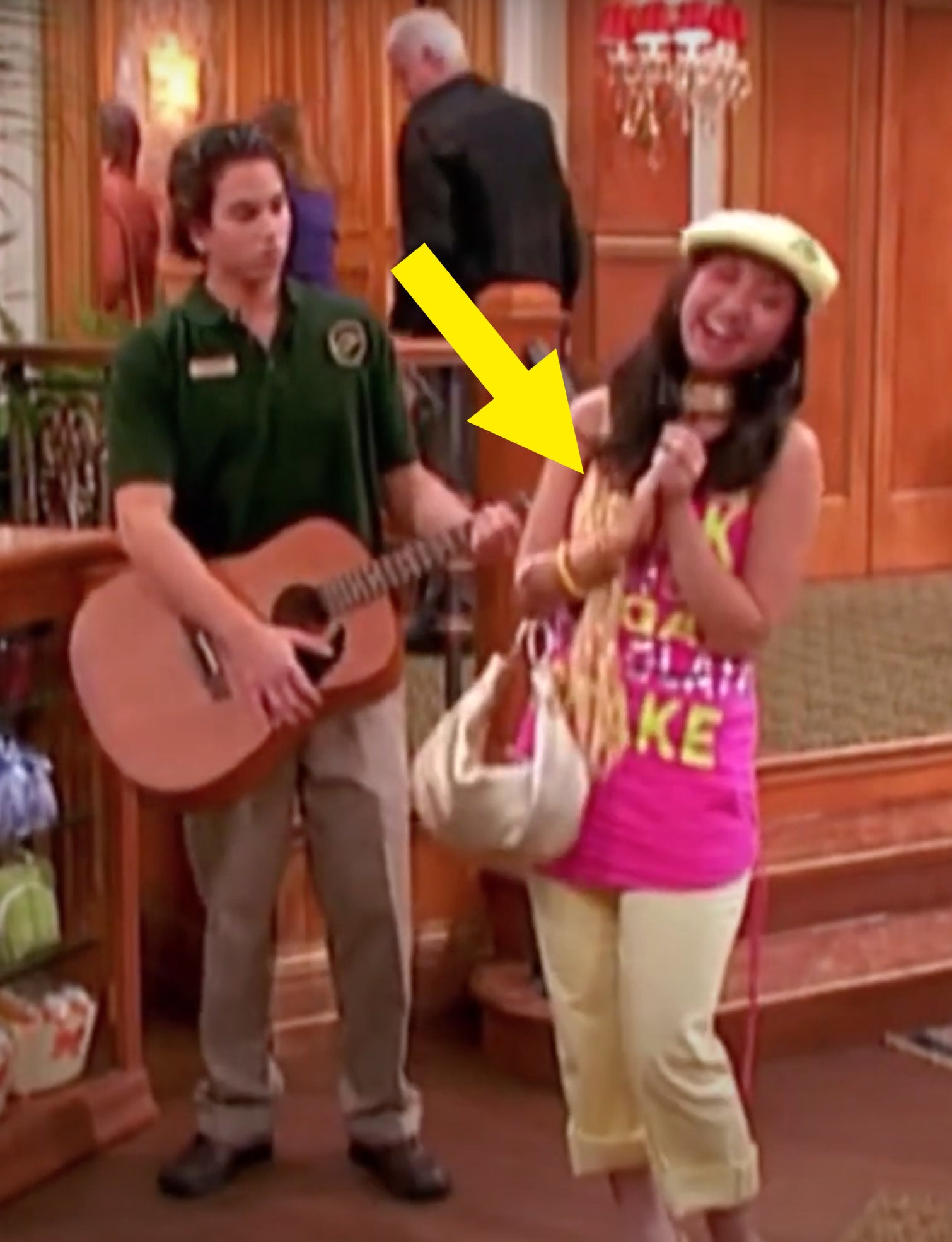 21.
This glittery fedora. London clearly loves — and honestly, rocks — pink, and I'm all for that. But this hat looks like it came straight from Party City, and I know she can do better.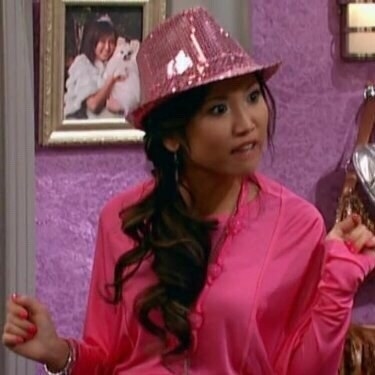 20.
This green and black ballgown. While iconic, this is the dress London chose to meet her one true love at a masquerade ball — and TBH, it may have worked better as a last-minute option for a Halloween costume party.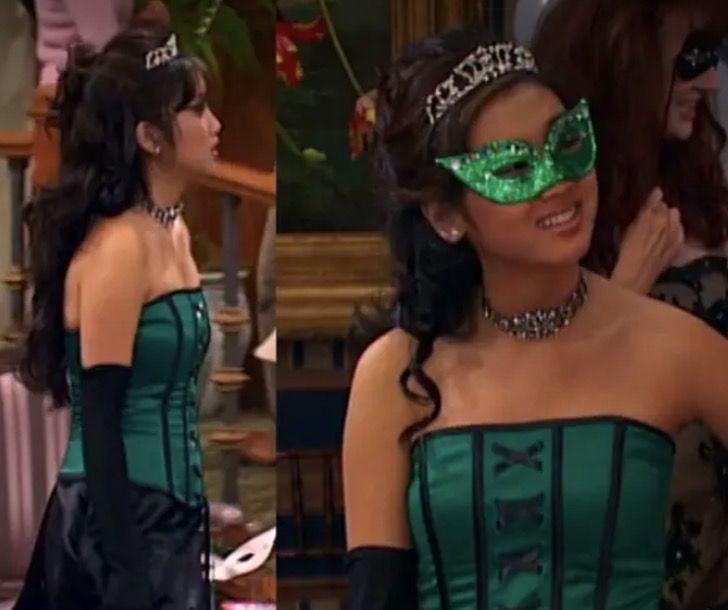 19.
This "wink wink" graphic tee.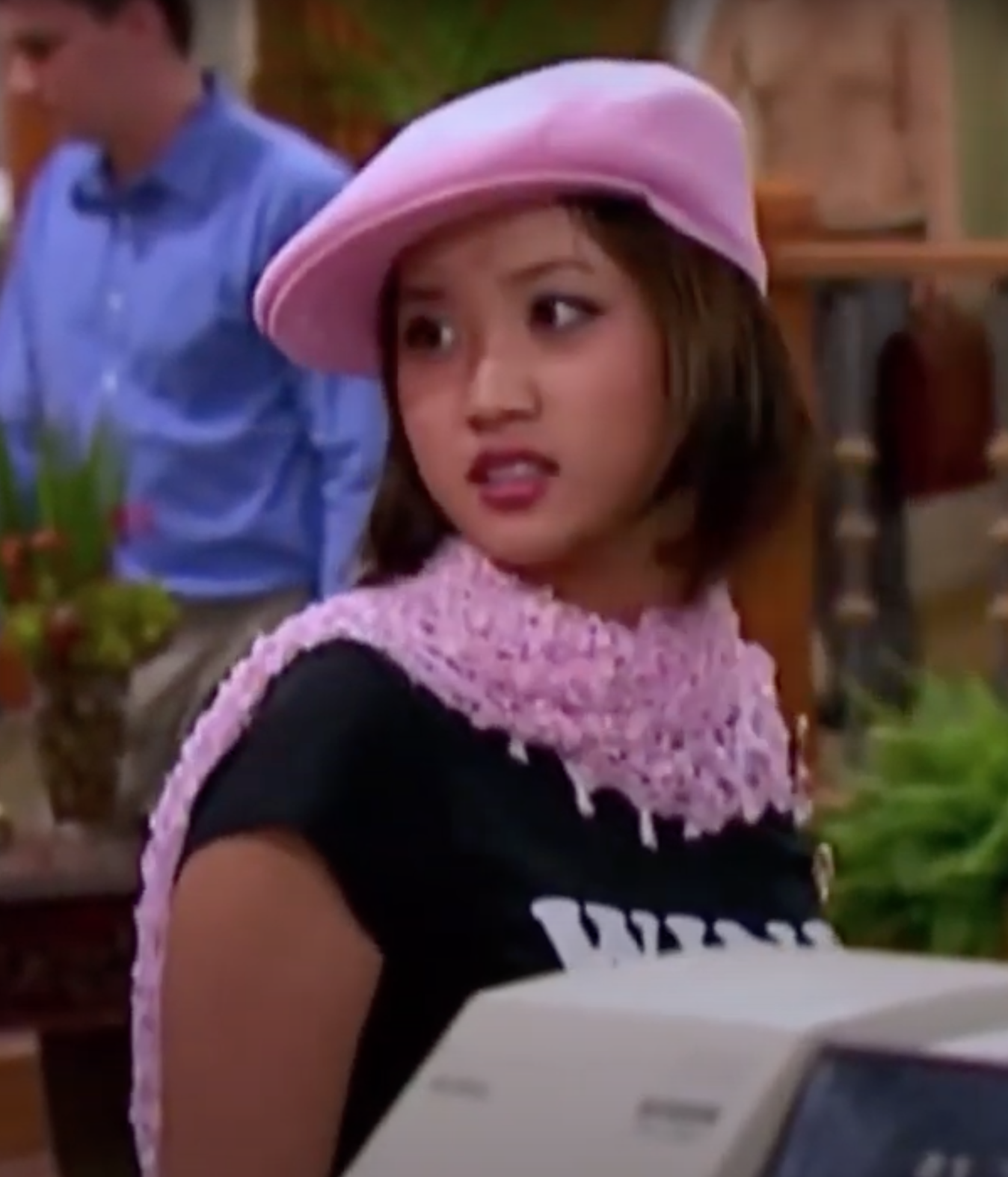 Yes, the graphic tee strikes again, but we have a few more things going on here. The cap, the matching scarf that almost doubles as a cap, and the random pins — featuring a flamingo and car.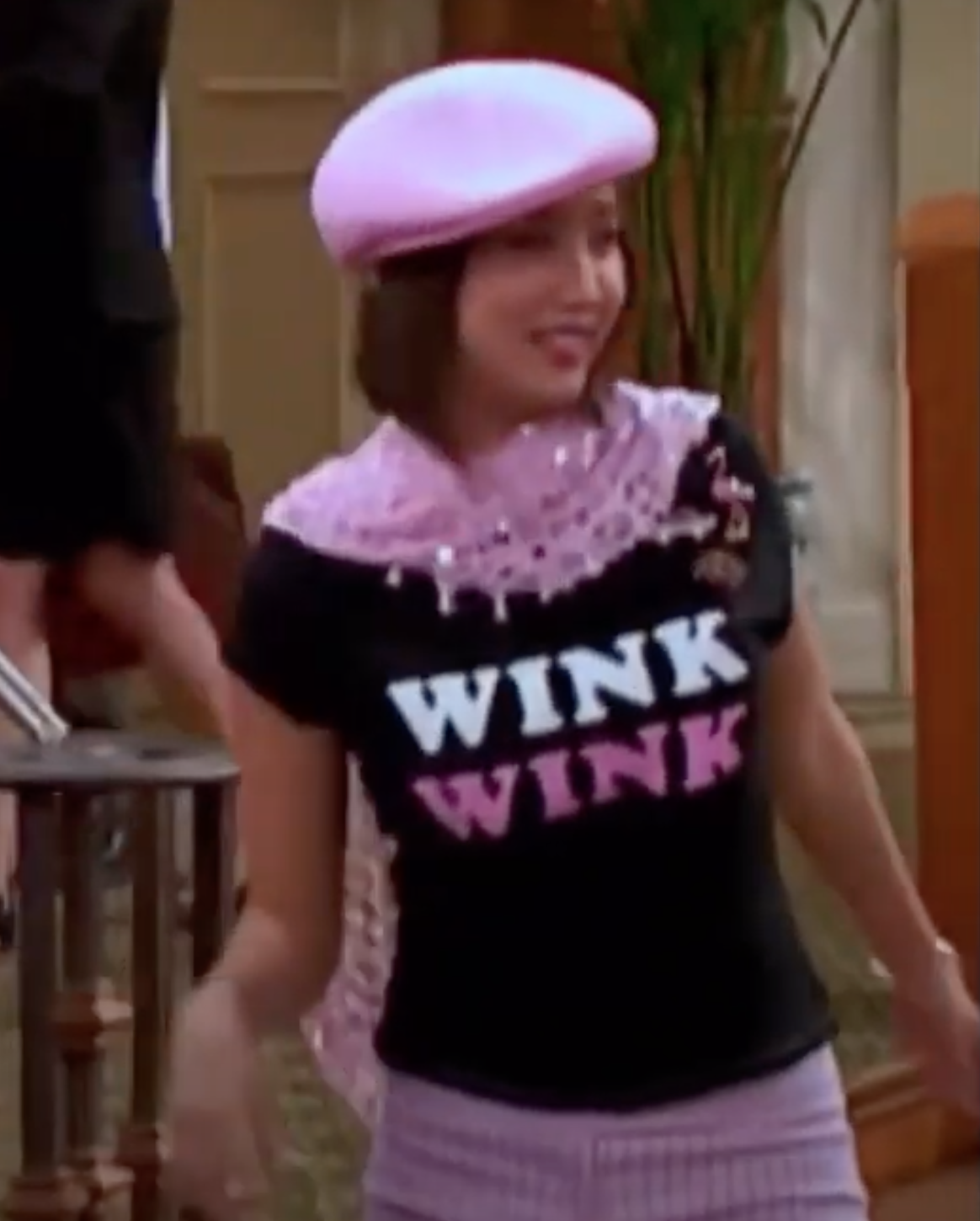 18.
This striped lace sweater and mini skirt.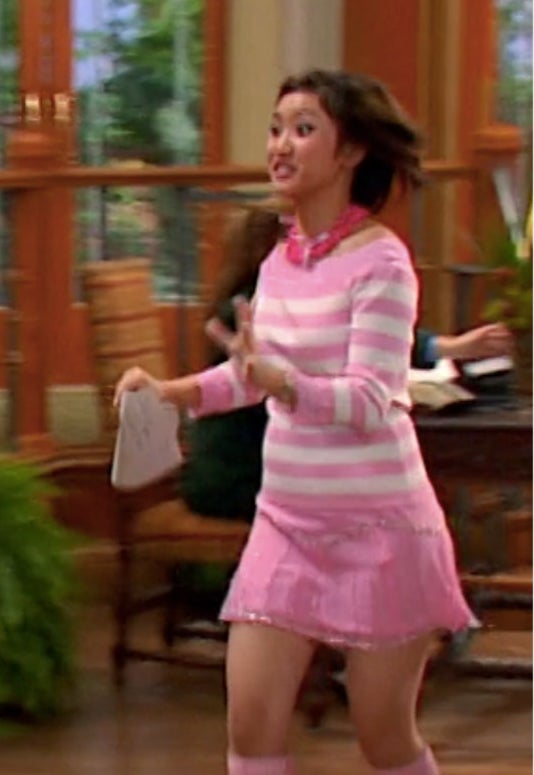 London once again pulled out an all-pink outfit, but the hot pink chunky necklace feels out of place. And overall, the sweater and skirt just feel costume-y to me!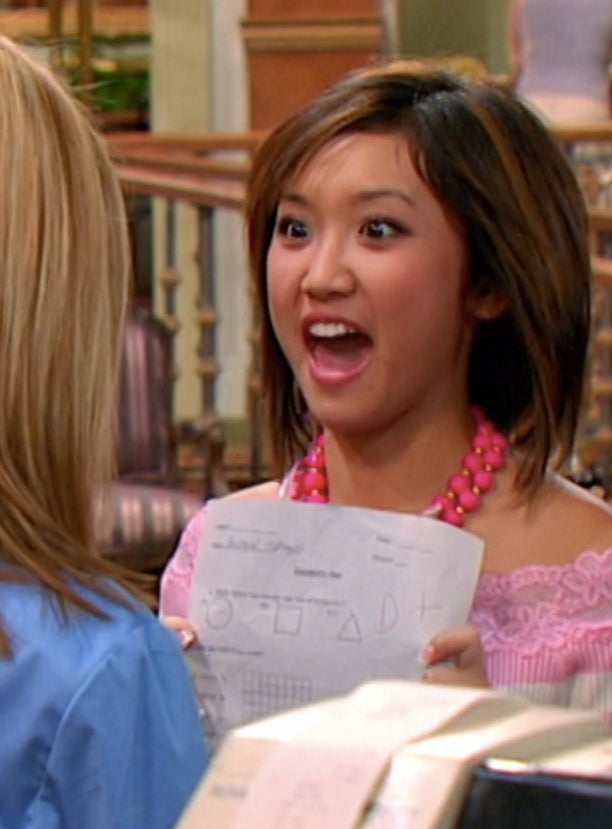 17.
This sequin drop-waist dress and fishnet tights. It's an unlikely duo — like some sort of edgy flapper look.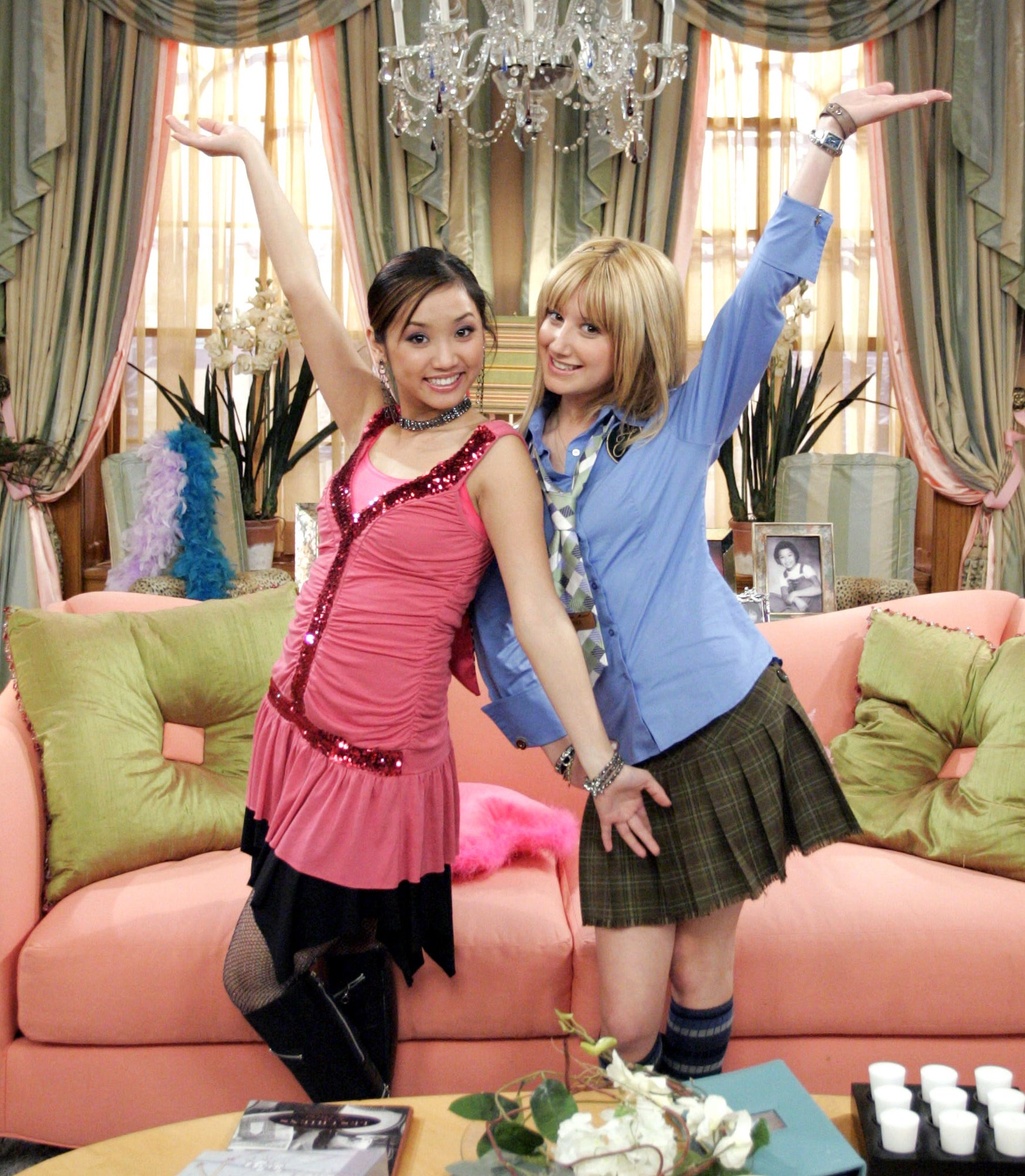 16.
This fabulous faux fur look.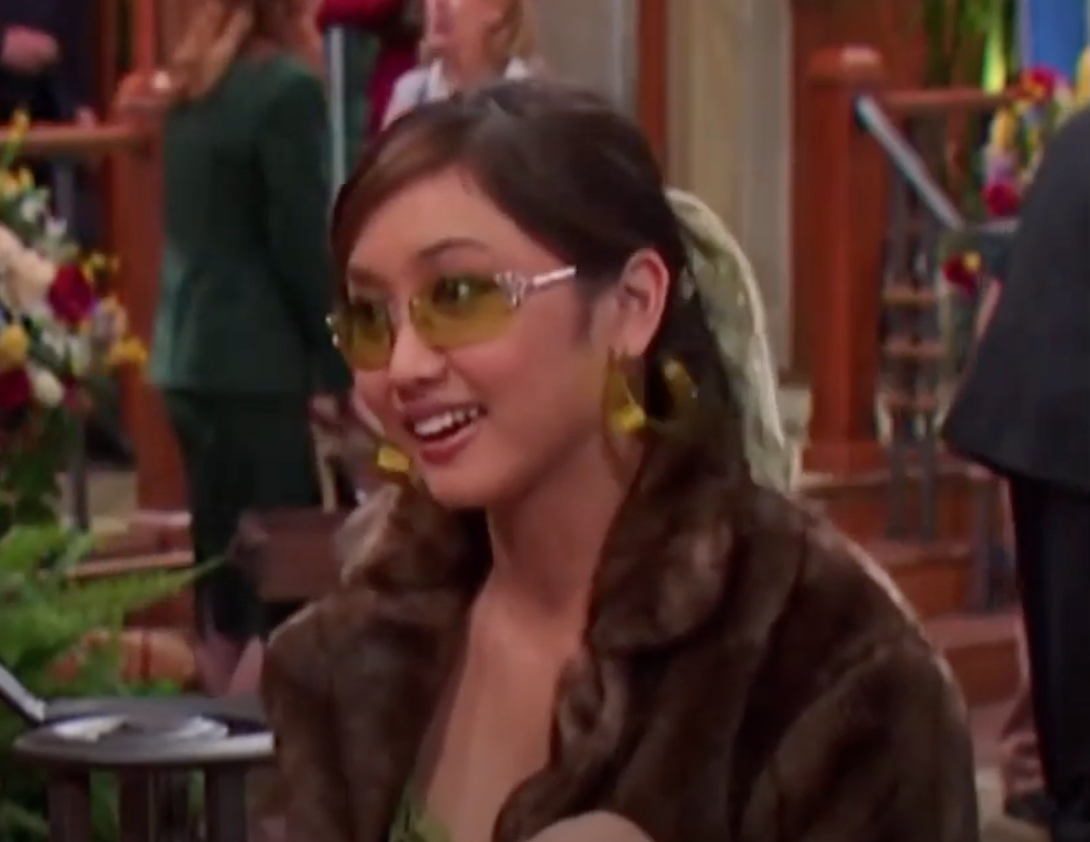 The green and brown combo was an interesting choice. I am, however, very into the colored lens sunglasses!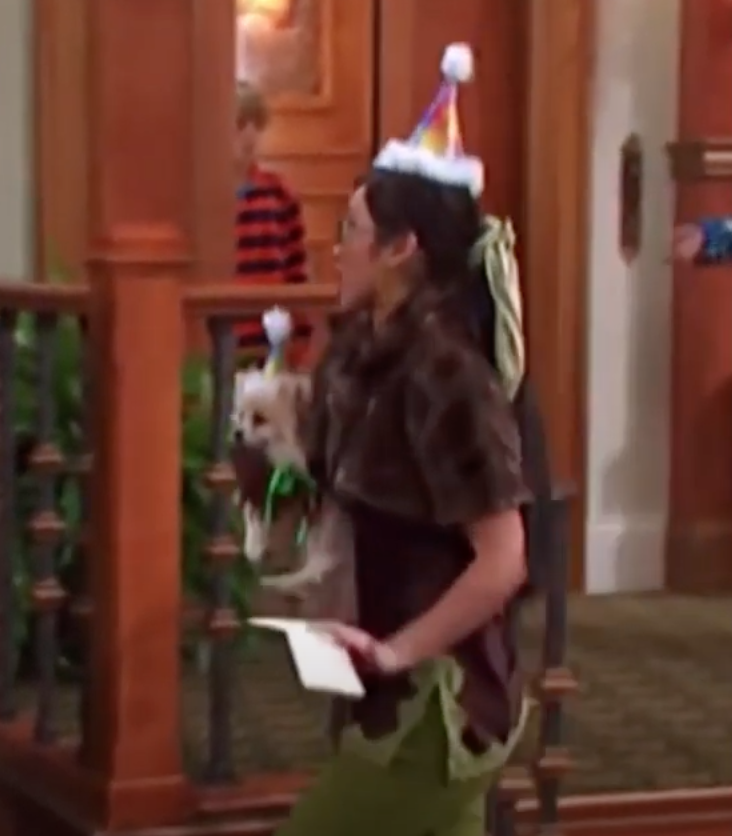 15.
This sequin top — and the pouf.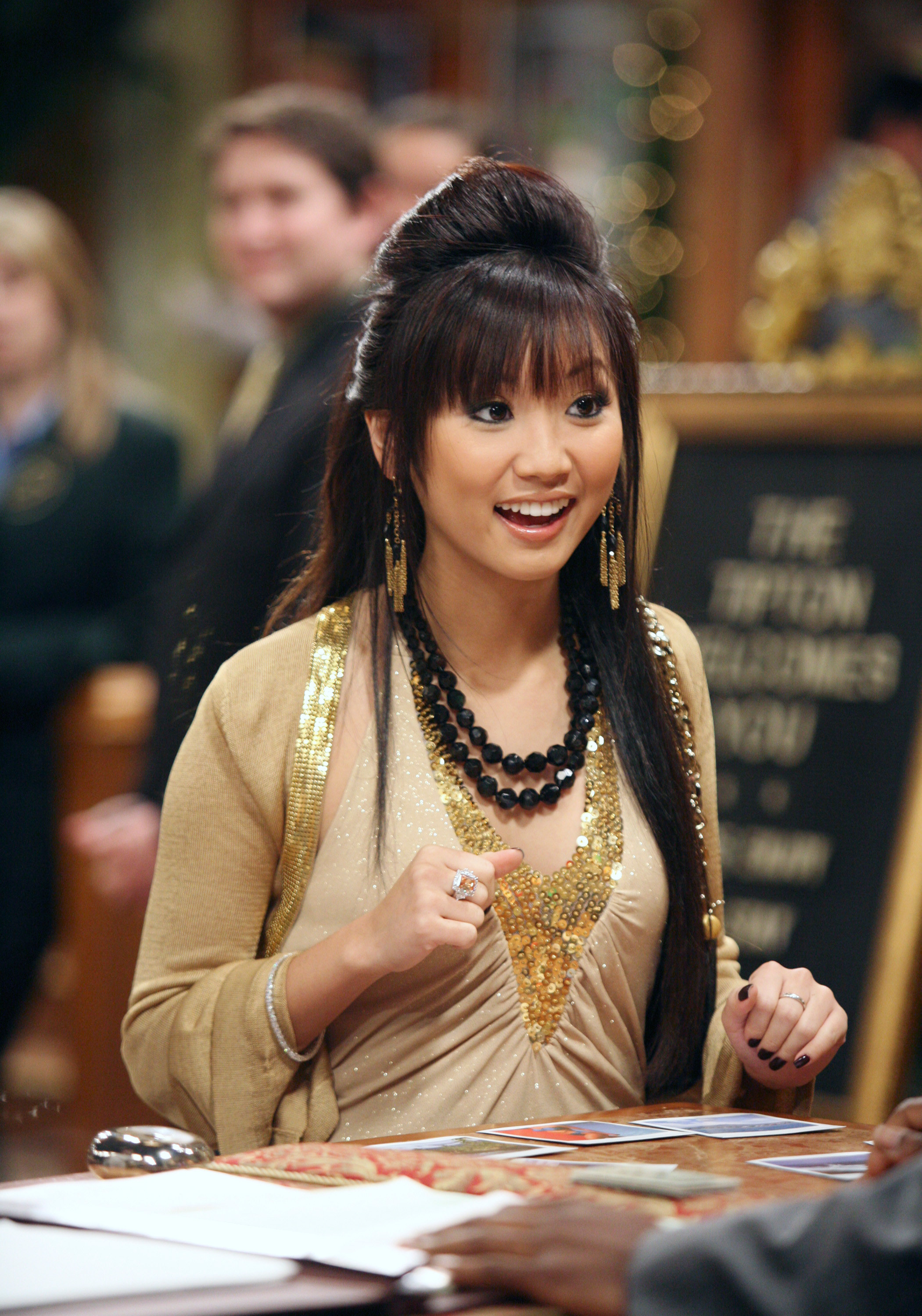 It's very glam, very London, which we love! But the pouf is definitely giving me flashbacks to the Bump It era.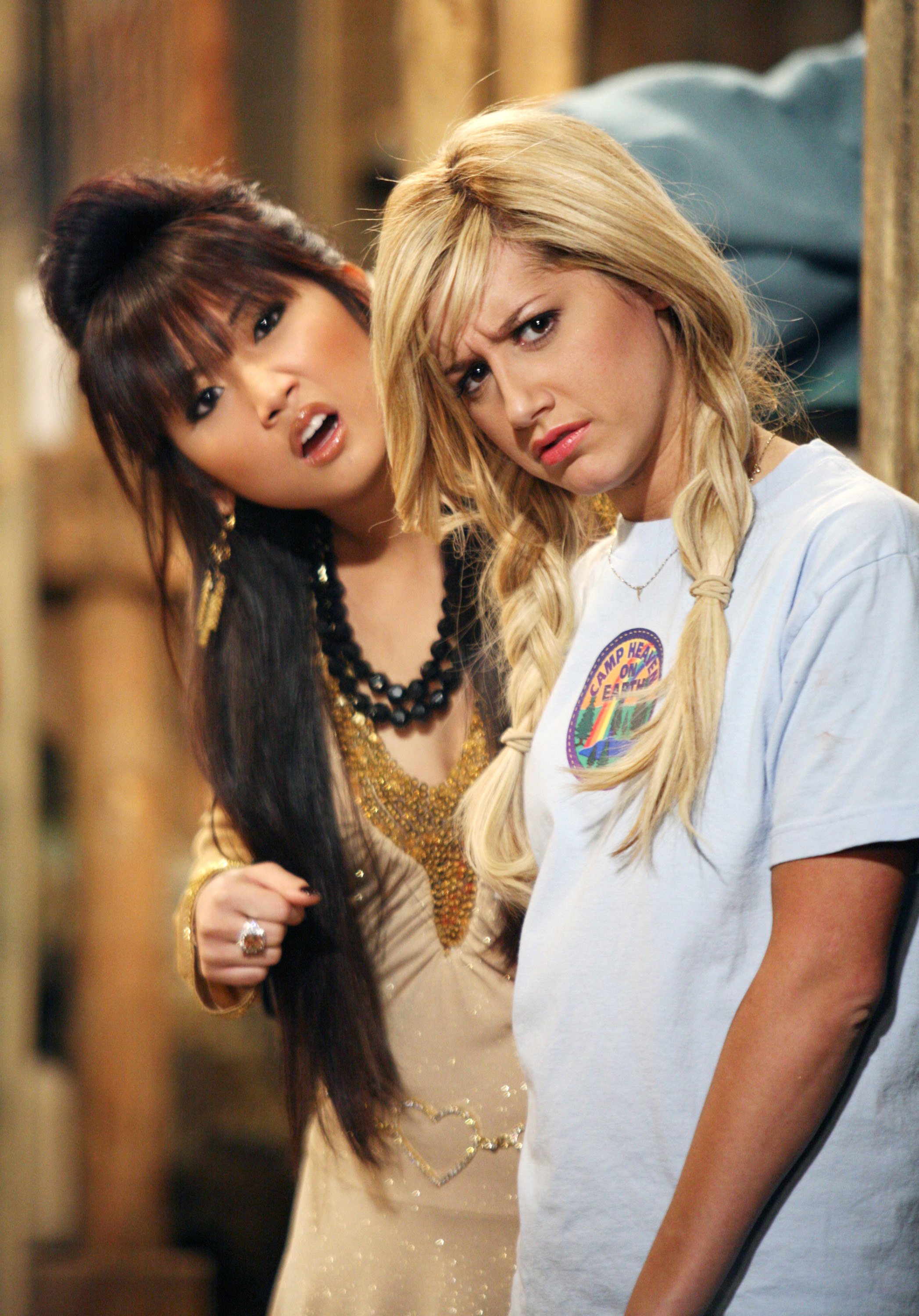 14.
This tracksuit. It's sporty, and we also have the sequin tiny purse and white heeled boots. Nowadays, we have athleisure and streetwear, but back in the day, we had sport glam.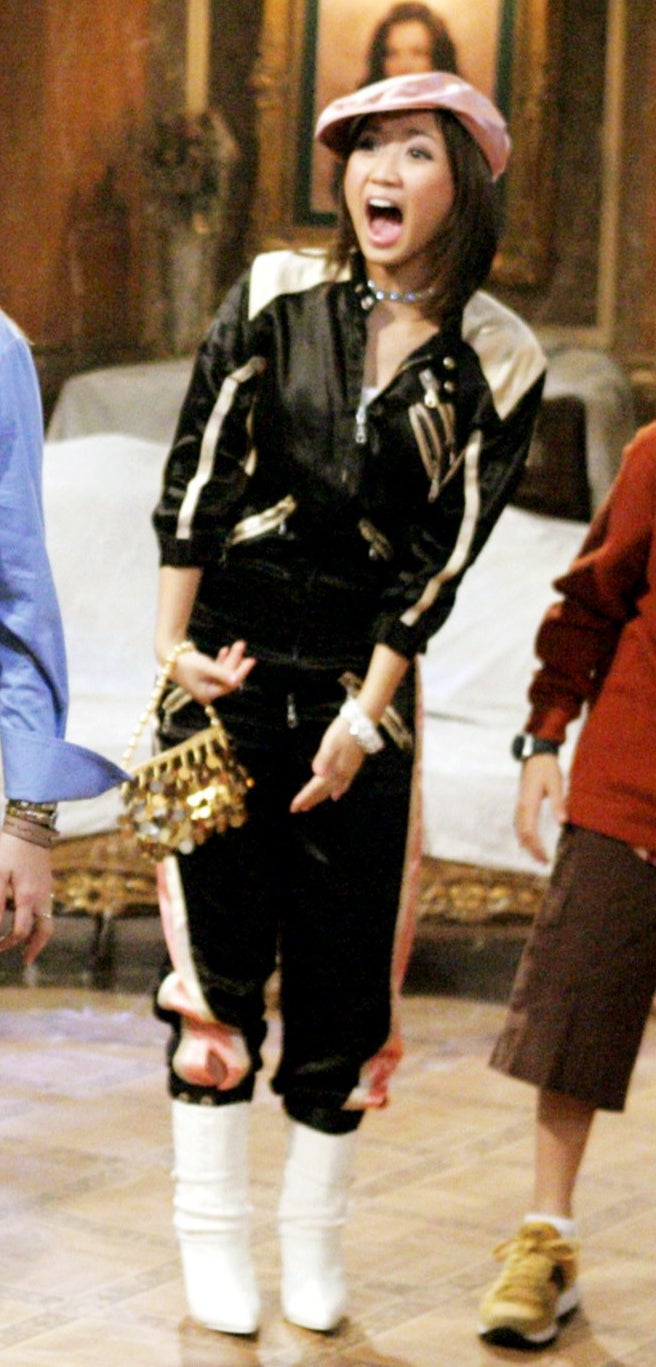 13.
This layered cami and pom-pom scarf.
With the pom-poms, jeweled headband, and wide-leg pants, there's a lot going on, but we loved layers in the 2000s — and we loved camis. So, this is very fun and nostalgic!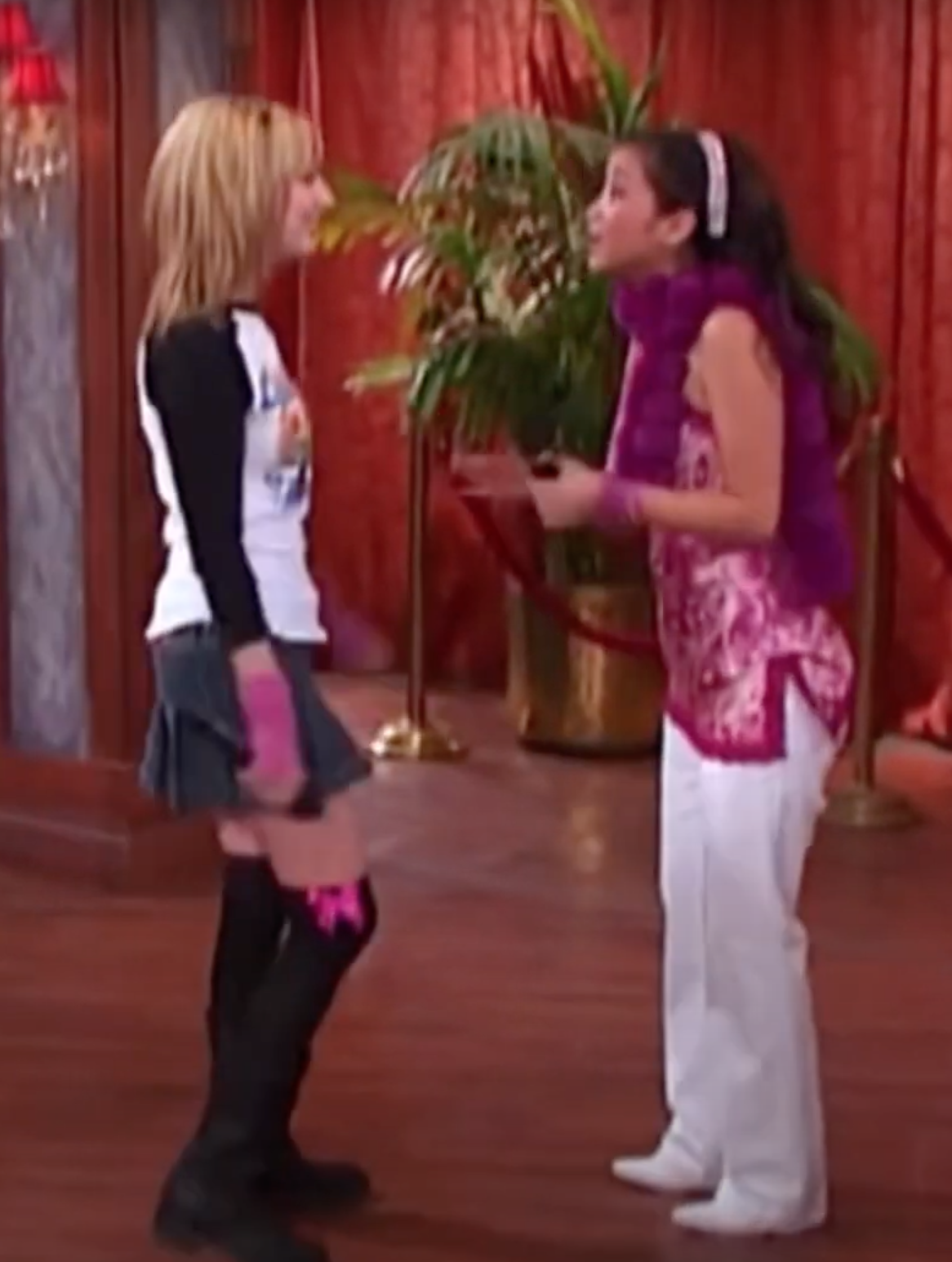 12.
This layered top with tooooons of sparkle.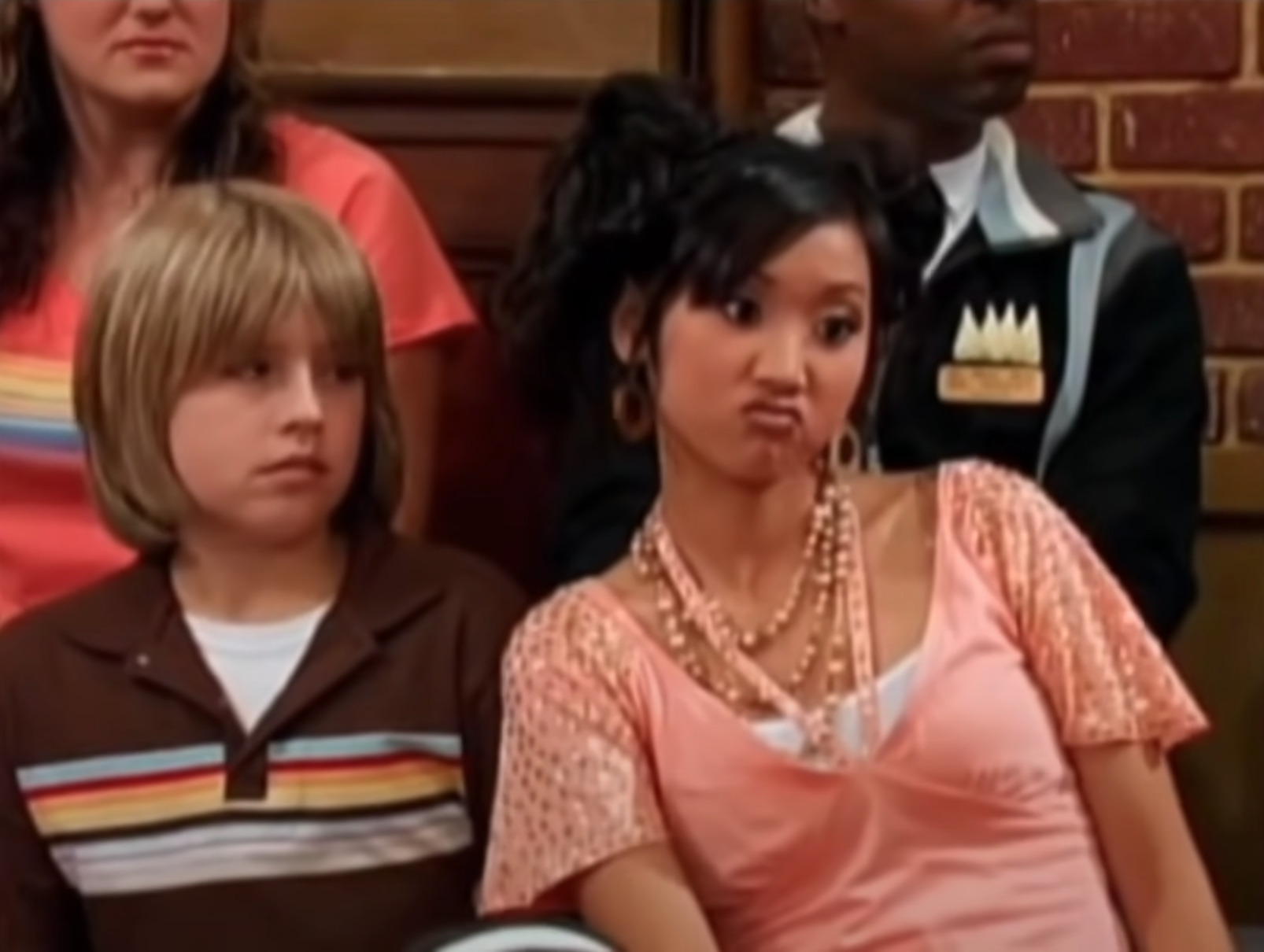 It's a blouse with a built-in halter top. And maybe even a built-in necklace??? Anyway, if you went to middle school in the '00s, remember that store Justice that was super popular? This top is Justice. Justice is this top.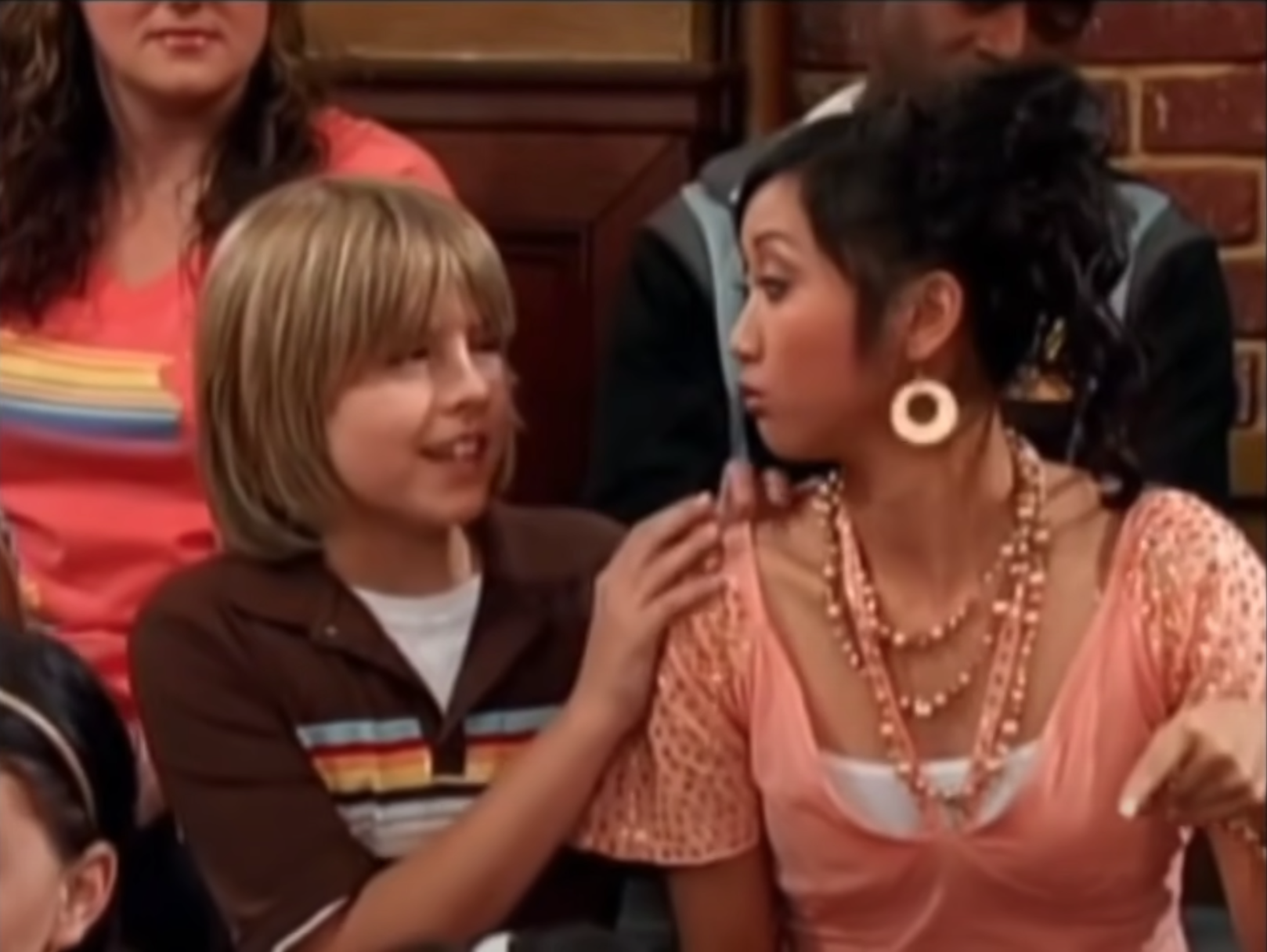 11.
This striped scarf. It's a funky and fun hair accessory...and I'm into it!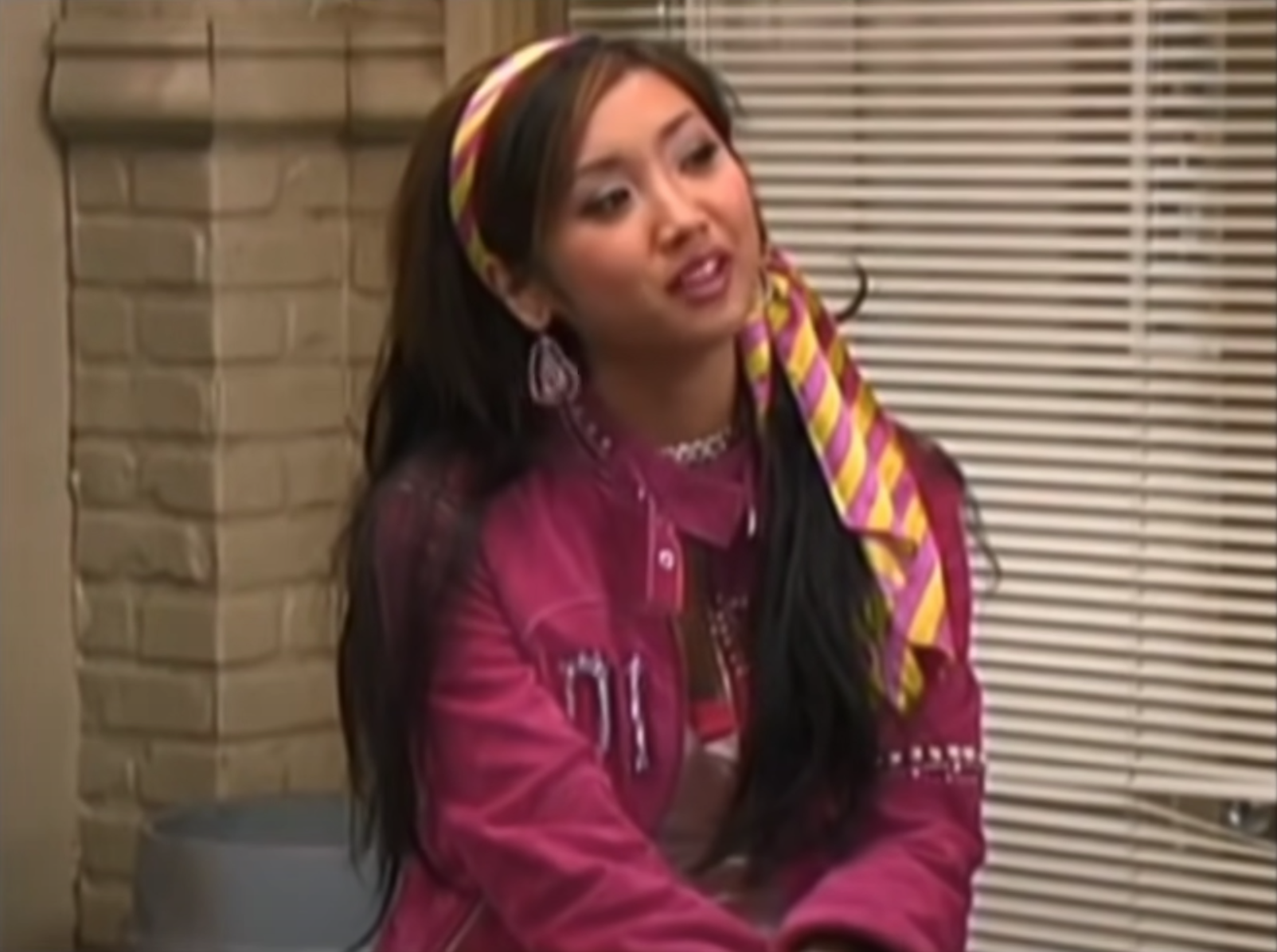 10.
The fur hat says winter. The halter top says summer. Either way, it made a statement, and this outfit has been in my mind since childhood.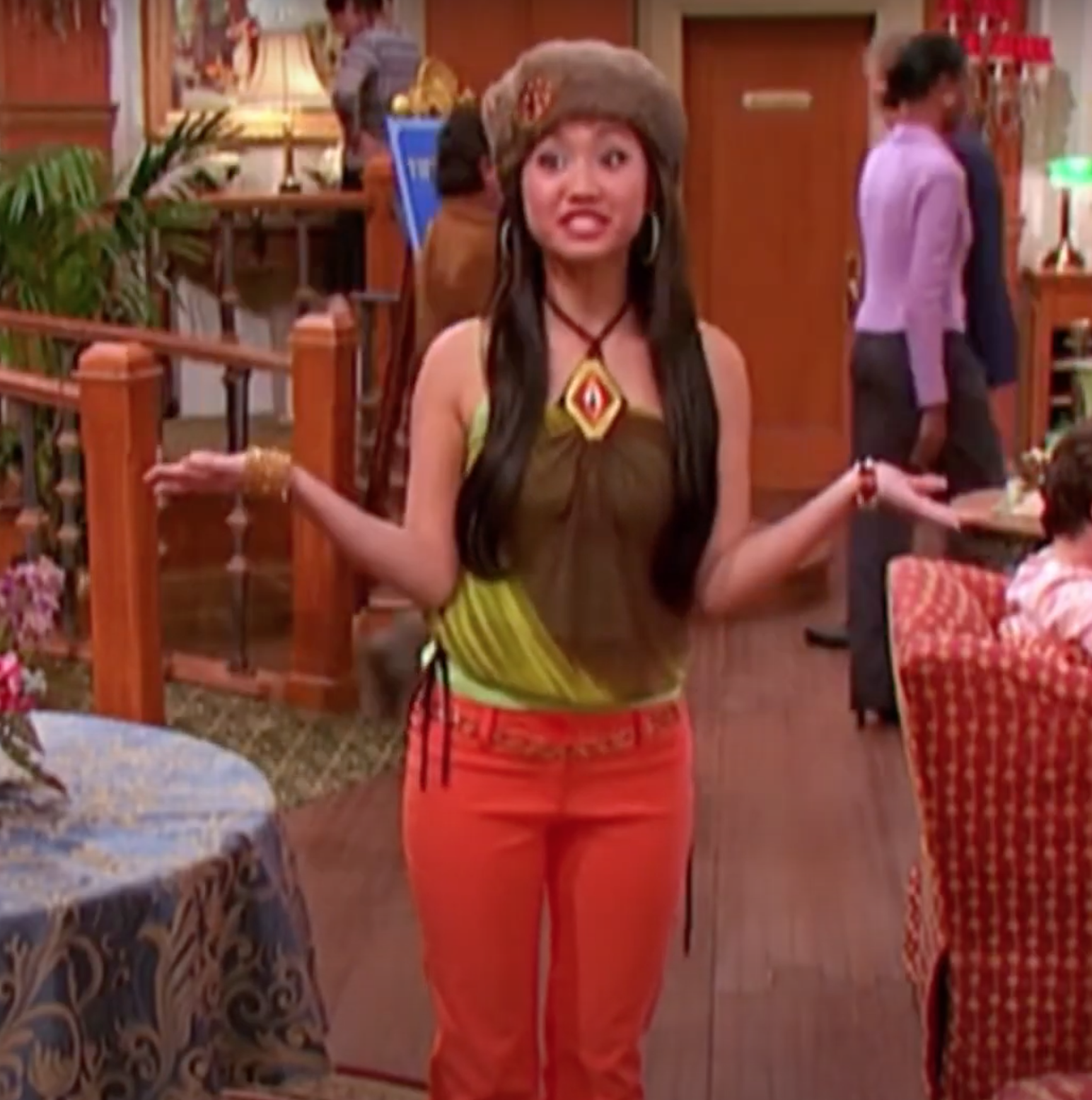 9.
This pom-pom poncho.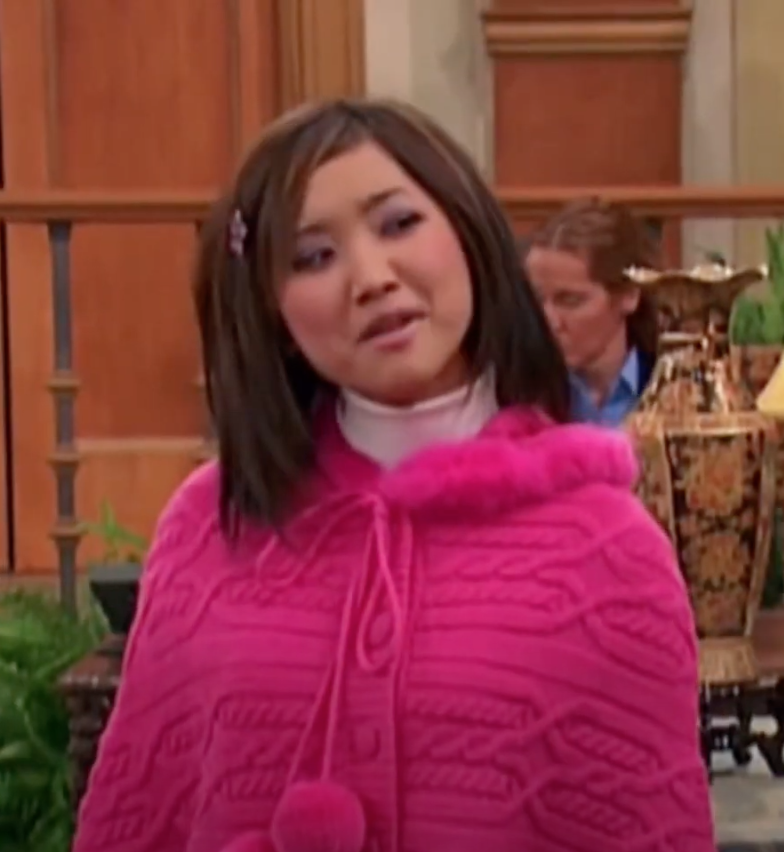 London kept it simple and monochrome in this outfit with the turtleneck, pants, and purse. Then, there's the poncho. Ponchos also had us hooked at some point in the 2000s. So, I get it.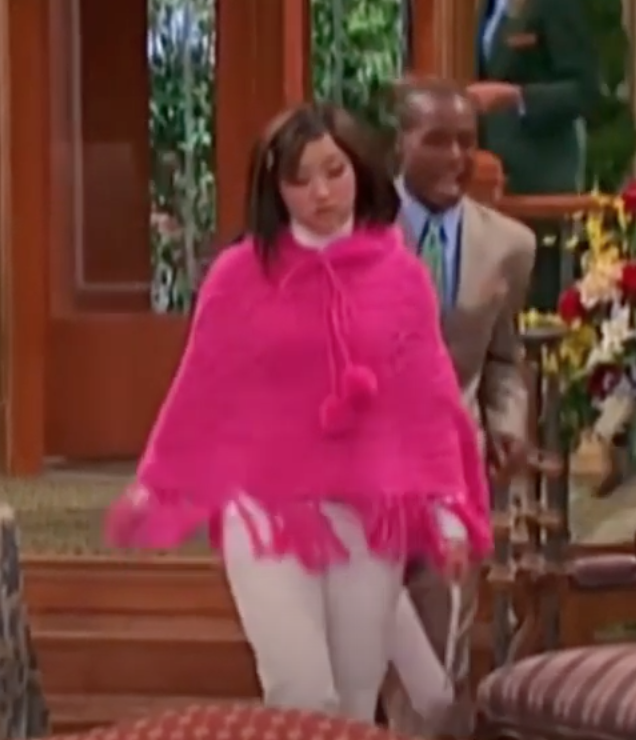 8.
This cropped fur jacket and jumpsuit (???).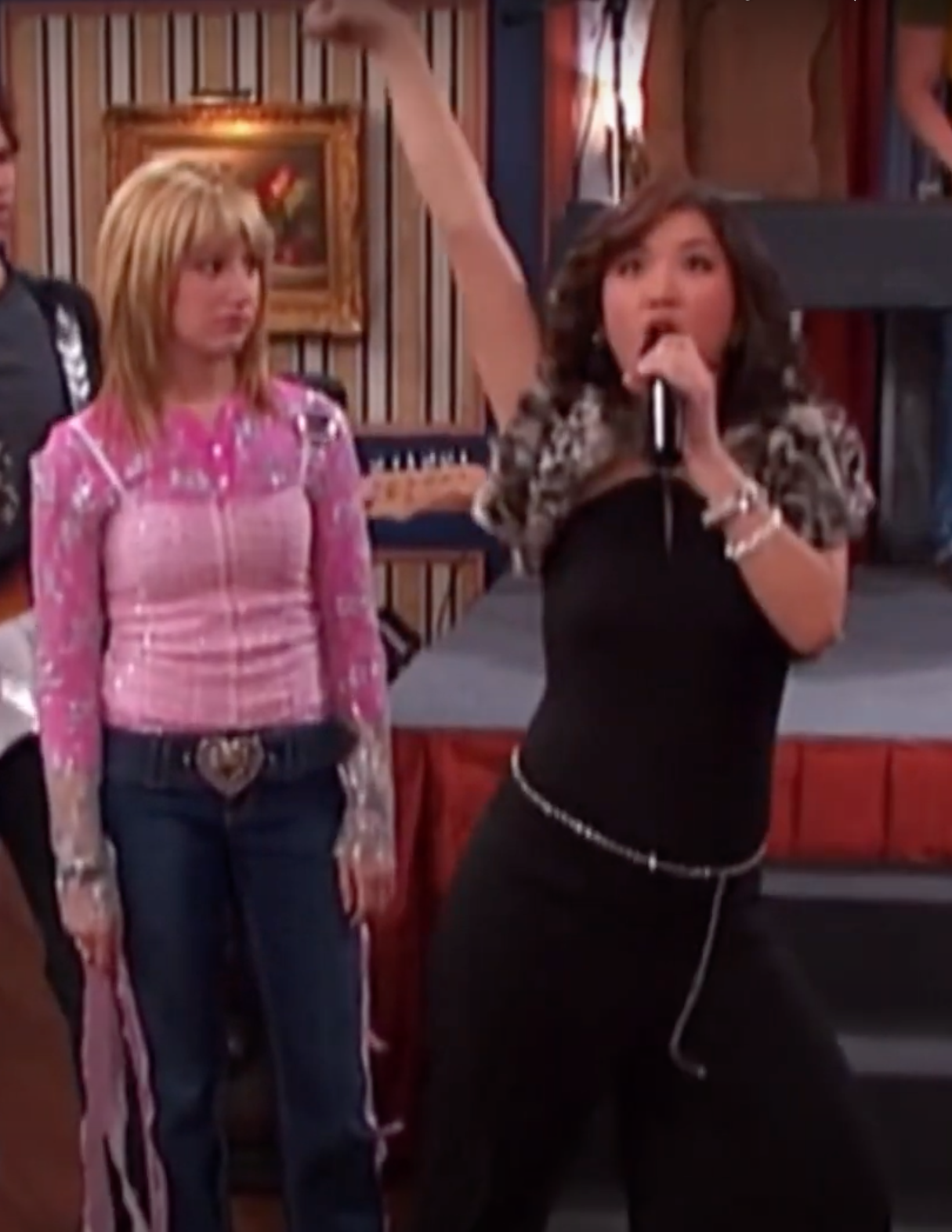 It's cute, and London was clearly ready for the spotlight!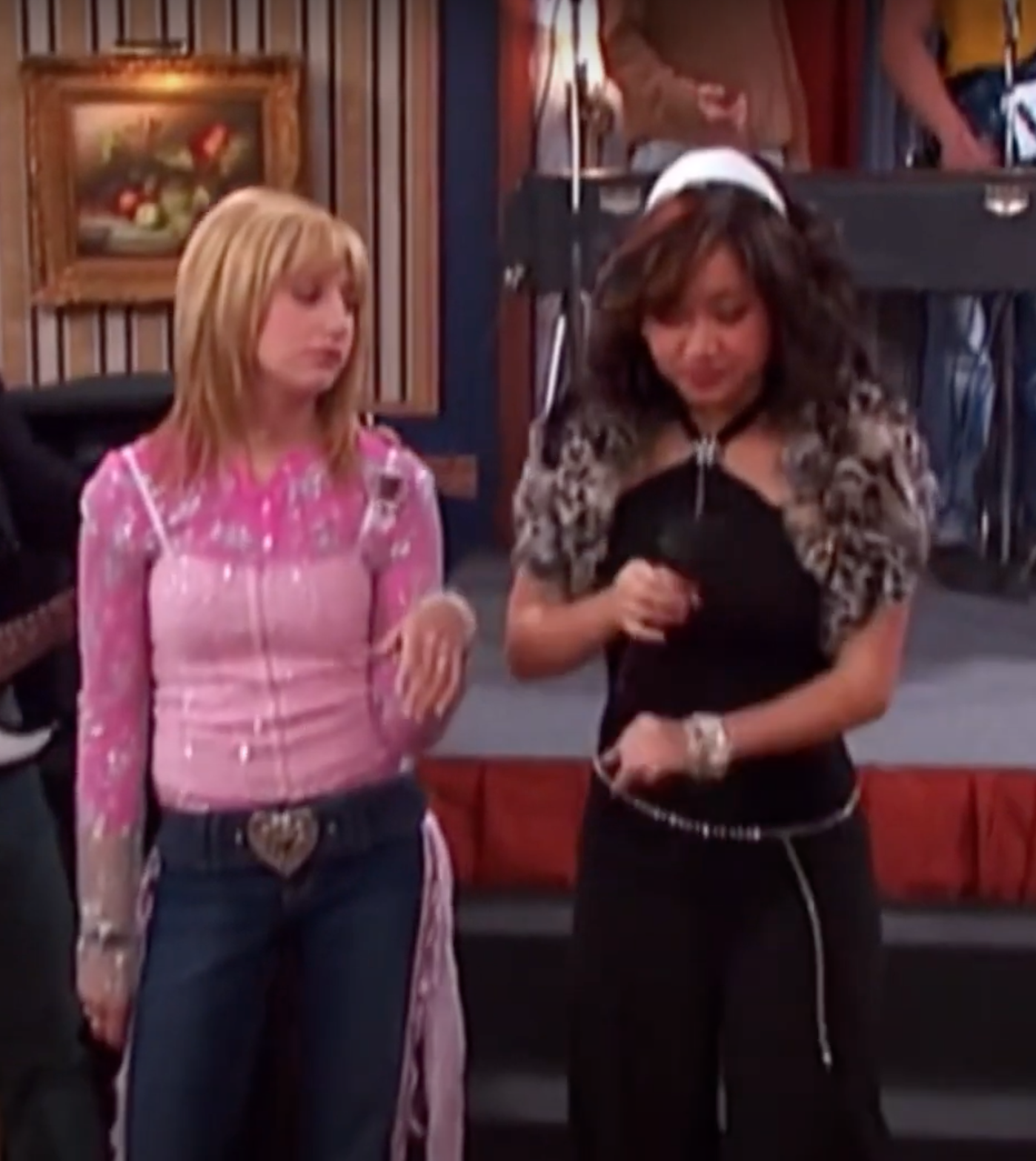 7.
This black dress London wore during Maddie's prom at the Tipton.
OK, OK, hear me out. Take away the metallic accessories and the scarf, and you have a lovely black dress!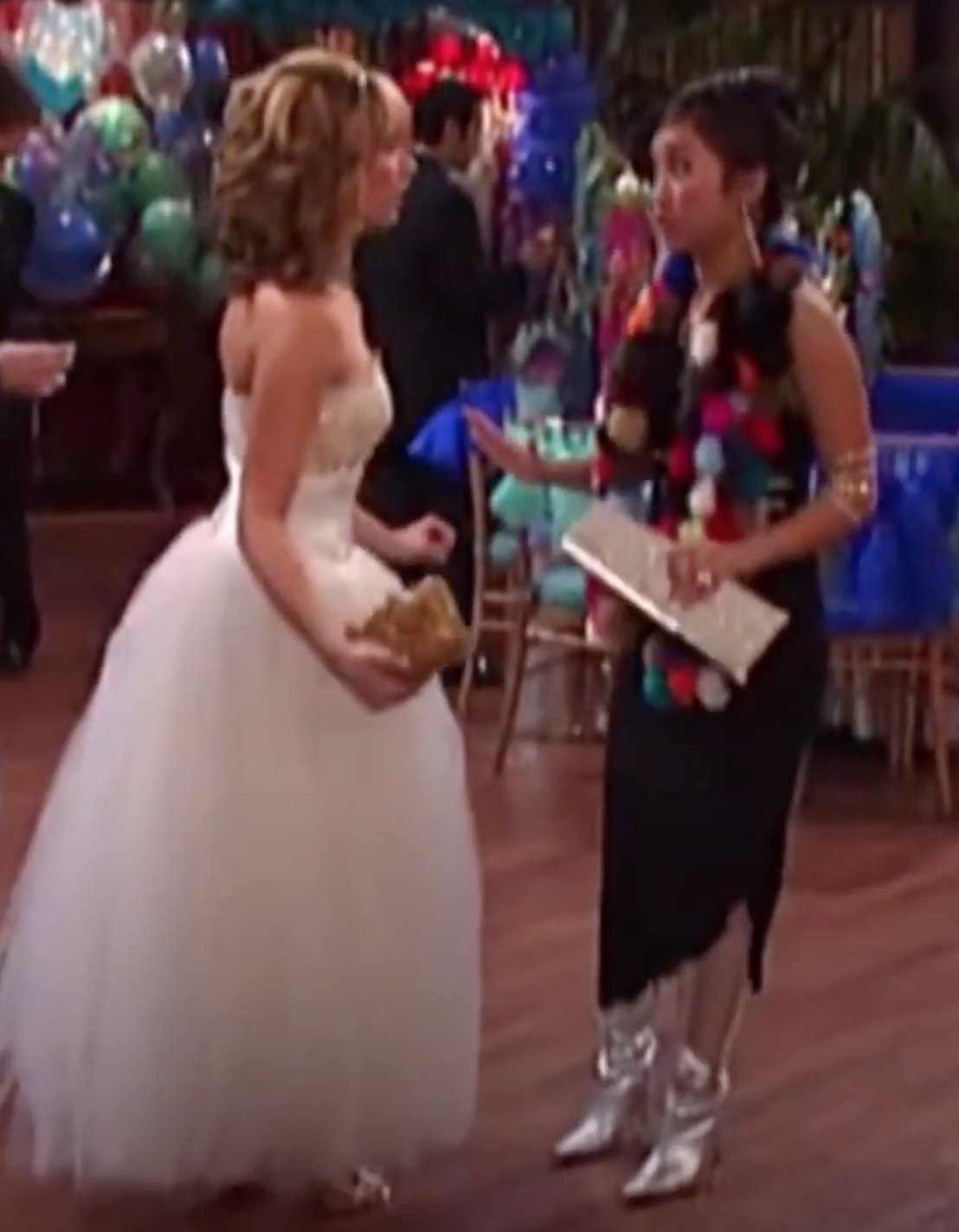 6.
This feathery look.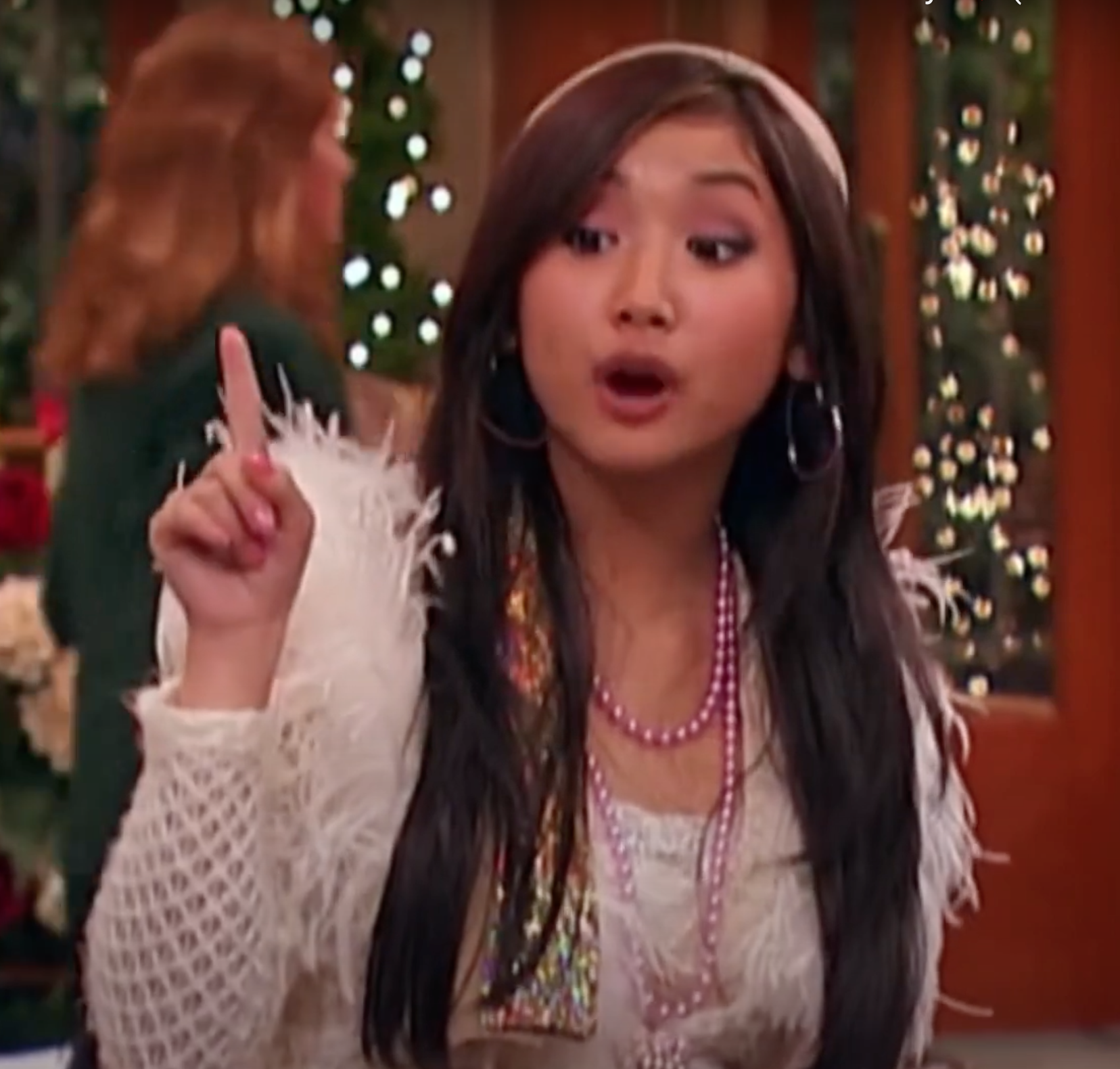 London is giving us creativity and texture. A mesh top and a feather collar. And, of course, she pulls it off.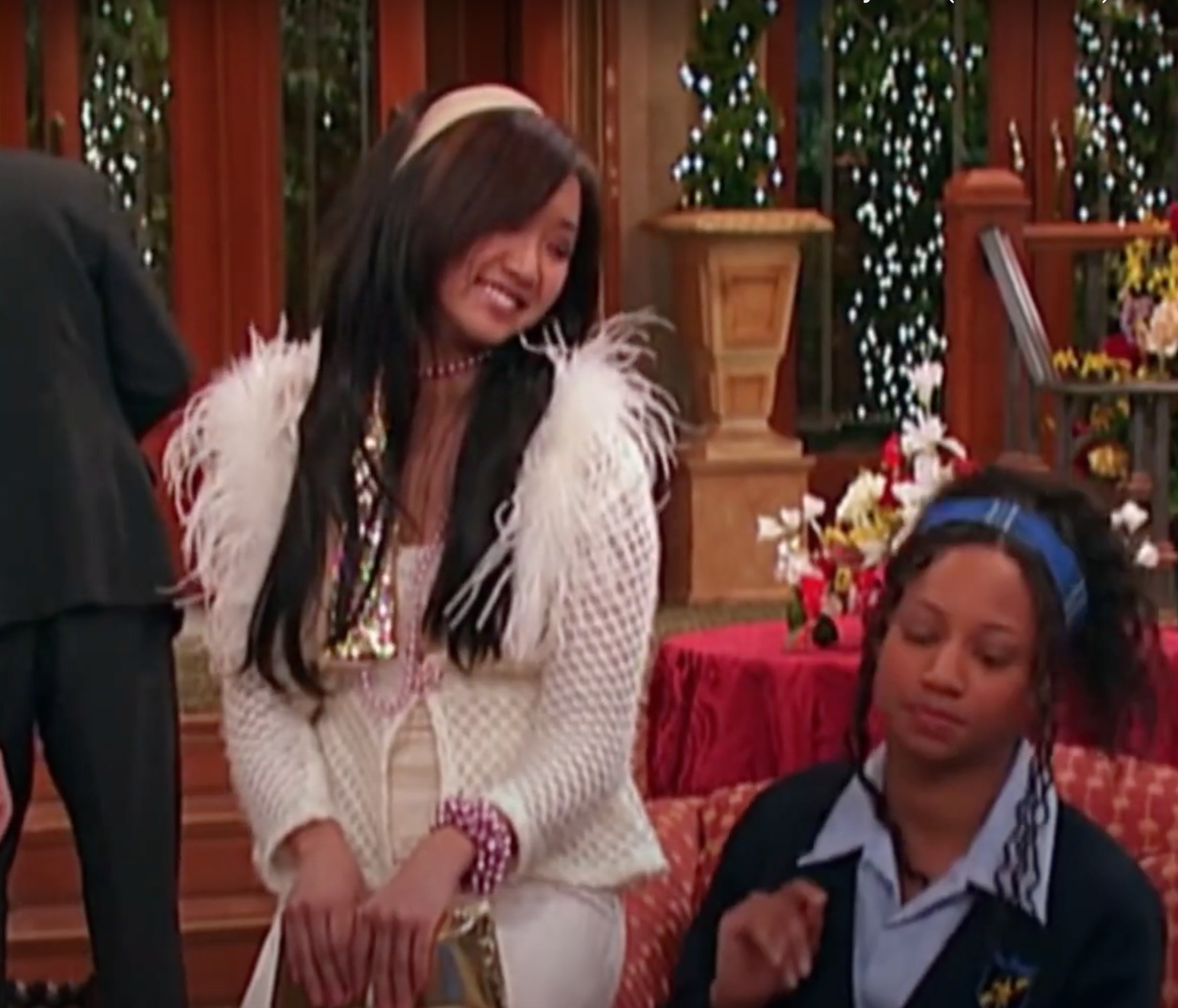 5.
This sequin tube top and yet another pom-pom scarf.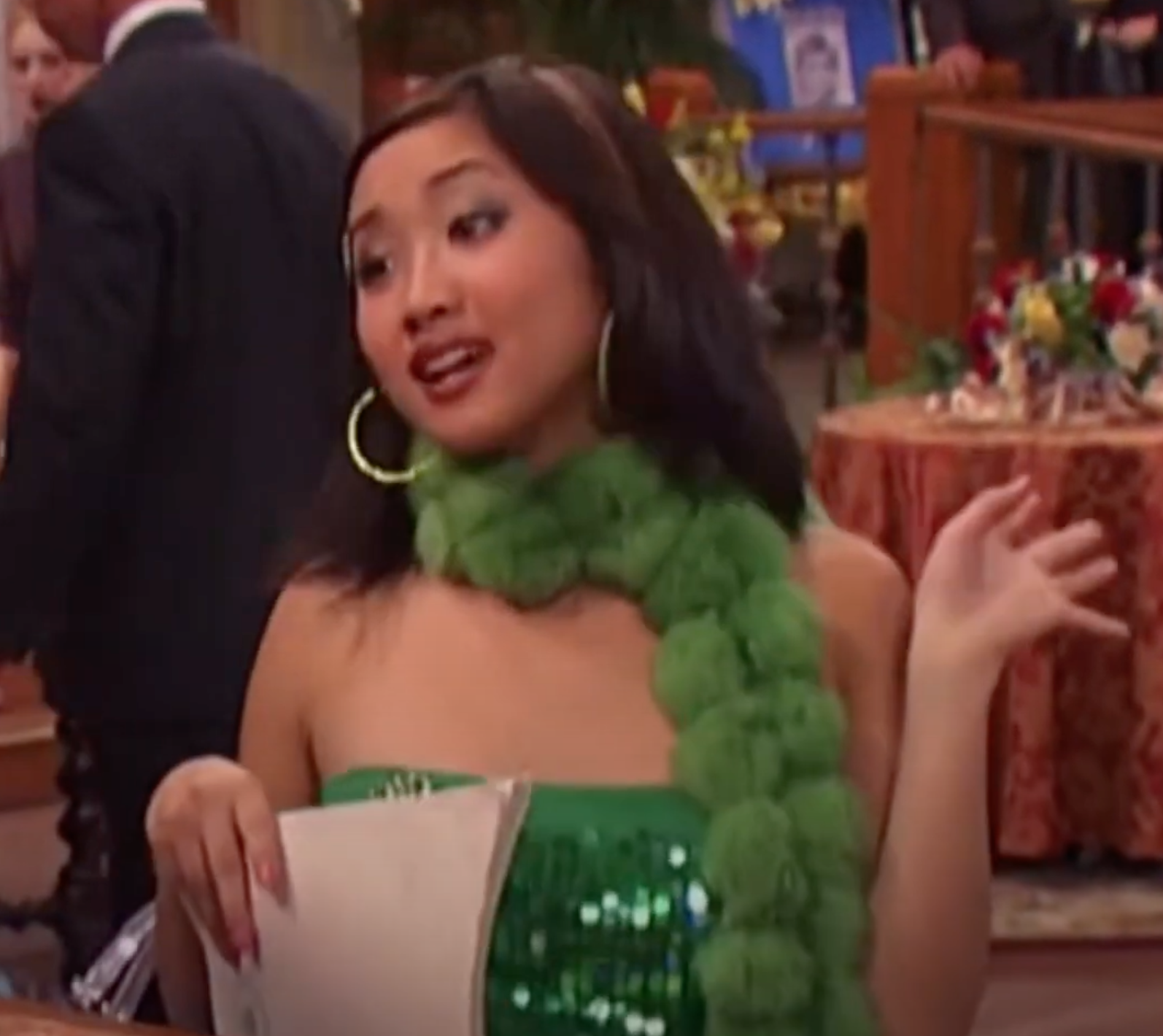 Is it Y2K fashion if there's not a tube top? I'm not sure if the pom-poms are growing on me, but in this case, maybe they are. I don't know, but I like it.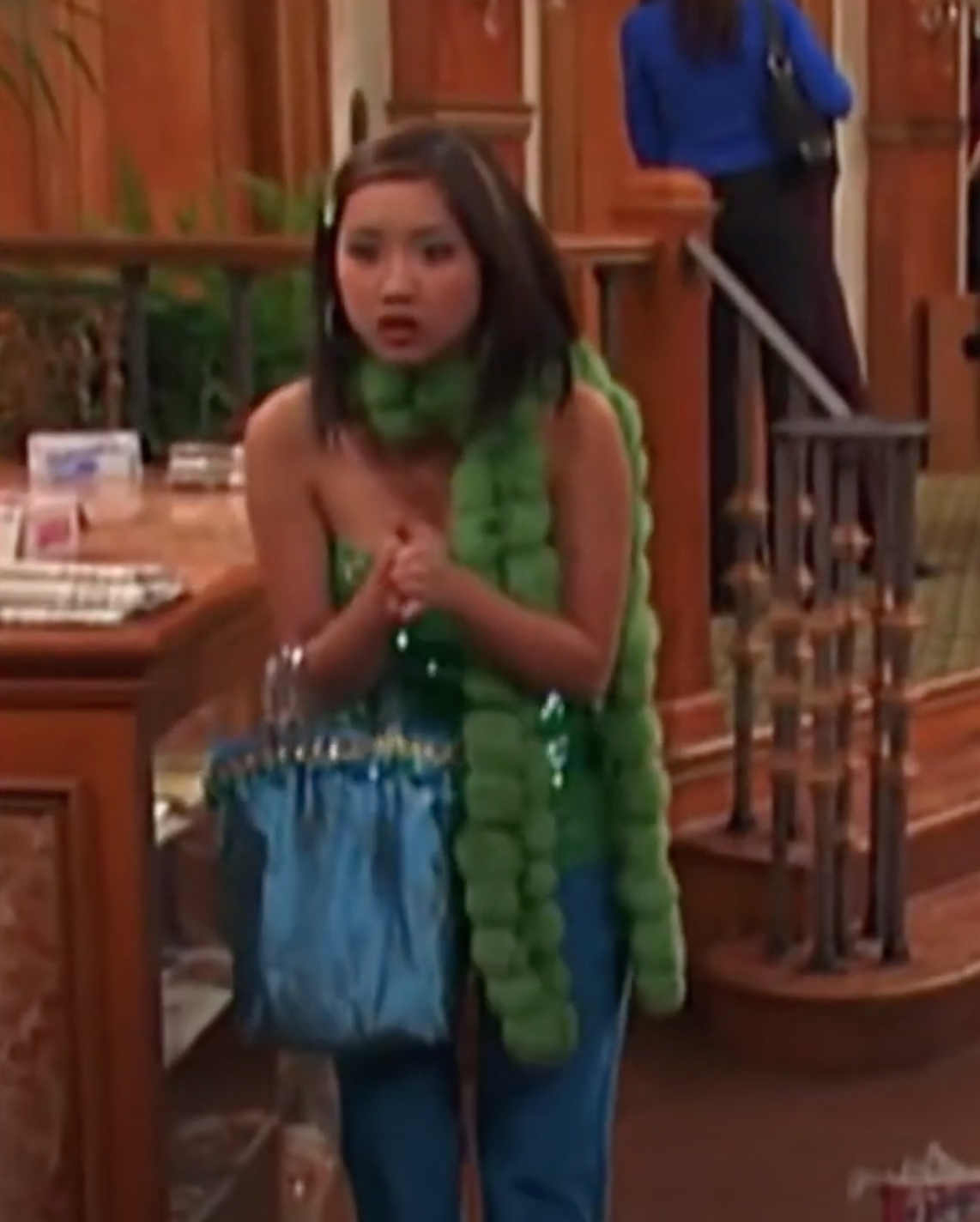 4.
This cropped denim jacket and glittery dress.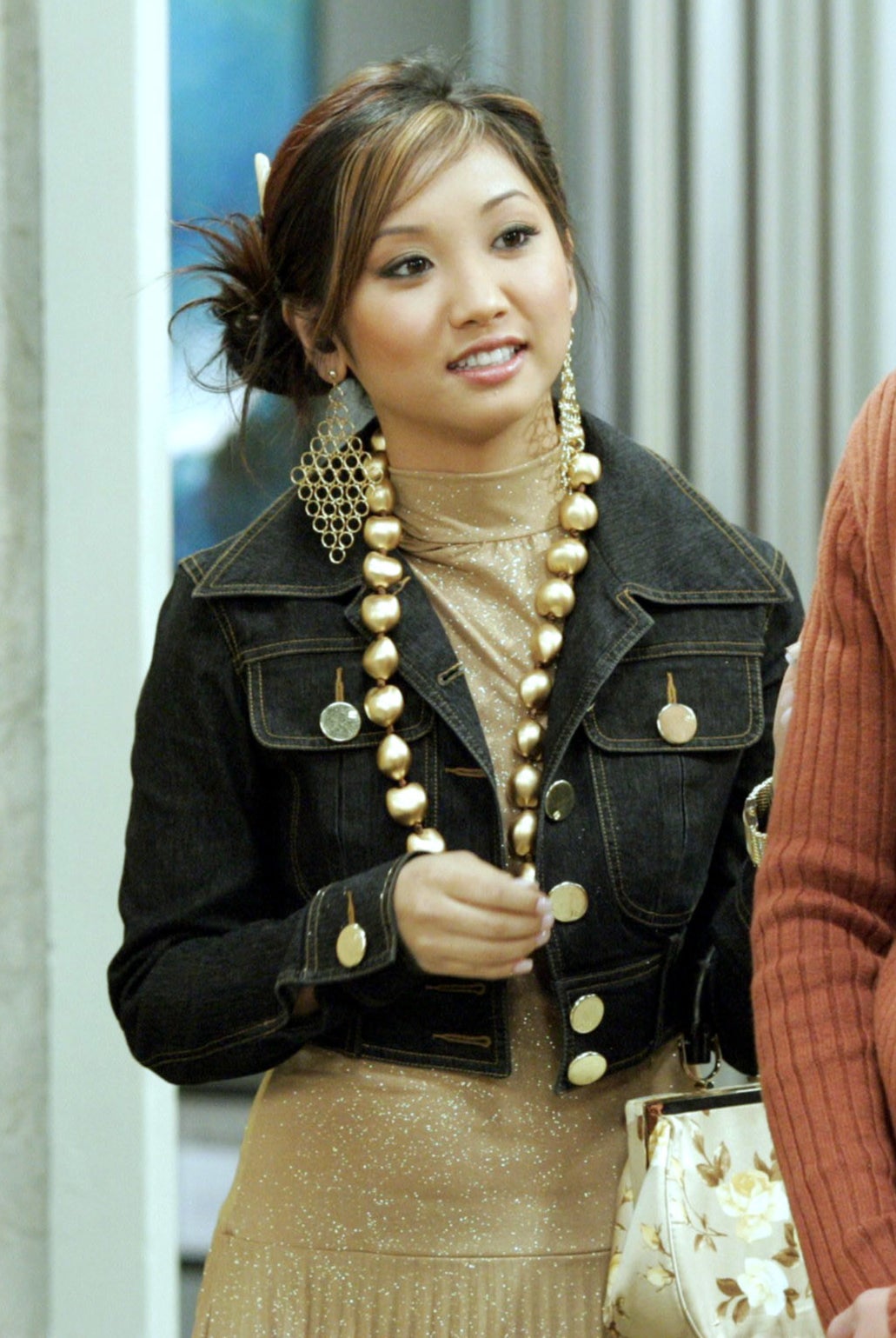 Yes, we loved giant earrings and giant necklaces in the 2000s, and honestly, the dress and jacket are a cute look!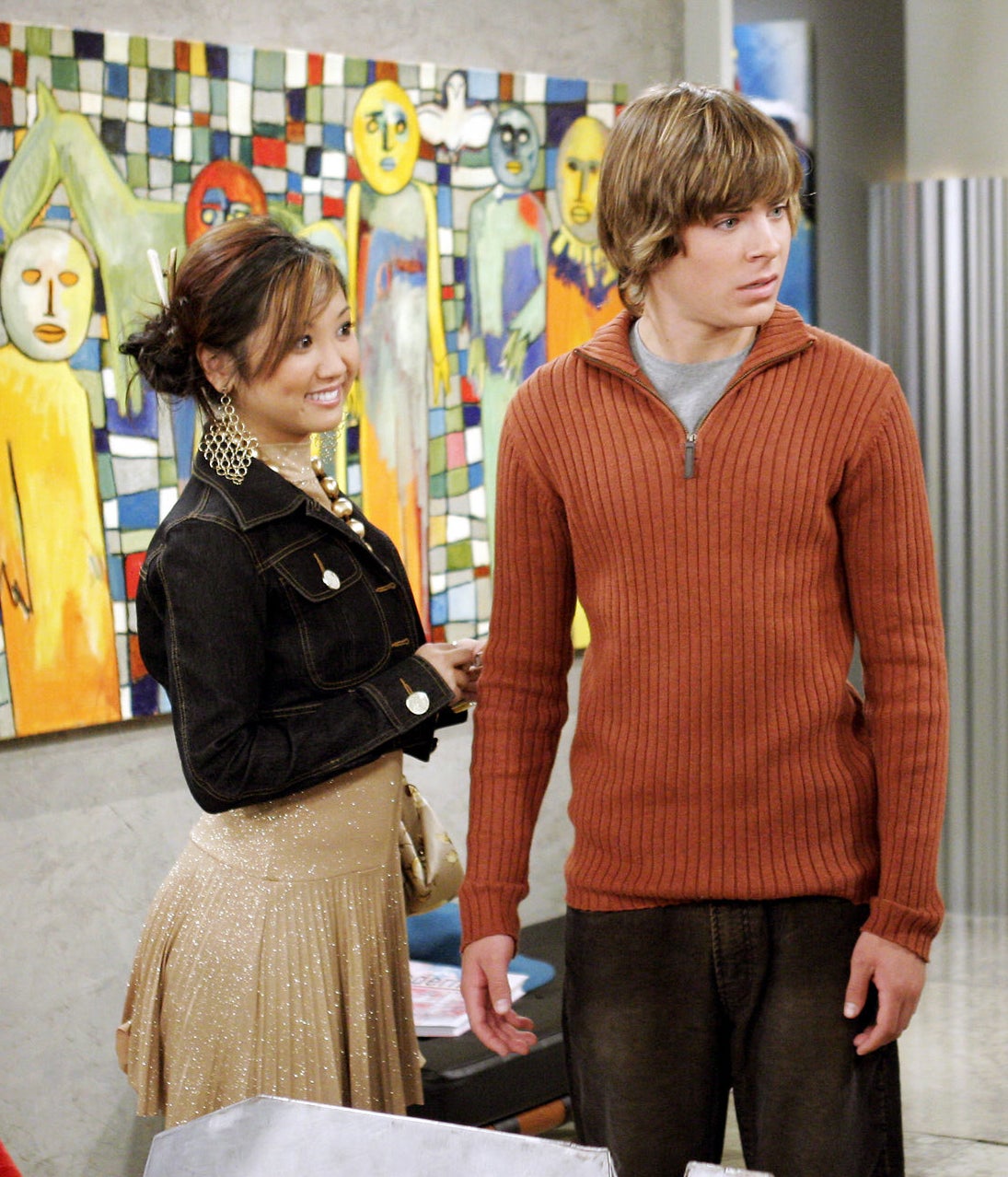 3.
This black and yellow outfit.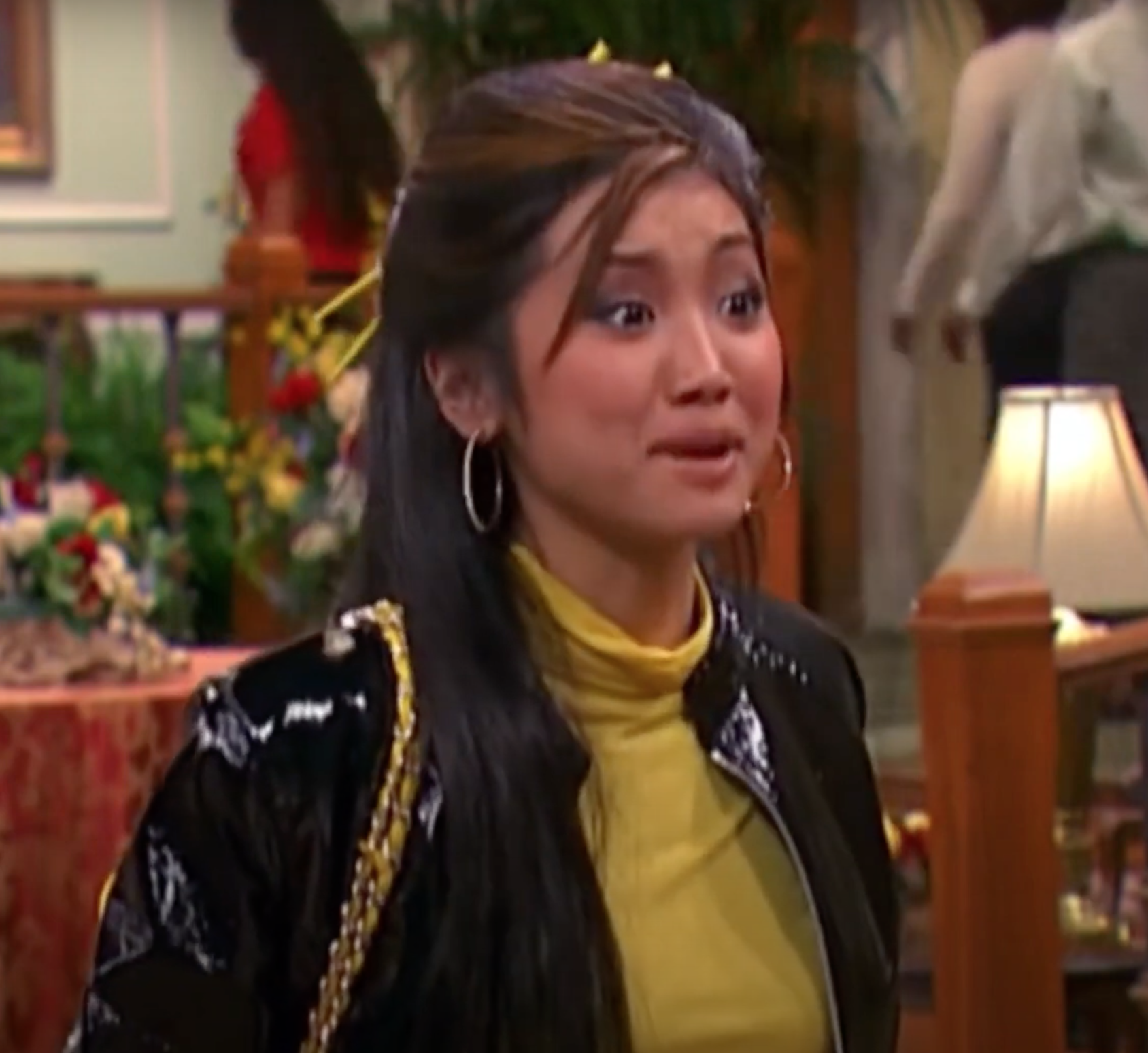 I remember seeing this outfit on TV, and thinking, "I would wear that!" The jacket was trendy, the sweater dress was stylish. It's matchy-matchy, but again, London loves to color-coordinate.
When London was getting driving lessons from Mr. Moseby, she had to do it in style. I'm here for the beret and the lace top, so she passed in my book!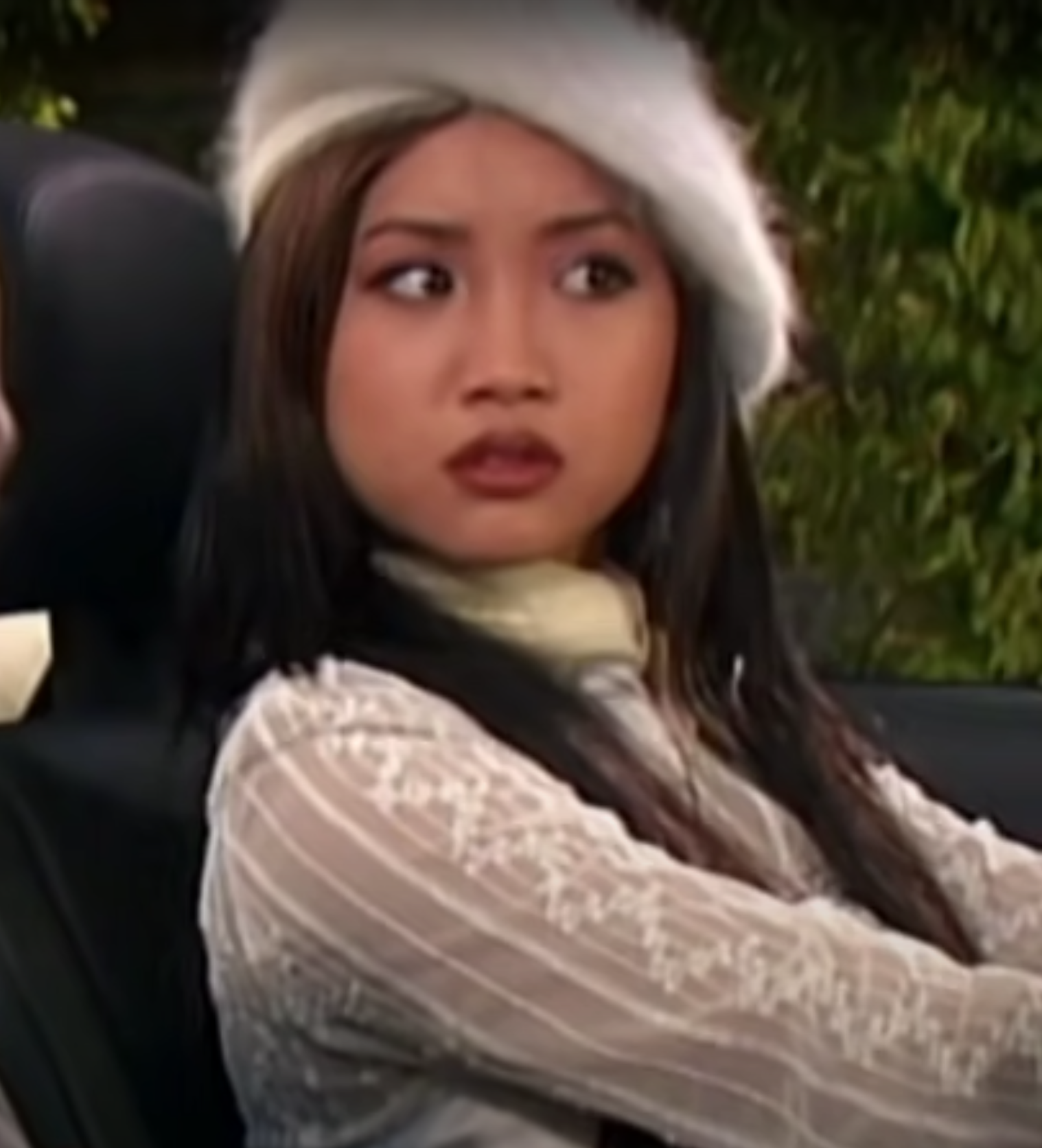 1.
And finally, this all-pink number.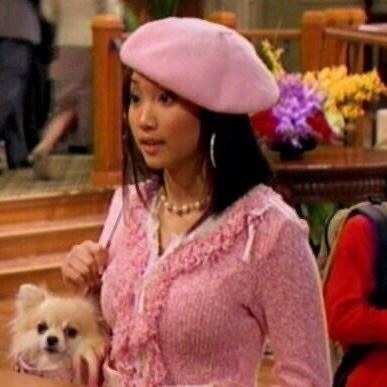 Now, listen. Is it over-the-top? Yes. The beret, the fringe sweater, the dog purse. THIS is London in all her rich girl glory, and it's why I love it!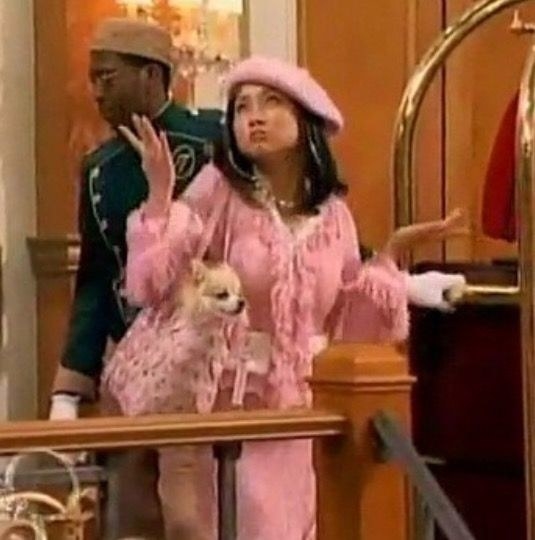 Well, hey. It was 2000s Disney. We wanted color, we wanted layers, we wanted sequins — and London gave it all to us. What were your favorite and least favorite looks on this list? Let us know in the comments below!
Support AAPI-centered content by exploring how BuzzFeed is celebrating Asian Pacific American Heritage Month! Of course, the content doesn't end after May. Go follow @buzzfeedapop to keep up with our latest AAPI content year-round! P.S. Love this art? Learn more about these amazing AAPI activists here.