The Tokyo Olympics are here!!! And of course, people can't stop talking about it. BUT we can't forget all the memorable moments from previous Olympic Games that turned into hilarious memes that we still cherish to this day.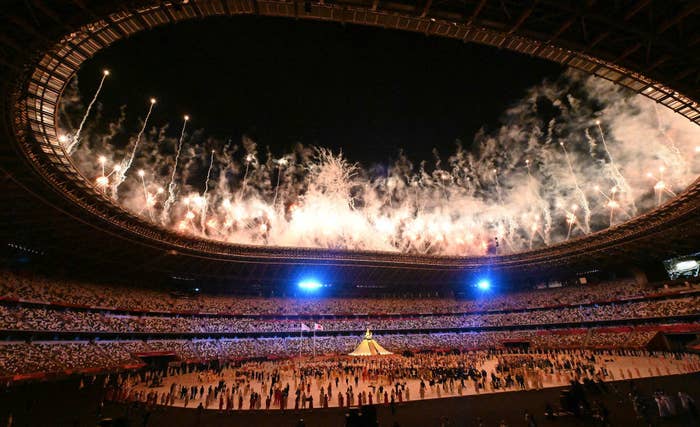 So please enjoy some of the best Olympic memes of all time:
1.
Olympian Pita Taufatofua during the Rio 2016 opening ceremony — aka, the Tonga flag bearer who caught everyone's attention:
2.
And YES, he was Tonga's flag bearer at this year's opening ceremony — and for that, we are grateful:
3.
Michael Phelps' grumpy game face in 2016 while one of his rivals, South Africa's Chad le Clos, warmed up nearby:
4.
Oh, and that moment Chad realized he was losing to Michael Phelps during the 200-meter butterfly race:
5.
And of course, McKayla Maroney's unimpressed face in 2012 after winning silver in the vault finals — which was equally as iconic as #PhelpsFace:
6.
The 2016 Olympic diving pool...which randomly turned green and became a viral hashtag:
7.
Olympic sprinter Shaunae Miller's dive for gold in Rio...
8.
...which could be used for just about anything:
9.
Any and all diving faces:
10.
Gymnast Laurie Hernandez's unforgettable wink:
11.
Only use when necessary ;)
12.
Aly Raisman's parents being restless while watching her compete:
14.
Also, Canadian sprinter Andre De Grasse's look of disappointment:
15.
And his and Usain Bolt's wholesome exchange during a race:
16.
Oh, and that time Ryan Lochte became a meme after he falsely reported a robbery in Rio:
17.
Olympic swimmer Fu Yuanhui's excitement after winning bronze in 2016:
18.
She was literally living her best life, and everyone loved to see it:
19.
Cupping — aka, a practice in traditional Chinese medicine that many athletes use to relieve pain — hence those circular bruises on Michael Phelps's body that confused the internet:
20.
And finally, Usain Bolt running at lightning speed during the 100-meter dash in Rio:
21.
'Cause, you know, might as well smile while being the fastest man ever:
What's your favorite Olympic meme of all time? Let us know in the comments below!