Yesterday, Sept. 4, marks 14 years since the death of zookeeper and wildlife conservationist Steve Irwin. Robert and Bindi Irwin took to social media to share heartwarming tributes to their father.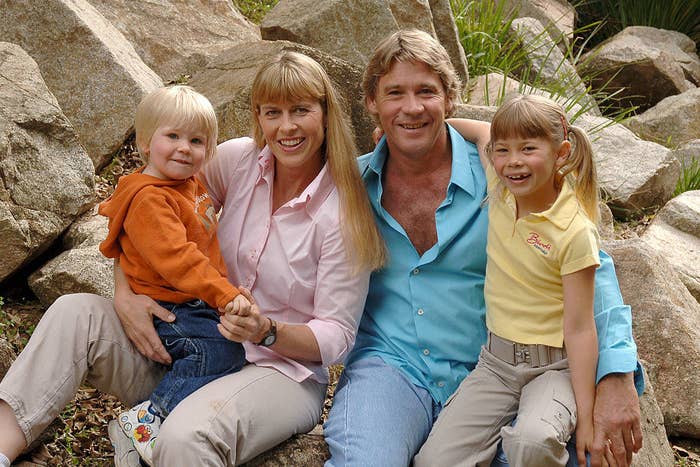 Robert, Steve's son, paid tribute by sharing a photo from a recent research trip to The Steve Irwin Wildlife Reserve, a reserve in Cape York, Australia, that "has been set aside as a tribute to the conservation work of Steve Irwin and a place for scientific research and discovery."
In his caption, Robert wrote: "Our crocodile research began 17 years ago when Australia Zoo joined forces with the University of Queensland to conduct world leading science and lead the charge in crocodile conservation. And today we get to keep this vital work going, using state of the art solar tracking technology to learn even more about these amazing animals. Make sure Dad's mission and passion for croc conservation continues!"
Steve's daughter Bindi shared a photo on Instagram and Twitter featuring her and her father with the caption: "You're always in my heart."
Bindi's tribute comes after her announcement last month that she's expecting her first child with her husband, Chandler Powell.
Robert and Bindi's mother, Terri Irwin, also shared a heartwarming post remembering her late husband: "This is a particularly poignant moment in time for me. Today marks 14 years since I lost Steve, after 14 wonderful years of marriage. I feel that I have a choice: celebrate love or struggle with grief. I choose love."
Terri also tweeted this memory of "adventures" they had while they were expecting their first-born Bindi — now that Bindi is expecting her first child.
And Bindi responded, thanking her mother for being "the greatest mum":
Fans responded to the family's tributes with heartfelt messages of their own.
The Irwins have been continuing Steve's work in wildlife conservation since his death, and I think we can all agree that they've done an incredible job honoring his legacy.