Which Anna Kendrick Tweet Are You Based On Your Zodiac Sign?
Tipsy and on a plane is my best self.

"I'm the best person in the world"- me after I cook anything at all

When is that terrified-of-everyone-I-don't-know feeling going to go away?

I'm so humble it's crazy. I'm like the Kanye West of humility.

For someone with such an intense need to be liked you'd think I would have figured out how to be less of an asshole.

Yes of course I got your text- I'm just ignoring it. Don't make it weird.

Being told "I know you can do this" weirdly makes me not want to try...."You CAN'T do this" has the same effect. Ok, yeah, I might just be lazy.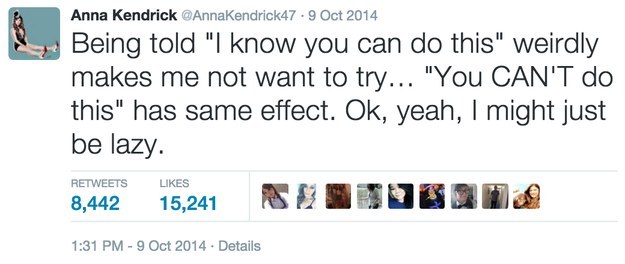 Never a diva. But occasionally a real dick.

It's cute how I used to think this "barely-holding-it-together" feeling was temporary.

Oh God. I just realized I'm stuck with me my whole life.

Can I petition to make holding grudges an Olympic event? Cause I've been in training my whole life.

Does anyone think "don't be a weirdo, don't be a weirdo" over and over when entering social gatherings? Cause I don't.
Did you know you can sign up for a BuzzFeed account and create your own Community posts? Get started here!
This post was created by a member of BuzzFeed Community, where anyone can post awesome lists and creations.
Learn more
or
post your buzz!